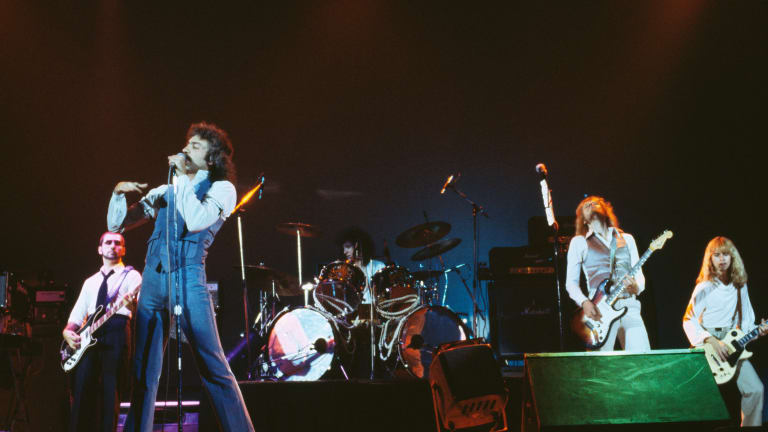 Fan Poll: Best albums by Styx
Styx had the albums to match their arena-sized rock in the 1970s, and in the Goldmine's fan poll that asked "What is the best Styx album?" the decade was king.
The readers have spoken in the latest Fan Poll held by Goldmine, across its social media network (and so on). The question: What is the best Styx album? The answers were overwhelmingly constant for one specific album. And it wasn't Kilroy Was Here. Mr. Roboto got dissed.
And with that, Welcome to The Grand Illusion....
1. The Grand Illusion (1977)
This appears to be Styx fans' favorite album. Even for casual Styx fans, The Grand Illusion seems to be the first good thing about Styx that pops into their collective heads. And for those of a certain generation, this was an album that often appeared as a pick on Columbia House's "10 Albums For A Dollar" promotion to join its club. So, the album got around back then.
The title track is a grand proggy opener and it's followed on Side 1 with the hit singles "Come Sail Away" and "Fooling Yourself." A lot of FM airplay for these songs in the late '70s and '80s. Side 2 is made up of mostly deeper cuts to try to get your head around, but overall it's easy to see why this 1977 album would be a Styx favorite.
And how can you not like the album cover art? It's a tip of the hat to a surrealist painting by René Magritte, which was ideal for album artwork in the '70s.
Fun fact; It was guitarist James "JY" Young who played synthesizer on "Come Sail Away"; not vocalist/keyboardist Dennis DeYoung.
2. Pieces of Eight (1978)
The 1978 follow up album to The Grand Illusion, Pieces of Eight achieved triple platinum certification, too, riding on the back of the popularity of hits like "Blue Collar Man (Long Nights)" and "Renegade." However, not loved as much as its predecessor by the critics (for some reason). Famous rock critic Lester Bangs pulled no punches, stating, "What's really interesting is not that such narcissistic slop should get recorded, but what must be going on in the minds of the people who support it in such amazing numbers." OK, that was a bit much. After all, it's only rock and roll, etc.
Strangely enough, the best tracks came on Side 2. But the album on a whole is pretty solid. Obviously, a fan favorite; no matter what Lester Bangs had to say.
3. Equinox (1975)
This pick was a bit of a surprise for our Styx fan poll. Equinox was the first album on A&M Records (the execs loved the Styx hit "Lady") and it was the last album for original Styx guitarist John Curulewski.
The track "Lorelei" went into the Top 40, "Suite Madame Blue" became a tour staple (or a DeYoung favorite; you pick) and the album went on to sell its share of copies right off the bat. 
A lot of nice prog rock adventures on the album for deep cuts. Some critics were never won over though. Rolling Stone, for instance, gave Equinox one star.
4. Crystal Ball (1976)
Ah, America's bicentennial year and enter vocalist/guitarist Tommy Shaw, an addition which will take the band to a new level of success, Shaw wrote one of the album's standouts: the title track. But it was Shaw's co-write with DeYoung, "Mademoiselle," that would crack the Top 40. "Mademoiselle," "Shooz" and the title track were Shaw's vocal debut for the band. 
To take things to a higher level on Crystal Ball, there's even some Debussy ("Clair de Lune") for the Classical enthusiast, bringing in more music cred to the band's poppy bombastic sound.
Other Styx albums didn't really get enough vote muscle to deserve much of a mention. Cornerstone (1979), Paradise Theatre (1981), which were both Multi-Platinum albums, and the latest album, Crash of the Crown, got only a handful of votes. Every other album got zero — zilch — including Kilroy Was Here (1983). Kilroy was apparently a killjoy, at least on this occasion.
RELEVANT CONTENT: Ex-Styx singer/keyboardist Dennis DeYoung spills it all on the Goldmine Podcast