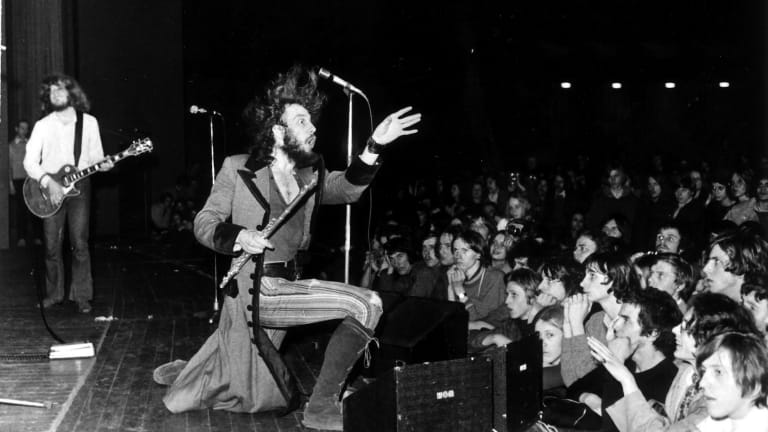 Fan Poll: The 5 best Jethro Tull albums
The classic era of 1968-1972 was well represented when Goldmine polled its readers on the best Jethro Tull albums.
This year, founding father of Jethro Tull, vocalist/flautist Ian Anderson, decided to release his latest creativity, the album The Zealot Gene, under the Tull moniker. It had been almost 20 years since he used the Tull brand for his album releases.
When we asked readers to pick the best Jethro Tull album, the fan vote remained mostly in the era of 1968-1972. A Passion Play (1973), Minstrel in the Gallery (1975) and Songs from the Wood (1977) received a small amount of votes. Not many albums after 1973 received votes; not War Child (1974), nor Too Old to Rock 'n' Roll: Too Young to Die! (1976), Heavy Horses (1978), Stormwatch (1979), The Broadsword and the Beast (1982), Under Wraps (1984), Crest of a Knave (1987) and so on. Wait ... the album A (1980) did receive one lone vote. And it's way too early for fans to vote on The Zealot Gene as a 'best' album.
Anderson doesn't buy into popularity polls, nor inductions. When speaking to Goldmine about being snubbed by the Rock and Roll Hall of Fame, he said he wasn't bothered by it, because the Rock Hall was an American institution and Jethro Tull were very much an English band.
We do think Anderson would be agreeable to how Goldmine readers voted when it came to Tull's best albums, though. Here is the fan poll list:
5. This Was (Originally released 1968) 
Jethro Tull were a fiery ball of energy when first arriving on the London scene. The debut album was a fine representation of a young British band embracing blues rock.
Songs like "My Sunday Feeling" and "Beggar's Farm" embrace the blues rock trend of Cream at the time, with "Move on Alone" adventuring the blues more into a lounge feel. Quite a few instrumentals on this album, too, where guitarist Mick Abrahams, drummer Clive Bunker and flautist Anderson let loose and really shine. Anderson even blows a mean harp!
Watch any concert footage from this time (hell, start if you like with the band's appearance on The Rolling Stones Rock and Roll Circus), where Ian Anderson is a wild man onstage — singing, sneering and shouting into the mic, then switching to a flurry of notes from his flute. The album highlight, "A Song for Jeffrey," is the perfect song to display all of this kinetic energy.
4. Benefit (Originally released 1970)
It was nice surprise to see readers pick Benefit as one of Jethro Tull's best albums. The 1970 release never seems to get the recognition it deserves as it is filled with excellent (but not standout) tunes. "To Cry You a Song" and "Son" are stinging, high-energy rock songs. "Play in Time" quite psychedelic, especially in stereo. The album also includes the infamous "backwards-played" flute on "With You There to Help Me."
3. Thick as a Brick (Originally released in 1972)
Thick As A Brick is an admitted favorite of Ian Anderson's, because of, as he notes, "its elaborate and slightly brave and real nature" And it appears to be a strong favorite of his fans as well. When Goldmine readers voted, it came close to the top picks.
The fifth studio album is conceptual. It tells the story of an eight-year-old genius named Gerald Bostock (fictional, of course). The title track is split in two parts and Bostock (Anderson, of course) writes all the lyrics. In fact, Anderson favors the album so much that he released a sequel to the album in 2012, simply titled Thick As A Brick 2, imagining Bostock as an adult.
Critics point to this album as Tull becoming a full-force progressive rock band; so much so that in 2014, Prog magazine listed the album in the Top 5 of "The 100 Greatest Prog Albums of All Time."
2. Aqualung (Originally released 1971)
This was a bit of a surprise. This was the Goldmine staff's prediction for No. 1. After all, Aqualung seems like a record synonymous with the name Jethro Tull. However, votes were just short of the album grabbing the No. 1 spot, even though there were still plenty of fans supporting the album. 
The popularity is mostly from the title track, and deservedly so. Not only is it a song that is incurably timeless but it keeps you entertained from start to finish, with an amazing guitar solo by Martin Barre. And, of course, "Cross-Eyed Mary" and "Locomotive Breath" both became classic rock radio staples (and remain so); their exciting guitar-driven rock makes it hard for the listener to turn the dial.
And yet terrifyingly good songs that should not be overlooked are "My God" and "Hymn 43" — both critically put a stake through the heart of the spirituality of humankind. Both are perfectly constructed and unapologetically atheist.
The critics at the time misrepresented the album as a conceptual one (that would come with the following album, Thick As a Brick) and also Jethro Tull as a hard rock band (a Grammy for best heavy metal album would come later, for 1987's Crest of a Knave, riding on this reputation).
By album's conclusion, it appears quite an accomplishment how easily Jethro Tull can go from a sinister sound with critically caustic lyrics to beautifully acoustic gems with calmer thoughts such as "Slipstream" "Cheap Day Return" and "Wond'ring Aloud." A five-star feat for the band, which easily makes this album a crucial classic for music lovers.
"Aqualung is another favorite," Anderson claims, "because of the obvious commercial success, although it was never a big hit out of the box. It sold consistently and strongly over the years. It's commercially the band's most successful record. It introduced a degree of contrast and dynamics in the music under the album umbrella by adding more variation. There were quite a bit of acoustic numbers which I'd usually record in the studio myself, with the band doing overdubbing on some bits later on. So that was more of a singer-songwriter album with the heavier rock component as well." 
1. Stand Up (Originally released 1969)
Stand Up still has that energetic prowess from the debut album but now with the extraordinary guitar finesse of new member Martin Barre (original guitarist Mick Abrahams departed because the band were drifting away from the blues rock of This Was).
The Goldmine staff can see why this album was picked as a favorite by our readers. If there ever was an album that definitively mixed folk with blues, Stand Up is it. And it was a sign of all the great music to come. "A New Day Yesterday" hints of the sinister rock sound on Aqualung.
"The first album that I originated in terms of songwriting," Ian Anderson told Goldmine, "and which had a more eclectic approach was our second album, Stand Up in 1969. That album was important for me because it allowed me to step into a more creative role in learning about studio recording and taking on that role of being the technical producer of the music."
If you choose to get the album in vinyl format, you can find it coming with a gatefold that has a playful pop-up of the band. And as you know, these little things make all the difference in the world to a record collector.
A 2001 remaster, a 3-CD "Collector's Edition" in 2010 and a 'Elevated Edition' in 2019 have the 1969 stand-alone single "Living in the Past" and its B-side, "Driving Song," as bonus tracks. "Living in the Past" is an exceptional song — catchy and jumpy with a full-of-life groove with ambience entering at the right moments — and not on the original release of the album. 
The 2-CD/1-DVD 'Elevated Edition' was released featuring stereo and 5.1 mixes by Steven Wilson. The second disc of this reissue captures Jethro Tull performing live in Sweden, where the band opened for Jimi Hendrix in January 1969. Recorded only a few weeks after Barre joined the band, 
WANT MORE JETHRO TULL?!
GET GOLDMINE MAGAZINE'S JETHRO TULL COVER EDITION - APRIL/MAY 2022
Cover Feature: Jethro Tull frontman Ian Anderson speaks what's on his mind about the first Tull album in almost 20 years, The Zealot Gene, and dishes on current events as well.

Other full-length interviews:
• Neal Preston, photographer for Led Zeppelin in the 1970s, shares behind-the-scenes stories and never-before-seen Zeppelin photos
• Guitarist Slash discusses his latest album with Myles Kennedy and the Conspirators, 4, and growing up with parents in the music business while living in Laurel Canyon (Hint: He talks about hanging out with famous singer-songwriters as a kid).
• Vanilla Fudge alumni drummer Carmine Appice and keyboardist/singer Mark Stein discuss their rock and roll legacy and solo material
• Richard Carpenter of The Carpenters goes over the most important details of his latest book, Carpenters: The Musical Legacy
• John Sebastian of Lovin Spoonful fame remembers The Everly Brothers and his unique working relationship with them
• Lead guitarist for The Beau Brummels, Sal Valentino, on the band's new 8-disc box set released by Cherry Red Records

Features:
• Outtake Gallery of Led Zeppelin
• A collector's guide to Led Zeppelin singles
• How The Beatles remixes measure up to the originals
• Vintage Shot: Gun's N' Roses backstage in 1987, captured by rock photographer Mark Weiss
• Record Store Recon: SmartPunk Record Shop in Orlando, Florida
• Spin Cycle: Why David Bowie's Brilliant Adventures box set is … well, brilliant
• Discographies of The Everly Brothers, Vanilla Fudge, The Beau Brummels and others
• Reviews on releases by Pixies, Scorpions, Cat Stevens and others
• Indie Spotlight on Jem Records, Paradiddle Records and others
• 10 Albums That Changed My Life: Albert Bouchard of Blue Oyster Cult fame