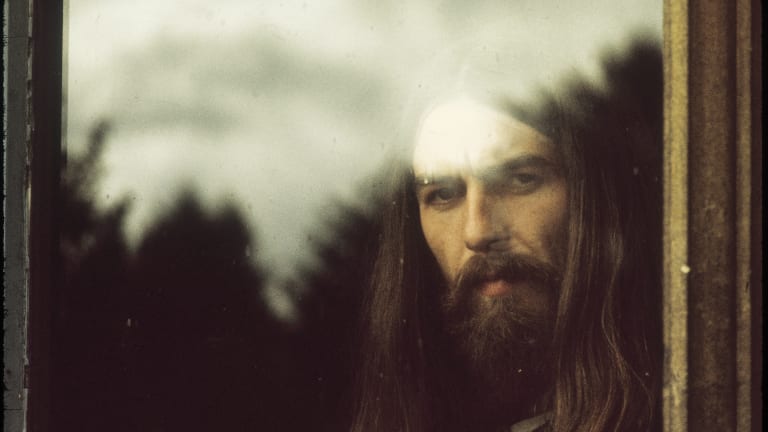 George Harrison's "All Things Must Pass" revisited
With the re-release of "All Things Must Pass" in various edition sets, Goldmine looks at the making of the album with George Harrison's son, Dhani, and Klaus Voormann.
By Gillian G. Gaar
George Harrison was nervous. For all his talk about not being able to get his songs on Beatles albums, it was still a big step to release an entire album of his own. His previous solo albums, Wonderwall Music (1968) and Electronic Sound (1969), were largely instrumental works; All Things Must Pass would be his first album to fully showcase his own songs. Not only that, it was a triple album — rock's first. He knew his songs were good, but he was also concerned enough to ask Apple Records promotion man Pete Bennett if he thought there was a chance he could get a No. 1 album and single. Bennett had no doubt, assuring him, "You'll be No. 1 all the way."
And Bennett was right. On its release in November 1970, All Things Must Pass and its accompanying single "My Sweet Lord" topped charts around the world. Both firmly established Harrison as a songwriter in his own right; after years of being in the shadow of the Lennon/McCartney songwriting partnership, the "Quiet Beatle" proved that he had plenty to say.
ATMP remains Harrison's best-loved solo work. But over time, he admitted that he wasn't entirely happy with how it had sounded, writing in the liner notes of the 2001 reissue, "All these years later I would like to liberate some of the songs from the big production that seemed appropriate at the time, but now seem a bit over the top."
Harrison's death in November 2001 meant he never got the chance to "liberate" his work. But the album's latest reissue presents it in a new mix, offering an enhanced way to experience this timeless work. Splurge for the deluxe or super-deluxe editions, and there are even more treats; 47 demos and outtakes (42 of them previously unreleased) offering further insights into the album's creation. And for the truly extravagant, the "Uber Deluxe Edition" packs the music inside a wooden crate that includes figurines of Harrison and the quirky gnomes featured on the album's cover and a bookmark made out of an oak tree from his Friar Park estate, among other goodies (price tag: $999.98).
For Harrison's son, Dhani, it's been a project long in the making. "And we're already a year late," he says. "In fact, it's amazing that we got this out this year," as the pandemic slowed down everything; even the blockage of the Suez Canal this past March delayed shipping. "There's been a lot of stuff that we've been fighting against. I'm just really relieved it's coming out when it is."
As Harrison laid plans for ATMP in 1970, there would be two major influences that helped shape the work. One was the sound of the Southern soul music of the husband-and-wife team Delaney and Bonnie Bramlett, who played with a revolving group of musicians as Delaney & Bonnie and Friends. Harrison had previously tried to sign the group to Apple Records, and after catching their show at London's Royal Albert Hall on December 1, 1969, he offered to sit in with the group on their subsequent dates. Harrison relished the chance to play live as a sideman in the background. "(It was) just what Harrison needed after all that hoopla with The Beatles," keyboardist Bobby Whitlock told author Graeme Thomson, "to get involved with a bunch of redneck rock and rollers and just have a good time."
Harrison was also looking for a way to put more spiritual consciousness into his work. He'd become involved with the Hare Krishna movement, recording with and producing two singles and an album by members of the Radha Krishna Temple; he also let Krishna devotees stay on the grounds of his new home, Friar Park, which he'd moved into in March 1970. Spiritual themes would be a prominent element in a number of songs on his new album.
"Even before I started I knew I was gonna make a good album, because I had so many songs and I had so much energy," Harrison told Crawdaddy. He previewed his work for his old friend, Klaus Voormann, whom he'd met in 1960, when The Beatles first played Hamburg, Germany, and who was now living in London. "He was playing me the songs, and I played the piano or harmonium, and he was playing the guitar," Voormann recalls "Even in the demos, you could hear the quality of the song already. In the studio, things developed into whatever they would, whatever Phil (Spector, the album's co-producer) and George wanted. But the songs were great already. So I knew what he was doing. And when the decision came to do the LP, I was in immediately. There was no doubt about that; I was going to be involved."
Though Harrison had more than enough songs for an album, he decided to record as many as possible, as a means of clearing out his considerable backlog; "Art of Dying" and "Isn't It a Pity," for example, dated back to 1966. Two days before sessions formally started, he ran through a number of songs for Phil Spector, at EMI Recording Studios (not yet renamed Abbey Road Studios), 15 on May 26, backed by Voormann on bass and Ringo Starr on drums, and another 15 on May 27, to his own accompaniment. Luckily for future listeners, the two sessions were recorded for posterity. Seventeen of the 30 songs would be recorded for ATMP.
Formal sessions began at EMI's Studio Three on May 28 and ran through July 3. "We'd turn up every day around lunchtime and started working at it, usually worked well into the evening," Alan White, one of three drummers on the sessions, recalls. "George was very meticulous and very straight. He was very much a worker, he just wanted to get on with it, organize things. He was more serious. He was a nice guy, but when he got down to work he was a Beatle; you get one of them in a room and the whole room revolves around them. You get two of them in there it's ridiculous!"
A variety of musicians came and went over the coming weeks. Eric Clapton was on hand, along with the musicians he'd later work with in Derek and the Dominos: Carl Radle, Whitlock and Jim Gordon. So were the members of Badfinger, Billy Preston, Pete Drake, flown over from Nashville to play pedal steel guitar, Peter Frampton and Starr, among others (the new release's credits now cite John Lennon and Yoko Ono contributing handclaps to the jam "I Remember Jeep"). Yet no one kept track of who played on what song, to the frustration of later historians.
To Voormann, that's missing the point. "All the musicians that played, they're all different, yes, but at the same time, they're only there to serve whatever is best for the song," he says. "That's the same if it's Carl Radle playing or if it's me playing. We were such close people, and everybody knew how to support a song. Nobody put any ego on it. And that's why to me, this was working out, 'Oh, who's playing on this track and who's playing on that track' doesn't mean much to me."
Voormann felt that Harrison and Spector were a good fit as co-producers. "They got on really well and it worked fantastic," he says. "Phil was witty and funny and made good suggestions. Maybe he'd suggest 'Let's have lots of acoustic guitars.' And George, would say 'Great, yeah. And let's do the harmonium and the piano at the same time.' They would try it this way and they would try it that way until they'd say, 'That's the right one.'"
Even so, Harrison had to get used to Spector's penchant for adding effects, beginning with the first song recorded, the intense "Wah-Wah," written after Harrison had briefly quit The Beatles during the January 1969 "Get Back" sessions. "I really had a great time playing on 'Wah-Wah,'" Voormann says. "George didn't like so much what Phil had done with all the echoes and stuff. But he got used to it in the end."
Others had different perspectives about the partnership. Sax player Bobby Keys felt Harrison and Spector were "complete polar opposites … Phil was energetic and nervous, and George was laid-back and let-it-come-easy." And by July, Spector had left. "He was going through a bad time with drinking and it made him ill," Harrison later explained to journalist Timothy White. Sessions had also been put on hold after July 3 as Harrison was needed in Liverpool to attend to his mother, who was ill and died on July 7.
When he returned to EMI on July 25, he recorded one final track, the sweet "Apple Scruffs." Overdubbing began on July 27 at EMI, later moving to Trident Studios in September to take advantage of the facility's 16-track tape machine. Harrison recorded most of the backing vocals himself, layering on overdub after overdub, jokingly crediting himself as "the George O'Hara-Smith Singers" on the album.
Mixing began in October at both EMI and Trident. Spector had sent Harrison a letter in August with some mixing suggestions; now he turned up at Trident to offer further help. Harrison also found time to record two more songs: "It's Johnny's Birthday," a greeting for John Lennon, set to the tune of Cliff Richard's hit "Congratulations," and another take of "Woman Don't You Cry For Me," which would remain unreleased until its inclusion on the new reissue.
In addition to the album's 18 tracks, Harrison decided to add a third disc of the impromptu jams that had broken out during the sessions (hence the disc's name, "Apple Jam"), to convey a sense of the studio atmosphere. "That's what George wanted," says Voormann. "The jams weren't meant to be anything, they were just good jams. It never was a planned thing: 'Come on, let's do a jam.' Afterwards, George had said, 'We've got all those funny little jams — should we throw them away? No, no, no.' That's more or less how that ("Apple Jam") record happened."
After five months, the triple album set was finally ready for release. "I was amazed," says Voormann of his reaction when he heard the album in its entirety for the first time. "I didn't know what to say, it was so good." He was especially impressed with how despite the number of songs, the overall flow of the album was excellent. "There's certain rules to those things. For example, if you have a track that's not so good, you put it before the last track. But that's only if you haven't got enough good material. Now, George's record works all the way through; he did a great job with that, really good."
Harrison's newfound success was somewhat marred by legal troubles. "It's Johnny's Birthday" was included on the "Apple Jam" disc, and "Congratulations" songwriters Bill Martin and Phil Coulter filed a claim, as they weren't properly credited; their names were quickly reinstated on subsequent pressings.
A more serious charge was that the melody of "My Sweet Lord" emulated that of The Chiffons' hit "He's So Fine" too closely. Bright Tunes, which owned the latter song's publishing rights, filed suit for copyright infringement in February 1971. Delaney Bramlett later told Rock Cellar magazine that while touring with George Harrison in 1969, he'd demonstrated to Harrison how one could write a gospel-rock song, playing "He's So Fine" on his guitar by way of example. When "My Sweet Lord" was released, he contacted Harrison, saying he hadn't meant for him to use song's melody in his own work. "Well, it's not exactly the same," Harrison told him. "And I guess it really wasn't," Bramlett said. "I could tell by listening to the song that he did put some curves on it. But I guess that didn't stop him from being sued." Harrison was eventually found guilty of "subconscious plagiarism," but felt the ruling didn't diminish the song's overall message. "I know the motive behind writing the song in the first place," he said, "and its effect far exceeded the legal hassle."
The album's latest iteration is the most ambitious reissue from the George Harrison Archive, overseen as always by Dhani (credited as the set's executive producer and creative director), who's worked on his father's releases since ATMP's 2001 reissue, and the last album, Brainwashed (2002). For this latest release, Dhani and Paul Hicks, who did the remixing, went back through everything in the archive. "There were reels that we didn't even have in our archive when my dad passed away, stuff that we got back," Dhani says. "And hilarity ensued, as they say in television. We spent five years going through it."
The process began with a high-res transfer. "This is all done at 192 (192 KHz/24 bit) — really high resolution," says Hicks. "I think the last remasters were 96 K. We actually mixed it a few times. because the first round we did, we were very cautious. Every project has its own different set of challenges. You'd quite often get a stereo guitar track that was a combination of not just two guitars, on the left and the right, there might be another guitar in the middle. And some effects were really subtle. Like in 'Hear Me Lord' there's a slap, in 'Let It Down' there's a tight slap delay on the drum track, and again, a slap delay on 'Apple Scruffs.' And if you take that off, it sounds like a demo, and it doesn't really sound like the record. So there are a lot of things you really have to take into consideration when doing this."
At the same time, Hicks was also remixing Lennon's Gimme Some Truth and Plastic Ono Band sets, and The Rolling Stones' Goats Head Soup set, receiving kudos for his work. "And it was very encouraging having people being so receptive," he says. "And my mind set started to become, 'OK, if you're going to do this, we might as well go for it (on ATMP),' knowing what George liked. So Dhani and I sorted out a version that was really dry. And then it didn't feel right. There's a lot of things that you have to work out. There's a balance to be had with it all."
"We mixed it probably five times," says Dhani Harrison. "And then we just kept pushing it. Paul would play stuff to me and say, 'How comfortable are you with this?' Or, 'I put a bit more low end in, how comfortable are you with this?' And most of the time he had it right, and I'd say, 'Keep going,' just give him some confidence; 'This is great, don't stop.' We pushed it and pushed it, and then we pushed it a bit further, and it still worked. And then we were just like, OK, this is perfect. And yeah, it sounds like it could have been recorded last month."
In contrast to previous ATMP reissues, which had a mere five bonus tracks, there's a wealth of material on the new reissue. At least one take of every song recorded on May 26 and 27 is included. "The run-throughs were so good, we thought, let's just put the whole thing out there," says Hicks.
"I think that my dad would have loved to have released the 'day one' and 'day two' demos as an album," says Dhani. "But the way in which you can fix stereo drop-outs or little clicks in the tape or a little bit of glitching, he didn't do that back in 2001. We didn't have the tech. So now it's really great; it's kind of given us three different versions of the same record."
And the two had great fun pulling together the fifth bonus disc. "We affectionately called disc five the 'Party Disc' because we thought, there's quite a lot of heaviness to the album," says Hicks. "So our thought process was to find things that were maybe a bit lighter or sonically different."
"A lot of stuff was just, does it make me happy?" Dhani says. "Is it fun to listen to, or is it just a novelty? Can we include a bit of comedy and humor in there, because there always is that with my dad? There might be five different versions a song, and they all sound the same. But then there's one that sounds slightly different and it's got a different energy. And that's the one that we would choose, because it's giving the people the most amount of getting inside the record and seeing the process of how it changed and how it evolved.
"I think we got the right balance, but it did take us a really long time. Everyone put forward their suggestions, and then there was just far too much, we had to be pretty brutal in going through stuff. And we must have done 50 revisions of what we wanted in there."
The end result is a box set that lets you experience ATMP in a variety of incarnations. "I'll hear the normal record and I'll be like, 'Wow, this is my favorite record,'" Dhani says. "And then sometimes I'll hear the demos and just be like, 'I just want to listen to this today'; if your ears can't handle all the big production, some people might find those discs better. Which is great, which is what we wanted. We want everyone to be able to listen to it whatever way they want. On vinyl is the best," he adds.
And so the refurbished All Things Must Pass is ready to dazzle future generations for the next 50 years, and, hopefully, beyond. "It's the most thought-out box set I think I've ever done on any project ever, and rightly so, because it deserves it," Dhani says. "We did it as a family project, and it's sort of a love letter to my dad. We really hope that everyone out there feels the same way, and that it brings some sort of healing; after all of this last two years of nightmare worlds, that things can pass and start being a brighter time. And that this is a part of that healing."