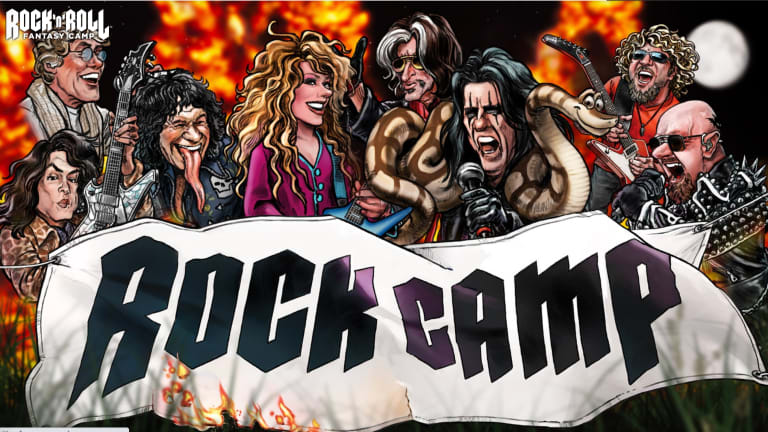 Getting it right with "Rock Camp"
Before you watch the movie "Rock Camp," here's what it's like to actually attend the Rock and Roll Fantasy Camp.
Story and photos by Ivor Levene
John Lennon once famously said, "If Rock and roll needed a new name, they would have to call it Chuck Berry." The same can be said about Rock and Roll Fantasy Camp, but the term, "Life changing positive affirmation with rock stars" doesn't exactly roll off the tongue, so I'm going to stick with just referring to it as RRFC for the sake of brevity. Who amongst us has not dreamed of being able to get up on a stage, a world-famous stage, and be part of a band that includes Alice Cooper, Roger Daltrey, or whomever your rock idol is?
It was also said that, "Music hath charms to soothe the savage breast." I don't know about it soothing savage breasts or beasts, but it does have the power to change someone's life. I've seen it, you've probably felt it, and if you watch the new movie about Rock and Roll Fantasy Camp (RRFC), you will see a heartwarming story that tells the tale of Blake Meinhardt, who was developmentally challenged, enrolled in a Rock Camp by his parents, and was brought so far out of his shell that he's about to release an album of his own music. Music cured him, thanks largely in part to this wonderfully therapeutic thing called Rock and Roll Fantasy Camp. Camp is part therapy (sometimes for the rock stars themselves), part jam session and part dream week.
David Fishof, the creative genius who was responsible for the first (and best) Monkees reunion in 1986, and the vision that became Ringo Starr & his All Starr Band, came up with a vision where music fans (Campers) sign up for a one-week fantasy camp, where they will be mentored by musicians (Counselors), partake in master classes, Q & A sessions and get to perform live one or two times. In my case it was at the legendary Viper Room and The Whisky on the Sunset Strip. Yes, I got to perform on the same stage that The Doors, Van Halen, and many other bands performed on, and got to live the rock star life for a week.
The film opens with Alice Cooper telling us that he encounters people constantly who are 20 years younger than him, that quite literally look like "their job, and their very lifestyle are killing them." This is especially ironic as Alice Cooper's lifestyle and job once almost killed him. There's a unique, self-deprecating quality to David Fishof, he never lets it go to his head, and is always about so much more than running RRFC as a business, and quite frankly, it can be hard to encapsulate what exactly this business he's created is. Part jam, part fantasy, part music, but most importantly and hardest to encapsulate is the sense of inclusiveness and the lifting of one's spirit.
Let's face it, the entire world is surrounded by nothing but grim statistics right now. Not sure if Mr. Fishof purposely timed the release of his film to be there when we all could use something to smile about, but this film is something that will lift your spirits and make you feel good. Who couldn't use that right now? This is easily the most inspirational music related film you'll see, and it's something that can be enjoyed by family members from five years old to 85 years old.
What David Fishof has created is a movie that explores some of the most heartfelt passions behind a profession that many write off as being "all about the money." Some of the biggest names in rock music have participated in RRFC, and they aren't doing it for the money, they're doing it because they want to give something back that's much bigger than a local concert. Without fail, every single rock star that has participated has a deep connection with their past, remembering what it was like in the beginning when they could barely book a gig. This film will warm the soul of even the most cynical viewer.  This is the must-see, feel good movie of the year!
The Counselors who make up the returning regulars are a keystone of what goes on at camp, musicians I have come to know pretty closely through my travels and through my writings. Tony Franklin (The Firm), Rudy Sarzo (Ozzy Osbourne), Greg Potter (Buddy Rich Band, many more), Teddy "Zig Zag" Andreadis, and many other regulars who act as counselors. Each counselor leads a band at camp, and then the headliners come in and jam for one or two songs. The whole thing is done in a very non-competitive atmosphere, which in itself is a minor miracle considering how many musicians are packed into a small space. Everyone's ego is checked at the door at Rock Camp. There are roadies, stage managers, tour managers, caterers, and you can even purchase a "groupie" pass, which allows friends and loved ones to see the showcases.
I can personally attest to the fact that Rock Camp can and does change your life. I was there.... In early 2020, when the world had not yet been gripped by the plague of Covid, I signed up as a "hidden camper," with the assignment to attend a camp and write about it. I purposely picked the Los Angeles camp that had as its counselors, Chuck Leavell of The Rolling Stones and The Allman Brothers, Ian Paice and Steve Morse of Deep Purple, and Jon Anderson of Yes. I learned to play bass playing along to Deep Purple, and with this camp I was going to be half of the rhythm section with Ian Paice on drums and Steve Morse on guitar.
This was actually the very last live event I attended back in February of 2020, before the lights dimmed on live music, and just like you'll see in the film, it really was a life-changing event. I expected to attend the camp, jam with a couple of famous musicians, and some of the counselors, and write about it later. You'd read the article, and hopefully be inspired to attend a camp of your own. What happened instead was that I became part of a family that I'll always cherish. Walking into that rehearsal space on the first morning, I found myself in a room that had a couple of musicians roughly my own age, and a trio of kids. My first thought was, "School of Rock," until this kid barely into his teens picked up his guitar and proceeded to shred his way through "Space Truckin" by Deep Purple. Our two drummers had a combined age less than the age of most of my record collection. We all shared one thing though; a passion for music. I'm pretty sure that only two of us were that familiar with Deep Purple, let alone own a copy of Machine Head, although there is no escaping that damned riff from "Smoke on the Water." That riff has transcended generations.
In true rock and roll fashion, our counselor, Craig Goldy, was a real-life rags-to-riches story and was perfectly suited to the role. Goldy was there not just to advise and shape the band, I'm pretty sure he was there for his own salvation, too. Ronnie James Dio had famously rescued Goldy from a rock-bottom life that had him sleeping in his car. The kindness of what Dio did made such a profound impact on Goldy, it changed his life, and he became a part of RRFC.
The part of camp that they don't show is all the preparation that goes into doing this, and you have to give it up to everyone involved who doesn't do this as part of their regular gig, people who have a dream and get to fulfill it on a stage. Once you sign up for a camp, you're sent an email by Fishof himself, which includes a "camper prep" video. What follows next is a list of songs that you should "familiarize" yourself with. My list had 27 songs on it…. Hey, no problem, the list came four months before the actual camp, I should have no issues with these songs. Nine are Rolling Stones songs, check! Nine are Deep Purple songs, check! Nine are YES songs….Uh oh. I'm a bass player, and The Stones and Deep Purple practically taught me to play bass in my garage, but YES? For those of you reading this who are musicians I'm sure you get it. For those who aren't, trying to play a YES song is arguably one of the hardest things there are in rock music. The songs are very complex, they change keys and tempo constantly, and unless you have a lot of time on your hands, good luck! I had four months to get up to speed on "I've Seen All Good People" and I was going to play this, in a tiny room, with Jon Anderson, the guy who wrote it, on vocals. Sure, no problem.
As it always does, life intrudes, and I'll quote John Lennon again and say, "Life is what happens to you while you're busy making other plans." I'm a week away from the start of camp, and not only had I just been laid off from a job I held for eight years, I was also in the middle of trying to obtain a technical certification, and I still haven't mastered a single YES song. Rock camp could not have come at a worse time for me, but rock camp could not have come at a better time for me either. I needed something to lift my spirits; I had become part of the story I went there to cover.
Having developed a few friendships over the years with some of the counselors, I broke my cover and asked Tony Franklin: "Dude, do we have to play every song on that list?" He put me somewhat at ease, telling me that only two songs get picked out of each group's set. I'm still fine with Purple and the Stones. I consider emailing Chuck Leavell and asking him if he has any insight, but decide to leave it to chance, figuring it probably goes pretty much in line with what a Stones show looks like, Jumpin Jack Flash, Satisfaction, Start Me Up, Miss You. Still, you don't know which two are going to be picked, so I'm playing Russian roulette, YES style.
We show up on day one, go through orientation, meet and greet, and before you know it, we're in a place that anyone who's ever been in a band with strangers has been, the song decision room. Yep, we're all locked into a dingy, dark, rehearsal room in North Hollywood, trying to decide on which songs we'd play. They aren't kidding about this being true to life, right down to the beer stains and torn posters at the rehearsal space. We had all been given each other's email addresses months prior, and like all great bands, we still couldn't agree on which songs to play. That's one of the many occasions where Craig Goldy took the lead and like all good bandleaders, he steered us in the right direction. The songs we ended up agreeing on? "Space Truckin, Smoke On The Water, Miss You and Satisfaction." Goldy decided to shelve the YES songs I'm sure because he knew how hard that stuff is, instead wanting to turn our time with Jon Anderson into a Q & A.
This is where band camp starts to differ from real life. There is none of the arguing about songs, time to rehearse, or any of the other things that can pull a band apart. This is done in the most wonderfully encouraging atmosphere possible. Pretty soon, I start to imagine this is what it feels like at the top. Life is good, the band is getting tight, and we're going to take the stage at the Viper Room and the Whisky in a few days. Different rock stars have different levels of involvement at camp. Jon Anderson was there for a single day. He did a Q & A session for the entire place, and then went from room to room, playing two songs per camp band, and opting out of the live performances. Chuck Leavell came in kind of quietly, and each band in turn went to the big room where we got to play two songs with Chuck. He also opted out of the live performances. Ian Paice and Steve Morse also had each band come down to the big room for a jam, but they were going to play with us at the Whisky.
If you've ever attended a Rolling Stones concert and sat up front, or watched a live DVD, you'd have seen how Chuck basically guides the band using hand or body motions. Rock camp is the same thing and really, you've got to give it to Chuck, being able to steer all these bands he's never seen, giving cues, knowing when to end the song, and where to signal a solo. Chuck made time for everyone, signing autographs, chatting with campers and counselors, and even giving instruction. I got some alone time and asked him, why would you do this rock camp? You're in The Rolling Stones! As it happens, this was his first time at camp, and his schedule was open, so he did it out of curiosity initially, but his deeper reason for doing it was, "I wanted to help other musicians become better, but above all I wanted to help everyone have a good time." When I asked him what his biggest take-away was, he replied, "Seeing the joy and the look of pure enjoyment on the faces of all the campers was a huge reward for me. Each one gave it their all, and I truly believe they all learned from the experience."
When it was Jon Anderson's time in our room, he was actually disappointed that we hadn't learned any YES songs, and told us all to pick up our instruments and start playing, which we did. I think we wrote our own YES song right on the spot. Only a lead vocalist can marshal a band like that. When it came time to jam with Ian and Steve, we all assembled in the big room, and took our positions. I was standing directly in front of the bass drum, and Steve Morse was about two feet from me. The sound guy comes in and has us check our levels, instructing me to turn the volume up to 10, and then adjusts as needed at the soundboard.
Our guitarist launches into the "Smoke on the Water" riff, and Ian comes in on the hi-hat a few bars later, followed by the keyboards and yours truly. Right where the vocals and drums kick in, it gets LOUD. Ian Paice LOUD. I think back to the 1970s, when Led Zeppelin, Deep Purple and The Who all seemed to take turns holding the title of "World's loudest band." Now I know why. I can barely hear my bass over top of the thundering drums, and I'm already turned up as high as it will go, and I'm guessing the sound guy is hearing it differently. We make it through "Smoke" and then launch into "Space Truckin'." The drumming seems to have lowered a bit in volume, which is a good thing considering the complexity of the bass line. I look over at Steve and he nods approvingly. I turn to look at Ian, but he's absorbed, he's totally into it and into his own zone. It matters not that he's playing with a band that was thrown together that week; he's playing as though he's onstage with Deep Purple. We make it through the end of the song, I get a high-five from Morse, turn around to look at Paice, and he gives me the nod of good approval. I'm reminded of the eternal battle between Jack Bruce and Ginger Baker, with both of them trying to out-volume each other at every live gig, eventually coming to blows.
Friday arrives, and it's the night of our big gig on the Sunset Strip, at The Whisky. We spend a good part of the day rehearsing, bonding, congratulating each other, and generally mingling. It's amazing, and sounds corny, but in those five short days, we became a band, good enough to hold our own with Chuck, Jon, and Ian/Steve, although it's really not about holding one's own, it's more about living your dream. Late in the afternoon, the shuttle arrives to take all the campers to The Whisky, and I find out that we are going to be the first band to go on. Gulp. Backstage at The Whisky is essentially a trip up a narrow staircase, where there are two bathroom-sized rooms, and a "luxury" dressing room that has a couple of couches and some Red Bull. We cram into all three rooms, but our room with a view is to be short-lived, because as soon as Ian and Steve arrive, we are unceremoniously pushed into one of the smaller rooms. Of course, I weasel my way back in, explaining to Ian that I'm actually covering the event, and need to interview him. Here's what he had to say about rock camp:
GM: Is this your first camp?
IP: No, this is my second go around with it; I did the first one three or four years ago.
GM: What made you decide to come back?
IP: I love doing the camp, you're surrounded by people who aren't doing any of this for the money, and they're doing it because they love music. It's like going back to when you're a kid, and everyone was doing it just for the sheer fun of it. When it becomes your business, it becomes your life. It's still fun, but somehow it's different. All these people, they know what they're doing here is never going to be their life; it's going to be their hobby. That's very.... pure. They're not doing it to become famous, or to become rich, they're doing it because they love it. There's nothing wrong with that, it's very, very, healthy. I always tell these kids, that if they can play well, they have something that %99.999 of the world doesn't have, and you've got something that makes you happy, and that's what it's all about really. If by chance, music does turn out to be your living, that's a bonus, a huge one, but you've got to enjoy it. If you don't enjoy it, then you can't do it right. You've got to love what you do.
GM: I actually grew up listening to your music, Deep Purple taught me how to play bass.
IP: There you go, that's exactly it. Whatever we did, something in it appealed to you, and it made you think, "I can do that, I wanna do that." I'm here for those people.
Our interview was cut short by the P.A. announcing, "Band 1 to the balcony!" and I told Ian I had to run to take my place, as his final words to me rang true; "I guess we all have our jobs to do, don't we?" Ian was quite eloquent.
Our band assembles onstage as instructed, and we all take our positions. Unbeknownst to anyone, I've hatched a plan to try and play louder and, well, you can never have too much bass, right? The sound guy comes onstage and tells me, "Turn up your bass all the way." Knowing how loud it's going to get with Ian Paice a few feet from me, I turn the bass halfway up, and tell the sound guy it's all the way up, and he buys it. Our band goes through "Miss You" without fanfare, and then it's time for Deep Purple. Our lead singer, Aliza Hava announces our guest stars, Ian Paice and Steve Morse, but our counselor Craig Goldy bounds onto the stage and bellows, "Let's try that again. We have two guys from the best band in the world. We've got one of the best drummers in the world here tonight, Ian Paice, and we've got one of the world's greatest guitar players here, Steve Morse".
Ian Paice sits down at the kit, Steve Morse takes his place about six inches from me, and we are about to launch into "Space Truckin'." I am onstage with my musical heroes. We hit the opening bar, and the song starts, with keyboards, bass, and Ian hitting just a closed hi-hat. At the point where the rest of the band comes in, I reach down and crank my volume knob and the bass thunders out over the crowd. The sound guy is nowhere to be seen, and all of a sudden BOOOOOM! Ian Paice is hitting the drums with such force, I can literally feel the air being pushed out of the bass drum right at me. It's as though he'd been through this Jack Bruce/Ginger Baker thing before. I swear he knew what I had done because he started playing with a ferocity I will never forget. I turned my head briefly to look at him, and he just winked at me, as though he knew.
I had always wondered what it would have been like to be onstage in front of Keith Moon, John Bonham, or Ian Paice. Not only was it deafening in a great way, it had the power to move me. Literally. The combination of Ian's drums, combined with the amplification (who knew they would amp his drums for a tiny club?) was literally making the stage go up and down with the beat. I felt like I was in the middle of a giant rhythmic tornado, with a pulse and bright lights, and it took me to a place I know I'll never forget.
For more information, please visit http://www.rockcampthemovie.com
The movie starts streaming on Apple TV and Amazon February 16th.
Rock on!