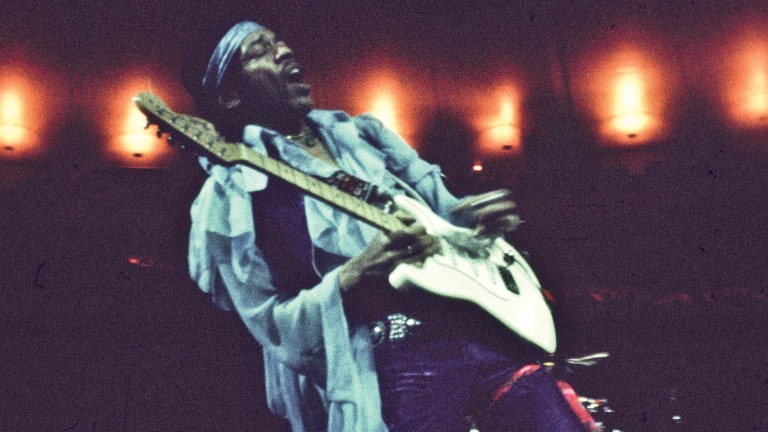 How Jimi Hendrix created the power behind Band of Gypsys
Jimi Hendrix kept evolving as he moved into 1970, on the path to Band of Gypsys. Gypsys bassist, Billy Cox, and producer Eddie Kramer remember it well.
Jimi Hendrix kept evolving as he moved into 1970, on the path to Band of Gypsys. Gypsys bassist, Billy Cox, and producer Eddie Kramer remember it well.
By Gillian G. Gaar
On December 31, 1969, Jimi Hendrix walked out onto the stage of the Fillmore East in New York City, delivering the first of two sets he'd give at the venue that night. He was making his debut with a new group he'd dubbed the Band of Gypsys, featuring an old army buddy, Billy Cox, on bass, and Buddy Miles, whom Jimi had met when he was touring America as a backup musician in the years before he found fame, on drums.
The band hadn't even released a record yet, so the audience had no idea what to expect. And as the show kicked off with "Power of Soul," then went into "Lover Man," followed by "Hear My Train A Comin'," Billy watched as the audience's faces turned to amazement. "You could see people with their mouths wide open," he recalls. "We had combined R&B, rock, and a little jazz, and people were thinking, 'We've never heard music like this before!'" As the band walked offstage after the first show, Jimi told Billy, "It's going to be all right now!" "You couldn't wipe the smile off his face, because he knew he had done a good job," says Billy. "It was a great time."
Band of Gypsys, drawn from the third and fourth shows, was released three months later in the U.S., peaking at No. 5. It was the last album of new material Jimi released during his lifetime. Over the years, more songs from the shows have trickled out. Now comes Songs for Groovy Children: The Fillmore East Concerts, which presents all four shows in their entirety for the first time. "Patience is a virtue," jokes Eddie Kramer, who co-produced the new set, and whose involvement with Jimi goes back to February 3, 1967, when the two met at a session at London's Olympic Studios, where Eddie was then working as an engineer. He went on to work on the original Band of Gypsys album.
1969 was a tumultuous year for Hendrix; indeed, Band of Gypsys was just one of a revolving cast of musicians he played shows with during those 12 months. The first half of the year was devoted to shows with the Jimi Hendrix Experience; a European tour in January, two dates at London's prestigious Royal Albert Hall in February, and a North American tour from April 11 to June 1. The U.S. tour was marred when Jimi was arrested in Toronto on May 3 and charged with possession of heroin and hashish. He was released on bail, and a trial date was set for December.
When the Experience reached Memphis on April 18, Jimi met up with Billy Cox. Billy had met Jimi in 1961, when they were both in the army, and he'd overheard Jimi practicing one day. "He could only play in about three keys, and it was very amateurish," says Billy. "But then he became very fluid with his playing, and I knew that he was on his mission musically."
A musician himself, Billy introduced himself to Jimi, a meeting that would change both their lives. "My life would've been totally different had I not talked to him that day, sure would have," Cox agrees. "A lot of things in life we just can't explain. Fate is the cards that are dealt at birth, but destiny is what you do with those cards. And I feel possibly that was my destiny."
Two weeks later, Jimi and Billy were playing in their first band together. Their working relationship continued post-discharge, until Hendrix moved to New York City in 1964. "They say it takes 10,000 hours to perfect an instrument," Billy notes. "I saw Jimi do it in 5,000."
Hendrix moved to London in 1966, and Cox didn't hear of him again until a friend brought over a copy of the Experience's first album, Are You Experienced, exclaiming, "Your buddy's made it!" Billy didn't recognize Jimi on the record cover, but knew it was his erstwhile bandmate when he played the record. "I heard it, and I said, 'That's him!' It was very unique; I could tell that he'd really found his niche, musically."
Billy was now living in Nashville, working as a musician and producer, and running a publishing company. But when Jimi suggested he come to New York to work with him, he didn't hesitate. "Intuitively, something said, 'Go ahead, do your thing,'" says Cox. "What I couldn't sell, I gave away, and I went on to New York to be with (Jimi) and help him with the music."
Hendrix had become frustrated with his primary group. "The Experience had some internal problems," Billy says tactfully. "Jimi said to me, 'You remember those little rhythmic patterns we used to play?' We'd played these musical things that were different from a lot of what was going on back then; Jimi had said, 'If we recorded this stuff, they would lock us up.' But he was stretching out musically, and I was too.
"So now we got into the studio and started worked on a lot of those things. And ultimately through that collaboration we came up with 'In From the Storm,' 'Dolly Dagger,' 'Freedom,' 'Machine Gun' — all those songs."
Billy noted how Jimi was "more focused, more determined than ever." He was also eager to spend as much time as he could in the studio. "Jimi was doing his, shall we say, independent run through the New York studios," says Kramer. "He was jamming, and thank God he did, and thank God tape was running, because that provided tremendous fodder for later releases."
"There are a lot of tapes," Billy agrees. "There could be hundreds of tapes that we recorded; they were complaining about how many hours we were in the studio. But we looked at the studio as our office. And we never got tired, because new ideas were always being birthed. The studio was about creativity. And we enjoyed that. And all that time spent eventually paid off; the fact that we've got this new album here is part of that."
Eddie also felt Jimi was being taken advantage of by studios who were overcharging him. "He was spending upwards of $250,000-$300,000 a year on the bloody studios, which was a lot of money in those days," he says. It was a major reason why Jimi was involved in building his own studio, Electric Lady Studios, which was being designed by Kramer. The project was expensive, meaning Jimi had to stay on the road, with his earnings immediately plowed back into his new venture.
But the Experience was about to come to an end. The band's final show was at the Denver Pop Festival on June 29, a performance that ended in a riot, the band making their exit through clouds of tear gas. Jimi returned to New York City, but soon relocated to Boiceville, four miles southwest of Woodstock. It was hoped that by getting away from the bustle of Manhattan, there would be fewer distractions, and Jimi could finally complete his long-awaited fourth album.
But first, he needed a new band. Billy Cox was loyally in his corner, and Billy helped Jimi track down another guitarist from their journeymen days, Larry Lee. Larry was brought in on rhythm guitar, so that Jimi could focus on playing lead. Jimi also brought in two percussionists, Jerry Velez and Juma Sultan, wanting conga players to give the band's sound a different feel. He also made two TV appearances during the summer, but felt his band was not ready for prime time. For his July 7 appearance on The Dick Cavett Show, he performed with show's band backing him; for his The Tonight Show appearance on July 10, he performed with Billy; Ed Shaughnessy, from the show's band, was on drums.
He then invited the Experience's drummer, Mitch Mitchell, to join his new outfit (Jimi had always come into more conflict with the Experience's bassist, Noel Redding). But when Mitch arrived from England, he was underwhelmed by what he always regarded as a loose, disorganized group of musicians. "The band was grim and the house was grim," he wrote in his memoir, Jimi Hendrix: Inside the Experience. "It was probably the only band I've ever been involved with that simply did not improve over that length of time."
But others participants felt differently. "That's Mitch's opinion and he's entitled to that," says Billy. "But I think we came together pretty good. All you have to do is listen to the Woodstock CD." There was some difficulty in getting all the percussionists to work together; Jerry Velez admitted he and Juma "overplayed." For his part, Juma disliked Mitch, saying he was "drunk most of the time" and "didn't know the concepts that Jimi was moving to."
Eddie Kramer, who arrived from New York with engineer Shimon Ron to record the band's rehearsals, also felt the project had its merits. "Any time that Jimi was doing something, it was productive, I would say," he observes. "Jimi had this thing he was working on in his brain, of what this new band was going to be. He saw his music in a larger sort of capacity, in terms of the number of musicians, and the direction where he wanted to go, making it more free form. Which is exactly what shows up at Woodstock."
A bigger issue was that once word got around that Jimi Hendrix was in town, uninvited guests began to turn up. "That was a problem," Billy agrees. "Today stars have a lot of protection; you can't just walk up on Elton John's property and say, 'Hey, how you doing?' We really needed some private security and we didn't have it. Because word got out that we were there, and we had a lot of hangers-on, lookers-on, and it got a little frightening a time or two."
The band's first gig was on the closing night of the Woodstock Music and Arts Fair, held August 15 through 17 at a farm outside Bethel, New York. The producers had expected around 50,000 to show up, but instead, the area was flooded by hundreds of thousands of people; at its peak, the crowd was estimated to be around 400,000.
Jimi's friend Richie Havens opened the festival at 5 pm on August 15. Delays over the course of the weekend meant that Jimi and his band didn't take the stage until 9 am on August 18, by which time most attendees had left. The group was mistakenly introduced as the Jimi Hendrix Experience, which Jimi was quick to correct in his opening remarks: "Dig, we'd like to get something straight. We got tired of the Experience ... it was blowing our minds too much. So we decided to change the whole thing around, and call it Gypsy, Sun & Rainbows. For short, it's nothing but a band of gypsies."
The band played for two hours, the longest show Jimi ever played. Kramer was on hand, recording the entire festival. "It was certainly quite taxing, but at the same very exciting," he says. "You couldn't help being swept along by the tidal wave of people and the actual event itself as it unfolded. And the only reason we were able to stay awake was being given vitamin B-12 shots in the bum!"
For Kramer, Jimi's set was a testament to his prowess on guitar. "It's amazing when he's just by himself and the band is quiet," he says. "It's an object lesson in how to play the guitar. Because it's like he's on another plane, another level, like he always managed to rise above everything. That control of mind, running through his body and his fingers, and coming out through the guitar in one unstoppable flow." The rest of the band he found to be not quite tight enough. "Mitch and Billy I think really keep it all together. Some of the other things that were going on may have been a bit of a distraction, because the timing of some of the extra musicians wasn't quite in keeping with what Jimi was wanting. I can remember hearing Mitch saying, 'I wish the band would listen to what we're trying to do rhythm wise.'"
The set is best known for its legendary version of "The Star-Spangled Banner." It was a number where Cox was happy to let Jimi take center stage. "He started it off, and then if you note carefully, I started it off with him. And I did the first six or seven notes, then something told me, 'I think you'd better lay out, because this is not like you think it's going to be.' So I laid out. And it's one of the greatest renditions of 'The Star-Spangled Banner' that I've ever heard. It didn't need me in it."
The full Hendrix-Cox-Lee-Velez-Sultan-Mitchell lineup played just one more show, a benefit concert in Harlem, on September 5. Cox, Sultan, and Mitchell also backed Jimi when he appeared on The Dick Cavett Show on September 9. But Jimi's manager, Michael Jeffery, was unhappy with the size of the group. He offered Velez and Sultan separate recording deals in the hopes of luring them away. He also wanted Jimi back out on the road, but Jimi felt the band wasn't ready. In response, Jeffery arranged for auditions for new band members, against Jimi's wishes.
In this fraught atmosphere, the musicians, minus Velez, played a final date on September 10 at the New York club Salvation. By the end of the month, the group had disbanded. Lee, Sutan, and Velez each suspected that Jeffery didn't want the group to succeed, as he didn't find the band's music commercial.
But Jimi, still in search of a new musical direction to pursue, appealed to Billy Cox to return, and he agreed. The two began working with Buddy Miles at Juggy Sound (formerly owned by Juggy Murray, who had signed Jimi to his Sue Records label in 1965), with producers Alan Douglas and his partner Stefan Bright. Cox soon came into conflict with Bright, and ended up leaving once again. But by mid-November, Douglas was out of the picture, and Billy had returned. He admits being frustrated at all the comings and goings, "but life is life. And you just roll with the punches. That's what I've always done."
Jimi's trial for drug possession in December had a happy outcome; he was found not guilty. Back in New York, recording continued. "We could stay in the studio 12, 13 hours and not think about it," says Billy, "because it was not only our living, it was our hobby, too. And recording was something we used for experimental purposes."
Then the idea for a new project emerged. Jimi had signed numerous contracts before moving to the U.K. His new managers made settlements with most parties, but after the success of Are You Experienced, Ed Chalpin, of PPX Enterprises, claimed he had Hendrix under contract, and filed suit. As part of the settlement, it was decided that Chalpin would be given the rights to a new Hendrix album. Neither Jimi or his manager wanted to hand over a studio album, so they decided to make a live record. Four shows were duly booked at the Fillmore East, and the group was named Band of Gypsys.
"I think this was an opportunity for Jimi to express himself in a new direction," says Kramer. "See, I think Jimi was the opportunist here. I think his mindset would be something along the lines of, 'I want to keep trying different things.' Woodstock was one thing, with a whole bunch of musicians, but this was different. This is a tight R&B funk band that shows a different direction. And it was fairly easy to put together. The tapes of the rehearsals are very good. I popped down once or twice just to say hi. It was tight."
Though it was common in the 1960s, it's hard to imagine a top group playing two full concerts in one evening today. "We were young; we were in our 20s!" says Billy. "In your 20s, you're indomitable. We thought nothing of it. And we enjoyed playing with each other."
Nor did the group prepare a set list. "We had thought about that," Billy says. "But Jimi never used a set list. He was the bandleader, and as soon as he hit the first note, or maybe a chord, for some strange reason we knew what that song was going to be. Jimi was our leader, so we followed the leader. And if Jimi went wrong, I just went wrong with him; if he started off a song in the wrong key, I jumped into the wrong key with him. We were together, as a three-piece group, and that's what defines a group, being together."
Cox looks back at the group's performances with pride. "It was great. Sit back and listen to Buddy Miles on his vocals; I don't think people realize, he was probably one of the greatest R&B-blues-rock singers. He never got this just due on that. And I can give it to him, because Buddy Miles was great. Then you got Jimi Hendrix. Today, I see these musicians who buy these gadgets; if you open up a music magazine, you can count 250, 300 new gadgets. But Jimi made those sounds with just a fuzz face and a wah-wah pedal. That's all he used, two gadgets! Like they said in that Superman show (Adventures of Superman), he had powers and abilities far beyond those of mortal men."
Yet by the end of January, Band of Gypsys was no more, following a disastrous performance at the "Winter Festival for Peace" concert at Madison Square Garden on January 28, when Jimi was too intoxicated to perform properly, leaving the stage after playing two songs. Jeffery then fired Buddy Miles, who contended that Jeffery had always wanted to break up the band. Certainly Jeffery wasn't keen on the group, but Hendrix had his own issues with Miles. Buddy was used to being the leader of his own band, and Jimi didn't like being challenged. "It was not destined to be," Kramer says of Band of Gypsys. "There was only one Jimi Hendrix, and if you have Buddy Miles trying to usurp Jimi's position, there was only one end solution for that."
But Jimi and Eddie got right to work on the live album. "I knew it was going to be brilliant, absolutely," says Kramer. "Jimi and I just went through all the shows, and he cherry-picked the songs he wanted for the album. He was happy to a point, except for some of Buddy's extraneous jamming." Jimi had been irritated by Buddy's extended "vamping," and told Kramer, "Oh man, I wish Buddy would shut the f**k up. Can we cut some of those parts out?"
Michael Jeffery got his wish and managed to reunite the original Experience — a reunion that lasted as long as the press conference that announced it, for Hendrix quickly replaced Redding with the ever-faithful Billy Cox. Jimi spent 1970 on the road with the group, and in the studio when he was off the road, recording in Electric Lady Studios beginning in June. The Experience played what would be their final show on September 6 at the Isle of Fehmarn, Germany, which ended in chaos; after the band's performance, Hells Angels stormed the stage and burned it to the ground. Twelve days later, Jimi Hendrix died in London, of acute barbiturate intoxication. He was 27 years old.
Since his death, Band of Gypsys has been reissued, sometimes with bonus tracks. There have also been new releases featuring unreleased material, like Band of Gypsys 2 (1986) and Machine Gun: The Fillmore East First Show (2016) — and Eddie Kramer's worked on all of them. "Every one!" he marvels. "I do know that record very well. But I think that the new one is pretty cool; I think this is what everybody's been waiting for. It was wonderful revisiting it. We were very fortunate that the tapes were still in good shape. And the audio industry has done some remarkable things, and I'm able to do stuff that I wasn't able to do 15, 20 years ago. My modus operandi is using the best of analog, and the best of digital, and making this lovely hybrid, which enables to me to make Jimi's music sound better. It's enabled me to be more of a surgeon in trying to find those little bits and pieces and amplifying them, to use an industry term, to just make it sound as really big and as fat as I possibly can."
Billy Cox is now the only member of the trio left, the only person who can give a first-hand account of Band of Gypsys. "Someone has to speak for Jimi," he says, "so I take this time to speak for him because he was my friend. And I'm glad that his legacy has lived this long. I predicted that he would go in the category of Beethoven, Mozart, Handel, and those musicians who wrote in the now. And truly Jimi wrote in the now. And he's getting his just due now, and he will continue to get it because of the fact that he did write in the now.
"Jimi Hendrix's music is as relevant today, in the 21st century, as it was in the 20th century," he continues. "Because his music impacted lives in many untold ways. The soldiers in the rice paddies and the jungles of Vietnam, the brothers and sisters in the hood, the young people who were lovers of peace and justice, and the musicians who were looking for a new direction in music. You fall in one of those categories. Those countless young people who held onto our music; so many of them have told me that it was all that they had. And it spoke to those empty places in their lives, I think.
"The Band of Gypsys, that music and composition and lyrics, the musicianship is beyond anything that is recorded today, I think. Because we were about musical excellence, expression, and soul, all wrapped up into the body of spirit."