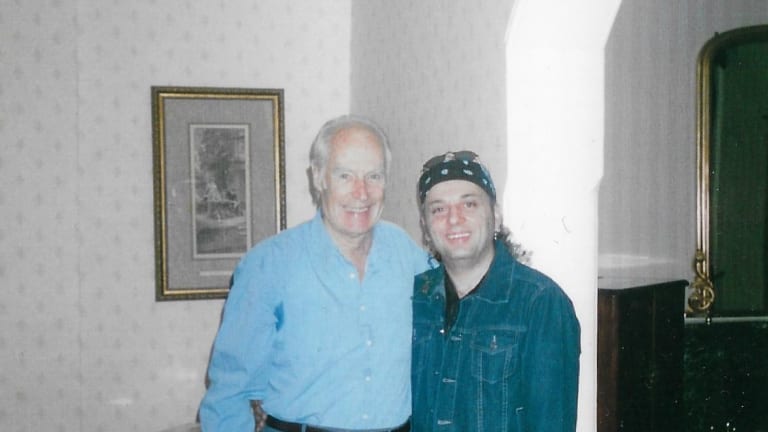 Morning tea with the "Fifth Beatle," Sir George Martin
Goldmine presents an exclusive extract taken from the book, "Backstage Pass: The Grit and Glamour" (2021) by Joe Matera published by Empire Publishing UK,
The following is an exclusive extract taken from the book, Backstage Pass: The Grit and Glamour (2021) by Joe Matera published by Empire Publishing UK. Backstage Pass is available in the Goldmine store.
Morning tea with the "Fifth Beatle," Sir George Martin
When the news of the passing of producer Sir George Martin filtered through the news wires in March, 2016 at the age of 90, the world lost not only a music legend but a bona fide member of the rock echelon. Martin – who was knighted in 1996 - together with The Beatles forever changed the course of music history and Sir George's importance in The Beatles story cannot be understated.
Martin was often called 'The Fifth Beatle' since he was their producer during the entire existence of the band and also because he was the man solely responsible for signing them to a recording contract in 1962. When The Beatles first appeared on the Ed Sullivan Show on February 9th 1964 on American television, it forever changed the course of music history. Almost every post World War Two born guitarist or artist I've interviewed over the years cited that Beatles TV appearance as altering their life forever and the only reason why they pursued music as a lifestyle and career choice. Sir George also holds the record of the most number 1 records – 30 - in the UK by a producer.
In October 2002, I was personally hand-picked by Sir George to interview him. I was one of the privileged few – as I had been informed that Sir George had actually knocked back about 60 other interview requests, so to be given the opportunity to interview a man of his stature was quite an honour and one of the highlights of my music journalism career.
Ironically around the same time, I had also been offered an interview with Lifehouse, an American band that were at that time breaking through into the mainstream with their song 'Hanging By A Moment'. Their interview was scheduled to happen on the same day and time! For a few days, I was 'umming and ahhing' but eventually I declined the Lifehouse interview, and thankfully I made the right decision otherwise I would have passed on one of the biggest interviews of my career, and would have regretted it. It is not every day that one gets the chance to interview and meet someone that was a giant of the music industry and rock royalty of the highest order.
At the time of my interview Sir George was in Australia to launch and promote his lavishly illustrated, 330-page autobiography Playback which was being issued by Genesis Publications, a publishing company that specialized in hand-signed limited editions. 2000 copies each signed by Sir George were issued by the publisher, and each going for a price of around $US700 per copy. Though he was in Melbourne, the official launch of the book would occur the following week in Sydney.
Prior to the interview I had asked myself, 'what question would you ask someone like Sir George who probably has been asked every question possible when it came to The Beatles?' I mulled over this for quite a while, but I was determined to ask him questions that were different, and which would garner different types of answers than usual. So, I spent quite a number of weeks, researching heavily and eventually I put together some really unique questions.
On the morning of the interview, I woke up very early as I wanted to make sure I was well prepared and ready to go, leaving nothing to chance. Sir George was staying at the Hotel Windsor located in the heart of Melbourne's busy business district. The hotel has been given the unofficial title of the 'Duchess of Spring Street 'as this was due to the hotel having played host to many international heads of government, royalty, celebrities, Hollywood stars and sporting legends over the years.
Sir George and his wife Lady Judy Martin greeted me at their suite located on one of the upper floors of the hotel and invited me in. Standing tall – over six feet - and silver haired, he looked fantastic for his age considering he was seventy-six by then. We took our seats and as Sir George sipped on a cup of tea, I began firing off my questions, and hoping that I had put together interesting questions he may have never been asked before. One by one, Sir George answered my questions in-depth and passionately, and shared many stories from his life and production career that were both fascinating and captivating. Over the course of half an hour he discussed various topics and insights into his production approach as well as working with The Beatles, how the recording process with The Beatles evolved over time (the first Beatles album took ten hours to complete while SGt. Pepper took over 700 hours) and his strained relationship with John Lennon. Being a guitar player myself I was curious to ask him who his favourite guitar player was. To which he answered:
"Jeff Beck is probably our greatest rock guitar player ever!" he replied, before continuing, "He uses his guitar as a voice and makes it sing. He actually does his performance like Mick Jagger does, but through his instrument. He's a hell of a talent. I've only made two albums with him though [Blow By Blow (1975), Wired (1976)]. We've always promised each other that we would make another one, but we never did, but he did do a track for me on my last album In My Life [1998] where he did 'A Day In A Life'".
With the music industry in a state of flux at the time of the interview, I asked him for his views on the matter. His answer was prescient; "It's heading towards perdition at the moment" he stated. "There's a tremendous amount of problems besetting the record business at the moment. One thing I think is that the audience has changed an awful lot, it's no longer the one we used to have ten or twenty years ago. The audience now is indoctrinated by computer screens and by television screens and by even hand-held screens in your little texting machines. Everything is visual and kids now listen with their eyes not with their ears anymore. So, the artists they pick are those that are good looking chicks or guys who move well. It doesn't matter about the voice or song, but as long as they look good".
And when I asked him how he approached the task of being a producer, he stated, "The way I produce is I like to lead, I like to coax people along and say 'this is the way to do it and you're going to have fun with it'. Then they have fun and they sparkle and then let themselves go and totally forget that there's a microphone in front of them and a big screen. So, they then start performing".
We could have chatted for hours, but time was flying by so fast that all too quickly it was time to conclude the interview. As I always did after my interviews, I politely asked for a photo with him, and he kindly obliged and then I asked him what his plans were for the next few days. He smiled at me and said that he was planning to take the next few days off from all media obligations in order to travel into the country and take in the scenery and just do some relaxing as well, before he had to continue on his way to the launch up in Sydney.