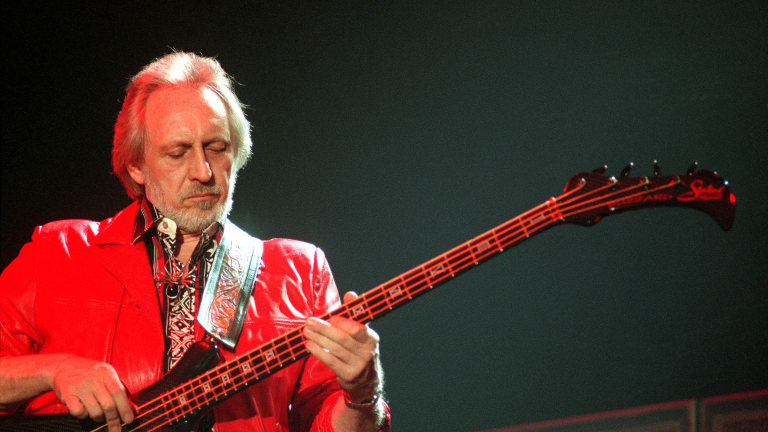 'Oxhumed' is a delightful box of John Entwistle treasures with a twist
The release 'Rarities Oxhumed: Volume One' represents a previously unseen side of the legendary bassist of The Who —.with his rare artwork to boot!
Get the newest John Entwistle CD release, Rarities Oxhumed: Volume One with 12-page booklet and rare Entwistle-drawn art prints (of Jimi Hendrix and Pete Townshend) in an exclusive limited collector's bundle (see below), only 100 available at the Goldmine shop!
By Andrew Daly
The duality of John Entwistle is staggering. As perhaps the greatest rock bassist of all time, and a key cog in the seminal London-formed act, The Who, life moved fast for the man affectionately known as "The Ox."
But behind the scenes, Entwistle was a deeply guarded man who often preferred to machinate on his thoughts and musings silently. In these private moments, the iconic four-stringer created some of his most unique and, sadly, still unheard compositions.
During one of The Who's many '80s respites, Westchester, NY native and founding drummer of Rat Race Choir Steve Luongo crossed paths with Entwistle, kicking off a friendship that would last until the bassist's untimely death in 2002. During that time, Entwistle would create some of his most exciting work. Still, for many reasons, the music composed in the twilight of his life would remain unreleased until now, with Rarities Oxhumed - Volume One representing a previously unseen side of the legendary John Entwistle.
"I had the distinct pleasure of working with John Entwistle for 15 years," said Luongo. "And I have been asked for over two decades since John passed if I would be releasing any material from the archives. I wasn't sure about it for a long time because preserving John's legacy is important to me. It came down to the fans wanting to hear these rarities, and the timing of being introduced to Deko Entertainment was perfect, too. So, it seemed like the right time to do it. I want to preserve something by someone who brought me great joy."
For Luongo, creating something that is in keeping with Entwistle's legacy was paramount. And while he wanted to satiate The Ox's fans while digging through the vaults, Luongo couldn't help but hear John's voice, aiding him in cultivating a track listing that would make male listeners of both The Who and Entwistle's solo career squeal with delight.
"It's funny because when I was first introduced to John at a NAMM show in the '80s, I wasn't sure what to expect,"reminisced Luongo. "But eventually, through a series of events, we ended up jamming together, and it was a perfect fit right away. It was something where we just spoke the same musical language, and we had this understanding."
"But the crazy thing is, a lot of people overlook John's solo work, or they don't realize how great of a songwriter he was,"Luongo continued. "Sure, they know he was a great bass player with The Who, but I think this set of songs will open many casual fans' eyes. From the moment I met John, he was just the living embodiment of a rock star. And when I say that, I'm not talking about the obvious or extracurricular stuff. [laughs]. John could play with the best of 'em, but he dressed the part, talked the part, walked the part and lived the part. John Entwistle was a rock star and lived it daily."
As Luongo sifted through a lifetime's worth of work — some of which he aided in creating — memories came flowing back. What's more, an awe-inspiring feeling washed over Entwistle's longtime cohort. It was that reverence for the man behind the persona that left Luongo with a problematic task: choose the best tracks that would best represent the existing legacy of John Entwistle while also opening it up to a new generation of fans who will be exposed to John's music through Oxhumed.
"Look, I knew what people were asking for," Luongo quipped. "I knew they wanted the rarities, like live shows, outtakes, and all of that. But with that comes pressure because I can't just throw up anything. And with a catalog as large as John's — much bigger than people realize — I had a lot of material to sift through. Some of this stuff was unfinished, others were things that he wrote when he was young, and a lot of it was stuff that John and I wrote together."
"I had a self-imposed direction," he continued. "I guess the way I looked at it was, 'If I'm going to do this; if I am going to showcase John's work — our work — I need to make a statement.' And that statement is that John was a lot bigger than just being a bass guitarist for The Who. John was an incredible composer, his insight was unmatched, and he had an amazing way of going after stuff. Playing live with the guy was a dogfight every night. It was glorious. That's the statement and intent behind Oxhumed."
The beauty of Oxhumed doesn't only lie in "outtakes for a children's TV show," like "Bogey Man." It's not to be defined by cuts like "Where Are You Going Now," an "unreleased Who demo accented by Keith Moon." And it's not solely explicated by "Trick of the Light," a live version of a previously released track from Entwistle's final tour. Because while those inclusions make Oxhumed musically diverse and a fun listen, it's the multi-dimensional aspect that drives this package home.
"There's an incredible booklet, like a bonus package, that Deko is offering along with the larger package for Oxhumed (order at beginning of article)," Luongo exclaimed. "There are all sorts of bonus items, a cool booklet that's like 10 or 12 pages, and loads of new information about John and his music. We gave as much backstory about the tracks as we could, which adds a lot of depth to what's already there. We've got insights from interviews, and pictures that nobody has ever seen, like John dancing on New Year's Eve with a skeleton, just things that provide insight into who John was beyond what he allowed people to see."
"There are other things in there, too," he continued. "There is a booklet with a section that mimics the Entwistle crest, and then, there's a piece of jewelry that we did that has the Entwistle shield and three stars going across it. It's cool because we had a fine artist named Queenie handle it, and Queenie did a hell of a job. She shares the same name as John's mother, so we felt that was something that added a special touch to this whole thing."
So, if you're an Entwistle diehard, a Who completist, or simply the type that loves epochal collectibles, the deluxe package of Oxhumed is for you. Musically, Oxhumed is 13 unique tracks reflecting the vast diversity of John Entwistle's career. For Luongo, though, his task of proving the full spectrum of who John Entwistle was as a musician was easy, but it was unearthing the deeper meaning of who "The Ox" was as a man that proved most challenging.
"With the cover art, I have to say, the planets aligned there," Luongo said. "I called up John's son Chris, who I've remained close with, and have known since he was a kid, and Chris played a huge role in the cover art. But beyond that, Chris came up with the title, Oxhumed. I called Chris up and said, 'I want to do this rarities thing with your dad, but I don't want to call it something boring. I'm not sure what to call it. Any ideas?' And so, Chris thought about it and said, 'How about we do a play on his 'Ox' nickname? Let's call it 'Oxhumed.' What do you think?' It made so much sense, and I think John would have approved.
"And the cover art came from all different aspects of John's career, and Chris was once again a huge part in putting that together, " said Luongo. "It's an amalgamation of all of John's favorite things and a lot of big and little signifiers from John's life and career. Some things reflect John's childhood, his career with The Who, his solo music, his life, his art, and his death. John had a very dark sense of humor, so I know he would have looked at the cover, and he would have loved it more than anybody."
Beyond Oxumed's artwork, though, is the notable inclusion of some of Entwistle's drawings, which is the proverbial icing on this musical cake. The artwork is being handled exclusively by Goldmine. The drawings are the ultimate keepsake for dyed-in-the-wool fans or those looking to deeply understand the inner workings of John Entwistle's mind. But for Luongo, the drawings are a clear-cut example of the man he came to know personally as a strong yet quiet leader rather than the one who played sideman to Roger Daltrey and Pete Townshend.
"John loved to draw," Luongo beamed. "So, we've got one small one which is a pen and ink line drawing that we've got shown in the picture's gallery. There's not a lot of his original art in there this time, but some limited-edition things are being printed. We did two pieces through Goldmine, who is handling the exclusive distribution. But John did many drawings and practiced a lot because he wanted to get the expressions right. And one of the drawings Goldmine has is a picture where he was drawing Pete Townshend, but he said it kept turning into me. So, he called it 'Pete Townluongo.' [laughs]. Ultimately, that was just another case of John's humor, which is what I loved about him most."
"The other drawing is pretty cool, too," he continued. "John was a brilliant artist, and the Hendrix thing was one where he was working on drawing all of these great guitarists. I think he was working on several, including Jimi Hendrix, Eric Clapton, and maybe Jeff Beck. And he was working on this test drawing of Hendrix, which is an example of that. John loved Hendrix back in the day — as did I — and one day, he showed me this drawing he was working on, which was in black and white, and I loved it and told him as much.
"So, he brought out this box of colored Sharpies and asked me to color it in," Luongo continued. "I wasn't sure if I'd make a mistake, but John said, 'Don't worry, if you make a mistake, we can fix it,' and he coached me through it. It was a special moment with John, and I am proud of how it turned out. In the end, we both signed it — the drawing by John and the color by me — and that was it. It was just another crazy thing I had from my friendship with John. And since I'm not planning on having any parties at my house anytime soon, this is a way for people to see this stuff."
For fans Entwistle fans, Oxhumed represents yet another chance to get to know their muse, albeit now through a heavily enhanced lens. But for Luongo, putting together this set has been so much more. It's a chance to remember a friend, a confidant, a musical partner, and in many ways, a hero. It would be easy to make this a one-and-done, but the memory of his fallen friend means far too much to Luongo to stop now. Accordingly, it seems that Oxumed is only the first installment in what will be a multi-part series featuring more music and more memories of the man that some called "The Quiet One" and others called "The Ox."
RELATED: The 5 standout tunes from the pen of John Entwistle
"I've gotten to a point where I think I have found the right home in Deko Entertainment," said Luongo. "I think everybody has waited long enough for this stuff, and so, at least one more volume of this stuff is coming, probably more. We've got live recordings of every show we ever did, more demos, unreleased stuff, and a lot of other interesting things to show people. We've discussed things for film and TV, and of course, more art and drawings. But it's all about picking the right time and not oversaturating the market too soon, but you can be sure that more is coming.
"But beyond that, while it's important that I give the fans what they want, for me, this is more important than that," Luongo plaintively said. "John was eight years older than me, so he was sort of like a big brother to me. He shared so much with me, taught me a lot about music, and made my many experiences in life so much better while he was here. Beyond that, John was brilliant and had a special sort of mind when it came to creating art. He could see things that other people couldn't, and that's reflected in his music and his drawings. I look back on my time with him, and it's still stunning to me. I will always remember John as an innovator, an educator, and certainly, for me, an emancipator. Oxumed is important to me, and I hope it means just as much to the people who hear it."
Oxumed gained its wide release through Deko Entertainment on October 21st, 2022. Check out the Goldmine exclusive bundle of Rarities Oxhumed - Volume One with Entwistle's rare artwork, in the Goldmine shop.