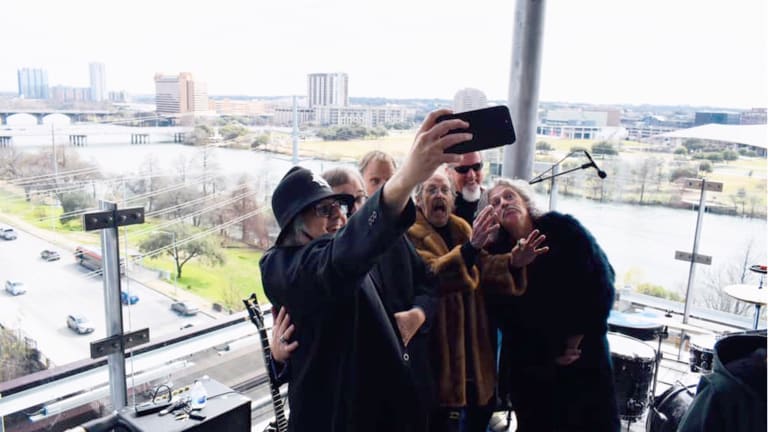 Recreating The Beatles' historical rooftop concert ... in Austin, Texas!
Rooftop Beatles music, from London 1969 to Austin 2019.
By Rush Evans
It was a crazy idea from the get-go. But like most great ideas, it came out of necessity. The Beatles had been working in the studio on new material while being filmed for a documentary movie to be called Get Back, named for their righteous new rock song of the same name. They hadn't performed a public concert in two and a half years, since they were done forever with the road, a final performance at San Francisco's Candlestick Park in August of 1966. And people wanted a concert. There was talk of something on a grand scale, but either Paul McCartney or engineer Glyn Johns casually suggested something far easier and imaginative: The band should set up on the roof of the Apple Records building in downtown London at lunchtime on a weekday to the surprise of the pedestrian Londoners five stories below on Savile Row.
It would work for the film crew, too, a special moment of live rock and roll to be archived forever for the movie audience, the same thing that had happened with the Monterey Pop Festival that had preceded and the Woodstock Festival that was just a matter of months away.
So that is what happened. For 42 glorious minutes, the world's greatest band ran through five songs, some more than once, much to the delight, chagrin, fascination and anger of the streets of London. Each of the five songs (plus a second version of "Get Back") made up the 21-minute finale of the film documentary, ultimately called Let It Be instead of Get Back, named after another even more iconic song that had emerged from the sessions and whose title seemed all the more fitting: the film would be released in 1971 as a bittersweet documentation of a band coming apart at the seams. The music would endure, but the band as a unit, well, the only thing left was to leave it in the past. The only thing left was to let it be.
I remember seeing the Let It Be album when it was new in the record section of Cox's Department Store in Waco, Texas. I had recently discovered The Beatles by way of my friend Tommy's big brother's copy of the Help! album. Through Tommy, I had learned that the group had disbanded, something I knew as I first laid eyes on that Let It Be record cover in that store. I was eight years old.
When I eventually bought a white vinyl import copy of the album, I didn't even yet realize that three of its tracks, "I've Got a Feeling," "One after 909," and "Dig a Pony," had come straight from that rooftop concert, as had the last final comments from Paul and John after "Get Back," which implied that the released version of that song had also come from the rooftop. It had not, but Paul addressing Ringo's wife Maureen ("Thanks, Mo!") and John's general quip ("I'd like to say thank you on behalf of the group and ourselves, and I hope we passed the audition") did.
When I finally saw the movie, I was astounded by the audacity, the whimsy, and the glory of those 21 minutes of film shot from both street level and rooftop on that cold and windy London Monday on January 30, 1969. I thought it was pure magic, and I still do.
Some 48 years after seeing that record at Cox's and precisely 50 years to the day after all four Beatles and their friend Billy Preston played on that roof, I got to have a hand in a magical re-creation of that incomparable show.
I host a radio show in Austin, Texas called Off the Beatle Path on KOOP, the community station. Every week, I play tracks from the solo careers of the former Beatles, interesting covers of Beatles songs in every genre, Apple label gems, Beatles family members, and even a weekly rationalization, in which I find a Beatle-related excuse to play a song not written or performed by a Beatle. I also welcome occasional live performing guests with their versions of Beatles songs.
One day, I had a live radio performance from my friends The Eggmen, an excellent Austin-based Beatles tribute band of more than 25 years. After the show, we walked outside the station, and I told them I'd love to get them to do a KOOP benefit sometime. That's when John Kovach (who assumes the George role in the band), said, "We wanna do a rooftop thing. How's this one?" We turned our heads to the top of our one-story building, and an idea developed. We started working on a plan to do it on what would have been the 48thanniversary of the Beatles' London performance, but our plans fell through when the building's landlord was worried that some Eggmen might quite literally fall through the roof with all that equipment on it. It was a great idea.
And then a year later, Austin's beautiful new downtown library opened on Cesar Chavez Street. I was in awe of the structure when I first wandered through it, and when I got to the fifth floor, I was blown away by the beautiful outside patio overlooking Lady Bird Lake and scenic downtown Austin. It was a rooftop. They even called it the Rooftop Garden! I knew what we had to do, and this time, it would be on the 50th anniversary.
A few weeks later during the South by Southwest music festival, I was walking on Cesar Chavez and ran into John Burgess. John takes on the Lennon role in the Eggmen, and I enthusiastically told him the idea. The Eggmen would be officially all in. I talked to my fellow KOOP programmer Kanya Lyons, a library employee, and she quickly rallied the appropriate staffers in the library organization. The library was all in. I talked to radio station staff and engineering team about making this a live broadcast remote. KOOP was all in.
This was going to happen. We began having meetings and the early consensus was that it would be in the spirit of what The Beatles had done half a century earlier. There would be no charge, no fundraising of any sort for the library, the radio station, or the band. We would do it simply for the joy of it, as a celebration of The Beatles and a gift to all of Austin that would be broadcast live on the radio on Off the Beatle Path. We were adhering to the very hippie spirit that had driven so much of the music of the '60s, including that of The Beatles.
KOOP's Fred Shipman designed a very cool poster for us (see below), and it was displayed in every branch library in town. I put up more posters in various businesses around town. We were throwing a party, but would anyone show up? It was going to be a Wednesday at noon in a downtown location, hardly a time and place to put on a rock show. I figured that we would at least have a few dozen curious library patrons wander out onto the balcony to see what was going on, and KOOP listeners would get a treat. But I still worried that no one would really come on purpose.
I took the day off from my day job and arrived at the library that morning. The Eggmen and their instruments were already there. When I got off the elevator at the fifth floor, I saw the library's sign on where to form the line. The show was several hours away, and there were already a few hundred people in line to get to the rooftop! A little boy aged five or six was in a Sgt. Pepper uniform. That's when I knew this was going to be a glorious day.
The capacity for our rooftop was just a few hundred, so the hundreds more who showed up were directed down to a theater downstairs where a live video feed was routed. I looked over the railing once to see people at street level below, looking up and listening. It was just like London.
"Across Abbey Road, down Penny Lane, and right past Blue Jay Way, you're now going Off the Beatle Path with KOOP." That's how I open my radio show every week, but on this day, I added "on Savile Row" to the locations when I opened the mic. My friend Kim Simpson and I had switched radio time slots that week in order to make this happen on the actual 50th anniversary, and his show is called International Folk Bazaar. I told the rooftop and radio audiences that what we were about to do qualified as "international folk," and it was most certainly "bizarre!"
The Eggmen launched into their live set and totally rocked it. They reproduced the Let It Be movie rooftop sequence beautifully, and it all went out over the radio sounding great.
The Beatles had worn interesting clothes that day high up over London. The Eggmen, always authentic in their ongoing Beatles tribute, had that covered, too.
Left-handed bassist Ronn Roberts was in his smart black suit, just as Paul had worn 50 years earlier. Drummer David Fore (a founding member of legendary psychedelic group Bubble Puppy, by the way) was wearing a red jacket just as Ringo had. John Burgess was a in fur coat, much like the one John Lennon had borrowed from Yoko. John's brother Tom Burgess was on keyboards in a slick black jacket like Billy Preston's, and Kovach was in the same green pants and heavy fur coat that George Harrison had worn.
George Harrison had been responsible that day in 1969 for what is arguably the most rock and roll moment in the history of the form: As the movie documented, the British police had been dispatched to 3 Savile Row to tell the noisy rockers to cease with their long-haired hippie music. This was a business district. As we see the officers make their way to the roof, they speak with Beatles roadie Mal Evans, who leans into George Harrison during the band's second performance of "Get Back." After learning that the police wanted them to stop, Harrison leaned down to his amp and turned up his guitar. The rock and roll would finish when The Beatles were bloody well done.
By the way, we had the British police intervention covered in Austin, too. Eggmen friend Brian Jepson dressed as a British bobby and got on the mic at one point in full English accent to tell the crowd that this mayhem must stop! The crowd loved it. I, too, was in a British police officer outfit, but only partially, with the bobby hat and police jacket opened to reveal my KOOP T-shirt and Sgt. Pepper tie. I looked like a complete Beatles nerd, which is exactly what I was some 48 years earlier at that Cox's Department Store.
After the Eggmen had finished the "proper" rooftop set, we still had more than half an hour of radio to fill, so I spoke on mic a few times, and then the band ran through a number of other Beatles songs: "Two of Us," "Revolution," "Back in the USSR," "While My Guitar Gently Weeps," "Ballad of John and Yoko," "Hey Jude," "Here Comes the Sun." After "Hey Jude," I got on mic, telling the crowd that I had recently seen Paul McCartney just across the lake there singing "Hey Jude" to 100,000 Texans at the Austin City Limits Festival. Many of our audience members had been there, too. I choked back tears as I told them that this shared "Hey Jude" moment was just as emotionally powerful. When 1 p.m. came, our broadcast had ceased, but the rooftop crowd wanted more, so the guys went into a fiery version of "Come Together."
We had pulled it off, thanks to KOOP Radio, the Austin Public Library, the mighty Eggmen, and the inspiration of some musicians from Liverpool. We had proven the power of Beatles music through a whim uttered in Apple offices in late January, 1969.
It turned out that NBC was there shooting video, so a few seconds of our show turned up that evening on the NBC Nightly News, along with footage from similar events around the world. I'm sure that each of them was just as special to those involved. I remain monumentally proud of ours, especially that it was overflowing with Beatles fans and that we were able to broadcast the whole thing on the radio. There are two versions of it on video posted on YouTube (one can be seen below).
My father had just moved into a nursing home that January of 2019, and I went to see him on the Sunday after our rooftop victory. I walked into his room holding the event poster over him, saying, "Dad, look what I did!" My father had been a pioneer broadcaster, entering radio in the early 1950s, moving into the new medium of television later in that decade. I had merged my passion for the music of The Beatles with the industry in which he had led me to participate. Putting together an event like this was exactly the kind of thing he had done and would have done. I was so proud to tell him all about it and so happy that he truly got it. It was the last time I saw him.
It was a crazy idea from the get-go. Four British musicians plus their American friend got up and played music on the roof of an office building. Fifty years to the day later, five other players (one for each Beatle and one fulfilling the important Billy Preston role) did the same thing from the same altitude over a similarly bustling downtown setting. It was magic both times, just as it will be every time any group of musicians ever takes to a rooftop to recreate the best concert ever performed by the best band that ever was. 
RELATED CONTENT: The making of Let It Be