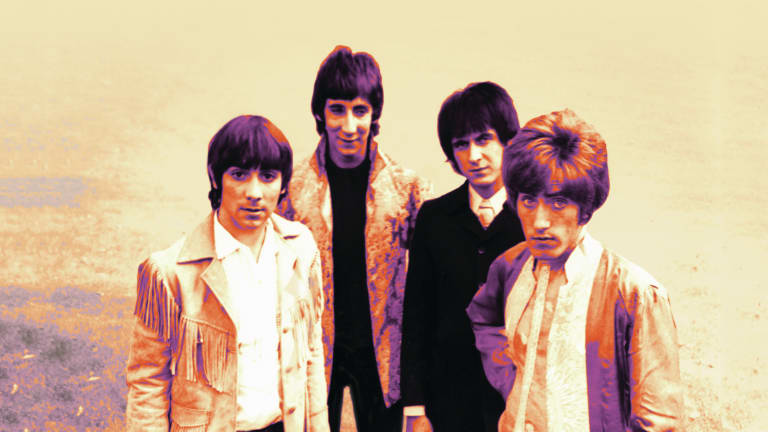 Roger Daltrey discusses the importance of "The Who Sell Out"
With the box set reissue of "The Who Sell Out," The Who vocalist Roger Daltrey underscores the importance of the release.
By Ken Sharp
A quick one with Roger Daltrey about the era of The Who Sell Out.
The Who Sell Out is a very underrated and important album for The Who, innovative in its union of pop art and commercials.
It's one of my favorite Who albums. It was done because our government was getting rid of our music, which was the pirate radio stations that we'd been raised on for the last five years, from '63 through to '67. It was really done as a tribute to those ships that used to beam that wonderful music. When you listen to the album, although we are one band playing the music, it sounds exactly like a pirate radio show with the jingles. To me (laughing), it still sounds a lot better than modern radio.
Who came up with the idea for all the phony adverts on The Who Sell Out?
Chris Stamp. It was Chris Stamp's idea, because at that time we relied heavily on the pirate radio stations. You have to understand that at that time in England (in stuffy voice) the BBC Broadcasting Service, they played probably two rock and roll records a day! That was it. So all these kind of renegade people set up in ships off the shore and beamed in rock and roll. And it was incredible because for the first time ever we had DJs who were just so happy to be playing the music they loved. It was so different from today, where you get DJs who are told what to play because of the marketing and all this sh*t. There's a few left who play what they love. But in those days it was really special. That album was recorded when the government had brought in legislation to sink them. They said, "You can't broadcast." They did some international thing where they had to go so far offshore that it became almost impossible for them to survive. Sell Out came out literally within the first week of them being turned off. To placate us the government gave the BBC their own pop station and it was awful.
'Fess up, why were you the one picked to sit in the bathtub with the baked beans for The Who Sell Out cover?
We just came back from Hawaii on the Herman's Hermits tour. We'd only been back like five days. I drew the short straw of getting to sit in the baked beans. Unfortunately, for me, the baked beans had been stored in cold storage. They were freezing cold and after sitting in them for an hour my teeth were chattering. So they put an electric fire at the back of them and I was cooking. At the end I literally was cooking. It was like Daltrey on beans. I did get very sick from that. But I had very tasty nuts. (laughs)
There's a curiosity in The Who singles catalog that is featured on this box set, "Dogs," what the story behind that one?
I'm not fond of "Dogs" (laughs) because that was The Who trying to out Small Faces the Small Faces. (laughs) In my opinion that's what we were trying to do. Around that time they had the song "Lazy Sunday" just before that and, of course, it was kind of chirpy, cockney chappie, and it felt to me we were kind of mimicking a kind of area and ground that they were standing on, so it was never one of my favorites.
With "A Quick One, While He's Away" and "Rael," whose idea was it to do a mini–rock opera?
Kit Lambert's. Kit's father was a very famous English composer and he started the Covent Garden opera house. His name is Constance Lambert, so Kit was educated in classical music. He was an incredibly intellectual man. He loved pop music! He loved pop singles, he loved rock and roll. He always saw it could do much more than it was actually doing. It was always his dream. He hated what classical music had become, the fact that it had become pompous for this overfed middle class with their noses in the air. Most of the composers like Mozart wrote those songs for the people, and it was the pop music of its time. Kit hated what classical music had become, so he always wanted to give rock a bigger foundation. Although he loved the three-minute single and I still do, I think it's one of the things that's sadly missing in popular music. The three-minute single is something completely magical. Kit always thought what the music was saying could actually do so much more than it was doing at the time.
Had we gone through your record collection back in the '60s when The Who broke big, what vinyl albums/singles would have received the most time on your stereo?
Back in the '60s? If it's the early, early '60s, it would have been Chuck Berry and all those early blues people, and then I graduated on to The Beatles' Rubber Soul, which I really loved when that came out; I loved that album when it came out. Then, of course, The Band, Dylan and then someone like Cat Stevens. I loved Cat Stevens. I also loved Tim Hardin, Harry Nilsson, all those people, the real songsmiths, they were brilliant. But then slowly but surely I stopped listening to other people. It was starting to interfere with my originality. Too much of what I was hearing was me trying to mimic others. (laughs)
What were your career goals early on, and how have those goals changed over time?
Aha! Just to get to tomorrow! (laughs) The Who is a remarkable period in our lives for Pete and I and sadly it's only the two of us left. But we've had the best time in the last few years on the road together. Our band is fabulous and the reviews are better than they've been since the '70s and our audiences go from 85 years old down to eight years old. And that's just wonderful to feel that music can be that broad a church and can bring those people together for an experience. We're really experiencing this together. We're not looking at a bloody screen or pushing a button. This is real life! This is humanity at its best.
By the time of Tommy, it seemed you'd really come into your own as a singer. What do you attribute this to?
That came really from Tommy. The years previous, the original material I was singing was a person who had a lost identity searching for home. Tommy brought me home. I'd been the deaf, dumb and blind kid, and that music took me home. All of a sudden I knew exactly what I was doing. I knew exactly who I was. I didn't fear anything. Again, it was all about I'm over that hurdle of the previous four years. My singing style changed because of the type of material I was singing. It was no more mimicking; it was a real British thing. It was its own thing. I didn't think about doing it. It's just how it happened. I can think about what happened to me thinking back on it. But when you're in it, it's part of an ever evolving process.