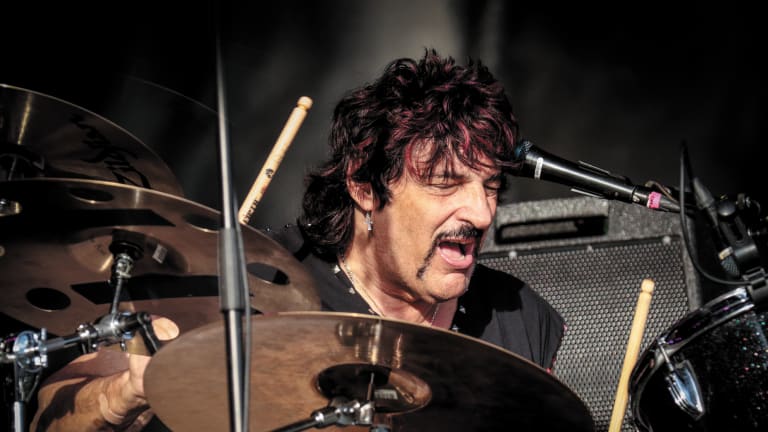 The 5 things drummer Carmine Appice would like you to know
Appice explains how his drum/guitar project Guitar Zeus came about, his part in rock history and getting praise from both Hollywood's elite and The Beatles.
Legendary rock drummer Carmine Appice has a long history of collaboration. Besides being a band member of well known acts such as Vanilla Fudge, Cactus, Rod Stewart, the trio Beck, Bogert & Appice, King Kobra and Blue Murder, Appice had collaborated with Pat Travers, Michael Schenker, Ted Nugent, Jan Akkerman and Pink Floyd (to only name a few). Then came Appice's '90s project, Guitar Zeus. Guitar Zeus was an unusual project in the sense that it was produced by a drummer that gave over a lot of the spotlight to many of the world's greatest guitarists. If you're talking about drum/guitar collaboration, this was certainly Mount Olympus!
Recently, Appice curated and released a box set that combined all three albums that he recorded with Guitar Zeus. In this Guitar Zeus box set there are also tracks that were never released, plus tracks that were part of other minor releases. There is also a limited edition bundle, exclusive to Goldmine, of this box set with various collectibles (see below).
In the April/May edition of Goldmine magazine, Appice explained how Guitar Zeus came about, his part in rock history and getting praise from both Hollywood's elite and The Beatles.
On coming up with the idea of producing the project/band Guitar Zeus in the 1990s
I was playing with Jeff Watson and Bob Daisley, and we were over at Jeff's house where he had a studio. Jeff just came out of Night Ranger and had gotten a record deal just like that. I was trying to get a second album record deal right after my first one. I said to him, "Man, you're a lucky guy. You come out of a band and bam, you get a deal. So I guess what I have to do to get up to the top layer is do a guitar album." The name Zeus was suggested as the name of his new band, so I said, "I'll call my band Guitar Gods and I'll get all my friends to play on it." Then we decided to call it Guitar Zeus, because that name just popped in my head.
When it came out back in the early '90s, we still had record sales. Plus, viable radio and music magazines. And I thought, a drummer doing a guitar album meant I could do the drum magazines, guitar magazines and I could do rock magazines. Plus, you'd get rock radio, maybe even a single on pop radio. So I realized it was a good idea if I could get all these name guys on it. If I do a record with good songs, the guitar players will bring attention to the album.
For me, (Guitar Zeus) has been one of the biggest projects I've ever done. And one of the most satisfying as far as great performances, great songs, really cool time signatures, progressive musical stuff and great hooks.
On pioneering rock drumming
I was the first to have the big gong onstage, like in 1967, and now, everybody's got one. But I had the first one. And I was one of the first drummers to have a double bass drum, and then Bonzo got them and Cozy Powell got the same kind of kits. All of a sudden, everyone had these big oversized drum kits that I pioneered. I knew I was influencing people, but I didn't know until later on when everybody started calling me a legend.
People are saying I'm the only one left of all those legendary drummers, and I'm still going. Some of them say, "This guy is like the most legendary rock drummer," and some are saying I'm the greatest drummer in the world. I'm not the greatest drummer in the world. Buddy Rich was the greatest drummer.
On getting praise from Fred Astaire and Gregory Peck
They came to see me when I was playing with Rod Stewart. After I did my solo, Fred Astaire turned to Gregory Peck and said it was the best drum solo he had ever seen and he had seen Gene Krupa. Fred Astaire said that about me. I remember Gregory Peck telling me that. I was pinching myself.
The importance of Vanilla Fudge as a band
With the Vanilla Fudge we were doing a lot of firsts. We were the first to record a single in one take, and that was "You Keep Me Hangin' On," all seven and a half minutes of it. The album went Top 10 without a smash single, and that was another first. We were also the first ones to be on the Ed Sullivan Show without a Top 10 single. We were Billboard's No. 2 vocal group in 1968; No. 1 was The Beatles. Yeah, we set precedents. We started doing all these things that nobody did before, just arranging songs, doing songs the way we did them. Nobody had ever done that. 
On Vanilla Fudge's self-titled debut album (which had an eight-minute cover of The Beatles' "Eleanor Rigby")
Once when I played with Rod (Stewart), Paul McCartney was backstage. I said, "Paul, really nice to meet you. I love your bass playing, the way you sing, but I got to ask you something. You know, I was in Vanilla Fudge. I heard a rumor that George Harrison used to carry our album around to parties. And when he walked into the party, whatever they were playing on a record player, he would take it off and put Vanilla Fudge on." He said, "Definitely. He loved that album." I was blown away.
GET THE APRIL/MAY 2022 PRINT EDITION OF GOLDMINE AND READ MORE OF CARMINE APPICE'S INTERVIEW!
GET YOUR LIMITED EDITION BUNDLE OF THE GUITAR ZEUS BOX SET (ONLY 100 WORLDWIDE), EXCLUSIVELY AT THE GOLDMINE'S STORE!
The Guitar Zeus Bundle (above) includes the Guitar Zeus 25th Anniversary Box Set, which is a massive collection of 4 LPs, 3 CDs and Full Color Booklet with never before seen photos and interviews conducted by Martin Popoff. 35 tracks in all feature legendary drummer Carmine Appice with guitar greats Slash, Brian May, Ted Nugent, Yngwie Malmsteem, Neal Schon, Richie Sambora, Zakk Wylde and many more (see list below). With 2 never released tracks featuring Tommy Thayer of KISS and the first non-guitar solo driven track with keyboardist Derek Sherinian (ex-Dream Theater). This is the ultimate collection for any drum or guitar enthusiast — there is nowhere else you can find this many guitar greats on one release!
Bundle also includes:
Brand new Carmine Appice photo (Autographed)
Guitar Zeus necklace (w/ Carmine logo and Guitar Zeus guitar pick)
Carmine Appice signature drum sticks
Guitar Zeus Box Set Tracklist:
"Mothers Space" (feat. Ron "Bumblefoot" Thal)
"Gonna Rain" (feat. Richie Sambora)
*"Mystify" (feat. Derek Sherinian)
"Nobody Knew" (feat. Brian May)
"Where You Belong" (feat. Slash)
"Out of Mind" (feat. Neal Schon)
"This Time Around" (feat. Yngwie Malmsteen & Dug Pinnick)
"Nothing" (feat. John Norum)
"Doin' Fine" (feat Vivian Campbell)
"Under The Moon and Sun" (feat. Mick Mars / Edgar Winter)
"Code 19" (feat. Zakk Wylde)
"Angels" (feat. Char)
"Guitar Zeus, Pt. 1" (feat Jennifer Batten)
"Days Are Nights" (feat. Ted Nugent)
"Do Ya think I'm Sexy" (Sung by Carmine, feat. Pat Travers)
"Safe" (feat. Neal Schon)
"Dead Wrong" (feat. Dweezil Zappa)
"Trippin' Again" (feat. Ty Tabor)
"Even Up The Score" (feat. Ted Nugent)
"Dislocated" (feat. Paul Gilbert)
"Stash" (feat. Stevie Salas / John McEnroe)
"Perfect Day" (feat. Warren DeMartini)
"Killing Time" (feat. Ty Tabor)
"So Long" (feat. Doug Aldrich)
"My Own Advice" (feat Kenji Kitajima)
"Guitar Zeus", Pt. 2" (feat. Leslie West / Jennifer Batten)
*"Mystify" (feat. Tommy Thayer)
"Time To Set Alarms" (feat Elliot Easton / Bob Daisley)
"Where You Belong" (feat Paul Gilbert)
"Cruzin" (feat. Denny Laine)
"Couldn't Be Better" (Feat. RaiZi)
"Snake" (feat. Bruce Kulick)
"4 Miles High" (feat. Steve Morse)
*"Surrender" (feat. Chris Biggiani)
"GZ Blues" (feat. Seymour Duncan / Steven Seagal)
**"This Time Around" (music rough track - guitar play along)
**"Days Are Nights" (music rough track - guitar play along)
**"Where You Belong" (music rough track l - guitar play along)
**"Guitar Zeus" (music rough track - guitar play along)

*PREVIOUSLY UNRELEASED
 **CD ONLY