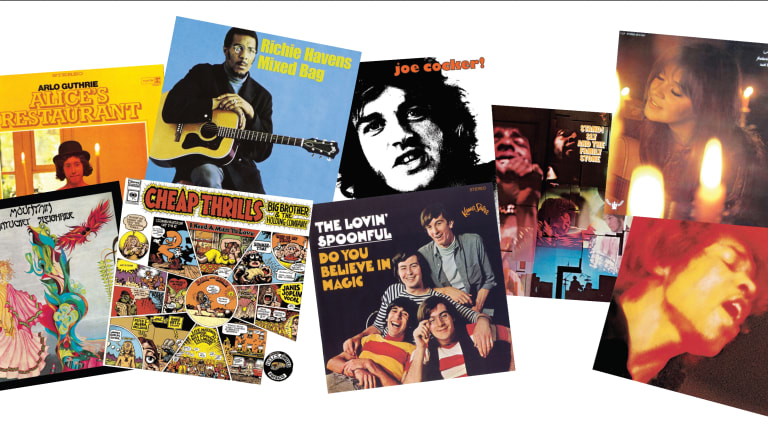 The best albums from 32 Woodstock acts
On the 52nd anniversary of that 1969 weekend that became known as Woodstock, let's look at the best albums of all 32 acts. It's a totally subjective list, part nostalgia, part common sense, as picked by a rock journalist who was there and lived the experience firsthand.
By Mike Greenblatt
It only took me 48 years to write Woodstock: Back To Yasgur's Farm. In fact, if it wasn't for Goldmine Editor Pat Prince, I probably wouldn't have written it at all. Whenever we bellied up to the bar, he'd always get me to share my stories. The book was his idea. Now, on the 52nd anniversary of that little weekend, let's look at the best album of all 32 acts. It's a totally subjective list, part nostalgia, part common sense, as picked by this reporter. I was hardly a journalist when I went to Woodstock, just a teenage stoner. 
The forthcoming artist list is in the chronological order of their appearances. Note: When I use the words "us" and "we," I'm speaking of a tightknit '60s group of friends who shared music, politics, pot and girlfriends.
Richie Havens
Mixed Bag, 1966
Havens came fully formed on this debut where the rarity of a Black folksinger interpreting Beatles, Dylan, Fugs and Gordon Lightfoot in a style no one else had ever even attempted instantly made him our hero. This longtime Greenwich Village denizen seemed to open almost every club date we took the bus in from Jersey for and he was friendly, open, honest and accommodating every time we gathered around him to talk. It's important to note that the weekend's music was eight hours late. By the time that "opening act" Havens started furiously strumming his acoustic, we were starved for music. And, boy, did he deliver!
Sweetwater
Sweetwater, 1968
Their self-titled debut showed a promise never fulfilled. After the drama and fury of Havens, Sweetwater bored the hell out of me and I went wandering.
Bert Sommer
The Road to Travel, 1968
He left The Left Banke and the musical Hair to appeal to our girlfriends with his sensitive lyrics and quiet demeanor. When he sang Paul Simon's "America," though, amazing as it sounds, a hush fell over the still-growing crowd. We listened. And he got the weekend's first standing ovation. He should've been a star. When he was left out of the movie, he was devastated and it started a downward spiral that he never recovered from. He died in 1990 at 41 from a respiratory illness.
Tim Hardin
Tim Hardin 2, 1967
His voice was pure jazz in a folk setting. His songwriting captured a certain angst that permeated all of our souls. This is the album with "If I Were a Carpenter," "The Lady Came From Baltimore" and "You Upset the Grace of Living When You Lie," three songs that we just couldn't get enough of. Unfortunately, he was (reportedly) so high on heroin that his set was a mess.
Ravi Shankar
Concerto for Sitar & Orchestra, 1971
My first classical-music album was perfect for listening to while stoned. The sound of his sitar that weekend was so captivating that I became quite demonstrative, until the guy next to me said, "Calm down, he's just tuning up."
Melanie
Candles in the Rain, 1970
The title song of everybody's favorite Melanie album came when she looked out at the vista of humanity before her at Woodstock and saw what seemed like a million points of light during a soft drizzle. She was scared. She was beautiful. And we were sitting right up front, close enough to see her face. She sat on a stool with a single spotlight illuminating her Earth Mother presence while hundreds of thousands of eyes were trained right on her.
Arlo Guthrie
Alice's Restaurant, 1967
The title song was a whole side of vinyl. Catchy, funny, irreverent and anti-war, the song became an anthem and he became a hero. At Woodstock, he was hilarious and it was because of him, we first knew that the whole world was watching when he said, "The New York State Thruway's closed, man!"
Joan Baez
Diamonds & Rust, 1975
Universal in scope, even Judas Priest covered the title song of an album wherein Baez covered beautifully Jackson Browne, Stevie Wonder, Bob Dylan (for whom she wrote that title song), Dickey Betts, John Prine, Janis Ian and Stephen Foster, plus dueted with Joni Mitchell. At Woodstock, she was our political conscience as her husband at the time, David Harris, was in jail for draft resistance. That weekend, we all had the horrible fear that we could be sent halfway around the world to Southeast Asia against our will to fight an immoral and illegal war.
Quill
Quill, 1970
A perineal opening act, they sounded like a bunch of dudes banging on pots.
Country Joe McDonald
Time Flies By, 2012
This double-album of 28 of his songs over a 45-year period is satisfying, entertaining, whimsical, important and makes one realize there ain't never gonna be anyone like him ever again. When he led the f-u-c-k cheer and we spelled it out and shouted that word out at the top of our lungs five times in a row, it represented total and complete freedom.
Santana
Caravanserai, 1972
Santana's fourth album stood out like a sore thumb after the more popular self-titled debut, Abraxas and Santana III. It was a marked contrast, brave in scope, a genius fusion experiment that cross-pollinated genres and predated similar efforts by Miles Davis, Weather Report and Return To Forever.
John Sebastian
Do You Believe in Magic, 1965
Recorded with his band The Lovin' Spoonful, its good-timey folksy vibe changed the way us hippies even thought about music. The Spoonful were our Beatles. The title song sounds just as vital in 2021 as it did 56 years ago. Once "Did You Ever Have to Make Up Your Mind," for instance, crawls into your brain, it never leaves.
Keef Hartley Band
Half Breed, 1969
John Mayall's drummer split to go solo, and this debut had him at his best on the blues and some stellar jazz tracks.
The Incredible String Band
The Incredible String Band, 1966
The Incredible String Band were considered hip for about five minutes after the release of their '66 debut. It was all downhill from there.
Canned Heat
Boogie With Canned Heat, 1968
The perfect band at the perfect time. There are those who say their set was the best of the weekend. Pulse-pounding jump-blues, electric dreams like a stab in the night, they boogied, shook, shimmied and actually headbanged before headbanging at metal shows was even invented.
Mountain
Nantucket Sleighride, 1971
Leslie West's guitar split the dark night like lightning. They might've been the loudest of the loud that weekend. Their second album had it all.
Grateful Dead
American Beauty and
Workingman's Dead, 1970
One of the worst bands at Woodstock made two of the best albums of 1970 in any genre.
Creedence Clearwater Revival
Green River and Bayou Country, 1969
One of the best bands at Woodstock —despite John Fogerty not thinking their performance was movie-worthy — made two of the best rock albums of 1969.
Janis Joplin
Cheap Thrills, 1968
She was drunk as all hell, her band was sloppy and amateurish compared to what followed, but Cheap Thrills, with Big Brother & The Holding Company, is still one of the best fake live albums of all-time.
Sly & The Family Stone
Stand!, 1969
Although most people would point to their pioneering 1968 self-titled debut (the one that Miles Davis loved so much), Stand! blew all of our minds with the 13:45 "Sex Machine" and the shock value of "Don't Call Me Nigger, Whitey." Plus, it contains the original recorded version of the song that many point to as the zenith of the entire weekend, "I Want to Take You Higher." Played at around 4:30 in the morning, we danced, threw up the peace sign and chanted HIGHER as others around us snored. Spotting an empty beer bottle, I was even able to take a pee ('on the sly,' with nobody noticing).
The Who
Quadrophenia, 1973
Truth be told, with the set starting at 5:30 a.m., I keeled over asleep before the first song and missed their whole set. Although I thrilled to Tommy in 1969, I still say Quadrophenia is the absolute pinnacle of their recorded history.
Jefferson Airplane
Surrealistic Pillow, 1967
In the Summer of Love (1967), I don't think I even listened to anything else but Surrealistic Pillow. Jefferson Airplane would never again reach such lofty heights. "Somebody to Love" and "White Rabbit" were the hits but Marty Balin's three songs spoke to me like no other American songwriter ever did up to that point.
Joe Cocker
Joe Cocker!, 1969
His 1969 With a Little Help From My Friends debut may have introduced this heavily Ray Charles-influenced Brit to American ears, but it was the self-titled follow-up, released just months later, that really rang our bell with his balls-to-the-wall covers of Dylan ("Dear Landlord"), Leonard Cohen ("Bird on a Wire"), Lloyd Price ("Lawdy Miss Clawdy"), Beatles ("She Came in Through the Bathroom Window" and "Something"), Leon Russell ("Delta Lady") and John Sebastian ("Darling Be Home Soon").
Country Joe & The Fish
Electric Music for the Mind and Body and I Feel Like I'm Fixin' to Die, 1967
Country Joe came back again with his band this time and were the first act on after the three-hour pause due to the horrible Sunday monsoon. I was madly tripping on the brown acid and starved for music. This is where the concept of "as long as the music is playing, everything will be all right" came into existence and I've lived my whole life by that credo.
Ten Years After
Undead, 1968
Easy pick. Nobody played faster or flashier than guitarist Alvin Lee. We'd go to the Fillmore East tripping and watch his hair turn into a lion's mane. Idol worship at its finest. He was the first rock star that we were totally in awe of. This is the album with "I'm Going Home," that they would stretch into a half-hour onstage. It also had a speed-zip hard-rock cover of jazz-guy Woody Herman's "Woodchopper's Ball." It's still to this day my favorite live album but probably because they say that the music you loved when you were a teenager holds such magnetic nostalgic appeal that it stays with you forever.
The Band
Music from Big Pink, 1968 and
The Band, 1969
The Band never reached masterpiece status again, but an argument could be made that these two were the two best albums of the 1960s, so much it's said that George Harrison wanted to quit The Beatles and join The Band.
Johnny Winter
Second Winter, 1969
Johnny Winter was so white, he was black. This albino Texan could tear your head off with his electric guitar yet he could soothe the blues with his acoustic Mississippi National slide. When he came out with this double-album, he freaked us all out because side 4 was blank. Silent. No music. It was the oddest thing. From Percy Mayfield's "Memory Pain" and Little Richard's "Slippin' and Slidin" and "Miss Ann" to Chuck Berry's "Johnny B. Goode" and Dylan's "Highway 61 Revisited"— complete with brother Edgar Winter on keyboards and alto sax — we wore Second Winter out with so many plays over the next few years that we had to buy it again.
Blood, Sweat & Tears
Child Is Father to the Man, 1968
One of the best albums of '68, Child Is Father to the Man featured Al Kooper's pioneering horn band covering Tim Buckley's "Morning Glory," Harry Nilsson's "Without Her," Randy Newman's "Just One Smile" and Carole King's "So Much Love." We loved Al Kooper. Unfortunately, by the time we got to Woodstock, Kooper had been kicked out of his own band and we had to swallow that stupid "Spinning Wheel" song sung by someone else at 2:00 in the morning. After what we had experienced over the course of the last four days, it was too much to stomach. That's when we left. Hey, we were tired, hungry, thirsty, cold, wet and had to go to the bathroom. Plus, I was still tripping. Fifty-three years later, Child Is Father to the Man still sounds vital… ornate, baroque, complex, tuneful and absolutely gorgeous. And I still hate "Spinning Wheel."
Crosby, Stills, Nash & Young
Déjà Vu, 1970
We could still hear CSNY's harmonies in the air as we searched and searched for our car. When Y first joined CSN, the anticipation for their first album together was so high, we all felt it was bound to be a disappointment. But it wasn't. It actually surpassed expectations. All 10 songs are masterpieces, with the only outside writer being Joni Mitchell ("Woodstock").
Paul Butterfield Blues Band
East/West, 1966
That wasn't the Paul Butterfield Blues Band onstage at Woodstock! We loved the twin leads of Mike Bloomfield and Elvin Bishop. But that band had already broken up. This was — much like Jimi Hendrix's band — a ragtag improvisational assemblage. Butter blew blues harp like no white man ever did… and sang his heart out. East/West was the first jazz-rock fusion album in history. Its blues blew us away, too, from Robert Johnson's "Walkin' Blues" to Muddy Waters' "Two Trains Running." Yet it was the 13:10 title-track instrumental that melded Middle Eastern world music, jazz, rock and classical into a fusion ball of epic proportions.
Sha Na Na
Rock 'n' Roll Is Here to Stay!, 1969
How the hell did they ever get to play Woodstock? This 1950s parody band featured 12 guys dressed up like a combo of the Jets and the Sharks in West Side Story. Their choreography was more in-tune with a TV variety show than a rock concert. Their debut was a fun goof, but they never really made a good album.
Jimi Hendrix
Electric Ladyland, 1968
Hendrix's third and final studio album released during his short lifetime is a masterpiece that might be construed as the greatest double-album of all-time. It featured his Experience augmented by Al Kooper and members of Traffic, Jefferson Airplane, Electric Flag, Rolling Stones and Elvis Presley's touring band. At Woodstock, Hendrix's band were erroneously introduced as The Jimi Hendrix Experience (which had broken up). By the time Hendrix played his iconic set at 9:00 in the morning, only a few thousand of the half-million people were still there. What could Hendrix be thinking as he looked out at a sea of garbage left behind?  
RELATED: Listen to author Mike Greenblatt explain his albums picks and the connection to his experience at Woodstock.