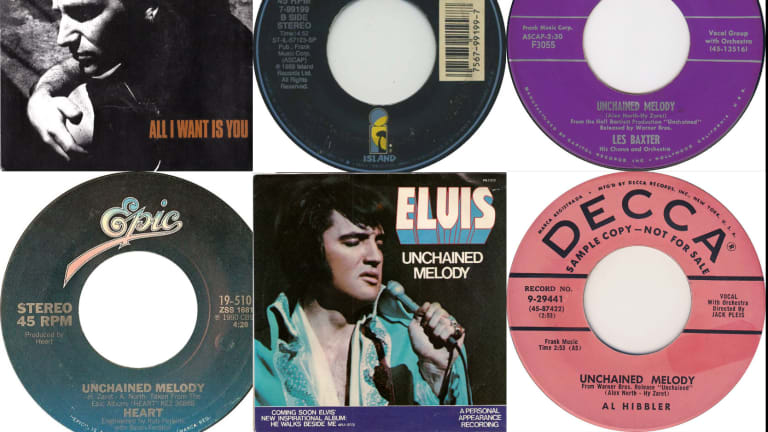 The best of "Unchained Melody": A love song for the ages
Adapted from composer Alex North's film score for the 1955 movie "Unchained," with lyrics written by Tin Pan Alley lyricist and composer Hy Zaret, "Unchained Melody" went on to become an iconic and timeless love song for the ages.
By Bill Bronk
Bring together and meld a powerful, hauntingly beautiful melody with a lyric that touches the soul...and you have "Unchained Melody," an honest, tender and unapologetic ode to love and longing.
Adapted from composer Alex North's film score for the 1955 movie Unchained, the lyrics were written by Tin Pan Alley lyricist and composer Hy Zaret. Burdened with an inauspicious beginning in a mostly unknown black and white "B" movie, "Unchained Melody" went on to become an iconic and timeless love song for the ages.
Verse
Oh, my love, my darling, I've hungered for your touch, a long, lonely time.
And time goes by so slowly and time can do so much, Are You Still Mine?
I need your love,__ I need your love,__God speed your love__ to me.
Refrain/Chorus
Lonely rivers flow__to the sea,__to the sea, To the open arms__of the sea
Lonely rivers sigh,__"Wait for me__wait for me!, I'll be coming home,__wait for me"!
Lyric by Hy Zaret
There's a story behind every song... and this one is fascinating. Beloved around the world, "Unchained Melody" began its heralded journey in 1954. As reported in The Los Angeles Times (Los Angeles, California) on June 28, 1954: "Hall Bartlett, producer of 'Unchained', which will start filming July 6 at the California Institute for Men, will have Alex North as the composer and conductor of the film".
Bartlett, writer of the 1953 film, Crazy Legs, co-wrote (with Kenyon J. Scudder, a former inmate) Prisoners Are People, a book on which he based the screen play for the production of Unchained. Filmed on location, the movie focuses on the rehabilitation of inmates at the Institute for Men at Chino, an honor prison farm without walls. In particular, the story concerns an anguished inmate (Elroy Hirsch as Steve) who is troubled that his wife might lose her love for him in his absence ...and he has to decide if he is going to serve the rest of his time or just walk away.
More than halfway through 1954, with a tight time frame and a completed film score, Alex North, who had previously composed the music for A Streetcar Named Desire, needed a lyricist for the Unchained film's theme song... and according to Unchained Melody Publishing L.L.C. (UMP LLC) — (the family owned publishing administrator for all "Unchained Melody" copyrights since 2012) — he reached out to his old Army buddy, Hy Zaret.
Zaret declined at first, apparently not knowing the full details of the job offer. As is wont to happen to all of us in the everyday scheme of things, he had no time to help North because he was involved in the mundane task of getting his house painted. Later, in a 1955 interview with New York columnist Dick Kleiner, NEA Staff Correspondent, Zaret explained that rather than write pop music, his preference was to write in "the field of educational and public service songs" (The Riverside Independent Enterprise, Riverside, California, July 01, 1955).
But... according to UMP LLC., once he "learned that the film was about an experimental honor prison," Zaret changed his mind and "agreed to take on the task," likely due to his interest in public service concerns — despite the rigid qualifications that "he couldn't change a single note of the melody" and that "he had to complete the task within four days." And so, as UMP LLC. notes, "the rest is history."
Yet... there's another wrinkle or two to add to the history of the "Unchained Melody" lyrics. According to an obituary of Hy Zaret, written by Douglas Martin of The New York Times on July 3, 2007..."Mr. Zaret, a habitual contrarian, refused a producer's request to include the word 'Unchained' in his lyrics... ("Hy Zaret, 99, Tin Pan Alley Lyricist, Is Dead"). The Associated Press, in their Hy Zaret obituary, (The Huntsville Times, Huntsville, Alabama, July 04, 2007) was more expansive and reported that Zaret was instead "writing to express the feelings of a lover who has 'hungered for your touch a long, lonely time.'" ("Unchained Melody" Lyricist Hy Zaret Dies At 99").
Here are other interesting details about the song and its lyrics: the IMDb website for the Unchained film shows the title of the soundtrack as "Unchained (Lonely River)". Lastly, the following is from UMP LLC: The Verse, as we know it above, was shown on the original Lyric Sheet as the Refrain/Chorus...and the Chorus as we know it now was actually one of two different verses, the one below which is seldom recorded:
Lonely mountains gaze__at the stars__ at the stars, Waiting for the dawn__ of the day
All alone I gaze__ at the stars__ at the stars, Dreaming of my love__ far away
Lyric by Hy Zaret
"Unchained Melody" was first performed by Todd Duncan, the African American opera singer of Porgy and Bess fame. The popular baritone played the part of Bill Howard in the Unchained film. It was an emotionally raw and powerful performance, with him singing just the verse. While lying on his bunk, with a look of emptiness and sorrow, Duncan sang the song, accompanied by another inmate playing the guitar. Around him were several other inmates deeply affected by the song. A must see...to understand the power of the song as it is performed by Duncan. Below is the (colorized) video.
Anyone in the music industry at that time, watching or hearing Duncan's performance, knew they were witnessing not only the birth of a hit song, but a song that would live on forever. Almost immediately, as detailed below, the hits started coming. Here is every version that made the Billboard charts, paying particular attention to those which made the charts in the original release year of 1955 (and the many which did not). For the four that charted in 1955, I've included some additional detail.
"Unchained Melody" on the U.S. Billboard Charts (including the 1955 U.K. Entries):
Les Baxter with His Chorus and Orchestra: March 1955, Capitol Records 45 F-3055, No. 1 on the Billboard Hot 100. Baxter, formerly a member of The Meltones, Mel Torme's singing group, had many singles which reached the Billboard charts, including eight in the Top 10: "Poor People of Paris (No. 1) and others such as "April in Portugal", "The High and Mighty' and "Wake the Town and Tell the People." Ironically, the only version of "Unchained Melody" to reach No. 1 on Billboard's Hot 100 was Les Baxter's. Although "unchained" does not appear in the original lyrics (as written by Hy Zaret), Baxter does his own thing...and in the opening strains of his recording, his choir embellishes their performance by chanting "unchain me, unchain me, unchain me". Without performing the Refrain/Chorus, as most artists do, the group chants this twice in the lead up to the verse itself.
Al Hibbler with Orchestra Directed by Jack Pleis: April 1955, Decca 45 9-29441, No. 1 on the Billboard R&B Singles chart; No. 3 on the Billboard Hot 100. Hibbler, a baritone, charted seven times on Billboard's Hot 100 (six times on R&B charts) with five in the Top 40, including "He" and "After the Lights Go Down Low." He is a former singer with the Duke Ellington band and has a unique singing style. His rendition (with both the Refrain/Chorus) of "Unchained Melody" is strong but sentimental....unhurriedly stretching out passages to great effect.
Roy Hamilton with Orchestra Under the Direction of G. B. Missingill: April 1955, Epic Records 45 5-9102, No. 1 on the Billboard R&B Singles chart; No. 6 on the Billboard Hot 100. Hamilton charted 10 times on both the Hot 100 and R&B charts. He has a powerful voice and was one of Elvis Presley's favorite singers. His rendition of "Unchained Melody" (both the Verse and Refrain/Chorus), is almost operatic at times, but is also tender and deeply emotional.
June Valli with Hugo Winterhalter's Orchestra and Chorus: April 1955, RCA 45 47-6078, No. 29 on the Billboard Hot 100. Valli (a former member on the "Your Hit Parade" TV show and the singing voice for Chiquita Banana) charted eight times on Billboard's Hot 100, six of which entered the Top 40, including "Crying in the Chapel" and "I Understand." With a wide vocal range, Valli was a versatile singer, from sweet love songs to "torch" songs. Unlike other hit versions, her rendition of "Unchained Melody" had a faster tempo, was more dramatic and relied on a more extended choral passage, with her singing the Verse twice without the Refrain/Chorus.
Vito & The Salutations: Arranged and produced by Dave Rick: October 1963, Herald Records 45 H-583, No. 66 on Billboard Hot 100.
The Righteous Brothers: July 1965, Philles Records 45-129, No. 4 US Billboard Hot 100, No. 6 R&B Singles (from Philles LP 4008, "Just Once In My Life").
The Sweet Inspirations: August 1968, Atlantic Records 45-2551, No. 41 Billboard Hot Soul Singles, No. 73 Billboard Hot Pop Singles
Joe Stampley: 1975, ABC-Dot 45 DO A-17551 (from LP DOSD-2006 "Take Me Home to Somewhere"), No. 41 on Billboard Country chart.
Elvis Presley: July 1977, RCA LP AFLI-2428, Moody Blue. Recorded at the Crisler Arena, Ann Arbor, Michigan on 24 Apr 1977. Elvis accompanied himself on piano for "Unchained Melody." RCA later overdubbed the instrumental track and released the song on the Moody Blue album...which reached No. 3 on Billboard's LP chart in 1977.
Elvis Presley: March 1978, RCA Records PB 11212, Special Limited Edition: "Elvis (A Personal Appearance Recording)." Recorded at Rushmore Civic Center, Rapid City, South Dakota on 21 June 1977. Peaked at No. 6 on Billboard's Country Chart.
George Benson: 1979, MGM 45 K-17409 (from LP K 66085 "Livin' Inside Your Love"), No. 27 Billboard Adult Contemporary chart.
Heart (Ann Wilson): 1981, Epic 45 19-51010 (from Epic LP Heart KE2- 36888), No. 83 Billboard Hot 100.
The Righteous Brothers: 1990, Verve Records (Polygram) 45-PO10 (892 102 7), No. 1 US Billboard Adult Contemporary chart, No. 13 US Billboard Hot 100 (as heard in the film Ghost).(This was a re-release of the original 1965 Philles recording). In 1990, Curb Records also released a new recording as a CD single (D2 76844) and a Cassette single (4JM 76842). This recording peaked at No. 19 on the Billboard charts.
Ronnie McDowell: 1991, Curb Records 45 NR-76350, No. 26 Billboard Country chart.
Le Ann Rimes: 1997, Curb Records CD 1518-77856-2 (Unchained Melody – The Early Years), No. 3 Billboard Hot Country chart.
Barry Manilow: 2006, Arista CD (from Greatest Songs of the Fifties) 82876-74509-2, No. 20 Billboard Adult Contemporary chart.
During 1955, "Unchained Melody" also beguiled our friends in the U.K. While the song charted four times on the U.S. Billboard charts in 1955, it also charted four times on the U.K. charts: Les Baxter (May 1955, No. 10 Capitol 45 CL-14257) and Al Hibbler (May 1955, No. 2 Brunswick 78-05420) ...with the addition of Liberace (June 1955, No. 20 Phillips 78-P.B. 430) and U.K. singer and DJ Jimmy Young (July 1955, No. 1 Decca 78-10502). June Valli and Roy Hamilton charted in the U.S. but not in the U.K. "Unchained Melody" is one of Queen Elizabeth's favorite songs.
"Unchained Melody" is not an easy song to sing. All of the charted versions lend their own special magic to the song. But whether recorded as singles or included as album tracks, so did those which didn't chart. After listening to many of these recordings, it's impressive how the artists discovered the "soul" of the song and wonderfully delivered its message.
In addition to the four Billboard chart entries for "Unchained Melody" in its original release year of 1955, here are eight well known entertainers whose recordings did not make the charts in '55: Guy Lombardo and His Royal Canadiansw/Kenny Gardner, vocalist (April 1955, Decca 45 9-29509), Chet Atkins (April 1955, RCA 78 20-6108), Cab Calloway (May 1955, Bell 45 -1096), The Crew Cuts w/orchestra conducted by David Carroll (May 1955, Mercury 70598X45, Eddy Arnold (June 1955, RCA EPA-624), Don Cornell (1955, Coral 45 9-61407, Music by Carretta) and Le Roy Holmes and His Orchestra (1955, MGM 45 K-11962, Whistling by Fred Lowry). Liberace (charted in U.K. but not in the U.S (as noted above).
On their website, UMP LLC reports that over 670 artists have recorded versions of "Unchained Melody." And below, you'll find a 30 genre-diverse, something for everyone, sample of popular performers who each found a way to share their interpretation and give a new spin to a classic:
Gene Vincent & His Blue Caps (Capitol 45-CL15231), Conway Twitty (MGM 45 K-13089), Willie Nelson (Columbia 45 3-10834), Etta Jones (Prestige 45-205), Harry Belafonte (RCA 45 47-6784), Gene Pitney (Musicor MU 1922), Frank Ifield (Vee Jay VJ 525), U2 (Island Records 45 K-805), Roy Orbison (MGM LP G735OG Roy Orbison's Many Moods), The Platters (Musicor LP MS 3185 Our Way), Susan Boyle ( Columbia CD Someone to Watch Over Me 0886979625228), Gisele MacKenzie (RCA LPM 1790 Gisele), Pat Boone (DOT DLP 3270 Moonglow), Los Indios Tabajaras (RCA LP LSP 3723 Their Very Special Touch), Gheorghe Zamfir (Mercury CD P2-10213 Love Songs), Roger Williams (Kapp LP KXL 5000 Songs of the Fabulous Fifties), Lena Horne (United Artists LP UAS 6496 Lena – Soul), Jimmie Rodgers (Roulette LP R25033 The Number One Ballads), Sam Cooke (RCA LP LSP 2236 Hits of the 50's), Ray Coniff and His Orchestra and Chorus (Columbia 45 S7-30913 –from LP CS 8374 Memories Are Made of This), Ricky Nelson (Imperial LP 9050 Ricky Nelson), Maurice Williams & His Zodiacs (EMN Records CD 06 7242 73300 2 4 Back to Basics), Andy Williams (Cadence LP CLP 3030 Lonely Street), The Lettermen (Capitol LP ST1761 Jim, Tony and Bob), Rhonda Vincent (Upper Management CD 01 9264 16033 5 8 Music Is What I See), Clarence "Gatemouth" Brown (Verve CD 07 3145 23761 21 The Man), Clay Aiken (Decca CD 06 0252 73943 7 4 Tried & True), Air Supply (Giant CD 00 75 99 24605 2 1 News From Nowhere), Manhattan Transfer (Atlantic LP 81233 1 Bop Doo Wopp), and Bing Crosby (Mosaic CD Box set MD 7 245 The Bing Crosby CBS Radio Recordings, 1954-56)
In the following youtube.com videos you will find live performances that are something to behold...from three unique artists/groups performing stunning interpretations of "Unchained Melody":
1. Alle Orchester bei der Musikschau der Nationen 2002 in Bremen spielen im Finale den bekannten Song "Unchained Melody":
In Bremen, Germany in 2002, as part of the "Music Show of Nations (Musikschau der Nationen), 600 military musicians from 11 nations (including the U.S.), performed a stirring instrumental version of "Unchained Melody" that will give you the chills. Starting with the cornet player, listen as each instrument is highlighted and enters the piece...the piano, clarinet, trombone, saxophone, the drums. And when all 600 musicians join in...wow! Truly majestic! As of March 2022... 13,125,414 views on youtube. 
2. Inka Gold:
Inka Gold is a duo comprised of Oscar A Morales Vega on Pan Flute and Santiago Morales Vega on Spanish Guitar. In the first lines of this article I mentioned "Unchained Melody" as "hauntingly beautiful." The pan flute, a complicated musical instrument (performed by such notable musicians as Zamfir) produces a sweet, deeply romantic, even haunting sound that is ideally suited for a song like "Unchained Melody." In combination with the guitar (w/a great solo), the Morales duo gives a serenely beautiful, inspiring rendition of this love song. As of March 2022... 20,977,103 views on youtube. 
3. The Righteous Brothers:
The Righteous Brothers is a duo consisting of Bill Medley and Bobby Hatfield. Hatfield is a counter tenor (the highest men's voice) and he sang solo on the two recordings which charted three times on Billboard in 1965 and 1990. As noted earlier, one of the 1990 recordings, the one which appeared in the movie Ghost, is a re-release of the '65 recording on a different label (which owns the rights to the original). Hatfield originally recorded the song several times, until he was satisfied with his performance, and in the end, changed the ending, lifting the notes to a much higher, more breathtaking pitch on his second time through "I need your love" in the 3rd line of the verse. I mention this because he one-ups himself going even further up the musical scale in his live performance on The Andy Williams Show on 25 October 1965 (Season 4, Episode No. 5).
Hatfield's performance is spellbinding....delivering a soulful, romantic rendition that captivates the listener from the beginning. Almost tentative at first, as he proceeds through the song... soaring as he nears the finale, he smoothly and effortlessly moves from one octave to another, from the top of his head voice to his falsetto, masterfully employing a series of elongated notes, riffs and runs, while crescendoing to a thrilling climax. His performance may well pull on your heartstrings, leaving you with the sense that, even with so many other wonderful performances by other artists, Bobby Hatfield's live performance of "Unchained Melody" is not one to be soon forgotten, and may be one of the finest you'll ever experience. As of March 2022, 67 Million views on youtube. 
Below is the link to a detailed and fascinating video analysis of Bobby Hatfield's performance on the Andy Williams show ...by Fil Henley, a British musician (Wings of Pegasus). 
Here's a tip of the hat to Alex North and Hy Zaret. Their collaboration almost didn't happen. And when they did come together, they had no idea they were creating a true classic. What started out as a prisoner's lament has turned into one of the greatest love songs of all time. The glorious melody stands on its own and the beautiful lyric is pure poetry in motion...together a "goose bump" type of song that reaches out and connects us to our hearts and souls...our very being.