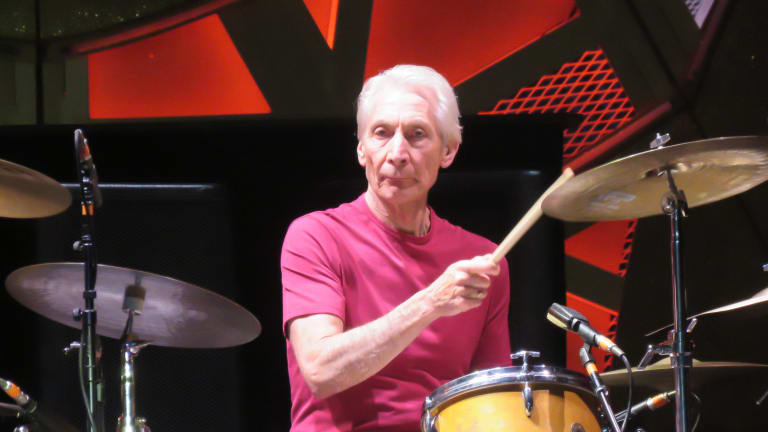 The legend of The Wembley Whammer, Charlie Watts
Tuesday, August 24 will now mark one of those unfortunate dates in rock music history that we will all remember as the day we learned of the passing of one of popular music's most prolific figures, Mr. Charlie Watts.
By Ivor Levene
Tuesday, August 24 will now mark one of those unfortunate dates in rock music history that we will all remember as the day we learned of the passing of one of popular music's most prolific figures, Mr. Charlie Watts. We will remember it in the same way we remember exactly when and where you first heard the news, ingrained in our collective souls, the way the passing of Elvis and John Lennon has been. 
Luckily however, we were blessed to have been given almost 60 years worth of his output, and his legacy is so deeply cemented within The Rolling Stones, it's hard to imagine the band existing without him. Keith Richards himself defines The Rolling Stones as not having been in existence until the day that Watts played his first gig with the band in January of 1963, in spite of the fact that the band was established six months earlier. "Charlie Watts is the musical bed that I lay myself down on," Keith had once remarked in reference and reverence to him.
Indeed, it's hard to encompass all that Charlie Watts was and always will be to the Stones and their legions of fans. He was the ultimate gentleman jazz drummer, existing sometimes seemingly in direct contradiction to everything that his band stood for — sex, drugs and rock and roll. A family man to the end, Charlie stayed married to his wife of over 55 years. Once asked about the longevity of his marriage, he said, "I'm not really a rock star, I just want to make music." He famously turned a blind eye to groupies, and even at the Playboy mansion, all he wanted to do was see Hugh Hefner's game room. He wasn't even into the genre of music he helped define; jazz was his music. A man of contradictions indeed, he had a huge collection of cars that he had never driven.
His contribution to the genre cannot be understated, however. Charlie did so much, with so little, it's hard to believe that all that sound came from such a tiny drum kit and such an unassuming man. His drumming was such an intrinsic part of the Stones' sound, that without him, they would have been a completely different band. He played with swagger and swing, and his drums had their own voice. He wasn't given to the bombastic style of his peers, he played exactly what was needed for each song, nothing more and nothing less, and has been on every single recording the band ever released.
His trademark snare drumming was perfectly matched to his love of Savile Row suits — crisp, clean, and emphatic. He practically invented the drum riff with "Get Off of My Cloud" but he never played drum solos, that would have been too much flash, and he was content to sit in the back, "watching Mick's bum" as he once put it. He eschewed the spotlight, both on and off the stage, preferring instead to let his beats do the talking for him, and talk they did. Although there have been many changes in the band's lineup over the years, Watts' passing is the first death of a core member since Brian Jones passed in 1969, and this feels like one of the biggest losses to the music world since John Lennon's murder more than 40 years ago. Ian "Stu" Stewart passed more recently, but he was largely unfamiliar to the casual fan.
To try to encapsulate all that Charlie was to The Rolling Stones is difficult, and his contributions to the band are immeasurable. You wouldn't find Charlie on a top 10 list of drummers, and I'm pretty sure he would have been aghast to have been on one, had he actually paid more than a fleeting glance to anything written about him. As the British like to say, he just got on with it.
RELATED ARTICLES: Calm, cool and collected Charlie Watts lets loose with ABC&D of Boogie Woogie
The past two years have not been very kind to the band, with their 2020 "No Filter" tour having been postponed once due to COVID, and then re-scheduled in late July of this year. Literally, days after the dates were announced and tickets were made available, it was announced that Charlie would be sitting this tour out for undisclosed medical reasons, and that longtime Wino's collaborator Steve Jordan would be sitting in for him. Charlie was expected to have made a full recovery, and fans fully expected him to take his seat for the band's 60th anniversary tour of Europe. Unfortunately, Watts' death has raised a firestorm of commentary: How did he die? The band should hang it up. They should change their name ... and more. Charlie knew what he was facing, and his death wasn't a surprise to his closest friends, family and bandmates. He had picked Steve Jordan to replace himself back in the 1980s, during what Mick and Keith termed "World War III," when the band's direction was unsure. Keith Richards took his advice seriously, pulling Jordan into The Winos. Charlie also picked Darryl Jones as Bill Wyman's replacement, partly due to his Jones's association with Miles Davis but mostly because Darryl is one of the world's best bass players. So, moving forward, the Stones have a rhythm section made up of two of the most badass players ever to grace a stage.
RELATED ARTICLE: Keith Richards talks Winos
The Rolling Stones will move forward as they always have done. They will be releasing the album that's been in the works for more than seven years. They will be playing dates in Europe in 2022 for their 60th anniversary. This isn't a case of "Charlie would have wanted it this way." Charlie DID want it this way; this was all worked out. 
Will things ever be the same? People asked that when Brian Jones died, when Mick Taylor left and when Bill Wyman retired. The answer to that question is different for every person, but I guarantee you that as soon as the band hits the stage in a few weeks, it will be a triumphant return to the stage. Charlie may be gone, but he will never be forgotten, his legacy will last forever. Long live The Rolling Stones!