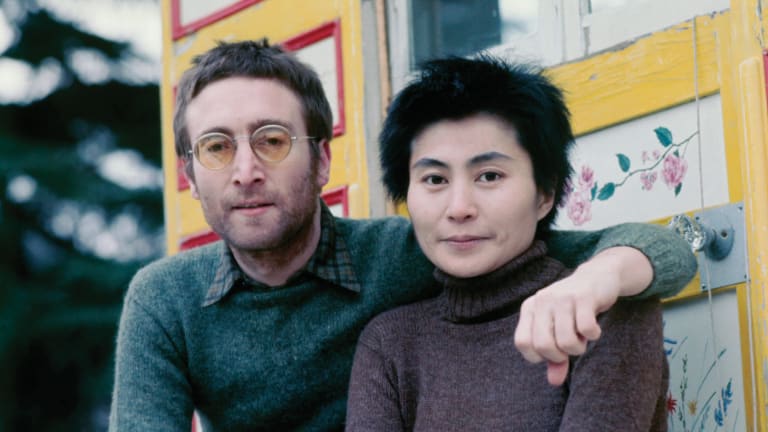 The making of "Plastic Ono Band" and its rebirth
John Lennon and Yoko Ono's "Plastic Ono Band" got a full rebirth this year in deluxe editions.
By Gillian G. Gaar
The publishers had only wanted a book review. But when John Lennon received a copy of The Primal Scream by Arthur Janov in early 1970, he became galvanized. The book was subtitled "Primal Therapy: The Cure for Neurosis," and the idea that you could liberate your psyche by unleashing a cataclysmic scream was intoxicating. Lennon devoured the book, and he and his wife, Yoko Ono, were soon undergoing private therapy sessions with Janov at their home. And when he entered the recording studio that September to make John Lennon/Plastic Ono Band, the influence on his songs was obvious: the pain of losing one's parents in "Mother," the loneliness of "Isolation," the spiritual void of "God."
"It's just what came out of my mouth when I tried to write songs," Lennon told journalist Ray Connolly about the album. "I was doing therapy and going through my life and so I wrote about the most important things that happened in my life. Just like any artist." And though the record received a somewhat mixed critical reception at the time of its release, it's now considered one of Lennon's finest albums, plumbing emotional depths in a way no rock artist had ever done before.
This year, JL/POB has finally been given the deluxe box set treatment that it's always deserved, with the tracks presented in a variety of new mixes, along with accompanying singles, outtakes, jams and demos. The result is a release that offers new insights into Lennon's transition from being a band member in The Beatles, to his second act as a solo artist.
Lennon and Ono had made experimental recordings from the beginning of their relationship. The "Plastic Ono Band" was an especially playful idea, described by Lennon as, "A conceptual group which exists only in the mind." The "Give Peace a Chance" single, recorded during the couple's "bed-in" in Montreal in May 1969, took the concept public. Ads for the single proclaimed "You are the Plastic Ono Band," the artwork using a page from the phone book, of people with the generic name "Jones."
The Plastic Ono Band then made their first appearance, at the Toronto Rock 'n' Roll Revival Festival on September 13, the couple joined by Eric Clapton (guitar), Klaus Voormann (bass) and Alan White (drums). The performance saw the debut of the song "Cold Turkey," about agonies of heroin withdrawal, which the group barely had time to learn. "I was very sad that we didn't have time to really rehearse it," says Voormann, "because to really do the song justice, we couldn't just do it the way we did it live. It was terrible. The record we did later was really good, but in Toronto, it wasn't good."
The "Cold Turkey" sessions, held in September, featured Voormann and Clapton, with Ringo Starr on drums. It was the first time that Voormann, who'd met The Beatles in 1960 during their first Hamburg residency, worked with Lennon in the studio. "John was pretty direct in the studio, and I liked that," he says. "He wants to get down to it; he's eager." You can also detect Ono's influence in Lennon's vocal, especially the groaning and crying at the song's end.
The next POB single, the rousing "Instant Karma," was recorded on January 27, 1970, when Lennon became determined to write and record a song in a single day, working with Voormann, White, George Harrison and producer Phil Spector. White also describes Lennon as being clear and direct about what he wanted, while also allowing the musicians creative freedom. "He never told me what to play," White says. "He said, 'Whatever you are doing is perfect for this song.'" Patrons from a nearby club were brought in to provide backing vocals. "It was very funny; John conducting everybody, it was bizarre," says White. "Everybody was drunk, but it worked."
By March, the couple were undergoing primal scream therapy at their home in Tittenhurst Park, using the studio they were building on the property. "It was developed enough so that it was soundproofed," says Dan Richter, a friend of Ono's who worked for the couple. "And they could scream in there." They flew to California at the end of April to continue therapy at Janov's Primal Institute, though they were forced to return to the U.K. in August when their visas weren't extended, a move Janov said "botched the whole process" of the therapy. "I think the therapy was a very meaningful experience for John," says Richter. "I don't feel it was as much for Yoko, who already knew how to let it out!"
While in California, Lennon recorded demos for the upcoming album; the demo for the mournful "My Mummy's Dead," was used as the master take. Formal recording sessions began September 26 at EMI Recording Studios (not renamed Abbey Road Studios until later). Though Spector was credited as producer, he didn't actually turn up at the sessions until October 9, and even then his attendance was inconsistent.
The core musicians were Lennon, Voormann, and Starr. "John would play the songs for us, play the piano or play the guitar, and off we went," says Voormann, who was highly impressed with the new songs. "It was just amazing. The whole atmosphere (of the songs) was just so strong. And the way he was singing and the things he's saying — I don't think anybody has ever done a record like this, going through this whole deal of 'primal scream' (therapy) and then writing the songs and going in the studio and there it is. And that's why it's so fantastic. It's my favorite record."
A camaraderie quickly developed among the three. "Just playing was fun," says Voormann. "John is such a good rhythm guitar player, which most people don't know. He's very underrated; he plays ridiculously good rhythm guitar. And then I've got Ringo. The drummers I like are the ones that are really listening to what's in front of them, and Ringo is the best, because he just could play a rhythm all day long. He does not need a lot of fills or anything. He just gets that feel, and then from time to time there is that fill exactly in the right spot. And that's magic. It's magic. To play with those two guys, I can't explain how much fun that is."
"There's something about the spirit of friendship between these people, their almost telepathic ability to inhabit that space together and know where to let one another breathe," observes Simon Hilton, the box's production manager. "That's what makes it so special. I'm not sure that John would have had the same experience with session musicians. I think their friendships, and their love for one another, is what really glues this album together."
"It was like a world of their own, in a big room at Abbey Road," says Rob Stevens, who worked on the box's Raw mixes. "And I think that shows up in the intensity of the performance."
Voormann does note that Lennon could be impatient over how quickly the musicians learned a new song. "He's played the song millions of times at home," he explains. "And when he comes into the studio, he doesn't understand why everybody doesn't immediately know it! He didn't give you time to really get into it, because he couldn't imagine that we didn't know the song." But recording was still a collaborative process. "I never was told what to play," says Voormann. "I always played what I want to play, what I thought would fit the song. I just played what I felt at the moment was right for the song."
It also took time for Lennon to get settled; this was no quick session to record a single. "Mother," the first song recorded, took 94 takes before he was satisfied. "The reason it took so long was John had to get himself together properly for being in the studio and recording, just coming from his therapy," says Voormann. Another reason was working out how exactly he wanted the song to sound, recording a number of takes playing guitar, not piano. "There were so many different stages about how the song should go." Voormann agrees.
"Mother" would become the album's opening track, revealing just how soul-baring the album was going to be, both lyrically and vocally. "We'd be in the middle of a track and John would just start crying or screaming, which freaked us out at the beginning," Starr later said. For Voormann, Lennon's singing reminded him of how he'd blow his voice out back when he was playing clubs. "John never really learned to sing properly," he says. "I remember that from the very early days, when he was in (German club) the Kaiserkeller; he'd say he couldn't sing 'Please Mr. Postman' or 'Twist and Shout' or he'd be hoarse for the whole evening. And you can hear it; his voice is sometimes so hoarse, that it just doesn't work properly."
"God" vies with "Mother" as JL/POB's most monumental track, as Lennon knocks down idols, one by one, in a psychological cleansing that leaves him reborn. "He went through a lot of stages recording this," says Voormann, and over the course of 42 takes, Lennon again experimented with playing guitar on the track, before finally settling on piano. Billy Preston played piano with him, and Voormann himself played piano on one take ("And I can't play the piano properly, not rhythm and blues or those sort of things; I play classical piano.").
Lennon climaxes his list of what he no longer believes in (magic, Jesus, Elvis and "Zimmerman," aka Bob Dylan) most dramatically, stating "I don't believe in Beatles." It was a stunning statement, as shocking as Paul McCartney's announcement that he no longer planned to work with the group had been that April. But for Lennon, it was a way to psychologically clear the decks. "'Beatles' was the final thing because it's like I no longer believe in myth," he explained.
But he wasn't sure about the next two lines, "I just believe in me/Yoko and me," at one point asking Voormann about it. "He came up to me and said, 'Should I say "Yoko and me"?' And I couldn't answer. I couldn't say, 'Oh sure, "Yoko and me" is fine.' I just said, 'Look John, I can't tell you that. You have to know that yourself.'" The line would ultimately stay in.
Most of the tracks addressed life's harsh realities. "Working Class Hero" is a bitter critique of societal indoctrination. The theme of "Isolation" is self-evident. "I Found Out" castigates the crutches people use to avoid dealing with their pain (religion, drugs). "My Mummy's Dead," sung to the tune of "Three Blind Mice," gives the album a bleak coda.
But there were also other sides to the work. "I do wonder, if the album hadn't started with 'Mother,' whether people might listen to it in a different way," says Hilton. "Because it's such a stern kickoff, that it kind of shadows everything that comes afterwards. Whereas things like 'Hold On' are really uplifting and encouraging and positive. And 'Love' is insanely beautiful and comforting. So it's interesting how the album is perceived to have quite a dark tone, overall, but mainly just from a couple of extraordinarily powerful tracks."
Between-songs jamming also provided moments of catharsis. Prior to recording take one of "Well Well Well," the trio jammed on Chuck Berry's "Johnny B. Goode," then segued into Fats Domino's "Ain't That a Shame" immediately afterward.
On October 10, the jamming ended up taking things in a completely different direction. After busking through the rockabilly classic "Honey Don't" and various Elvis Presley songs, Lennon, Voormann, and Starr continued jamming for another 10 minutes. Eventually, Lennon shouted to Ono to join them, the group recording the numbers that would appear on Yoko Ono/Plastic Ono Band.
Voormann had been startled by Ono's vocal performance in Toronto ("We didn't even know what was going to come out of her throat!"). Now, he became intrigued. The first number, "Why," has Ono matching the wildness of Lennon's guitar playing by screaming out the song's title, a sonic blast of proto-punk. Over the course of the recording, the interaction between the two pushed Lennon to be ever more daring in his playing.
"That record is incredible," says Voormann about Yoko Ono/Plastic Ono Band. "Yoko turned him on to all this, and John said that too; he would've never thought of doing things this way. He always was an incredible guitar player, but he never would go that far and do those kind of things, you know? It's definitely Yoko's influence."
"John and Yoko were working in the future," says Richter. "One of the great gifts that Yoko gave John was the understanding that it was OK to work in the future. It was OK to work on stuff that people would get to later." The punk rock, new wave, and no-wave acts that would emerge by the end of the decade show the two were clearly ahead of their time.
Work on Lennon's album finished on October 29, after a final remix of "Well Well Well." Work on Ono's album concluded the following week, on November 6. Hilton considers the editing on Ono's album in particular to be "absolutely incredible. It's making all of these decisions that you wouldn't normally take, but she's taken them with great bravery. They're invisible, and you wouldn't know they were there, and yet they're groundbreaking, just in terms of not editing on the beat, but still editing somewhere that makes it work incredibly well. The work on it is phenomenal."
The couple then planned the covers. "The whole idea was to do everything themselves," says Richter. "To be completely free from the Apple (Records) office telling them what to do." The photos were deceptively similar. For his album, Lennon was pictured leaning against Ono; for her album, Ono leaned against Lennon. The photos were shot on the Tittenhurst grounds by Richter, who used a cheap Kodak to achieve a "very dreamy and romantic" look, something further enhanced during the printing process, the final image breaking up "like a Seurat," the French painter known for his pointillist technique. The back covers featured childhood portraits.
Both albums were released in December. Lennon's reached the Top 10 in both the U.S. and U.K. But to his disappointment, its sales didn't match the success of All Things Must Pass or McCartney. Richter remembers Lennon's unhappiness when he reported the lower-than-expected sales figures to him.
Voormann felt that for some listeners, JL/POB was too much of a challenge. "John would have loved to be selling lots and lots of records. But he didn't know how far away he was from the general audience. There were points on The Beatles' records where you had the same feeling, that they are going a step too far. Like on Revolver with 'Tomorrow Never Knows'; such a crazy piece of music, and so far ahead of their fans. And that's the same thing that happened when he was suddenly doing his own record."
Lennon had previously spoken about touring with the Plastic Ono Band. But it was not to be; by the time the albums were released, he was telling Rolling Stone, "I don't think I'll do too much appearing. It's not worth the strain." So the only time songs from JL/POB would be performed live was in 1972, when "Mother" and "Well Well Well" were performed at two charity concerts at Madison Square Garden. One can imagine the album might one day have been performed in its entirety, in an Unplugged-type setting.
JL/POB was first remixed for CD in 2000. The 2010 reissue was a remaster of the original 1970 mix. Then Lennon's solo catalog began to be remixed again, starting with the 2018 reissue of Imagine.
"Yoko set up the template with Imagine, and it's already changed slightly," says Hilton. "We stretched some of the boundaries a little bit in order to try and make it work. There's additional materials with each album that will make them different and unique from one another, so there'll be other things that change, but hopefully this will be the general template moving forward."
To start with, all the music was given new 192/24 Hi-Res transfers. "It's a bit like being a chef in some ways," Hilton says. "If you can provide a chef with the best possible ingredients, and you've got chefs of the caliber of these guys, it makes their job so much easier." Then came new mixes: Ultimate and Raw mixes of the final tracks and outtakes; Elements mixes highlighting a specific things in a track; and Evolution mixes, tracing a song's development.
Read about the track listings and mixes within the "Plastic Ono Band" editions
"The album's being so sparse definitely has its challenges," says Paul Hicks, responsible for the Ultimate and Elements mixes. "You want to make it sound as clear as possible, but obviously retain the vibe of the originals. And once we got clarity in the vocals, then we started noticing mouth clicks and stuff like that, that you want to clean up. Obviously, we're talking about restoration-type things. We're not talking about d-noise; we don't do that. We like a bit of hiss and a little bit of vibe."
Stevens, who loved Lennon's album so much he wore out three copies of it, relished the opportunity to work on the Raw mixes. "What was being looked for were songs that either had different instrumentation, or a completely different feel," he explains. "The outtake of 'God' is so gentle. As he goes through the litany of things he no longer believes in, it's much more matter of fact than the album version, where they are real statements.
"And the outtakes I liked were the ones that had no overdubs, that were done live," he continues, pointing to take five of "Instant Karma." "I have a little bit of the take before, when we have, of all people, Phil Spector stopping the three people you don't stop! And then they start up again. I needed to make it clear that this is done live, because that's one of the great vocals I've ever heard. John's losing his voice, but he hits every pitch, and he is in some state of rock strength that almost seems superhuman."
Add in Evolution mixes and demos, and you gain a new appreciation for this extraordinary work. "What the Plastic Ono Band had shown John is how free he could be," says Richter. "How it was OK to have all these feelings he had, and to use them to make music. The doors had been opened to John's soul, and the passion and the pain that was coming out was very special."
"I think it's a very artistic record," says Voormann, who still marvels that he was involved in its creation. "And I think it's going to be, definitely, a milestone, even in 100 years. People will catch on to it, the art, the artistry of that record, many years from now. This won't be forgotten."