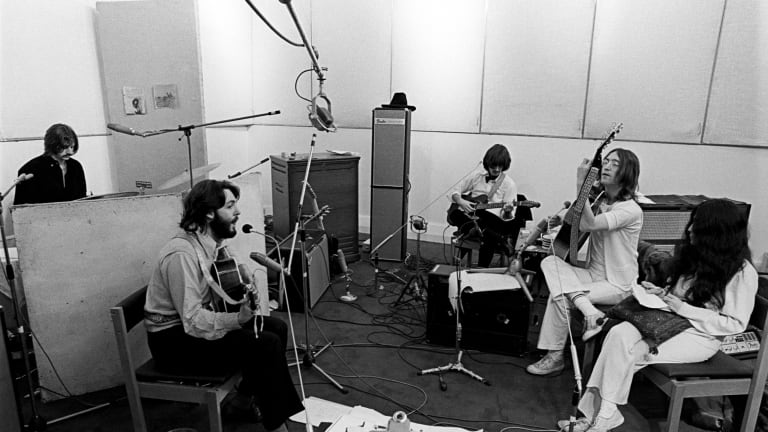 The making of The Beatles' "Let It Be"
A look at the making of the original Beatles album and film "Let It Be" and its renaissance over 50 years later.
By Gillian G. Gaar
A year after the originally scheduled release dates, the 50th anniversary releases commemorating The Beatles' Let It Be album and film finally happened. October 15 saw the reissue of the album, remixed by Giles Martin, and getting usual multi-edition treatment, ranging from single CD and LP editions (including a picture disc) up to Super Deluxe vinyl and CD/Blu-ray box sets. The film itself is being refashioned into a new production, The Beatles: Get Back, directed by Peter Jackson, and debuting on the Disney+ network November 25-27. An accompanying book, also titled The Beatles: Get Back, was also published in October. (And in case you're wondering, at press time there had been no announcement about the future release of either the original Let It Be or the new Get Back movies on DVD/Blu-ray).
The 1970 Let It Be album and film came from one of the more troubled periods in The Beatles' career. Three months after completing The Beatles (aka The White Album), the group had reconvened at Twickenham Film Studios on January 2, 1969, to rehearse songs for an upcoming live performance, the rehearsals also filmed for an accompanying documentary. The subsequent 20 days of sessions have been described as the most contentious time in the group's history. "It was hell making the film Let It Be," John Lennon told Rolling Stone in 1970. "Even the biggest Beatle fan couldn't have sat through those six weeks (sic) of misery. It was the most miserable session on earth." George Harrison called the sessions The Beatles' "winter of discontent," and had even walked out at one point.
Nor was the group happy with the end result. Paul McCartney objected to Phil Spector's production on the final album. George Martin, their regular producer who was involved in the record's initial stages, was also disappointed with the album, saying the production credit should've read "Produced by George Martin, Over-Produced by Phil Spector."
"My dad didn't like Let It Be," says Giles Martin. "He liked organization; that's how he was. He liked things to be orderly, and that's why Rubber Soul and Revolver and Sgt. Pepper are so meticulous. They're very efficient records. And so Let It Be went against what he felt the direction should be; he wanted them to be more refined. It wasn't his type of record." None of The Beatles bothered to show up for the film's premiere in May 1970. It seemed that Let It Be was something they wanted to put behind them.
But Peter Jackson contends that's not the whole story. "I was relieved to discover the reality is very different to the myth," he said when his involvement with Get Back was first announced. "Sure, there's moments of drama — but none of the discord this project has long been associated with."
Giles Martin agrees. After listening to and viewing all the footage and recordings, "the first thing I'd say, and this sounds like a press release but it's not really meant to, is that I was surprised that it's not as acrimonious as I thought. The perception of Let It Be was that it was the breakup of The Beatles. But of course it wasn't." As he points out, just three weeks after the end of the January 1969 sessions, the band was back in the studio working on John's "I Want You (She's So Heavy)," which would appear on Abbey Road. Together, the film, music and book will offer the most in-depth look at the Let It Be sessions than has previously been officially available.
Initial plans for the project centered around The Beatles making their first full concert appearance since 1966. The December 1968 issue of fan club magazine The Beatles Book carried details about "a series of shows which will culminate in a final performance which will be filmed for transmission in this country and overseas"; there was also a coupon in the magazine that readers could mail in for a chance to win tickets.
The concerts were originally going to feature songs from the just-released The Beatles. That idea was scrapped by the time filming began on January 2, meaning the band now had to come up with new songs. They'd already stressed to George Martin that they didn't want to make an album full of lavish overdubs, like Sgt. Pepper. "The Beatles, John (Lennon) especially, said, 'We don't want any of your production crap on this. We want to go back to being a band again,'" says Giles. "John always felt that, 'You made things too complicated for us. We were just a rock and roll band.' Which wasn't really the case; John admitted that to my dad later."
As a result, Martin didn't attend many of the Twickenham sessions. Instead, The Beatles brought in Glyn Johns, who'd worked with The Rolling Stones and Led Zeppelin. He assumed he was serving as an engineer, and was surprised to find himself instead a de facto producer. At this stage, no one thought The Beatles were making a new album; they were simply rehearsing for an upcoming show. But Twickenham's cold soundstages didn't foster creativity. The group also disliked having to start work in the morning, when they were more accustomed to working in the evening.
"It's frustrating, and it's tedious," says Giles of this first round of sessions. "And you can see that they are getting annoyed. They had this idea, which essentially was flawed, of going, 'OK lads, we're going to go and do a big concert and record it. And we haven't got any songs but we can write them.' And I think they would have done that in '65 or '66, because they were living together or were on the road together. But now they were going home to their wives, their families, their houses, so it wasn't the same level of commitment. But they wanted the same magic without the same level of commitment. So you live through that frustration."
A lack of direction complicated the sessions. By January 6, George puts forth the idea that they not do a live show. And if they're not going to do a show, then what are they rehearsing for?
"That's the difference in the whole thing, is that there was no delineation between making a record and rehearsing on this," Giles says. "Are they making an album or rehearsing a show? That's why there's not that discipline there, because it doesn't matter, because they're like, 'This isn't the record, the record's going to come later.'
"The perception is that art is created with enormous freedom. But in essence, true art is created within four walls; you need your frame to fill. And so did The Beatles. They needed that constraint in a way."
With no clear focus to the project, tensions finally erupted on January 10. After spending the morning working primarily on "Get Back" and "Two of Us," the band broke for lunch, during which time George and John Lennon got into a heated argument, which wasn't recorded. Back before the cameras, recordings caught George's announcement "I'm leaving the band, now," later suggesting his bandmates "Write in to the NME (British music paper New Musical Express) and get a few people" to replace him. He then went home and wrote his classic vent of frustration, "Wah-Wah."
What's surprising is the nonchalant reaction from the rest of the group. After George's departure, John says, "Now the point is, if George leaves, do we want to carry on with The Beatles? I do," suggesting Eric Clapton as a possible replacement. The group met on January 12 at Ringo Starr's house to try and resolve their differences, but the meeting ended when George again walked out.
One of the most fascinating discussions of the sessions came the following day, when Paul, his future wife Linda Eastman, Ringo, Beatle aide Neil Aspinall, and the film's director Michael Lindsay-Hogg met at Twickenham and discussed the matter. While a scene in the original Let It Be of Paul and George bickering led people to believe the main source of contention in the group was between them, the January 13 conversation reveals the primary disagreements revolve around John's insistence at having his future wife, Yoko Ono, constantly at his side. In a passive-aggressive standoff, John appeared oblivious to his fellow Beatles' discomfort, and, as Paul admits before John arrives, no one calls him on his behavior because of their fear that John's response will be to leave the group himself: "Obviously, if it came to a push between Yoko and The Beatles, it's Yoko, you know."
But things were soon to change for the better. The group met again on January 15, and George agreed to return if the plan to do a live concert was dropped, and filming was moved to the basement studio at their Apple Corps HQ in London. The other Beatles agreed. Their friend, Alexis "Magic Alex" Mardas, had promised to make Apple Studios a technological marvel, but it turned out to be unusable: "The console looked like something out of a 1930s Buck Rogers science fiction movie," Johns observed. George Martin made an emergency call to EMI Recording Studios, arranging for them to deliver two four-track mixing consoles, allowing work to continue on January 21.
In contrast to the gloomy, tense atmosphere of Twickenham, the Apple sessions were far more convivial and productive. The Beatles were now more receptive to George Martin's suggestions. "When my dad arrived there, it's almost like the headmaster's turned up," says Giles. "He's saying, 'Look chaps, what are you actually doing here?' And despite themselves, because they can't help it, they're going, 'Well, we've got this and we've got this....'"
Harrison also invited keyboardist Billy Preston to participate, providing what George Martin called an "emollient," easing group interactions. He also provided an audience of sorts. "At Twickenham, they hadn't got anyone to perform to," Giles explains. "They wanted to be this different type of band, but they'd always sort of recorded a performance. And I think that their performing to themselves didn't work as well."
And, in search of a means to provide the film with a climax, The Beatles did end up doing a show after all, on the Apple Corps rooftop on January 30, unseen by the crowd that gathered below. The sessions concluded the following day. Glyn Johns made acetates with rough mixes for the band, and in March they asked him to put together an album, provisionally titled Get Back, which was completed in May 1969. A mock cover was designed, parodying the cover of The Beatles' debut, Please Please Me. But the album was ultimately scrapped, though "Get Back"/"Don't Let Me Down" was released as a single. "We had Get Back in the can, but one day we just decided we'd like to do a newer album," Harrison explained. That album would be Abbey Road, released in September 1969.
Once Allen Klein began looking after The Beatles' business affairs, he felt the film footage would earn more money if made into a movie instead of a TV show. So the footage was edited into a feature-length film, now called Let It Be, and Phil Spector was brought in to work on what became the film's soundtrack. The release of the album and film followed the April 1970 announcement that the group had broken up. And so, though actually recorded before Abbey Road, Let It Be was seen as The Beatles' final statement.
The film was eventually released on VHS and laser disc, then fell out of print. Over the years, rumors surfaced about its imminent reissue, especially when the de-Spectorized Let It Be…Naked was released in 2003. But the road to Let It Be's resurrection wouldn't start until a few years later, when Giles, along with his father, remixed The Beatles' music for the Love show.
"That George Martin's son would chop up The Beatles tapes for a show in Vegas — it's kind of deplorable if you think about it, if someone said that to you," he jokes. But during the process he also took the time to back up the group's archives. "The tapes hadn't been backed up properly," he explains. "So I thought, 'I'll leave one legacy.' And then Love came out and everyone was very kind and liked it. And then that started this whole chain of events."
Once Giles' remixes of Sgt. Pepper, The Beatles and Abbey Road were released to a largely positive response, a Let It Be release was inevitable. But unlike those other albums, Let It Be's original album drew from a variety of sources. "There's rooftop performances, there's loads of Apple stuff, the Phil Spector stuff and there's overdubs at Abbey Road," he says. "It's only when you work on the stuff you realize what you can do with it. And so with Let It Be, the one thing you can do is, it shouldn't be a patchwork as a Beatles album. You try to unify the sound, if that makes sense. And so I think that the one thing you can take from it is we're trying to make it into one piece of work."
Another difference, which influenced how bonus material was chosen, was that the reissue was accompanying a film release. "I had to be careful not to be too repetitive. And to a certain extent, I could go, 'OK, I'm not going to put in this outtake because it's in the film anyway.' There's lots of snippets of half a song, and I don't think that too many snippets make up a great record. I always think that if we do these things, you want to make something that people want to listen to more than once.
"There is cross pollination, but I suppose the difference is the intent. What Peter's trying to do with the film is to document in the best way to tell the story of what those 20 days are like. And what I'm trying to do is try and tell the story of the making of the album. It's just different experiences."
He had an abundance of material to work with; 52 hours of footage and recordings, out of which 27 bonus tracks were pulled. "There's two ways to go about it," Giles says of the process. "One is you filter through and find out what's fun and interesting, like George trying to bring 'Something' or 'All Things Must Pass,' or John playing 'Gimme Some Truth' to Paul, or them talking about where they can do the concert. Or there's Ringo doing 'Octopus's Garden.' And then the other way to approach it, you look for when you can tell the story of how songs evolve. You're looking for interesting bits and pieces, and then on the other side you're trying to tell stories of how the songs evolve, so alternate takes, earlier takes of songs."
Another disc has Glyn Johns' May 1969 mix of the album, "because that was the original record. He was providing The Beatles with what they wanted; that's what they wanted Get Back to be. And it was only when they got it they realized that they didn't want it. And also, the fans wanted it; fans want certain things, in the best possible quality. So Glyn went in and remastered it."
He's also been involved with working on sound for the Get Back film. "Peter's got an amazing sound team. It's funny. I met him before we started work. And me in my arrogance said, 'It's going to be great to make people feel as though they're in the room with The Beatles. That's what we should be doing.' Then I saw (Jackson's WWI documentary) They Shall Not Grow Old. And it's amazing what they've done as far as restoration goes. And when I saw that, after me lecturing them about what we should do, I was like actually, you know what? They're really good at what they do."
Giles had planned to work with Jackson in New Zealand, but the trip was curtailed due to the pandemic. But there was an unexpected positive outcome. "What's been great about that is that the team over in New Zealand has spent more time taking care of our archive and the way it looks. And it does look amazing actually. It's very exciting to see."
Even better, the extra time has resulted in the film itself expanding from a two hour theatrical release, to a six-hour television program. Jackson released a five-minute preview that appeared on YouTube last December, the bright, upbeat spirits standing in stark contrast to the original Let It Be. Does Jackson, in his determination to put a new spin on the story, go too far in the other direction, and play down moments of discord? Giles doesn't think so.
"That's a valid concern," he says. "And I think if it just was a lighthearted six-hour romp, then yes, you'd probably be right. But there is strain and stress there, because essentially the idea of going to Twickenham was flawed, and they didn't have a very good time. And George did walk out. But it's just not that acrimonious. That's the thing."
For Giles, the film doesn't show a band breaking apart, but a band that, in spite of their difficulties, works to stay together. "What's interesting in the film, is you do see this dynamic; it's quite subtle, but when you watch it, it's how the four of them respect each other. And — and it's still true today actually, in working with Apple — that they all have the power of veto. If Ringo doesn't want to do something, they won't do it. There's not a question about it. There's no question about if George won't do it, they won't do it.
"And yet, at the same point, especially with John and Paul and the creative process, you see how giving they are to each other. When John brings 'Gimme Some Truth,' he doesn't go, 'This is my song, don't ruin it, Paul,' it's, 'What have you got? What can we do with this one?' It's open shop. And that's the thing I took from it, which is you get a glimpse of how they worked in the past. Now, obviously, the period they are in, in their lives, they are beginning to go through their difficult times, because they want to do other things. But I don't think it's been Disneyfied is my feeling. I don't think they can be, with six hours, to be honest. And I think that trailer can be slightly misleading, like, 'Hey, look how happy they all are!' But when you see the film you won't feel like that."
RELATED CONTENT: Hey Jude: Making Sense of the lost Beatles studio album