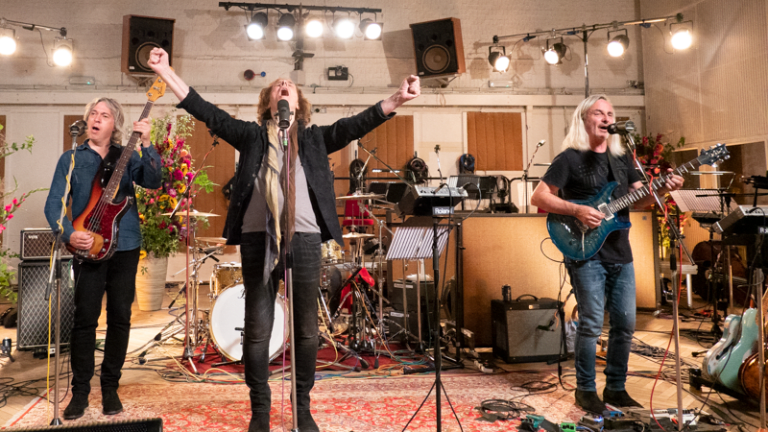 The Zombies get back to Abbey Road
On September 3, 2021. The Zombies performed at Abbey Road Studios (where the band recorded back in the '60s) and introduced their new songs and current lineup to a select few.
By Catherine Frumerman
Photos by Bruce Frumerman
St. John's Wood, London, September 3, 2021: Is it always sunny on Abbey Road? This sweet slice of leafy North London always seems cheery. Perhaps it is because both the legendary Abbey Road Studios and the Abbey Road zebra-patterned street crossing enjoy Grade II listed status. This means they are culturally important to England and will stand as long as there are ravens at the Tower of London. Usually much guarded, this evening Abbey Road Studios' iron gates were open in welcome, and there were pots of flowers arranged along the steps leading up to the mecca of music lovers. This could only be place for the return of The Zombies to live performance.
Abbey Road Studio Two is just a big, boxy room with a ceiling as high as a mountain, but it vibrates with history. It is the room where The Beatles recorded most of their music. The control room is high above the studio floor, and the long staircase John Lennon, Paul McCartney, George Harrison, Ringo Starr and their engineers would climb up and down to record and review their sessions looks just like it does in the old photos, only in color.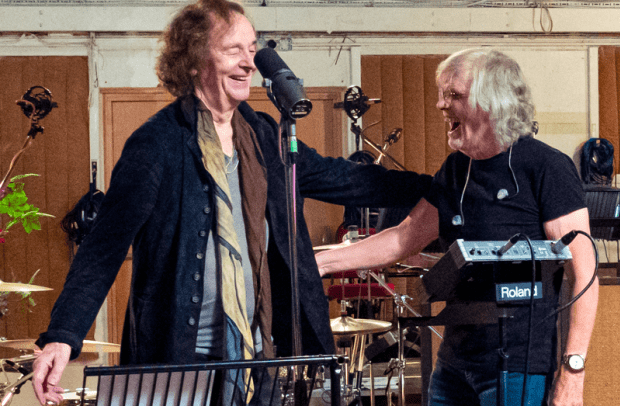 This evening, the studio floor (there was no elevated stage) was set with vintage gear: Vox, Fender and Shure SM7 mics, and the busy staff members were wearing white lab coats reminiscent of what EMI boffins wore in the 1960s. There were urns of flowers — tall, amazing, colorful flowers, arranged by Sandra Gaikwad — emulating the iconic "All You Need Is Love" setting. Let it be said, on this evening Abbey Road Studios was full of love.
The Zombies recorded at Abbey Road (at the time still known as EMI) starting in June 1967, just after The Beatles, having completed Sgt. Pepper's Lonely Hearts Club Band, left. The Zombies recorded in Studio Three, a small one, since their budget for the whole of their future-iconic Odessey and Oracle was 1,000 pounds. However, with those 1,000 pounds, they got the services of The Beatles' genius engineers. Further, they have the distinction of being the first non-EMI group to record there. And now they were back, 54 years later, during the 90th-anniversary year of the grand opening of the hallowed studios.
Reminiscing, singer Colin Blunstone said, "It was wonderful being back at Abbey Road. So many memories flooded my mind, which, combined with the joy of playing live again for the first time in nearly two years, made it an extraordinary experience." Recalling the days of recording Odessey and Oracle, he added, "It brought back the huge thrill that The Beatles had just left there. Their tambourines and maracas were still warm!"
Band leader and keyboardist Rod Argent said, "And for me there will always be an emotional link. There is no other studio in the world quite like Abbey Road. We loved recording there with our brilliant engineers Geoff Emerick and Peter Vince."
Abbey Road and The Zombies still have brilliant engineers working with them. On duty this evening was Steve Orchard, a sound engineer who works with Paul McCartney. Noting the challenges of presenting The Zombies' concert live in Studio Two to an audience while recording it, he said, "There is quite a difference in the way the recording is set up for a live show as opposed to a recording session. The main factor is that there is a PA system with large speakers for the audience to hear the band. The PA system bleeds onto all of the microphones, so the mic-ing of the instruments needs to be close to be able to get more separation between the sounds. This generally works well, but it is a little trickier with the string quartet, as the string instruments are a lot softer in volume than the band's instrumentation. It is a question of balancing everything, embracing the spill and liveness, so that it all works together as a complete picture."
Dale Hanson, soundman for The Zombies, added that Lucite baffles were set up to section the strings away from the band. "The strings' mics are very sensitive and would have especially picked up the drums."
And what drums! Steve Rodford behind his gold glitter Pearls smacked his sticks, counted off and The Zombies, after nearly two years of no performance, thundered into "Moving On," a jazzy rocker from their 2015 album, Still Got That Hunger, followed by their "cover of a cover," "I Want You Back Again," an Argent-penned song rediscovered by The Zombies after Tom Petty's recording. This was followed by the searching "Edge of the Rainbow," Chris White's much-covered "I Love You" and their rock and roll version of Denny Laine's "Say You Don't Mind."
And the audience didn't mind as three white lab-coated assistants struggled to move a Mellotron M300 onto the set beside Argent's other keyboards. Although bulky and heavy, the instrument is sensitive. So, before playing it, Argent checked its tuning, assiduously assisted by guitarist Tom Toomey and bassist Søren Koch. "Real Mellotrons do go out of tune," said Argent. "I'm quite sure that's as much as we had in tune in 1967," he added, after a few more adjustments. To which Blunstone quipped, "I was quite impressed you were even bothering!"
After this light-hearted, off-the-cuff exchange, a new song was introduced: "Different Game." This stately song was painted with delicate strings from the guest quartet Q Strings, while the beloved sound of the Mellotron brought to mind the music of Odessey and Oracle. The melody was gorgeous, and Blunstone's vocals were heart-piercing: "I know that you've been lonely / Can see that you're in pain / Looking through the years to when you were younger, God knows life seems such a different game / I know you're feeling helpless / Can't seem to find the door, to open anymore / God knows it was crazy / Now seems such a cold and distant shore."
(A side note: This particular Mellotron was the M300, a later edition, not the classic brown MKII model belonging to Lennon, which can be seen in many photos of The Beatles in 1967 at Abbey Road. Argent was the very next to the play the MKII in Abbey Road, giving Odessey and Oracle its idiosyncratic sound.)
"You Could Be My Love," another new song, followed with lilting, romantic piano graced with strings. Blunstone's voice soared as he rhymed fortune with blue moon, and it was beautiful. (So far, The Zombies have recorded eight songs for a new album that will likely have 10. Argent said the as-of-yet untitled album will be out in 2022.)
Arriving next, with a new string arrangement by classical composer Chris Gunning, was "I Want to Fly." Here, Argent transferred over to Yamaha grand piano; the Q Strings' violins and cello were joined by a double bass. Blunstone sang like an angel, and starlight poured on the listeners. The strings rose in urgency to the words, "Sometimes I, feel like I, only exist," before softening to the song's haunting denouement, "Some lay sleeping, deep inside a lullaby / Me, I want to fly! / And my heart is breaking."
Next up was the glamorous, Burt Bacharach-influenced "Tell Her No," which was followed by four songs from Odessey and Oracle, starting with the ironically sunny "Care of Cell 44," followed by the enduring "This Will Be Our Year," which has been turning up in TV series, commercials and at weddings with fierce regularity. For "I Want Her, She Wants Me," Argent took the lead and finished the song with a Tokens-worthy falsetto. Finally, "Time of the Season" glowed with its spooky organ intro, its trademark clap and sigh, its harmonies and Argent's rapturous keyboards. A No. 1 hit in America, "Time of the Season" was the last song recorded by The Zombies in Abbey Road in 1967; it was bliss to hear it in its home.
Two additional new songs, bringing the score to four, made their worldwide debut this evening: "Merry-Go-Round" and "Runaway." The former is a bouncy and jazzy "leap in the dark for your love," and the latter is a knockout with Argent's lonely, vibes-sounding keyboards interplaying with Toomey's blues guitar. Blunstone's voice registered a deep, velvet smokiness as he contemplated love and how he would "keep it on the run for all my life."
"Hold Your Head Up" began with its ear-perking trill. The distinctive bass line and drum beat started heads bobbing. The interaction between Toomey's guitar and Blunstone's vocals took over. Then came the masterclass delivery of Argent's instrumental solos, the shimmering guitar riffs and the name-that-tune sequences.
To complete their set, The Zombies went back to the start of it all: "She's Not There." Taking a brief solo, Koch delighted listeners by playing the 11-note riff from "Day Tripper." Hearing and feeling those notes performed right there in Studio Two, where they were recorded, was a transporting experience. Toomey was cool and reliable with his fills, riffs and fluid, wailing solos.
As the other players left the set, Argent turned toward Blunstone and said, "I'll tell you what, Col. We'll just do one more little thing, and I'll go and do it on the piano." As simple as that, Argent walked to the piano and after three notes, Blunstone began crooning "The Way I Feel Inside," a song that, long ago, Argent hurriedly wrote in a service-station bathroom. But the lovely notes of the song still hang like the moon and stars in my mind.
Being within Abbey Road, breathing in the musical history that flourished in Studio Two and seeing The Zombies after nearly two years of darkness was a beautiful awakening. The world is good. It is full of hope.