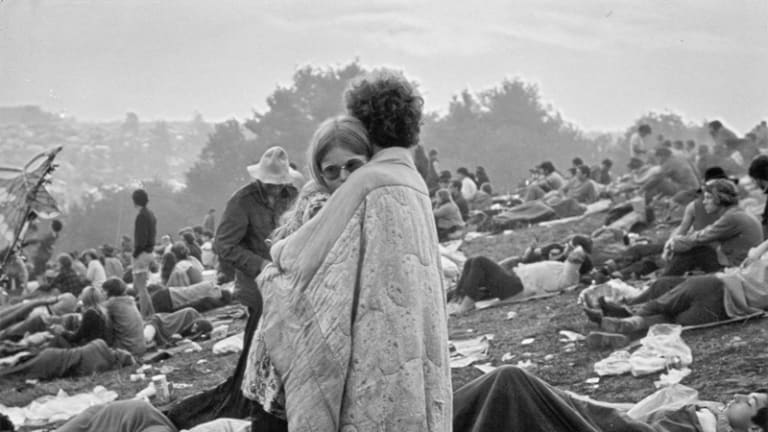 It's Woodstock anniversary time: Win the book "Back to Yasgur's Farm"
Goldmine honors the anniversary of Woodstock by giving away copies of the book "Back to Yasgur's Farm."
Penguin Books and Goldmine have teamed up to give away three (3) copies of the hardcover Woodstock book, Back to Yasgur's Farm, by Mike Greenblatt.
"We're all still at Woodstock," claims Richie Havens in the book, Back to Yasgur's Farm.
The year was 1969. Richard Nixon was in the White House. Neil Armstrong was on the Moon. And revolution was in the air. In that backdrop, 500,000 young people gathered on a mid-August weekend in upstate New York for the promise of three days of peace and music. What they experienced at the Woodstock Music and Art Fair was something far greater. Celebrating "the greatest peaceful event in history," Back to Yasgur's Farm offers a dazzlingly and compelling front-row seat to the most important concert in rock history, an implausible happening filled with trials and triumphs that defined a generation. Author and Woodstock attendee Mike Greenblatt brilliantly captures the power of music's greatest performers such as Jimi Hendrix, Janis Joplin, Joe Cocker, Santana and the Who, while sharing stories both personal and audacious from the crowd of a half million strong who embraced not only the music but each other. Originally published during the 50th anniversary celebration of Woodstock, the book features a Foreword by Country Joe McDonald, whose rousing solo acoustic version of "The Fish Cheer/I-Feel-Like-I'm-Fixin'-To-Die Rag" was one of the most memorable performances at Woodstock. In addition, all 32 performances at the festival are showcased. Equal parts circus and surreal, Back to Yasgur's Farm tells a transcendent tale of a musical and mythical moment in time.
Enter to win the book by clicking here.
Enter by August 31, 2020, midnight. Three (3) winners will be randomly picked by September 5, 2020. Winners will be notified by the email entered for the contest.