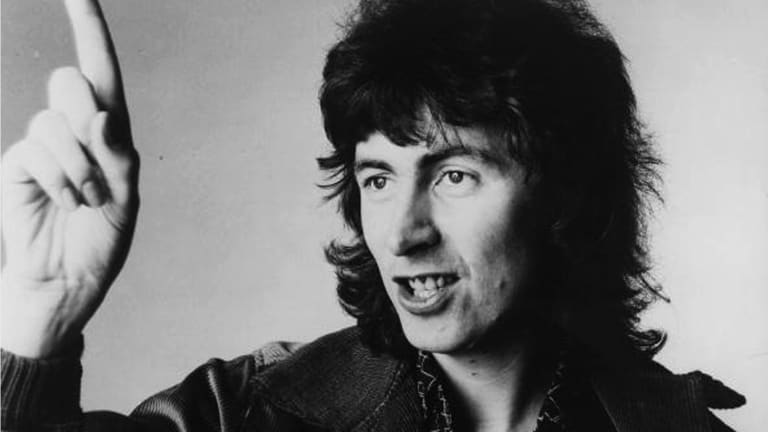 Al Stewart's new year
During the pandemic, singer-songwriter Al Stewart has taken the break he's needed to write more material for his loyal audience.
By Dave Thompson
If there's one thing you should never ask Al Stewart to do, it's choose his next single. The one drawback with Year of the Cat, he thought, upon its release in 1976, was that "I didn't know there was a single on it."
The one cloud hanging over his 1970 studio link-up with producer Gus Dudgeon, then riding high with Elton John, was that the resultant 45, "The News From Spain," was destined to become his worst-performing record ever, "a long, slow, six-minute single released at Christmas time" that he reckons shifted 160 copies.
And it's not his own records that mislead him, either. Back in 1965, Stewart found himself briefly sharing an east London house with, among others, a visiting Paul Simon.
The property was owned by Judith Piepke, "who was the parish visitor of Soho. She had an apartment in the east end, and she let folksingers stay there. I'd heard about this and I was measuring out the money because I was trying to live fairly cheaply (at the time). I went round and she said, 'OK, you can have this room,' which I had for two or three months until, one day, she came to me and said, 'I'm sorry, but you can't have the room anymore, because there's this American named Paul Simon and, every time he comes to England, he stays here and that's his room.'
"So I got bumped out of the nice room into the little cupboard next door and Paul moved in. Now the advantage of this was, I got to hear him write a whole bunch of songs through the wall, and it was great. I'd hear him sing a line, there'd be a long pause and he'd try out three or four different words until he finally hit on one he liked, and I thought, 'Well, that's how you do it.'
"And because, when you write songs, the first thing you want is for someone to listen to them, Paul would come out and he'd look around and much to his disappointment the only person there was me. So he had to play them to me, and it resulted in some really odd things. He finished off 'Richard Cory,' which I thought was one of the best things I'd ever heard, and the next day he finished 'Homeward Bound,' and I said, 'Hey, my opinion, because you asked for it — "Homeward Bound," just throw that one away, it's not going to do anything. "Richard Cory" is the hit.'"
Simon, thankfully, ignored him.
At the time, Simon was more or less completely unknown — "The Sound of Silence" had yet to begin its mercurial rise up the U.S. chart, and his U.K. visit saw him playing the smallest folk clubs around the country, just one of hundreds of roving troubadours strumming for their supper in the furthest outposts of the British music industry.
Stewart, however, was even more obscure, and admits he became a folk singer almost as a last resort. A native of the south coast town of Bournemouth, he'd spent the past couple of years "playing in what were known as beat groups, doing 'Twist and Shout' three times a night, and 'Wipe Out' and all the rest of it."
His move to London was intended to broaden those horizons: "I came up to London to audition for rock bands, a whole bunch of them. One was The Paramounts, who turned into Procol Harum, but I didn't get it, and another was to replace Ritchie Blackmore in The Outlaws, but they didn't accept me, either."
He did receive a few offers, "but the bands were all off to play the American Air Force bases in Germany, and I didn't want to be part of that, so just by a gradual process, I became attached to the folk scene."
His first regular gig as a solo acoustic performer was at Bunjies Coffee House every Friday night, followed a short time later by a residency at the now-legendary Les Cousins. Well, we call it a residency. In truth, it was more a matter of necessity.
"I lucked out, really early on. Les Cousins opened in the West End, run by a guy named Phil, and he decided to have (an) all-nighter, Friday from midnight to six, Saturday from midnight to seven. The thing was, he didn't want to run them because he had a hot date, and the last place he wanted to be was in a cellar full of beatniks all night.
"I went down there shortly after it opened for the first time, made friends with Phil, and he asked if I'd run the all-nighters for him, and what that meant was, there was a major-name act who was booked, whoever that would be, and then whoever had been playing the London folk clubs drifted in after their gigs at one or two in the morning, and I'd put them on the stage.
"They'd do two or three songs, and my job was to put people onstage and take them off, and have a running list of all the people who wanted to play. There were usually 20 or 30 people with guitars down there, amateurs who wanted to do three songs, but around about 4 a.m. I'd run out of people, so I used to put myself on.
"By then, of course, everyone was sleeping, but it was great because between the £3 that Bunjies was paying me, and the three pounds on Friday and Saturday from Les Cousins, I could actually live and be a folk singer."
It's been some living. Looking back today, reflecting upon what is now a full year of COVID-based inactivity, Stewart almost sounds happy to report, "I'm having a sabbatical for the first time in 54 years or something, but that's not a bad thing after half a century of basically doing the same thing every day — getting into a taxi, going to the airport, flying, getting into a car, driving 100 miles, doing a sound check, playing a gig, going back to the hotel … that's basically everyone's life in this business, and all of a sudden it's completely different. You wake up in the morning and by 3 o'clock, you're saying, 'Is it dinner time yet?' "
An increasing number of other musicians appear to have spent their lockdown writing and recording new material. Stewart is no exception, although that, at least, is no different from how he has always spent his time. "I think it's fair to say I've always written songs just for my own amusement. I've recorded about 200 of them over the years, but I've probably written (up to) 500. There's a lot of stuff floating out there that is either written or half written, demos where I'm making up the words as I go along, just so I've got a placeholder in the music."
Indeed, his last U.K. tour in October 2019 saw him premiere no fewer than five new songs, although there are no set plans whatsoever to record a new album.
"There's no answer to that. I'm obviously not going into studios at the moment. I did some demos in Chicago last year, I think we did 12, which might turn up on something sometime. I'm not short of tunes, so I could make another record.
"But it would depend on circumstances, one of which is the fact there isn't a great market for ancient English folk rock artists. But it's highly likely in this day and age that only a few people would buy it, and I've never made an album that has sold less than 10,000 copies. I don't want to start now."
Sparks of Ancient Light, in 2008, was his last new studio album; the live Uncorked in 2009 was his last new release. But of course, the reissues market goes on forever, and Stewart's catalog is in the midst of a fresh reappraisal today, as Esoteric Recordings delves into the archive for what is shaping up to be Stewart's most exciting campaign yet. Five albums have seen the light of day so far, regular editions of Orange (1972), Past, Present and Future (1973) and Modern Times (1975), and deluxe packages for 24 Carrots (1980) and, this March, Year of the Cat (1976).
Stewart admits he hasn't yet heard the new package — a full remastering of the original LP, a complete live show from the accompanying tour's Seattle halt, and a 5.1 remix by original producer Alan Parsons.
"I did hear that years ago, when Alan first did it, but you need a special speaker setup to play it, so I've not heard it properly. If you play it on a normal stereo, it probably sounds normal, and that's all I have."
He is not, he emphasizes, "a technical person, not even slightly. Over the years, I've been to hundreds of musicians' houses, and they're all very similar: whole rooms full of equipment and mixing desks and synths and instruments. Whereas if you came here, you wouldn't know there was a musician living here. There's a piano, and that's about it. No recording equipment whatsoever. I tend to write songs with a ballpoint pen and an exercise book."
It is one of rock history's hoariest old canards to describe Year of the Cat as a surprise hit. Maybe the sheer magnitude of its success was a shock — it went platinum little more than a year after its release, and would dragged its successor, Time Passages, in its millions-selling wake.
In fact, its success was the culmination of an idea Stewart had put into motion two albums earlier, as he worked to follow up 1972's Orange.
When he emerged (his first album was released in 1967), Stewart was firmly entrenched in the folk singer-songwriter vein, one more minstrel writing songs about love and relationships. Indeed, the bulk of side two of his second album, 1969's Love Chronicles, was dedicated to a moment-by-moment account of his love life so far, a near-sidelong epic that a guesting Jimmy Page recorded in more or less one take.
"That record was made with Fairport Convention; they were the backing band even though they weren't billed as such, and Richard Thompson plays on everything apart from the title track, and that's Jimmy Page. He came in, listened to it once — all 18 minutes of it, five different movements — and he said, 'OK, let's go for it.' And he just sat there and played what you heard on the record."
And all anyone remembers of the song today is the rude word that Stewart dropped so resonantly into something like the 30th verse. It was, apparently, the first time that the so-called f-bomb had been so audibly detonated in a pop song, and the resultant furor still makes Stewart smile. "It got me on the front page of the scandal sheets, the foul-mouthed folk singer."
In fact, Stewart did not think it was a rude word. "Everyone assumes it's the four-letter version, which would be rude. But it's the seven-letter present participle, which isn't a rude word because there is no other way of saying it. It fit exactly with what I wanted to say."
The controversy did not hurt. Love Chronicles broke Stewart out of the folk clubs and into the far more lucrative college circuit, and his next two albums, Zero She Flies and Orange, saw him consolidate his standing, while still mining the thick blue vein of autobiography for material.
There were some glorious songs therein. If Love Chronicles was determined by its title track, it was distinguished by the four songs that make up its first side — the opening "In Brooklyn," which he played live on that last U.K. tour, the closing "Life and Life Only" and, in between, "Old Compton Street Blues" and "The Ballad of Mary Foster," which remain staggering achievements no matter how many subsequent classics he would write.
Then there's "Electric Los Angeles Sunset," "News from Spain," that doomed 45, with its deathless Rick Wakeman solo over the fade; and crowning Orange, "Night of the 4th of May," a song that surely ranks among the most depressing numbers ever written by anyone.
Stewart agrees. "It's the most depressing song in the world. It's depressing for the people who had to listen to it but, my god, if you lived through it, it's 10 times as depressing." He performed the song on British television's Old Grey Whistle Test around the time of its release and remembers, "It has some nice guitar playing on it." What he cannot believe is that he wore a Mickey Mouse T-shirt for the occasion. "That T-shirt with that song was about as wildly inappropriate as you can get."
Orange, like its predecessors, kept Stewart's audience happy. But the press was less approving. "I got this terrible review which said, 'If you're going to follow Love Chronicles with the whole of Orange, or whatever, then oh God, you've made the night too long.'
"It stuck in my mind, and at that time, in fairness, I didn't want to write more love songs. I was specializing in Russian history at the time, staying up all night reading history books … God knows why, I should have been staying up all night partying, but I wasn't, so I thought, 'I've got to make an album about something different, something I'm interested in, and I'd like to hear an historical album but there aren't any, so if I want to hear one, I have to make it myself.' "
"Old Admirals," about Sir John Fisher, Britain's First Lord of the Admiralty at the outbreak of World War I; "Warren Harding," concerning America's 29th president; "Post World War Two Blues"; the epic "Roads to Moscow," for which Stewart reckons "I read between 40 and 50 books" simply as research (the story itself was inspired by Solzhenitsyn's One Day in the Life of Ivan Denisovich); and finally, "Nostradamus"… not at all the kind of content that one expected to encounter on a new folk album, and Stewart confesses, "I made Past, Present and Future with the idea in my head that it had no commercial prospects whatsoever, but I was going to love it."
Instead, "it came out and within six months it had outsold my first four albums put together. It also shifted me out of the colleges, and into the theaters. 'Roads to Moscow' and 'Nostradamus' became my most requested songs. Even 'Love Chronicles' got put onto the back burner. And it was a real eye opener for me because I had no idea that you could write historical songs and make a living at it.
"Of course, I've been doing it ever since."
Past, Present and Future also gave Stewart his first taste of trans-Atlantic success. "It came out in America and it made 133 on one of the charts, which doesn't sound like anything, but I was nicely surprised, and it set up the next record, which was Modern Times.
"That's when I found this manager, Luke, who'd been a DJ in Philadelphia, and he said, 'Right, we're going to break America, and I'll tell you how we're going to do it…"
Stewart's next American tour took him to all the major cities for the first time. It also took him to all the major radio stations, and the minor ones as well. That was Luke's master plan and, "during the course of this, Modern Times began going up the charts and it finally ended up at No. 30, sold 150,0000 copies, largely due to me spending my life in radio stations.
"So I'd done all the groundwork, and a month before Cat came out, we did it all again, walking in with advance copies of it, meeting them and chatting them up. My prediction was that we would have a Top 20 album, and we'd sell a quarter of a million."
Instead, "I didn't know there was a single on it." When his label proved otherwise, the Cat went crazy.
Stewart enjoyed maybe three years rejoining in his newfound pop-star status, but the early 1980s saw him begin to step back.
"Before Cat, we were drawing 300 people a night, and all of a sudden we were playing to 3,000, and I rapidly realized that there were songs that meant absolutely nothing to 2,700 of the people in the hall. There were the 300 people who'd always been there and wanted to hear the historical songs, and the rest of them wanted to hear the sax solo on 'Year of the Cat,' and they were restless through the rest of the show.
"After a few years of this, I realized that I was doing two completely different things, and I was confusing the pop rock fans who'd come to hear the hits, and at the same time I was pissing off the people who'd come to hear 'Roads to Moscow,' and I had to do one or the other. And I looked in the mirror and thought, 'What I'm seeing doesn't look remotely like a pop star.' So I decided to go back and do what I do, which is historical folk rock."
Since then, a string of new albums moved slowly out over the next quarter century, a slew of semi-official live and outtake collections (which, contrary to their listing on Discogs, are not "Al Stewart self-released"), innumerable reissues and compilations, and the five-CD Just Yesterday box set. Plus, a live routine that would exhaust lesser men, but upon which, Stewart seems to thrive.
"I've been working with this hot band from Chicago, none of whom were born when Cat came out. We've done over 100 gigs now, they're wildly enthusiastic, and they interpret my songs with more of a rock edge. I'm booked to do another British tour in October this year, but all that depends on whether or not the pandemic goes away."
If it does, he'll be there. If it doesn't, he'll just keep on writing songs.