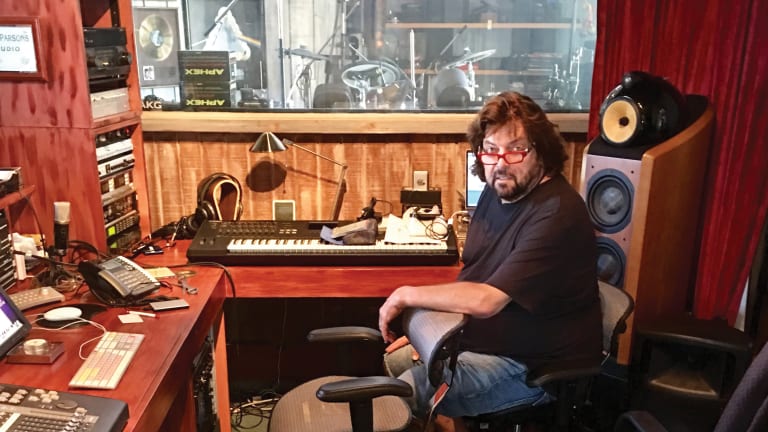 Alan Parsons moves straight ahead on Project reissues
With a new box set coming out for "Ammonia Avenue," Grammy Award winner Alan Parsons took some time with Goldmine to talk about the reissue, performing live and a little basketball.
By Alan Brostoff
With a new box set coming out for the '80s release of Ammonia Avenue, Grammy Award winner Alan Parsons took some time with Goldmine to talk about the reissue, performing live and a little basketball.
GOLDMINE: What can you tell us about the new box set for Ammonia Avenue that just came out? 
ALAN PARSONS: The set comes with three CDs, a Blu-ray, a double vinyl record, a book and some promotional items from the original release. You get the original CD with bonus tracks, and a CD of what we called Eric's (Woolfson) songwriting diaries, and you get to see his modus operandi for his songwriting. He always used to develop songs by recording them onto tape, playing the piano and recording it on cassette and then developing it and working on lyrics. You also get a brand-new stereo mix and a new 5.1 surround mix. I very proud of that mix. It was really good to go back to the original multi-track masters and get them digitized and mix it for surround. I felt motivated to do the new stereo mix while working on the surround sound. It's actually significantly better quality than the original was which was on a digital format called Sony 1510 format. It's now every bit as good as it can be. The book is over ¾ inch thick and has a lot of stuff in it. Lots of good information.
GM: Fans appreciate when an artist is willing to share some of the early mixes of a song so that they can see the process of a song developing. 
AP: I think you have to be a fairly dedicated fan to want to sit down and go really deep into these releases. I sense that most people won't listen to the bonus tracks more than once or twice. If there are fans big enough to keep listening to these rough mixes, and they really enjoy it, then good.
GM: Last year you won your first Grammy for the Eye in the Sky box set. Maybe you will win another one with this box set. 
AP: I very much hope so. I'm going to make sure that we don't miss the submission deadline. There was one year for the Tales of Mystery & Imagination remix we managed to miss the deadline. I'm going to make sure that does not happen this time but with everyone locked down I imagine submission dates might change.
GM: How has COVID-19 impacted you and the band? 
AP: Well, hugely. I mean we were due to be touring the second half of March and we were supposed to be on a cruise right now. Which is the worst thing that anybody could be doing right now, so I was actually very relieved to not be on that boat. It was going to be a lot of fun. It was a music cruise with Justin Hayward from the Moody Blues, who's behind it. We were going to be there with The Zombies, Steve Hackett, Al Stewart…a few old friends. We were looking forward to it but obviously I'm hugely relieved that we are home and not out on a cruise boat. There seems to be a dozen ships out there that are unable to land. That's frightening. We have rescheduled the tour for August, but goodness knows. We will hope and pray that it's over by then. We actually still have some June dates, but I don't hold out a lot of hope for those dates. They are still on the calendar for the moment, but it's the thing we have to do. Nobody is playing concerts. What I am going to do is put out a video of a couple of the shows we recorded multi-camera, multi-tracked in Holland last year. We are busy post-producing that safely away from each other. I'm hopeful it will be out by the end of April. If you are going to sit at home you might as well watch a rock concert. If you can't go see one in the flesh you might as well see it on TV.
GM: Last year you released The Secret, which was your first new music in 15 years. 
AP: It was a long gap, yes. But you know, no sense in rushing these things. 
GM: So, are we going to be waiting another 15 years for some new Alan Parsons music? 
AP: No. We are already considering doing one. I mean who knows what the music business will hold when we come out of this tragic epidemic, but I am pretty determined to record a new album within the next 12 months.
GM: Very early on, Alan Parsons Project did not tour, but recently you have been touring. So, what changed for you? 
AP: I want to remind you that Alan Parsons Project was essentially a two-person band, Eric Woolfson and myself. The recording outfit was work-for-hire recording musicians. You know, session players. Eric and I were the only ones who went out promoting each album as it came out. We would go to the States and play the album in recording studios to media and appear on radio shows and TV, but we never performed. That changed after we made our last album, Gaudi, in 1987. Then we did another album which started life as a Project, called Freudiana and that sadly ended up in the courts and it did not do very well. But, after Freudiana, Eric and I parted ways, and around 1993 I recorded an album with my old friends and buddies, the session players on most of the earlier Project albums, and we put out the album Try Anything Once as Alan Parsons. We decided to take it on the road. We assembled a band and I dusted off my guitar and relearned my three chords and off we went. It was so much fun. It was something that I really wish we had done much sooner. If the Alan Parsons Project would have formed a touring band, I think we would have been huge. We would have become a stadium band. But, due to our own determination to not play live and our concern that we would not be able to reproduce the complex sounds that we put on the records in live situations. That determination was possibly a mistake. I really wish we would have toured back then, in the mid-'80s.
GM: Tell me a little about your record collection. 
AP: I actually just invested in a new turntable, so I have been digging all my records out and listening to some vinyl from the past. I was into Prog rock, as you might expect, Yes and Genesis. Wait ... my wife just reminded me of the sad death of Bill Withers (recently). He did some good stuff. I was interested to read that he was considered R&B. I always heard him as pure pop, not R&B. The British view to what is R&B is very different to the American view of it. The Rolling Stones to the British are R&B. It's so completely different. Or at least they were at the beginning, not so much now, but their first album was totally R&B in the British music lover's vocabulary. I do enjoy listening to some modern music also, like Sheryl Crow and Train. I'm going to be listening to a lot more music at home than I used to.
GM: Anyone out there that you would like to work with? 
AP: I have been fortunate that I have been able to work with a lot of people doing my Master Classes to support our educational video series and book called The Art and Science of Sound Recording. We have been holding live master classes; as a matter of fact, the last class was just before the order came to not have gatherings of more than 10 people. I have been working with the likes of Dishwalla, and another local guy, Glen Phillips from Toad the Wet Sprocket. Kind of staying local, recently. There is a lot of good music out there, but I can't say anyone specifically that I want to work with. I have been very happy just doing my own thing right now and concentrating on the band I will be touring with, hopefully.
GM: My final question for you is: did you ever think that "Sirius" would become one of the biggest sports anthems ever? 
AP: It's incredible what it's become. It was never intended to be a sports theme, but it definitely has become one, and there has just been an announcement by ESPN that there will be a 10-part documentary series about Michael Jordan. ESPN has successfully cleared any hurtles to use "Sirius" in the series. It will be fairly heavy featured. I'm hoping they will put a credit on the screen because so many people don't know what it is. They just call it the Bulls' theme. They don't know that Alan Parsons wrote it.
[More Alan Parsons interview material can be read in the June 2020 print edition of Goldmine, available now.]
***