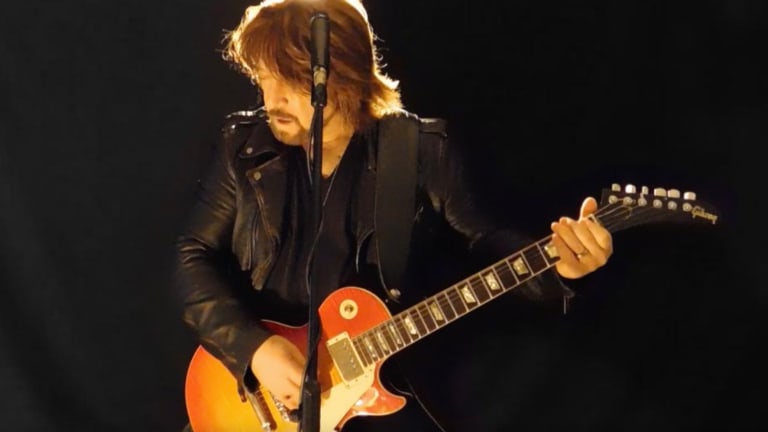 Aldo Nova's music is more than a 'fantasy'
Arriving on the music scene in the early '80s, Aldo Nova produced his share of hit rock songs and then later becoming a sought-after songwriter for hire. And now he is about to release a "reload" of his hit songs and a brand new rock opera.
By Ray Chelstowski
My college roommate, Eddie, arrived freshman year with a limited but solid set of cassettes that I deeply mined. He was into bands that I knew a bit about but had never really explored. As that first semester unfolded his cassette case opened my eyes to the wonder of acts that to this day get regular attention on my turntable. Aldo Nova tops that list.
Aldo Nova arrived on the scene in 1982 and lit the rock world on fire with his timeless rock classic "Fantasy" (watch official video below). Other hit singles would follow but he quickly began to bow out of the rock game, becoming frustrated by the business and the market that was quickly shifting, first to glam metal then to grunge. He would later find success as a songwriter working closely with Céline Dion and writing hits like "A New Day Has Come," "Your Light," "I Can't Fight the Feeling" and "You and I." He even won a Grammy Award in the category of "Album of the Year" for co-writing and producing three songs from her diamond-selling album Falling Into You. His songwriting would extend to help artists like Faith Hill, Carole King, Clay Aiken and Blue Öyster Cult release hit records.
Now after an almost fifteen-year hiatus Aldo Nova is back with an incredibly prolific output of material. It begins with the release of The Life and Times of Eddie Gage, a rock opera that tells the story of a prodigious ingénue who breaks into the music industry, skyrockets to fame and soon faces personal failures and ultimately, redemption. He began building it in 2008. Many years later the final production includes a 40-piece orchestra and a full gospel choir. It's a magnificent return and a reflection of how broad and striking his musical talents have always been. 
He follows this up with the triple disc Aldo Nova 2.0 Reloaded. It features versions of nine classic Aldo Nova songs, and includes another disc with no lead vocal track and a third disc without any lead guitar so fans can either sing along or play along with him. This throwback to the "Music Minus One" series offers fans the opportunity to find their own "voices" within Aldo's best known songs, and maybe develop talents they didn't even know they had. 
We caught up with Aldo and talked about the current state of music, what prompted his expansive return, and how it promises to demonstrate that what this next stage in his career might bring is much more than a "fantasy."
GOLDMINE: As someone who has always put the electric guitar at the center of his music, why do you think that it's so absent in today's popular music?
ALDO NOVA: Well, both of my new albums are very guitar heavy. I think that the problem today is that there are no more idols. When I was a kid there was Hendrix, Jimmy Page and Brian May. These guys were everything that you wanted to be. Now there's no one like that. You don't want to be like Dua Lipa or the Jonas Brothers. With my music I draw from all of my influences, put it in the pot and come up with something of my own. We don't have that anymore and that's probably why so many kids are going back to the 1970s and 1980s for inspiration.
GM: And those idols all had a unique sound and approach to the instrument.
AN: They all had their own sound and you knew their vibrato and how they played. They were all unique. Today everyone uses the same sounds. We all use the same kind of computers and software but it's the way you put it together. They are using pre-programmed sounds which keep them from being someone that you want to become. I wanted to be all of my idols put together. That's the reason we really wanted to have this three album set. The first album is made up of old songs. The second album is to have fun with doing karaoke. But the third album has no lead guitar specifically for the reason that I want people to learn how to play guitar with their own style. You can either play the solo like I play it or just jam along. If I develop one person out of a thousand who listens to that CD and I help them create their own unique sound then it's "mission accomplished."
GM: I'm surprised that more artists aren't exploring how to do just that?
AN: After all of these years of being shafted by record companies and managers I have arrived at a point where I own everything; my publishing, my rights, my masters — all of it. So for me, all I have to do is hit the mute button on the vocals and then I balance it. Then I press the mute button on the lead guitar, and I balance it. That's all it takes. A lot of bands have instrumental tracks so that when they do an appearance on television they just sing along. But there's not one record company that would ever release it. It all comes down to money which is the case with everything. For me it's easy to do and there's no one to tell me I can't.
GM: What prompted you to so quickly revisit 2018's album 2.0 and release a Reloaded version?
AN: The purpose of the 2018 album 2.0 was to get my fire burning again. It worked because the manufacturer signed me on the first day that they heard the record. The problem with the album was that it strayed too far away from the original versions of the songs. In the end most people didn't like what I had done with the songs and frankly I didn't either. In fact, I asked my wife to help me find some good songs on the record and she said "Why? There aren't any good songs on it!" So what I did was have the record completely take it down on Spotify and iTunes — everywhere. I just erased it. That's also the beauty of owning everything. It gives you the freedom to do things like this.
GM: How did the Reloaded version take form?
AN: During Covid, when we began to go into lockdown people started doing these online specials. So one afternoon my wife and I decided to do something as well. We set up a camera and I just made a track and we decided to perform "Paradise," because it's very guitar driven. I wasn't shaved and my hair wasn't done. It was just me and my guitar with a backing track. The song came out really raw and a lot of people reacted to it. The biggest reaction was "Oh my God! He's still alive!" That caught my attention and I decided to do another one and it received over 100,000 views. So I kept making them and wrapped it up with "Fantasy," because at that point Covid was pretty much over. "Fantasy" received over 400,000 views! I had these tracks and they were great, an improvement on the original, so I decided to replace 2.0 with 2.0 Reloaded. All of the tracks on Reloaded are from my Covid special and I chose the tracks based on the reaction they received online. It just came out great.
GM: The rock opera The Life and Times of Eddie Gage is a real labor of love. You've been working on it for quite a long time.
AN: You're right. Some songs go all the way back to 1989. In 2008 I made a conscious decision to not work with anyone any more. I was very successful at writing songs for others. But it was even hard to get a "Thank You" on the album liner notes. So I decided that I didn't need this and didn't want to work for people like that. Instead I started work on The Life and Times of Eddie Gage. I wrote eight songs and all of them are still on the album. Then I did what they call "forced songwriting" where they stick you in a room with one or two other guys between like nine and noon and you are required to write two songs a day. I did that but I didn't enjoy it. I'd rather write from inspiration. So I waited until I got inspired. In 2011 I started writing again. A few more songs then came in 2013, 2014, and 2015. It went all of the way to 2019. The last song was written November 10, 2021, and then the rock opera was done.
I can't tell you how many times people just refused this record. It ended up being a good thing because my mixing and my songs weren't up to par. As time went on the entire record became better and better. At the end I was really at the top of my game. Now it sounds great. It's well-arranged and the songs are really strong.
GM: Are there any element to The Life and Times of Eddie Gage that's autobiographical?
AN: This is a story that I have actually lived. That's how the dates were selected. I got signed in June of 1981 and my debut arrived in April of 1982. But my concept for the story is a total immersion, like an adult video game. You read the synopsis, you put on the songs, you read the lyrics and you develop your own video to the story in your mind. So everyone will have their own take on the story. I find that people don't use their imagination anymore. Today everything is done for them. Get the cell phone out and send as many pictures as you can. "I don't want to learn how to play guitar I just want to know how to play "Don't Stop Believin'. I want everything fast!" I decided instead to slow everything down. Read the story, follow the lyrics and listen to the music.
GM: Is the rock opera a record that you intend to support on tour?
AN: I'm definitely going to tour with this. That was the whole idea. I've been preparing for this for six years. I developed mental image of what I should look like if I were to tour behind this record and have been working out to get there. I'm in better shape now than when I was 21 years old. This record took 14 years to make and it was done through perseverance, determination and by having a real thick skin. When I decided to tour against this I knew that it would have to be on my terms. I'd have to play small halls, or opening up for a relevant act, someone who can give me exposure. If I were to approach a booking agency now they are going to label me a "one-hit wonder," a "has been." So they would want to put me on the classic rock circuit, which I have turned down steadily for the last 14 years because that's now how I want to be considered. Instead I am putting out all of this new music along with videos. Then people will know that I am a current artist with more to offer than just my old songs.
GM: You have been known to be a one-man operation. When do you know that it's the right moment to bring in help like you did with Bob Ludwig?
AN: My demos are really elaborate. I play the drums and everything on it, then I'll give it to the drummer and they always give me a thousand times more than I was expecting. I'm always looking for guys who can elevate my music. When I'm done I send the files to Bob Ludwig because he's a legend. When he masters the music it moves 10 to 20 steps beyond what I gave him.
GM: Again, as someone who plays every instrument on most of his records, what is it like to audition for your live band?
AN: I've got a killer band and I want to go out and rock. I've always put together the best bands. My rhythm guitar player on the Blood on the Bricks tour was Phil X. Look where he is today (currently lead guitarist for Bon Jovi)! I push everyone in the band to the max and I like guys who can push back. I don't like guys that crumble.
GM: Nova's Dream was critically well received. Would you consider recording an instrumental record again?
AN: What's funny about Nova's Dream is that I had been listening to it for about three weeks and wondering how I could buy the masters back and put it out on my own. So one day I go to my mailbox and there's a letter from the label that had released the album. I thought that it was going to be a bill looking to recoup the money they had lost on the record. Instead when I opened the letter it was to inform me that they were shutting their doors. The owner said that I was the music, I made the music and so I should own it. And like that he gave me back the masters. This goes to show how little Nova's Dream sold (laughs).
GM: Your 1991 release Blood on the Bricks had great commercial potential, with songs co-written by Jon Bon Jovi. I think it's among your best. Why didn't it sell?
AN: The main reason why this record didn't sell is because "the flannel shirts came out." When Kurt Cobain spit his lungs out singing "Smells Like Teen Spirit" that basically chopped the heads off every 1980's act. That was the end and bands like Nirvana were all that were getting signed. Record companies see something become successful and they look around for the same thing. That killed Blood on the Bricks. If it had been released in 1985, forget about it. But my career is unique because it launched in the beginning of the 1980s, the start of the MTV phase. Then what followed was called "glam metal." Before me were bands like Van Halen. So I was sitting on a line where I didn't belong in either camp. It's kind of weird because I developed my own style.
GM: It's been a long time since you've given your fans new music. Will they have to wait as long for you to follow these albums up with new material?
AN: I'm not planning to disappear this time. I'm here to stay. My disappearing acts are over and I've had quite a few over the course of my career. The last time I disappeared completely. As for songwriting, it will come when it comes.