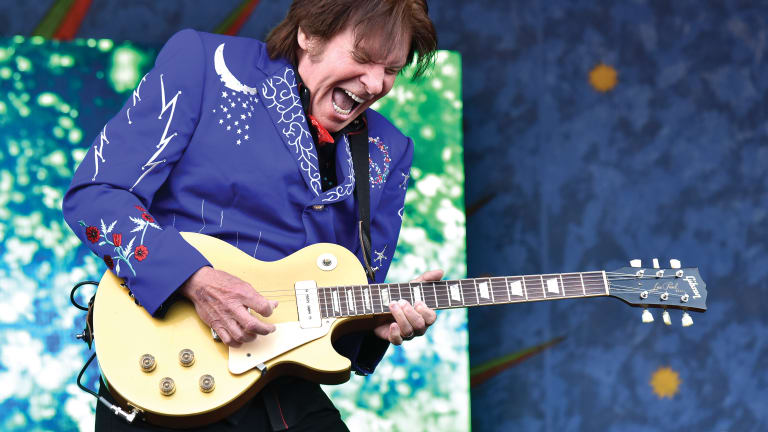 All in with John Fogerty's "Factory"
John Fogerty looks back on life, love, family and the challenges that came with Creedence, and moves forward with the project "Fogerty's Factory."
By Lee Zimmerman
Most people would likely agree that it would be all but impossible to list the most indelible and iconic musicians of the past 50 years without mentioning John Fogerty. As both the prime mover of his legendary band Creedence Clearwater Revival and a resilient force throughout his own solo career, Fogerty's contributed songs to the popular lexicon that each continue to resonate not only as standards, but actual anthems as well. "Proud Mary," "Fortunate Son," "Down on the Corner," "Have You Ever Seen the Rain," "Bad Moon Rising," "Centerfield" — each stands out as an astute example of the best that Americana music has to offer.
Last year, Fogerty and his children — Shane, Tyler and Kelsy — banded together to replay several of those songs under the aegis of Fogerty's Factory. They recorded an eponymous album that takes its cue from the classic Creedence album, Cosmo's Factory, given that the cover replicates that earlier album down to every exacting detail. Spawned from a series of videos posted by Fogerty's wife, Julie, in an attempt to share some entertainment during the throes of the pandemic, it's a refreshing reminder of the musical gifts Fogerty has bequeathed to modern music over the course of more than half a century. It also includes two notable covers, Steve Goodman's "City of New Orleans," famously covered by Arlo Guthrie and Willie Nelson, and "Lean on Me," a song that seems particularly timely in light of these tumultuous times.
"The lockdown was well underway, and at one point, Julie suggested doing something with the kids," Fogerty recalls. "They're all musical and we've done things mostly with one or two at a time, although sometimes we've all been onstage together. So we did that for a couple of tunes in kind of a loose way, with Julie just holding up an iPhone. After a couple more of those videos, she started calling our little group Fogerty's Factory. I had to ask, which came first, the group or the title of the album? I'm not sure she gave me a definitive answer when she said, 'I named the group first I think.' I'm not so sure I quite believed that at the time. But she's so clever, maybe she did."
Fogerty says that having the opportunity to make music with his family was the fulfillment of a dream in any number of ways, as well as the chance to combine the two things he loves most — making music and spending time with his loved ones — in both a personal and purposeful way.
"For a while, I had to live two separate lives and that always bothered me," he admits now. "Lord knows, I never wanted to be that guy whose career was his life, and then he struggled to combine the other part of it. I'm very happy, and I feel blessed and lucky that I get to have this career, especially after a bleak period in the middle. I want to honor that."
That bleak period Fogerty refers to came just after his decision to leave Creedence and embark on a solo career. Legal entanglements with his former label left him embittered, and for an extended period of time, he turned his back on those earlier efforts entirely and refused to perform any Creedence songs in concert. These days, he's reconciled with his past and has come to see both his earlier efforts and the music he makes on his own as part of a natural continuum, all of which gives him an understandable sense of pride.
"I've long since crossed that bridge, but imagine the mental state of someone who does that," he says in retrospect. "I couldn't do them, and so I thought I'd start on a new road with a batch of songs that are even more important and better. It was a hopeless endeavor, and there was that stress of feeling that I had to compete anyway. Every now and then someone will say to me, 'When do you do your solo songs rather than your Creedence songs,' I have to tell them that I don't differentiate. I really don't."
Even now, Fogerty reflects on that time with a mix of confusion and consternation. "I had such a strange relationship with Fantasy Records," he recalls. "It all gets mixed up in there. It's like a ballplayer getting traded, and then he really wants to beat his old team, that kind of thing. The emotions get intermingled and mixed up. It's not that relationship anymore. But now I'm very wonderfully connected with my music again, and it's all quite normal, which I'm very glad to say, and I also credit my wife, Julie, for helping me arrive here. I'm happily in love and happily married and my heart is full of joy, so with the things that I helped create way back there in time, I'm very proud of, of course."
These days, Fogerty looks back on his early work as part of a continuum, part and parcel of a love of music that was nurtured by his mother early on.
"The day 'Proud Mary' happened, I was sitting there after it was done, and in self-awareness, I was literally shaking," he remembers. "My mom always referred to those songs as standards. 'Sentimental Journey' is a standard. 'White Christmas' is a standard. 'Alexander's Ragtime Band' (starts humming). All that great music from New Orleans. Those are all standards. We would call them classics. So I was sitting there listening to the playback and telling myself, 'Gosh, John, this is a classic! Irving Berlin could do this!' I understood it. I knew it! It had come from on high. I was shocked, to tell you the truth, like I had tuned into a heavenly radio station and it had come down and landed on me. That was such a scary, wonderful self-fulfillment. There was not another soul in the entire world that knows this, but I know this! Luckily I got to have that feeling a bunch more times. So whatever that is, that's my standard. 'Proud Mary' was my first. It just came out of nowhere.
"I'd been writing songs since I was eight years old," Fogerty continues. "My mother pointed out Stephen Foster to me. She played these little children records to me, 'Oh! Susanna' and "Camptown Races' and so I became aware.
"Along the way, my mom would mention Irving Berlin or Hoagy Carmichael and people like that. I was aware of them. They were her people. She tolerated Elvis Presley, but she knew I loved him. Once my older brothers and I started listening to early '50s rhythm and blues, that was dangerous. When I started playing Muddy Waters, she almost ran out of the room. 'Save the women and children!' So when I picked up on that, I decided OK, that's what I really like! (chuckle) So when I finished a little song in the eighth grade for my little rock and roll band, I knew that this wasn't Irving Berlin. This wasn't 'White Christmas' or 'Stardust' or 'Smoke Gets in Your Eyes,' or even 'This Land Is Your Land' or 'Michael, Row the Boat Ashore.' This was me!"
As Fogerty remembers it, those early lessons left a decided impression on him that he would carry forward to his ongoing efforts with Creedence and his determination to steer the band in a direction that would be of benefit to them all. Or at least that's what he thought.
"As a kid, I loved to sing," he remembers. "In high school, I had a multitrack tape recorder, so I could harmonize with myself and make myself sound like a vocal group by myself. All through my schooling, with all my wonderful teachers, there was a whole lot of that, an understanding of the oral tradition. So working with my friends, on songs like 'Working on the Railroad' and 'Yellow Rose of Texas,' I was learning how to harmonize. So when Creedence finally got into a studio after flying down to L.A., we found ourselves in RCA Studios, the same place where Elvis had recorded, and the band was doing what I showed them to do, but it just didn't sound very good. So I'm fighting for my song, and oh my goodness, I didn't like how I felt, but I was fighting for 'Proud Mary.' I finally said 'Look, I'm going to sing these parts.' So the other fellas went away, because it was around dinner time, and of course they were very put out about it. But I just did what I always did for years at home on a little tape recorder. I knew exactly what to do. That was a big emotional conversation. But I got the result that I wanted, and that's what you hear on the record."
Unfortunately, that initial confrontation would linger throughout the band's career, and looking back in retrospect, Fogerty admits that it was that feeling of resentment and his insistence on maintaining his control that ultimately led to the band's demise.
"That's exactly what I had created the night we made 'Proud Mary'," he maintains. "I call it a ticking time bomb. They swallowed it for a time, and I thought it was great. I thought we were having a great career, and I thought it was all very obvious. But with young guys, especially young guys in a rock and roll band, it's not the same as the young Google employees or Apple employees or whatever enterprise you're trying to start up. They may have a different mindset, but in a rock and roll band, the whole idea is to kind of blast down the street and take no prisoners. That was it. It was tricky. Right as we were going to do Pendulum, which was the album before our final album, Mardi Gras, we had a band meeting and I capitulated. If this is what it takes to keep this band together, OK. I give in! It's fine. We'll all sing and write songs and all that. One cycle was ending and another was beginning. That's how I looked at it."
Nevertheless, Mardi Gras was the final straw. Following the departure of Fogerty's brother Tom, bassist Stu Cook and drummer Doug Clifford insisted on sharing production duties, contributing their own songs and singing lead on them as well. The reviews that resulted reflected that miasma, and facing a full-blown mutiny, Fogerty made the decision to pack up and leave.
"If something's not quite right, then you think, 'Well, I better change that. It's not working,'" he insists. "Something's not quite strong enough, but then you figure it out. The magic thing was that all my kids were able to accomplish that with our new record. It sounds and it feels really good. It seems to be joyful, and that's what we were after. Of course it's my family, and I'm a little biased of course. But some of the things are unexpected —'Lean on Me' for example. It's always been one of my favorite songs, and of course it's come around now because of Black Lives Matter, which is what inspired me. It was simple parts put together in a nice way that made a very wonderful musical feeling, and I felt like we did a really nice job on it. It feels good in your heart, in your soul. I think the entire album approaches that kind of feeling."
These days, Fogerty is clearly able to accept the musical mantle he earned so long ago, and the contentment he feels is all the more evident. "Songwriters create something out of nothing," he reflects. "It wasn't there before, and then you look at it and everyone goes, 'Right, it goes like this' (chuckles) and before you've done that, no one has clue about what to play. That's how I relate to my music. They're all my children. Obviously I think some songs are better than other songs, but I'm really proud of all of them."
Asked what he would tell his younger self, Fogerty offers a succinct answer. "It's not one profound thought like Confucius might say in one concise, short sentence," he replies. "But I would say that the idea of believing in your dreams and sticking with your dreams is a reality. Keep your dream and don't let anyone dissuade you from your dream, because that's the natural way of the world. It's almost like gravity. It's just there and it's trying to pull you down. And if you tell yourself, 'Yeah, the odds are too great, I'll never overcome all that,' then you're sunk. If you have a feeling inside yourself that says I really want to do this, I love doing this, it's very important. It means you're passionate about it. You may not know everything you've got to know, but the joy of the journey is part of why you were meant to do it. As you go, there will be many forces — and this could be a metaphor for my own life because some of those difficulties were very large ones, almost life-ending — the difficulty of being hoodwinked into giving away the ownership of my songs without even knowing what happened. That's sunk many a ship in this world of music. Many a time I found myself standing there and asking 'Man, why didn't that kill you?' It should have."