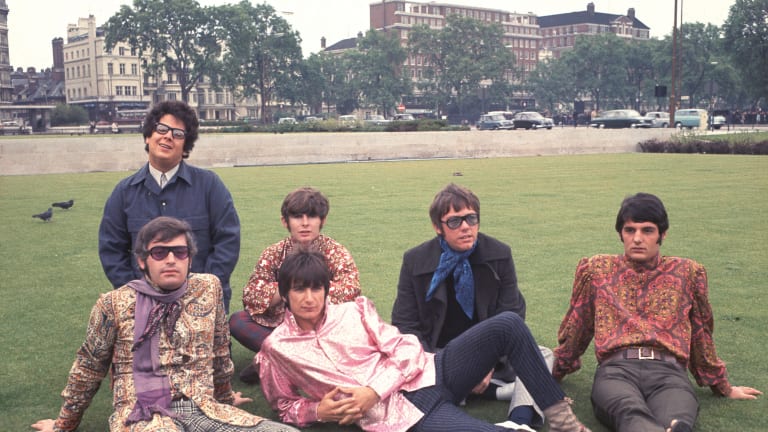 An album guide for Turtles fans
Turtles Mark Volman and Howard Kaylan have overseen the vinyl reissue of the six original Turtles LPs. Recently, Volman took the time to describe each album for Goldmine.
By Bill Kopp
Howard Kaylan and Mark Volman, founders, co-leaders and co-vocalists of The Turtles, are equally revered for their music as they are for their significant work advocating that artists get their due. They took on unauthorized samplers, sparred with SiriusXM over broadcast royalties, sued to regain use of their own names (and The Turtles band name), and took control of their own back catalogs.
Under their FloEdCo banner, they've overseen Manifesto Records' vinyl reissue in 2020 of the six original Turtles LPs, each with bonus material. The new double-LP versions of the first three Turtles records – It Ain't Me Babe, You Baby and Happy Together – are presented in both monaural and stereo formats. The band's later three LPs – The Turtles Present the Battle of the Bands, Turtle Soup and Wooden Head – are appended with non-album tracks and other rarities.
Volman says that the journey toward making these expanded reissues available on vinyl really began 20 years ago, when he and Kaylan worked with Rhino Records. "That part of our history had a lot to do with the ownership of the recordings," he says. Rarities releases like Chalon Road and Shell Shock (both 1987 Rhino projects) – along with annual Happy Together package tours – helped keep The Turtles in the minds of fans.
On the occasion of the reissue project – and with this year's Happy Together Tour canceled – Volman took the opportunity to chart The Turtles' history using the band's six main albums as mileposts. In addition to being filled with some of the finest pop-rock of that era, those records mark The Turtles' creative path through folk protest music, sunshine pop, psychedelia, hard rock, comedy music and even concept albums.
IT AIN'T ME BABE (originally released October 1965)
Though they got their start as a surf-rock band called The Crossfires, by the time the group signed with White Whale Records, they had changed their name to The Turtles. Produced by Bones Howe, the band's debut LP combined moody folk rock with hints of the upbeat direction they'd pursue on later records.
"We were young – 18 or something – and we didn't really know what we were doing," Volman says. "We were just kids singing some folk songs." Seeking to build on the success of the band's Bob Dylan cover recording, the first Turtles LP is nonetheless "a pretty good showcase of (our) originality," he says. While it might not have explored the group's tongue-in-cheek character, It Ain't Me Babe drew from a rich crop of top-notch songwriters. "What it didn't have," Volman observes, "was the kind of pop sensibility that we would move into."
Alongside covers of songs by Dylan (the hit title track, "Love Minus Zero," "Like a Rolling Stone") and like-minded tunes from P.F. Sloan ("Eve of Destruction," "Let Me Be"), the record featured four Kaylan originals, including the lovely "Wanderin' Kind," a folk-pop gem that sounds like an all-male version of Peter, Paul & Mary. And a recording of the Barry Mann-Cynthia Weil composition "Glitter and Gold" offered a preview of The Turtles' musical future.
The young group benefited from the skills of an excellent mentor. "Bones Howe had worked with Elvis; the guy was a monumental record producer," Volman says. "A lot of credit has to go to him. He was older than us, and so he brought a kind of reality to the situation. He knew what he needed to do to make a good record, and he wasn't going to let White Whale spoil that."
The heads of the relatively small label – Lee Lasseff and Ted Feigin – wanted more product to capitalize on the success of the "It Ain't Me Babe" single, which reached No. 8 on the Billboard Hot 100 chart. Second single "Let Me Be" did nearly as well, and a cover of "It Was a Very Good Year" – released within weeks of a Grammy-winning version by Frank Sinatra – hit the Top 10 in Canada. "Right in the middle of making that first album, they were already saying, 'What are we going to do for the next record?'" Volman says. "So we were moving on almost immediately."
YOU BABY (originally released April 1966)
A mere six months after their debut LP hit the shelves, The Turtles returned with You Baby. And while the record featured five original songs, more than half of the tunes came from other composers. "We had a knack of being able to pick some really good songwriters," Volman says. Among the most intriguing choices was Side Two's opener, "Down in Suburbia." A sardonic, sarcastic look at the hypocrisy and intolerance of America's middle class, the tune wrapped a serious message from the burgeoning counterculture (courtesy of songwriter Bob Lind) inside a catchy pop song.
Volman quotes from Lind's lyrics: "'All they ever smoke is tobacco in suburbia.' We were beginning, as a band, to express ourselves nonchalantly using the overhang of the drug scene." But the song – and the band who performed it – had more on its mind. "Just think of the lyrics: 'Everybody's got a list of negroes, Jews and communists,'" Volman says. "I'm telling you, we were already bordering on trouble. And the record company was not very excited."
Elsewhere on You Baby, The Turtles explored other musical styles, with varying results. Kaylan's hard R&B number "House of Pain" is really "us trying to be Eric Burdon," Volman admits with a laugh. "The only thing that was painful was that we were running out of vodka every once in a while!"
The Turtles were unique – especially among Los Angeles-based groups of the era – in that they didn't use session musicians like the Wrecking Crew for their basic tracks; they played their own instruments. And the band members' confidence and skill as songwriters were growing quickly.
Another Kaylan tune, "Pall Bearing, Ball Bearing World," represented more new directions for the group. "He was beginning to nod toward comedy," Volman says. Kaylan wasn't the only songwriter in the band. "Al Nichol's 'Flyin' High' really demonstrates Al's ability to not just write some good rock and roll songs, but also to sing," says Volman.
Released as a single, You Baby's title track made it to the Top 20. "We were not (yet) competitive on the music scene," Volman says. "But we had the hit on the second album, and that hit really carried us over." They didn't know it yet, but for The Turtles, a big breakthrough lay just over the horizon.
HAPPY TOGETHER (originally released April 1967)
Only four of the 11 songs on Happy Together would be written by group members, but once again, superb taste in choosing material yielded the band's finest release to date. Years before he made a name for himself as a recording artist, Warren Zevon provided The Turtles with the lilting, heartfelt "Like the Seasons." With that tune, The Turtles "were introducing one of the most important songwriters of that era," Volman says. (Zevon had already penned a chiming 12-string rocker for the band, the "Taxman"-influenced "Outside Chance." Released as a Turtles B-side in July 1966, it wouldn't surface on LP until 1970.)
Songwriters John Williams and Leslie Bricusse were already on a winning streak writing songs for Broadway shows when they penned "Guide for the Married Man," a delightful theme song for the movie of the same name starring Walter Matthau. The ba-ba-ba vocalizing of "Guide" was perfectly suited to The Turtles' quickly-developing sunshine pop style. It sounded like a hit single but failed to chart. "It's one of the most overlooked soundtrack songs as well as just being a great-written song," Volman says.
Happy Together isn't wholly free of misfires, though. The Kaylan-Nichol tune "Rugs of Woods and Flowers" features an appealing baroque pop arrangement, but Kaylan's mock-operatic vocals – a hint at the style he'd sometimes use when he and Volman joined Frank Zappa's band – relegate the tune to novelty status.
The record includes three songs from the team of Garry Bonner and Alan Gordon: "Me About You," the delightful love song (with cowbell) "She'd Rather Be With Me" and The Turtles' biggest hit, "Happy Together." Yet as consistently strong as it is, Happy Together is best-known for its title track. A hit single in Canada, Ireland, New Zealand, South Africa and the U.K., "Happy Together" claimed the No. 1 spot on the Hot 100, forcing The Beatles' "Penny Lane" from the top position.
"That was a good lifesaver, there," says Volman with a chuckle. " 'Happy Together' still lives and breathes quirkiness. But nobody knew it was going to be what it became: a 50-year adventure."
The album as a whole represented a maturing of the band. "Bones was kind of out of the picture," Volman says. "And (producer) Joe Wissert was kind of moving into the scene. Joe brought with him a quirkiness that really fit with us." Happy Together "really shows off what we were capable of doing as singers and as arrangers," Volman says. "We were beginning to be more and more involved in the production and the sound." And it showed. The Turtles' next record would represent the band's crowning achievement.
THE TURTLES PRESENT THE BATTLE OF THE BANDS (originally released November 1968)
By 1968, the concept album had come into its own as a viable means of creative expression. The Who Sell Out found the British rockers applying their talents to the creation of a complete radio program with (faux) commercials. The Moody Blues combined rock, light classical and a day-in-the-life song suite into Days of Future Passed. Van Dyke Parks made Song Cycle, and Brian Wilson led The Beach Boys (and Wrecking Crew) on a journey through Pet Sounds. And on Sgt. Pepper's Lonely Hearts Club Band, The Beatles assumed the guise of a fictitious band.
On their concept record, The Turtles would attempt to go not one better, but 11 better. For each of the songs on The Turtles Present the Battle of the Bands, the self-contained group (aided by producer and creative collaborator Chip Douglas) reinvented themselves as a different band.
Battle is a bouquet of musical styles, from Bakersfield country ("Too Much Heartsick Feeling" as Quad City Ramblers) to Strawberry Alarm Clock-style pop-psychedelia ("The Last Thing I Remember" as the Atomic Enchilada) to ersatz Simon and Garfunkel ("Earth Anthem" by those global hit-makers All).
With three exceptions – a title track written by Douglas with band friend Harry Nilsson, "Earth Anthem" and a better-than-the-original cover of The Byrds' "You Showed Me" – Battle featured all-original material. And the unquestioned spotlight tune on the album was written in response to White Whale's insistence on more sunshine pop hits like "Happy Together."
With its intentionally offhand lyrics ("You're my pride and joy, etcetera," sang Kaylan and Volman, the sarcasm all but dripping from the mics), "Elenore" was conceived as a parody of a mindless pop song. Instead it became The Turtles' fourth Top 10 hit single.
The idea of a concept album came before the songs. "We knew we wanted to do something as a whole, and we didn't know what it really was going to fashion itself to be, but once we realized it, we already had it," Volman says. He considers Battle and its follow-up, Turtle Soup, his favorite Turtles albums. "Those two records cover a part of our history that's kind of overlooked," he says.
Even though Battle of the Bands wasn't a hit LP on the scale of Happy Together – it only reached No. 128 on Billboard's pop-albums chart – it has worn exceedingly well for its ambitious scope and on-target humor. And one of its deep tracks found a new life in the decades to come. " 'Buzzsaw' became important to the continuation of the ownership of our recordings," Volman says. "Because we had a couple of hip-hop artists take our songs and make us relevant again." The mostly instrumental track has been sampled by X-Clan, Insane Clown Posse and several other acts.
Many of the tracks on the second LP in the new Battle reissue were first released on the (now long out-of-print) 1987 Rhino LP Chalon Road. And a hidden bonus track featuring outtakes from a vocal session is a vivid reminder – should one be needed – of Volman and Kaylan's peerless vocal prowess.
TURTLE SOUP (originally released October 1969)
For their fifth album, The Turtles made a highly unconventional choice in producer: they called on British musician Ray Davies, best known as leader and songwriter of The Kinks. Prior to working on Turtle Soup, Davies had never produced another artist. But Volman is proud of the finished album, the only long player to feature no songs from outside songwriters.
"As an album package – songs and everything – Turtle Soup is probably one of the best we put out," Volman says. He doesn't make outsize claims about The Turtles' body of work, though. "I'm not sure that any of our albums are Brian Wilson quality. Brian had the whole thing in Hawthorne, California; we were just a bunch of kids from (L.A. neighborhood) Westchester. That's really what we were," he says. "We weren't a band that was going to go into history, but we capture our place in time very comfortably."
Highlights on Turtle Soup include the darkly sophisticated "Somewhere Friday Night," the ambitious arrangement of "Love in the City" and the aggressive rocker (with a folk protest vibe) "House on the Hill." "You Don't Have to Walk in the Rain" is another classic in the mold of the band's sunshine pop hits. And the instrumental work on "She Always Leaves Me Laughing" – especially Al Nichol's chiming 12-string guitar and Jim Pons' kinetic bass lines – adorn a memorable tune. Drummer John Seiter turns in a first-class vocal, too, on "How You Loved Me." The carefully layered sound of Turtle Soup foreshadows later Flo & Eddie masterworks like "Marmendy Mill," "Keep It Warm" and "Mama, Open Up."
Several tracks on the second LP in the Turtle Soup vinyl set appeared previously on Rhino Records' Shell Shock, released in 1987. Those tracks make plain the fact that near the end of their time together, The Turtles were making some of the best music of their career. "If We Only Had the Time" was so good that Kaylan and Volman would re-record it with a new arrangement on their 1973 album Flo & Eddie. The bonus Shell Shock LP also includes five demo recordings (two of those previously unreleased) and a radio spot promoting the 1969 album.
WOODEN HEAD (originally released September 1970)
The Turtles themselves had little to do with the release of what would be their final album. Producer Bones Howe assembled this collection of previously unreleased material at a time when the group had already split. Most of the songs on Wooden Head were recorded years earlier, in the period between You Baby and Happy Together. Poorly promoted on release, it would become the rarest of all Turtles LPs.
The 11 songs on the original Wooden Head rank among the band's least-known material – no hits – but as with all Turtles material, the music has its charms. And the bonus disc contains alternate versions and mixes of better-known songs along with some rarities and one previously unreleased track, an alternate take of the band's pop arrangement of "We'll Meet Again," a 1939 classic popularized by Vera Lynn.
Volman is very pleased with the quality of the Manifesto reissues of The Turtles' catalog. "We always wanted to have a vinyl recollection of our history," he says. And coupled with Manifesto's 2016 CD set All the Singles, the band's entire body of work is readily available for 21-century listeners.
Volman and Kaylan's effort to bring all of their material together under one roof may yield future reissues, too: After their tenure with Zappa's Mothers, they continued with an even more varied and sophisticated musical project. Re-branding themselves (for legal/contractual reasons) as Flo & Eddie, the duo made a series of ambitious records that rocked hard, swung for the fences creatively and provided even more laughs. They released five records for three different labels between 1972 and 1981, and today they own the rights to all of those recordings as well.
Will those albums see deluxe reissue? "Destiny has a way of reeling itself up," Volman says. "And I think they will, someday. You never know." He even makes mention of a batch of unheard material that could serve a Wooden Head-like role in the Flo & Eddie catalog. "Howard and I have a bunch of material that hasn't been released; we didn't know how we were going to use it."
Working with different musicians, Kaylan and Volman re-launched The Turtles in the early 1980s. Featuring fellow '60s sensations (variously including Mark Lindsay, The Cowsills, Gary Lewis, The Grass Roots and others), their highly successful Happy Together tours began in 2010 and continued until 2019 (the COVID-19 pandemic put a stop to the 2020 tour before it began).
The year 2015 marked the half-century anniversary of Kaylan and Volman's musical partnership. That same year, Volman dealt successfully with throat cancer. Today, it's fair to wonder about the post-pandemic future of The Turtles. Kaylan – who, like Volman, turned 73 earlier this year – sat out the most recent Happy Together tour to deal with health problems of his own, and he has long made it clear that he has no interest in reuniting the original band. "We broke up for a reason in 1970, mainly because we couldn't stand each other," he told me in a 2009 interview. "So the thought of getting back into that mind trip after all of these years of relative calm, to me, is just a shattering thought. That would never, ever happen."
But in 2020, Kaylan's lifelong musical partner strikes a more accommodating tone. "We've had a couple of producers step up and think it might be fun to do the original band," he reveals. "Because we're all still living: Al (Nichol), Jim Tucker, Jim Pons, Johny Barbata, me, and Howard.
"Things materialize," Volman says. "The right offer could make people do different things."