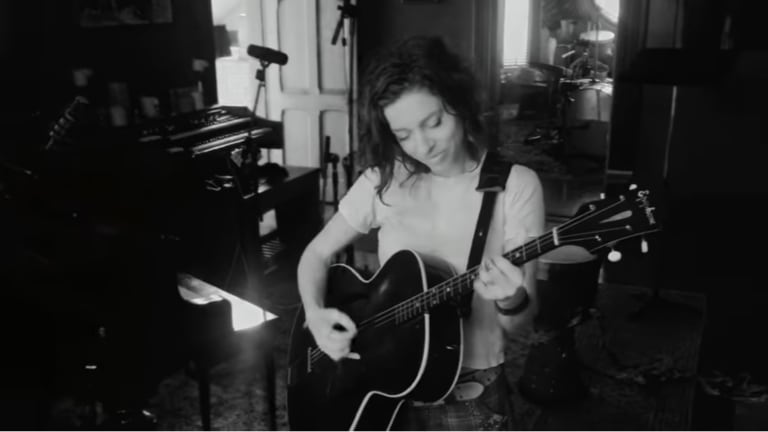 Ani DiFranco spins a righteous tale of Revolutionary Love
After 20 quality albums, American folk and rock singer-songwriter Ani Difranco continues her successful track record with the album "Revolutionary Love."
By Carol Anne Szel
She not only delivered her self-titled debut album in 1990 at the age of 19, but she started her own company, Righteous Babe Records. She went on to win a Grammy and was nominated for eight others, sold hundreds of thousands of records, had her 2019 memoir No Walls and the Recurring Dream land on the New York Times Best Seller List, but Ani DiFranco's latest album, "Revolutionary Love," is not to be overlooked.
This American folk and rock singer-songwriter has dropped more than 20 albums over the span of the last three decades, helped induct Woodie Guthrie into the Rock and Roll Hall of Fame in 1995, and Ani has legendarily participated in many concerts for global and local activism and humanitarian causes alongside Arlo Guthrie, Indigo Girls, Bruce Springsteen and many more.
Ani, who makes her home now in New Orleans with her husband and kids, is re-releasing her aforementioned self-titled debut album on vinyl with the July 17 Record Store Day Drop this year, which should be a delight to record collectors as well as fans. She tells Goldmine that she's very anxious to get out on the road this year, playing select August and September festival dates including the coveted Summer Stage in New York City's Central Park.
I had the chance to catch up with the laid back, driven, humble and dedicated Ani DiFranco and she really opened up about her past, present and future.
Goldmine: It seemed very brave of you to start your own record label at the age of 19. What was your thought process back then?
Ani DiFranco: Well I was just thinking, 'I don't need you.' 'I don't need big daddy.' I don't. You know, I just felt like… I know that whole world is telling me that the only path to being a professional musician, to being legitimate, to reaching a wider audience is with some record company. You know, the people with the money, the muscle, the connections the power. You know, you have to get into bed with one of these entities in order to get to have a job in music that's legit. These thoughts that people had at that time, in 1990. There were people like me. As I learned about different sub-cultures of music and I saw that I was not the only one that had that instinct, I was the more liberal one and was able to follow through with that in order to sustain myself and other artists on the label and kind of hid that sort of mainstream awareness and work independently. Looking back now and learning more and more as the years have gone by, especially in the rap and hip-hop world, the '90s, that was the coming of age all over the world you have artists that formed their own record companies and made their first cassettes and CDs just like me. Sold them in their communities and grew them sort of regionally, maybe national distribution or exposure. Maybe some of the artists were able to transcend into lifelong careers, I was not the only one in retrospect. Even in the folk and roots world, there were various examples of totally independent labels, people doing it without the majors or the power players.
I think I was part of the seismic change back then. Now the technology, the internet, what that has blossomed into, opened up the possibility for people to go directly from their bedroom to the world! Cut out all the middlemen. But even pre-internet, because it was the '90s when everyone was just getting online, getting a website and moving to this life for better or worse, it was happening. The revolution against the system of powerful rich people owning and riding us like race horses, which was kind of an exploitive system for most. You know you had to get to be an upper echelon artist before you had any power to sort of bust that open and evolve it.
GM: Tell me a bit about your family life.
AD: I have a couple of kids, the classic two.
GM: Nice, how did you make out during the pandemic?
AD: They were in virtual school and I was home and nothing but home for the first time in my adult life. So, as you can imagine, for me, that was an amazing blessing on so many levels. My oldest is 13 and I had to leave her and both my kids for weeks on end all the time. You know, to support the family because I'm the bread winner. So, it was hard on everybody. It was hard on my kids, it was hard on me, it was really hard on my marriage. So that year brought many blessings and also financial dire straits. But the blessing of being given permission to have been home with my children in partnership with my partner, had far outweighed, you know, the poverty aspect. But I don't want to piss anybody off because I'm not impoverished, as many were struggling to make ends meet in that new circumstance.
GM: In the time between your 2017 release Binary and now you penned a very successful memoir. Can you tell me about that?
AD: It was many, many things. It was really hard but it was really exciting. You know, I challenged myself to take on a whole different medium, kind of. For somebody who's known for being kind of intimate in my songs… People have come up to me and thanked me for my vulnerability. And I never really, I'm only beginning to understand what that means. It was sort of strange to hear.
But lately in my life I'm learning how to appreciate what that means, to risk being vulnerable. And how people have found that courageous in my songs. Very affirming of them. And the book was like that at times. And when you're deciding to go to that level of vulnerability like I did with the book… it's punishing. It's terrifying. And it's emotionally a little traumatic. It brings up a lot of stuff and not only do you have to address it yourself but you're putting it in from of everyone and anyone. Including people in my actual life, in my actual family. Here I am writing complete sentences with the words Mother, Brother, Father, you know. And these people, many of them are still alive, the people in this book. And I'll tell you what, the most difficult moment was that I somehow made it through the writing of the book and then I went to the recording of the book, the recorded version. I sat down in front of the microphone and I didn't even think that would be a 'thing' at all. You know, I wrote the book, that was the hard part. And now I'm just going to go into the studio for a week-long recording session, that's nothing new. So, my f**king God, it was like 'What have I done?' I mean, hopefully it was not too apparent on the outside, but I melted down inside. See, when I had to speak what I wrote in the book into a microphone it became so crushingly apparent that 'Yes, you really did just share all of this.'
And it's funny, I was just reeling from the experience of recording the book and I was sort of shocked by it. Like 'What is happening in me?' And I felt almost, violated. And of course, I violated myself. I violated my own privacy and my own personal space. I chose to do that. Yet in that moment of reckoning it was all too much. But I powered through it. So that's what was happening for those two years.
GM: Tell me about your latest record, Revolutionary Love.
AD: The title track of course sort of became the title of the whole album because it's sort of at the center of the songs. That's how I choose the titles I guess on my records. Like what song speaks to all the rest of them.
And "Revolutionary Love" has kind of become my anthem song for the past year. That song I wrote for my friend Valarie Kaur, and she is an activist, a writer, a film maker, a lawyer. We've been friends for a few years and we helped each other with our respective books like just gave feedback. And she asked me at some point to write her some songs to help her message and connect with people. So I wrote three songs for Valarie and one of them was the title track. And that one just became sort of my mantra. I was like, "Valarie, do you mind if I put this on my record?" A lot of the words in that song come out of Valarie's mouth, so to speak. She speaks a lot about revolutionary love, really breaks it down. What does she mean when she says that? How do you do it? How do you employ that elusive idea in your day-to-day life? So, I tried to put a lot of her wisdom into that song. That's where that sort of came from.
On the record, the reason that became the title track is because a lot of these songs are grappling, whether it be in my marriage and in my intimate relationships or whether it be in the macro-society relationships with each other, ourself. Like, how do we stay in a place of love and compassion when we are so hurt? How do we move beyond trauma, move beyond when you have experienced unforgiveable violence, as we have in many ways in our society in our history? And as in a personal relationship, where do you go from there? How do you get un-stuck from that trauma, how do you reckon with that trauma, how do you move forward with each other? Because we can't kick each other out of the planet.
So those are the questions I think that kind of keep asking themselves in these new songs. Whether it's in the theoretically personal or the theoretically political lens. But a lot of the songs in my mind actually, they apply to either. It might be a song that came from a very personal place or I can sing it and have in my mind more social relationships. Or visa versa. You know, some of those political songs I can sing in my mind thinking about my personal life.
GM: Did you ever have a plan B in your life or did you always know you wanted to be a musician?
AD: When I was a kid I did all kinds of art. I actually thought I was going to be a dancer, I loved it and I miss dancing. And I went to art school when I started, I took a little bit of college classes before music just sucked me up and out onto the road. But I did drawing and painting. So, I guess I've always known that I wanted to be an artist I guess, I've always done art and I can't stop. And when it comes to 'What is going to be your job?' I think why it really went to music was because all these things I love to do is because music is just so essential. Music is like integrated into all aspects of people's lives. So, in terms of wanting to connect with people and really become a part of the world and maybe hopefully maybe help it be a better world… Music just seemed like the medium to do that.
GM: You've been involved in so many causes over the years. Does activism drive you to music or does music drive you to activism? Or is it hand-in-hand?
AD: Hand-in-hand. I mean for me even it's just one hand. I feel like whatever motivates me motivates both. And it's one thing. I have a strong desire to connect with other people. I have a strong desire to uplift and help people. And myself. To become myself and to become free and self-empowered. And I have a desire to do that not just alone in a bubble but in community. Because until we're all free and equal under the law… You know, the music, the songs, the more direct action, it all sort of comes from one place, I think.