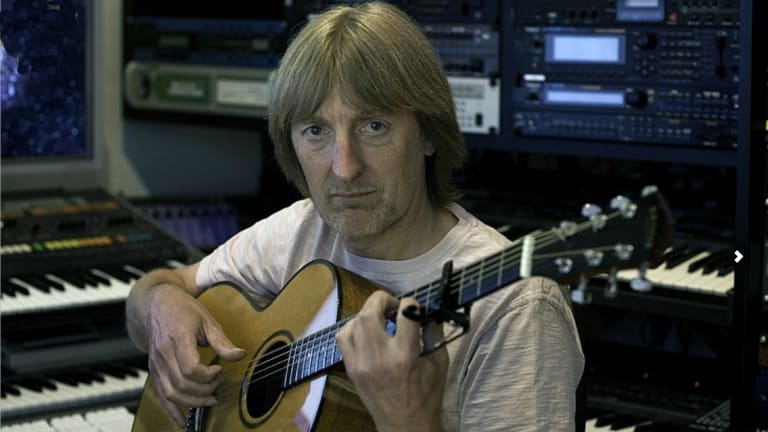 Anthony Phillips: From Genesis to "Strings of Light"
The former Genesis guitarist describes the joy of producing music in the studio, especially with his latest album, "Strings of Light."
By Lee Zimmerman
"Regrets, he's had a few, but then again, too few to mention." With apologies to Frank Sinatra, that lyric may best sum up the sentiments of Anthony Phillips, one of the original guitarists for Genesis, nearly 45 years after his premature departure following the release of their second album Trespass (he previous played on the group's debut, From Genesis to Revelation). Asked if he has any second thoughts about leaving the band he helped cofound with singer Peter Gabriel and fellow guitarist Mike Rutherford when the three were students at the Charterhouse preparatory school, he suggest that it would be disingenuous to say that he doesn't. Indeed, Genesis' greatest efforts still lay ahead — Nursery Cryme, Selling England by the Pound, The Lamb Lies Down on Broadway, et al. — and in a few short years, his colleagues were propelled into the ranks of superstardom as one of the biggest bands in the world.
Phillips, for all his remarkable artistry and success scoring soundtracks, was forced to watch it all from the sidelines.
That's not to say he hasn't had a prolific career on his own. Beginning with two of his most notable solo albums, 1977's The Geese & the Ghost (which, Phillips proudly points out, was once named by Goldmine as one of the most essential albums of all time) and 1978's Wise After the Event, he's continued to release a string of efforts — nearly three dozen in all — that have provided an astute blend of prog ambition, classical sophistication and elegiac folk delicacy. His series of Private Parts and Pieces releases, now numbering 11 in all, reflect a creative sensibility that pays little heed to commercial considerations and instead illuminates through the purest and most expressive means. His one concession to commerciality, 1983's ad hoc band project Invisible Men, proved the one exception, but Phillips insists that was due to pressure from his label to find a fit with then-current trends.
Phillips — known to most simply as "Ant" — still remains friends with his former Genesis colleagues, particularly Steve Hackett. He's also been involved with Peter Gabriel on various projects, most notably the Genesis archival box sets. He also revealed that at one point, Mike Rutherford, with whom he worked early on, offered him a role in his band Mike and the Mechanics, a gig Phillips graciously declined.
"It wasn't an acrimonious departure," Phillips notes, citing stage fright and his reticence about performing live as his main motivation for calling it quits with Genesis.
It's been seven years since Phillips last released an album — he spends most of his time earning his living by producing television soundtracks — but two new efforts, a solo album called Strings of Light and a tribute effort titled Which Way the Wind Blows from Rocking Horse Music Club, may help restore him to the prominence he deserves.
Speaking by phone from his home in the U.K., Phillips was gracious, polite and candid in his assessment of his career, his music and his views on a recording industry that hasn't always given him the attention he so decidedly deserves.
GOLDMINE: It's nice speaking with you, Ant. It's been awhile since those of us in the States have heard from you — seven years, to be precise.
ANTHONY PHILLIPS: It has been, but there have been a number of re-releases in-between. Cherry Red has put a lot of effort into them. I also compose television music. But I actually started working on this new album two years ago, in 2017. It didn't take that long really. It was almost done in 15 months, but it actually came out after two years. So it's actually only been five years between releases from that perspective. At the same time, a lot of attention went into the re-releases — a lot of time and effort — which made the bonus CDs not bogus CDs, as Steve Hackett calls them. They were proper CDs and not throw away material. They took a lot of time.
GM: It still seems like a rebirth of sorts with a new album and the tribute album that just came out as well. Do you see it that way?
AP: I suppose so. A lot of my early stuff was very hard to find. So I suppose it's been a minimal rebirth from 2014 when Cherry Red picked up my catalog and put out the anthology. That was an attempt to reach a bigger audience. So the new album will make it seem more so, because it's all fresh material, even though some of it was written several years ago. It's well timed with the lovely Rocking Horse guys as well. What these guys are doing are creating their own adaptations of my material.
GM: It's a lovely tribute that's well deserved.
AP: They're not slavishly aping every single note. Some of these tribute bands even try to look like the original outfits. It's kind of scary, really. I've got nothing against it — why not hear it with that great sonic quality? It's like a great orchestral piece. Why shouldn't it be played again? But the Rocking Horse guys offer an interesting take on these tracks. I typically don't listen to my original CDs, but I'm looking forward to hearing it live for the first time. They 're playing here tomorrow night for the first time actually.
GM: Your name doesn't appear in the credits of the tribute album. Should we take that to mean you had nothing to do with it?
AP: No, I made it clear from the start I wouldn't be involved. It can be a bit tricky. Once you start getting sucked into it, it's hard to keep your distance. But I was always available if there were any questions, like about chord changes and tunings and stuff like that. Generally speaking, I was there for a consultancy role, but I find it best not to interfere.
GM: That's in contrast with your former colleague Steve Hackett who tours with his Genesis Revisited performances. It's a tribute, a revisit of sorts that finds him as the cheerleader.
AP: Yeah, it's different for him. He's a great friend of mine, but he wasn't really the figurehead of the group. You've got guys now who take bands out and they're the only guys left. King Crimson isn't really King Crimson anymore. It's Robert Fripp's take on King Crimson. I went to see Procol Harum, and although Gary Brooker's very good, there's nobody else. It's just Gary Brooker. But why not? It's just brutal reality. If he plays, he can get bums in the seats that way.
GM: It's economic reality.
AP: People aren't buying records now — or at least they're buying very few of them — so to make money, you've got to get bums in seats. I'm lucky. I have an income source writing television music, but these guys don't have that possible luxury, so they get bums in seats by playing their old stuff. Steve enjoys doing the Genesis music. Still, I imagine he would probably prefer doing all of his own stuff. However, at the same time he's a realist. The record industry is not the record industry we knew. We have things like Spotify which is illegal theft as far as I'm concerned. If as a fan, you want that band you like to make another album, I'd stand by them if I were you.
GM: Do you go out and perform?
AP: I'm not a performer. There's no way you're going to get me performing on a stage.
GM: So you never go on tour?
AP: No, not really. Apart from the reservations I have, my music is rather complicated and too intricate to perform live. It would have to be a big commitment. I'd have to be pretty sure that it was worthwhile. I'd also have to have a band because it's a pretty miserable experience playing by yourself. I'll be honest — for me, the joy is writing. I love composing. That's the thrill. However, I get very bored. This album was great to do for the first three months, but very quickly I got very bored with the process. I was out of practice. It takes a lot of time to work up a track to the proper concert or recording standard. There's no point, at least for me, to do something for the sake of a shortcut. You build up momentum as you go through the tracks, but if you're stopping and starting, you're going to lose that. With this album it was the same thing. Just go for it, and then if we need to, we could go back and repair it if it's not right. That takes stamina and technical prowess, and that requires an enormous amount of hours. I'd say it took well over 1,000 hours on this project alone, and of that, under 200 of that was the writing. You know the phrase "It's five percent inspiration and 95 percent perspiration"? In my case, it was two percent inspiration and 98 percent perspiration.
GM: It sounds somewhat gruelling.
AP: It's all about the stamina. As you get older, you can't just pick up your guitar and start strumming chords. It's a little bit trickier.
GM: Yet, you've been so remarkably prolific.
AP: Thank you.
GM: So if the process is only two percent inspiration, you've certainly had a lot of that regardless.
AP: You're very kind. But the fact is, recordings cost a lot of money. My records weren't cheap to make, but they certainly weren't overly expensive. For many bands though, it simply isn't worth it. They do so well by performing live that it more than makes up for it. I do understand the reasons. For many people, they don't want to be with a big record company. They want to be with a small record company. When Steve makes his albums, he does them himself. Roger King does all the programming, so he's not spending a fortune making those albums. If he recorded with all the musicians he tours with, it would be very expensive. Prohibitive really. The problem is that once things were made possible to get free or free-ish, it's just human nature to take advantage of that, isn't it?
GM: There are some of us who still prefer physical CDs or LPs.
AP: Well I think that the people that acquire my stuff are real record buyers. However, there are some hybrid examples in the middle. For example, if you hear something you really like on Spotify, you may actually go out and buy it. So that hybrid listener is kind of in the middle, but they're still a minority. Cherry Red is a catalog company, and the people that buy their product want everything. They're what you would call a completist. It is true. Unfortunately, it's a smaller niche.
GM: That's a somewhat pessimistic prognosis.
AP: Somewhere along the line, music got downgraded. People complain about spending 12 pounds on a CD which likely took six or seven months, or maybe even a year, to do. But they wouldn't complain about spending 20 quid on a hardback book which probably cost the writer about two or three thousand pounds of research to do. So when did music get so downgraded in people's minds? The other thing that's happened is that people will come back from a concert and they'll be asked "What was it like?" And they'll answer, "It sounded alright, but it didn't look great." I spent my early years going to see blues bands, like Eric Clapton and the Yardbirds, and they weren't expected to look a certain way. But once we got into the '70s, the video thing came in, and that visual thing became more important. So now it's accompaniment really. An appendage. People don't sit in an armchair and just listen, or look at the lyrics.
GM: At least not like they used to.
AP: Young people don't do that now. Where we went astray, I'm not really sure. I think the record companies had a little bit to do with it. Back in the '60s, bands like the Beatles would do a song, and then the next song they did would be completely different. We hit this thing with the record companies insisting that the next song be like the one before...formula, formula, formula. The other thing is, in the '60s and '70s, there were managers who backed a band and stayed with them. Nowadays, Genesis never would have made it because we lost money the first three or four or five years. Nowadays, a company would look at a second album, and if it didn't make enough money, that would be it. That stops bands from being able to develop. And if they have commercial success too early, that dilutes their creative potential. If we didn't have a manager like Jonathan King, our first manager, we would never have been able to develop. The accountants have really impacted on the business, and it may be that ultimately that over-analysis may have diminished the quality of the product, and that in turn may be why people aren't buying things like they used to. It's only a theory. But the fact is that music got downgraded in people's minds where it needed an appendage in the form of visual accompaniment.
GM: On the other hand, Peter Gabriel was an amazing visual artist, but the music was outstanding as well. That's in contrast to the way things are these days when it's all about the imagery and the music is kind of a second thought and even sort of marginalized.
AP: It becomes secondary, really.
GM: Exactly.
AP: The visual image really pushes it out there. It gives people more to talk about.