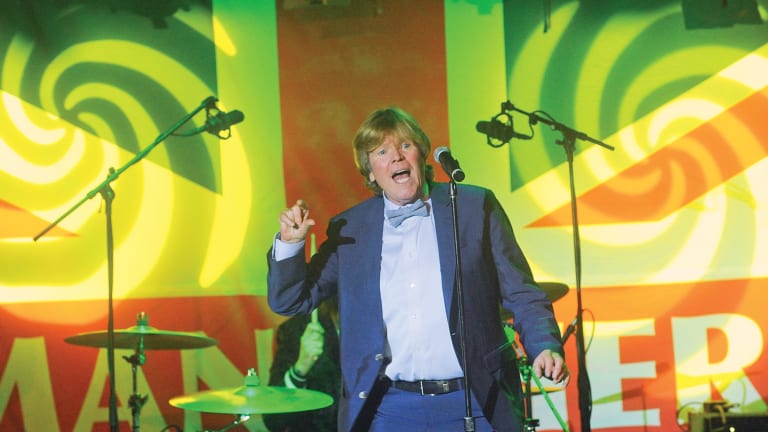 At 72, Peter Noone remains an entertainment stalwart
Peter Noone, the band leader of Herman's Hermits, is as busy as ever spreading his musical genius to fans.
By Mike Greenblatt
Barry Manilow must have thought he had the 2019 "Entertainer of the Year" award in his back pocket, but when the smoke cleared at the 2019 Casino Entertainment Awards, it was Peter Noone who walked away with the honor. Noone, 72, used to be the titular head of Herman's Hermits, one of the original British Invasion bands. He then went on to star in The Pirates of Penzance on Broadway, London's West End and even in New Zealand. He has his own weekly Sirius XM satellite radio program (Something Good with Peter Noone). He played bass in one of the great 1980s long-lost power pop bands, The Tremblers. And he has continued to tour with an innate comedic flair, showmanship and all those hit songs. Funny, but Herman's Hermits songs like "I'm Into Something Good," "No Milk Today," "Dandy," "Can't You Hear My Heartbeat," "Wonderful World," "There's a Kind of Hush" and "Mrs. Brown, You've Got a Lovely Daughter" have not only withstood the test of time but truly sound melodically delicious. (We'll forgive Noone for "I'm Henry VIII, I Am.")
GOLDMINE: Congratulations on winning "Entertainer of the Year" at the 2019 Casino Entertainment Awards.
PETER NOONE: Incredible, isn't it? Even I'm in shock. I must've just outlived all the competition.

GM: You beat out Dwight Yoakam and Barry Manilow.
PN: Yeah, and they're pretty good acts. But nobody knows who votes. In that sense, it's like the Grammys.

GM: I had my mom take me to The Belmont Record Shop in Bloomfield New Jersey in 1964 when I was 13 to buy "I'm Into Something Good" by Herman's Hermits. I wore that record out, driving my grandparents crazy. That song — co-written by Carole King — was originally done by Earl-Jean. Who picked it for you?
PN: Our producer, Mickie Most. Y'know, we had our eye on him and really wanted him to produce us. We had to audition with him and play him our own songs. When he called us back, he said, "I found a better song for you. Come up tomorrow and we'll record it." So we were really excited and wound up driving all night in our beat-up van. We got there about 2:00 in the morning, parked outside the studio, and slept in the van until 9:00 when we walked in. Three hours later we had the "A" side and the "B" side done. We went home and heard it on the radio a couple of weeks later when it went straight to No. 1 in England. We were on our way! It was a huge step up for us. We were a band that was constantly working, touring, performing, we never stopped. We were 100% into being a pop group. None of us had jobs.

GM: Did you know your fellow British Invasion bands? Were you friends?
PN: England's a small country. We all knew each other. We'd run into The Kinks, The Beatles, The Who, Freddie and The Dreamers, Rolling Stones, The Animals, sure. Before you made a record, you had to have an audience. They wouldn't let you make a record otherwise. We were all in the business of creating a following. We were such oddballs, though. There was no band like us. We had no competition for the kind of music we played. When you think about it, each of those bands were totally unique. Nobody sounded like anybody else. There was a kind of camaraderie. We were all in the same business and there'd be friendly rivalries like, "Are you still doing that kind of stuff?"
I remember becoming friends with bassist Jack Bruce who was in The Graham Bond Organisation. Many years later, after Cream, we were walking around New York City together and talking about the exact places where we'd always run into each other. We laughed at even passing each other in cars on the motorway. We used to go see Graham Bond with Jack Bruce all the time. Jack had that sense of humor, man. He was funny. He used to say to me, "You killed Graham Bond," because Graham always showed up at my house with his American girlfriend who dressed like a witch. She had green lipstick, a real whacko. And here I am, Mr. Clean, Herman. Everybody was always welcome at my house. So Graham introduces her to me as a real witch, telling me stories about when she'd raise her hand on the highway all traffic would stop. I told Graham, "Heck, I'd stop my car just to get a quick look at her! If she could stop a train, though, I'd really believe she had powers." A short time later, Graham Bond was run over by a train a few blocks from my house. "You killed him," Jack would scream at me. He never let me forget that.
Jack also reminded me of the time when these truck-driver toughs would want to beat us up because of our long hair, asking us if we were boys or girls, and taunting us. So we unscrewed the legs of a table, put a leg each under our shirts so we could strike back. We weren't fighters, though, we were little boys from Manchester. We knew we couldn't talk our way out of scrapes. Every time we opened our mouths was another reason for them to hit us.
We also knew The Kinks real well. We knew them when they were The Ravens. We both played The Cavern in Liverpool. All the non-blues bands played there. They were trying so hard to break out and we'd do little gigs with them in Blackburn and Lancashire. A third band, The Rockin' Vickers, were oftentimes on the bill too and that's where we got to know Lemmy way before Motörhead. All three bands recorded "Dandy" by Ray Davies. Lemmy copied my vocals!

GM: I bought all your singles and loved every one of them from "No Milk Today" to "There's a Kind of Hush." But, I gotta tell you, at 15, my tastes turned away from Herman's Hermits when I discovered Donovan and Dylan. I hated "Mrs. Brown, You've Got a Lovely Daughter" and "I'm Henry VIII, I Am."
PN: So did we! But we weren't making records for you. It was the little girls who understood. All we knew was the BBC (British Broadcasting Corporation). We knew what would get played. We'd grown up listening to the BBC. We did record a Donovan song, though ("Museum"). We weren't thinking America. It was all about England. "Mrs. Brown" sold a million records in England when first released on a four-song EP. We had more million-selling EPS than Cliff Richard who was the top-selling British artist at the time. And we did it by being quintessentially British.

GM: New Brit-band The Struts call that "fish and chips rock."
PN: We were the first.

GM: So you directly influenced The Kinks.
PN: They didn't do that when they were The Ravens. I still remember when Ray told me they weren't The Ravens anymore, they were now The Kinks. I thought that was a weird name. Since The Cavern was the center of our universe, we knew we had to do songs that nobody else did. I mean, sure, practically every single band did "Fortune Teller" (1962, Allen Toussaint), from the Stones to The Hollies to The Who. We wanted to do some Chuck Berry but The Beatles and Stones had cornered the market on that. We needed and wanted to be completely unique. So we pulled out "My Boy Lollipop" (by Barbie Gaye in 1956 and Millie Small in 1964). We knew we couldn't work if we did songs by everybody else.
The perfect example of British Invasion music had to have been The Searchers who had five singers in the band! And they did stuff none of us ever even attempted! Man, they were good. And it's because they knew they had to be different. And they were massively successful, unlike, for instance, The Zombies, who always struggled. We knew them too. Really well. Good guys. But they were not a pop band. And pop is what sold then. They were on the bus during the Dick Clark "Caravan of Stars" tour and we used to meet up with them at the Howard Johnson restaurants in the middle of, say, Georgia or Minnesota. We did a lot of TV with The Zombies. We still keep in touch. I stay friends with all my old mates from that scene like Eric Burdon (we grew up together), Donovan and Lulu.
GM: Wasn't Eric a real tough kid, sorta scary?
PN: Nah, we were all tough in those days. You had to be. I mean, sure, I was a bit more middle-class than Eric was. People choose their persona. Eric would've made a fine bank manager. He was smart.

GM: Be honest. Ray was obviously the most talented Kink. Eric was obviously the most talented Animal. You were obviously the most talented Hermit. Did you realize that?
PN: No, not at all. I kept being offered stuff, sure, but I subscribed to a very family-like existence within my own band. It was always "we," not "I." Plus, I was the youngest person in the band.

GM: And the cutest.
PN: And the spokesman. I didn't ask for that responsibility. History proved that Steve Winwood, for instance, was the most important person in The Spencer Davis Group, but he never liked to do interviews and neither did his brother, Muff Winwood, the bassist. They didn't like to talk to anybody! They were so into being serious musicians that they named the band just so Spencer would do all the interviews. He loved talking. So what happened to me, without me really knowing it — because I was always a little more professional—was that I became the band spokesman getting up at 6:00 in the morning to do local radio stations. We'd be in Idaho and there'd be group shots that had to be taken and I wasn't there because I had to tell the good people of Boise that we'd be at the local theater that night. And I think I did a pretty good job for a kid.
I hurt people's feelings because I had no concept of reality. It was all so surrealistic. My personal reality was living with my grandparents because my parents were always at the University. I ate dinner with them every night. They went to bed at 9:00 and that's when my life started every night. They were both deaf so I could play my music as loud as I wanted and bring girls over the house and they never knew. So what was my reality? We had a No. 1 record on the charts. I'm on a double-decker bus from my house to meet the guys at rehearsal. I'll never forget when the bus driver said, "Peter, you've got a No. 1 record! What are you doing on the bus? Can't you take a taxi?" I had to laugh at that. Who was I? Was I Elvis who had his own private plane? I was just a regular person who stayed within the shadow of The Beatles to keep my humility intact.

GM: Is it fair to say that when the '60s ended, so did Herman's Hermits?
PN: Yeah, I suppose so. We never really had a plan. We were a singles act. We just lived off the next single. All we ever thought about was, "We got this one on the charts, we gotta come up with another one!" We were always working on the next hit. We never thought about albums or a plan for the following year.

GM: What was your biggest year?
PN: In 1965, I interviewed Elvis Presley in Honolulu. It was the worst interview anybody ever did with anybody. He wasn't big on interviews. And I'd never conducted any. I was thrown in a room with him on my day off on the set of his movie. Herman's Hermits did 360 concerts in 1965 so a day off was rare. We had 11 Top 20 records in America. When did we ever get time to go into the studio? We recorded once 10 songs in one night in that Capitol Records Los Angeles facility. P.F. Sloan wrote a bunch of them… and they were all good. He played guitar, too, on the marathon all-night session so he was a Hermit! Those songs became the basis of the 1966 movie Hold On!

GM: What was the low period like? There had to have been a lull once the band broke up.
PN: We never really broke up. We just decided amicably to do other things. It was a group decision after our Royal Command Performance where we had to put down our instruments and dance around. It was something we never envisioned ourselves doing. Funny but no one ever complimented Herman's Hermits. They'd go, "That's nice," with typical British reserve. So we didn't realize we were good. Plus, we were humble. The idea was to just take a break and all do the things we wanted to do outside the band. I wanted to be on the Broadway stage. I had already been offered Broadway opportunities but the band was always too busy. And I knew if I left, they wouldn't be able to pay their mortgages. They'd never be able to find work without Herman! I know it sounds bitchy but if I didn't work with them, they couldn't work. We were getting $25,000 a night at that point. So I was stuck. It was a loyalty issue. That's always been a thing with me.
I was great at being Herman but wanted to act. Then I suddenly realized after a couple of auditions that the missing link in my career was talent! I didn't have any! I could only be Herman. Mick Jagger tried a movie and it was a bomb so he could only be Mick Jagger. When he left the Stones, nobody gave a sh*t. So I took classes. It was something I should have done when I was in school at the Manchester School of Music. I didn't pay attention at the time because I just wanted to be in a rock band. I didn't do the dance class and the ballet class and all those things that you need to do if you want to be on a Broadway or a West End stage. So I went back. I was a persistent little sh*t. People used to say that about me from the age of 13 on. "That Peter Noone, he's a persistent little sh*t!" So I took every class I could from dance to improvisation. That's when I met people in different walks of life, and they gave me options. I was on Laverne & Shirley! That paid well. And I discovered I could still make a good living. So I went to live in France. I was so sick of England. I made a record in France in 1978 and it went to No. 1. I remember thinking, "This is way too easy!" I was always working. In '71, first thing after leaving Herman's Hermits, I had a British TV series. It lasted three years.

GM: Tell us about The Tremblers. I always thought your one album with that band in 1980 was the great lost power-pop album. Why didn't you ever do a follow-up?
PN: I knew Stan Lynch from Tom Petty & The Heartbreakers. We were hanging out with Davey Johnstone from Elton John's band. It reminded me of the camaraderie of the early days in England. There was a definite scene going on in L.A. in 1979. I felt very comfortable with these guys. Stan and I wrote a few songs together, put The Tremblers in the studio with our songs and his friends, recorded one album, and hit the road for a year. We thought we were like The Cars. And we got better and better because when you work, you get better. In listening to it today, though, I think it's way too fast and we got a little frantic like when the Stones covered Chuck Berry's "Come On"— so jittery. We garnered a good following, though, and went back into the studio to make a second album.
But then I got a call from Joseph Papp to audition for The Pirates Of Penzance. I thought it was ridiculous. He wanted me to play a 21-year old kid. I was already 30! But my wife said, "Just go to the audition. You're always saying no to things. Go!" Well, I knew the show. I'd done it in school. But I didn't know I would get the lead in an American touring version. Andy Gibb was there, too. It sold a lot of tickets. The tour was great. The Tremblers were no more. They asked me to open on Broadway with it. Hello? This was what I dreamed of! I couldn't believe how long it took and what a circuitous route it was to finally get there! Those classes paid off. I was so nervous. I knew everyone on that Broadway stage were better than I was. But they nurtured me along and protected me when I screwed up. Two days after the Broadway run ended, they offered me the West End show in London. What started as a 12-week American tour turned into a four-year Pirates escapade. I loved every minute of it. I love working with very talented theatrical people. We even did it in New Zealand.

GM: So the casinos love you, huh?
PN: The only time I ever was up for an award was a Grammy one year and I lost to Tom Jones. I don't like that kind of thing. It makes me uncomfortable. I just wanna sing "My Boy Lollipop" in falsetto like Frankie Valli. We still do 30 casinos a year all over America.

GM: To what do you attribute your longevity?
PN: Genetics. My folks were simple, hard-working people who starved during WWII and my grandparents starved during WWI but it gave them an inner toughness that I inherited. That, plus I never went in for drugs. While my peers were doing drugs in the back room, I was stealing their girlfriends in the other room.