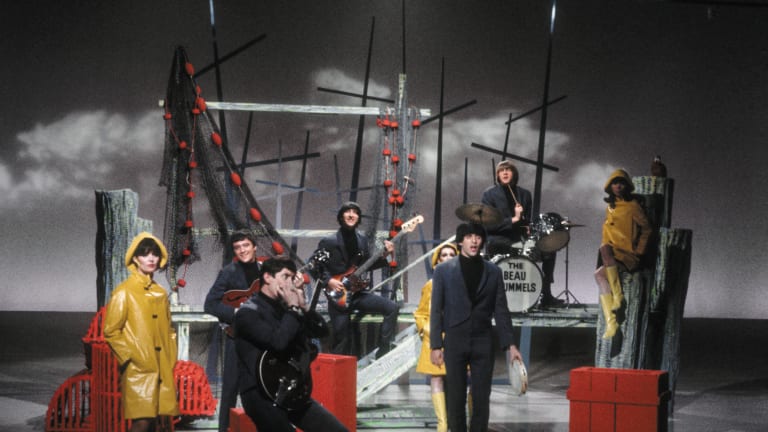 Beau Brummels singer on San Fran scene, Sly Stone's personality, Jeff Beck's arrogance, more
Singer Sal Valentino comments on The Beau Brummels' very special legacy after a huge box set compilation is released
By Elliot Stephen Cohen
Singer Sal Valentino, who has experienced some very humorous times during his 60-plus years in the music business, recalls a show he was doing in the early '80s with Smithereens drummer Dennis Diken. "It was in New York during the middle of the winter. I had a bad cold, so I was walking around backstage with long thermal underwear. So, here I am with this young Asian band getting ready to go on, looking at me like, 'Who is this old guy!' After the show, we all went to this West Village place that I think Steve Van Zandt had a piece of that looked like something straight out of Saturday Night Live, you know... 'cheeseburger, cheeseburger, cheeseburger...' The place was a little scary, but we had a good time."
To the average casual '60s music fan, the name Beau Brummels might only evoke memories of a pair of Top 20 hits, "Laugh, Laugh" and "Just a Little." However, to others who are more familiar with the band's recorded output, there is a wealth of some of the best music of that very special era. An extremely comprehensive eight-CD box set, Turn Around: The Complete Recordings 1964-1970 (Cherry Red), compiled and annotated with 228 newly remastered tracks by renowned archivist Alec Palao, puts their Autumn and Warner Bros. recordings in perspective, showcasing the gorgeous haunting vocals of Valentino and the superb songwriting of Ron Elliott, in a variety of styles that encompassed rock, classical, folk, Cajun, bluegrass, country and psychedelia.
The original band consisted of Valentino, lead guitarist-composer Elliott, rhythm guitarist-harmonica player Declan Mulligan (who recently passed due to complications from Parkinson's disease), bass player Ron Meagher and drummer John Petersen, who died in 2007. "John, more than any of us, always thought of himself as a rock star," says Valentino, with a laugh. "He really had the look, and was the one the girls screamed for." After Elliott's health prevented his going on the road due to periodic epileptic seizures, his place was taken by guitarist Don Irving.
When the Brummels first hit the pop charts in early '65, it was generally assumed that they were another very talented long-haired group from England, which was understandable, considering their look and sound. However, while they were certainly inspired by The Beatles and other British bands, their style was unique. Although production credits were not always listed on album covers back then, their brilliant debut, Introducing The Beau Brummels, which featured 10 Elliott originals, was actually produced by an unknown 21-year-old musician named Sylvester Stewart, who later found massive fame as the leader of Sly and The Family Stone. The band's tenure as pop stars, like most groups of the era, was relatively short. Not long after their first two hits left the charts, their small record company Autumn Records went bankrupt.
The band's fortunes seemed promising when they were then signed by the much larger Warner Bros. label. However, despite having in Elliott one of the best contemporary songwriters, the label, in a very ill-advised move, had the group record an all-covers album, Beau Brummels 66, whose low point, among many, was a rendition of Herman's Hermits' "Mrs. Brown, You've Got a Lovely Daughter" sung by Meagher in a faux British accent. Coming in the year of such landmark albums as The Beatles' Revolver, The Beach Boys' Pet Sounds, Bob Dylan's Blonde on Blonde and The Rolling Stones' Aftermath, this did little for the band's credibility.
By the time of the group's next album, Triangle, there were only three original members left. Mulligan had been fired back in '65, and Petersen left to join Harpers Bizarre who would have a hit with Paul Simon's "The 59th Street Bridge Song (Feelin' Groovy)." Meagher was to be drafted during the early stages of Triangle, and Irving was also called by Uncle Sam.
After Warner Bros. realized its mistake with Beau Brummels 66, they now let Elliott and Valentino pursue their own artistic visions for what resulted in the very surrealistic Triangle. The album also featured such esteemed studio musicians as bassist Carol Kaye, guitarists James Burton and Glen Campbell, plus drummers Hal Blaine and Jim Gordon. However, with no hit singles to promote the album, it reached only 197 for one week on the Billboard 200 chart. The fact that 1967 was the year of The Beatles' Sgt. Pepper, The Jimi Hendrix Experience's revolutionary debut, Are You Experienced, Cream's Fresh Cream, and The Doors' self-titled debut album also meant that Triangle went unnoticed by many contemporary rock critics.
The Beau Brummels were down to just two core members, Valentino and Elliott, when they headed to Nashville for what would be the group's final album, Bradley's Barn (until their ill-fated 1975 reunion album). Recorded with the cream of Nashville's studio musicians, Bradley's Barn is now considered a country rock masterpiece.
After that, Valentino and Elliott went their separate ways. Elliott released a fine solo album in 1970, The Candlestickmaker, and went on to work with Van Morrison, Randy Newman and Dolly Parton.
Valentino, who has kept the highest profile of any of the band's former members, put together a 10-person group, Stoneground, in the early 1970s, which recorded three albums. Following a very long hiatus from the music business, he released his first solo album, Dreamin' Man, in 2006, followed soon afterward by Come Out Tonight and Every Now and Then. All were very highly critically acclaimed. Now 79, Valentino still occasionally does shows near his northern California home. This is his story.
GOLDMINE: What was the San Francisco music scene like in the mid-'50s, before the advent of rock and roll?
SAL VALENTINO: The people l was hanging out with in the North Beach area were very into country and western music, but every once in awhile you'd hear an accordion. That was when I really got into playing the guitar, but now I think maybe it's time to move on to something else.
GM: When did you first meet Ron Elliott?
SV: We were both attending the same grammar school, and there was going to be a benefit show for either the Boys or Girls Club. Ron was the best guitar player I had ever met. It seemed that everyone else in North Beach was playing accordions and mandolins.
GM: I'm sure when the band started having hit records, it was stressful enough for Ron to have to keep coming up with original material in addition to dealing with diabetes, which most doctors were probably not that familiar with, back then.
SV: Yes. Ron was already taking two insulin injections every day. Every once in a while, he'd go into a coma from getting emotionally upset about something, like getting into a dispute with Declan or John. Ron would then go home and get ill and not be available for us for awhile. Ron's father would show up in tears, and we'd all promise to be a little more gentle with him. His doctor had told him that he was probably not going to live past 40. That seemed like a grim reality for all of us, but at our ages, that seemed like a long ways off.
GM: When the group started getting really popular, they had a chance to go over to England, but I understand, Ron's father was afraid to let him do it. Touring internationally would have certainly increased the band's popularity.
SV: Well, you know, at the time the real money was here in America. That's why all of the British bands came over here. When I later did some British dates with Stoneground, I found out that there was even less money to be made there than I'd imagined.
GM: Right after The Beatles' iconic first Ed Sullivan appearance in February of '64, a lot of guys started forming bands and growing their hair long, and it seemed The Beatles were obviously a huge influence on what direction you and the band were going to follow.
SV: Well, I wasn't that knocked out by them, originally. I didn't like "I Want to Hold Your Hand." It wasn't until I heard songs like "I Saw Her Standing There," "Love Me Do" and "Things We Said Today" that I really got into what they were doing. We started putting a lot of Beatles songs into our sets, and we were really the only rock band in the Bay Area that did that. Everybody else was still doing R&B, including Sly. At the time, I thought it was funny that The Beatles spoke like Englishmen, but sang like they were American. After I realized how good they were onstage without proper monitors to hear themselves over all that screaming, I became even more of a fan.
GM: I think a lot of people probably assumed one reason the band picked the name Beau Brummels was because alphabetically, your albums would be following The Beatles in the record store bins, but apparently that wasn't the case.
SV: That would have made a great story, but we weren't smart enough to figure something like that on our own. I think it must have been Declan who came up with the name because he had come into America through Canada and he knew a lot of the British bands like Gerry and The Pacemakers. There was also the movie Beau Brummell with Stewart Granger, but we misspelled our name because we needed a name in a hurry for a gig we had scheduled, but as it turned out, nobody showed up.
GM: How did you become acquainted with Tom Donahue and Bobby Mitchell, who were both so vital to the band's early career?
SV: I met Tom through a guy named Rich Romanello, whose father had a place called The Morocco Room, and he was always scouting around the San Francisco area, looking for new acts. I guess he liked us because he had us play there for the whole summer. One day, he had the band taken in three Cadillac convertibles to the famous Gold Star recording studio (the favorite of Phil Spector) and we recorded three songs, "Laugh, Laugh," "People Are Cruel" and maybe "Still in Love With You Baby."
GM: What was Sly like in those days? There's a great photo of you and Sly in the box set where you're both wearing the same exact shirt.
SV: Oh, yeah. Sly was a pretty exciting dresser. He'd come in knickers sometimes. Sly was probably the best thing that could have happened to us in making those first albums. He was great fun to work with, was really, really good at making records, and he loved the art of doing it. Sly was always telling me how good my voice sounded and wanted to play on our albums, but Elliott's father rejected the idea. At the time, we didn't think it was a big deal.
GM: What's really amazing about those two Autumn albums is that the production and stereo separation was far ahead of what many British bands were doing, still using binaural stereo, voices on one track, instruments on the other, whereas your albums were beautifully mixed.
SV: Tom Donahue hipped us to the fact of doing them that way. In Europe, bands like The Rolling Stones were still releasing their albums in rechanneled mono, all treble on one channel, all bass on the other, which really sounded awful.
GM: Was Sly still pretty straight then in terms of drugs?
SV: If he was using them, we didn't know anything about it. After Sly started working on his own band, he just kept getting bigger and bigger. Then he started getting a reputation for not showing up for shows, which was terrible. I saw him a couple of times when I was in Hollywood in the late '60s, and it was actually pretty scary. After I heard about guys coming to see him who were dealing drugs and carrying guns, I decided not to see him anymore because I didn't want to get killed.
GM: So getting back to the Brummels, after the huge success of "Laugh, Laugh" and "Just a Little," the next two releases, "You Tell Me Why" and "Don't Talk to Stangers" didn't have the same success. Do you think it was because Autumn wasn't able to promote them properly?
SV: Well, Sly, Tom and Bob were all burning the candle at both ends, and also our bills were not getting paid on time. Then, one day while we were working on what would have been our third album, we read in Cashbox that all of our masters had been put up for auction. That was really embarrassing for us, because we thought we were bigger than that.
GM: What were concerts like during those days?
SV: We did a big one for Murray the K at the Brooklyn Fox Theatre in 1965. It was a huge bill with Marvin Gaye, The Temptations, Martha and The Vandellas and The Four Tops. We all did about four shows every day, where everyone got to do like three songs. Stevie Wonder, who was around 15 at the time, was very loveable. There was a big men's room on the top floor where everyone went to get high. (laughs) For some reason, the door got stuck, and Stevie starts yelling and screaming to let us out because we all had a show to do. Finally, someone opens the door for us, and Stevie actually raced me down the stairs. I couldn't get past him on the turns!
GM: You also toured with The Beach Boys. What were those shows like?
SV: We had no idea how big The Beach Boys actually were. They were gigantic. We also did a few shows with The Lovin' Spoonful and The Yardbirds in Sacramento who both opened for us. That guy (Jeff) Beck was really off-color and full of himself, but you couldn't blame him because he was very young and also very talented. We also got into a dispute with Gary Lewis about who would headline on another show. His record "This Diamond Ring" was on its way down, while ours had just entered the top five. Being a local band, we were also much bigger than him in that area.
GW: Who were some of the other acts you actually toured with?
SV: We did some dates down south with Freddie and The Dreamers and The McCoys. There were other bills we shared with The Righteous Brothers, Bobby Goldsboro and Glen Campbell, who still hadn't had his first hit record yet. The shows with The Kinks were a lot of fun. Dave (Davies) was outrageous. On one show, he and Ray (Davies) were set up with their own mics on opposite ends of the stage, but Dave got pissed off about something and kicked Ray's mic off the stage.
GM: When the band got signed by Warner Bros., it really made no sense for them to request the all-covers album, Beau Brummels 66, when Ron Elliott was one of the most talented composers around at the time.
SV: I definitely have to agree with that. Ron especially was against the whole idea, but when you're young, sometimes you have to keep your mouth shut and do what you're told. What else are you gonna do?
GM: Fortunately, Warner's allowed you and Ron to follow your own creative instincts for Triangle. What was the whole recording process like?
SV: Ron was, as far as I can remember, the first person I knew who was into Lord of the Rings, which was a major inspiration for the album, and he could operate on a level for creating some really fascinating characters for songs, like in "Painter of Women." The whole album was a lot of fun to do because we got to work with some really interesting people like Van Dyke Parks. Van is incredibly talented, and boy, he could play anything.
GM: When you and Ron started to work on Bradley's Barn, did you feel this was going to be the end of The Beau Brummels?
SV: I guess you could say that. We had some great musicians on it, like Jerry Reed, Ken Buttrey and Norbert Putnam, and some really good original material from Ron, but, like the previous album, Warner's had no idea how to promote it. Their promotion guys were like from another era, guys in sharkskin suits who were used to comping people to Las Vegas to see The Rat Pack (Frank Sinatra, Dean Martin and Sammy Davis Jr.). Warner's had no idea how to be a contemporary record company because they had not been one. They were a movie company.
GM: What memories do you have of the '75 reunion album?
SV: Warner's wasn't originally interested in a new album, unless it was going to be all five original members, but as soon as the project got started, Elliott started firing people. So by the time the album came out and we went on tour to promote it, it wasn't the original band, and the audiences weren't there for us anymore. Too much time had passed since our last hit. It was a whole new world.
GM: You have plans for doing more concerts?
SV: I don't know if I really want to sing live anymore because when people show up, they have their own agenda. They'll talk during the whole show. At 79, I don't need to be treated like that. I still love singing, but now I only sing for my wife, Roberta. She's the only person who has ever said to me, the sound of my voice creates a pitter-patter in her chest. That's good enough for me. I don't need any more.
The 5 most valuable vinyl records of Beau Brummels/Sal Valentino:
■ 306 Falco, Sal Valentino of The Beau Brummels, "Lisa Marie"/"I Wanna Twist," 45rpm 7-inch, 1962, $75.00
■ LP 103 Autumn, [Mono] Introducing the Beau Brummels, 1965, $60.00
■ SLP 103 Autumn, [Stereo] Introducing the Beau Brummels, 1965, $80.00
■ LP 104 Autumn, [M] The Beau Brummels, Volume 2, 1965, $60.00
■ SLP 104 Autumn, [S] The Beau Brummels, Volume 2, 1965, $60.00
NOTE: Value for Near Mint condition
For the entire Sal Valentino interview, with added photo and discography, get the April/May 2022 issue of Goldmine now in the shop!