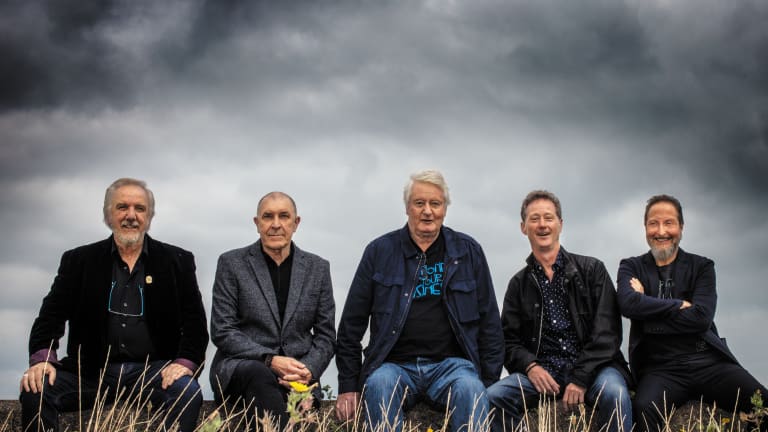 Caravan carry on with a box set documenting the band's remarkable history
Pye Hastings, the sole remaining member of the original 1960s band, talks to Goldmine about Caravan's musical legacy.
By Dave Thompson
It's been a good year or so for prog-related box sets. First King Crimson's mammoth examination of their Crimson King debut album, then Van der Graaf Generator's 1970s catalog, and now, the beast-daddy of them all, no less than 37 discs detailing the life and times of Caravan.
You remember Caravan. Between 1970 and at least 1973, the Canterbury, English, quartet were responsible for some of the most ear-worming melodies in the entire prog spectrum, not to mention some of the most memorable LP titles: If I Could Do It All Over Again, I'd Do It All Over You, In the Land of Grey and Pink and, best of all, For Girls Who Grow Plump in the Night, home to both the deathless delights of "The Dog, The Dog, He's at It Again," and the epic menace of "C'thlu Thlu."
Yet behind the occasional juvenalia of the band's love for puns and wordplay (of which, more later) there lay an ocean of melodic and musical magnificence, a tangled skein of bizarre signatures, spasmodic rhythms and harmonies so sharp that you could cut your hair with them. No, Caravan never ascended to quite the same heights as the hoariest giants of their chosen genre. But in terms of putting on album, kicking back and finding yourself having an utterly spectacular time, Caravan have few peers.
Pye Hastings, the sole remaining member of the original 1960s band, oversaw the project, with contributions from former bandmates David Sinclair and cousin Richard Sinclair, and the resultant Who Do You Think We Are is truly a monumental edifice. The band's entire official studio and live ouvre, from their 1968 debut (in mono and stereo) through to 2013's Paradise Filter, is joined by a mass of outtakes and no less than 11 previously unreleased live recordings dating back to 1972.
Even better, an impressive looking achievement is also an impressive sounding one, and if anybody finds them shuddering at the sheer size of the package and wondering, "Is there such a thing as too much Caravan?" the answer is unequivocal. No, there isn't.
Hastings was first approached regarding the possibility of such a box set about four years ago. He admits he was not immediately smitten.
"Ian Crockett of Snapper Records contacted me. We arranged to meet in a restaurant in Perth, Scotland, as I was at the time living in a small village called Tomintoul about 1.5 hours further north.
"I was skeptical at first because Universal Records, who own the rights to most of our records, had released a box set of their own — which to be fair, I was not very impressed with. It seemed cheap and done without any involvement of the band." (2010's The World Is Yours offered four CDs and few surprises.)
Snapper, however, came prepared. "Ian duly produced a copy of the Steve Hillage box set, which they had recently produced, and I was blown away by the quality and the attention to detail on display. I agreed there and then, and the process of collating all our body of work began. This was a chance to, once and for all, showcase a retrospective of the work we had done over the past 50 years with the clinical attention to detail that I think it deserves."
Hastings' son, Julian Gordon-Hastings, was recruited to remaster the bulk of the albums — several of which he recorded and produced in the first place, and the fan club was scoured for the keenest collectors. "We wanted people who could provide a punter's view on what should be included, because this was primarily going to be a project for our dedicated fans and collectors, so I pointed him in the direction of Martin Davenport, Ralph Cross and Eric Grey, and the hunt was on."
Hastings admits he, as a rule, is not a fan of box sets — again, past attempts to anthologize Caravan have left him feeling distinctly nonplussed. He quickly discovered, however, that "Snapper do what they do because they like the music and each and every (person) that I have met has shown an enthusiasm for getting the project right. That's something I have not encountered in all the previous record companies we have had the pleasure to deal with."
Surprises began turning up immediately, "Lost tracks or performances that we had completely forgotten about, or never wanted to hear again, but these little surprises are all part of our journey and should be included, warts and all.
"Mistakes are good in that you can and should learn from them, if only to prevent them from happening again, so a reminder is welcome."
The set isn't perfect, of course, although it's hard to say what is wrong with it. In an age when too many box sets set out deliberately to ensure you are purchasing as many copies of the same music as possible (the original mix, the new mix, the surround-sound mix, the director's cut, the discarded tat and so on and so forth), WDYTWA duplicates just one, via Steve Wilson's 5.1 re-envisioning of the Grey and Pink album. Likewise, when one considers the fanfare that greeted one unreleased live recording in the Van der Graaf box, Caravan have unearthed no fewer than 11.
Still Hastings is adamant: "No matter how much you try, there will always be someone ready to moan on endlessly about what has been omitted," which means this is the perfect opportunity to ask why none of the band's BBC sessions — which include some of their finest work — are included.
As it transpires, they are hopefully set for a separate release of their own. They will also likely demand a box set of their own (previous releases have been painfully selective), particularly if they are to be as complete as this package.
"I think there are ongoing negotiations between Snapper and the BBC which could result in further releases, but I am not party to this dialogue at this time."
Caravan's discography itself is very much a two-part adventure. Formed in 1968, the band broke up following 1982's Back to Front, a very different creature to that which had so delighted the prog world a decade previous, and — as Hastings admits — apparently irrelevant to the world in which they now found themselves.
"The industry was going through a great turmoil and we were surplus to requirements because punk was making all the headlines."
The band reformed in the early 1990s and, while new studio albums have been thin on the ground, they have continued to work ever since. Indeed, a new album, It's None of Your Business, is scheduled for release just weeks after the box set. (And no, it's not included.)
At the time, that decade-long hiatus seemed endless. Yet, were one to play the studio albums in sequence, without at least a short break between the aforementioned Back to Front and Cool Water (1994), the shift in style and attitude is not remotely jarring. How, one wonders, was the band able to simply pick up where they left off?
It turns out that they didn't. Hastings explains, "Cool Water was originally a set of demos, which was commissioned by Arista Records in London — who we were signed to at the time — and we had to be let go. The production manager at Arista, who really liked the band and was sad to see us go, gave me the recordings with his blessing to do what I liked with them.
"Years later, I unearthed the very same demos and got to work remastering them for release, so the same personnel were on the tracks, which is why it would sound similar to the previous offerings." The "new" Caravan's debut arrived the following year, in the form of The Battle of Hastings, by which time a live album (Live) and the grapevine had long since acclimatized old fans to the change.
Indeed, even "vintage" Caravan pack a timelessness that refuses to allow age to "date" it, while the band have also taken advantage of the fact that, thanks to the modern regime of reissues and reformations, and the ubiquity of streaming, music itself has become a very level playing field in terms of its development. Today, an inquiring musical mind can slip from Ed Sheeran to Dean Friedman, or Edgar Broughton to King Gizzard & the Lizard Wizard without even noticing the eons that history insists divide their intentions. You can do much the same thing with Caravan; the difference is, the overall quality doesn't deteriorate.
Hastings: "I know from previous experience that guys are turning up at concerts with their children and grandchildren, because the kids have discovered their dad's record collection and are extremely vocal in their appreciation of the band. This is really encouraging and heartwarming, because it means that we are not going to be confined to the 'some old hippie band' genre."
Like us all, Hastings does have his favorite era of Caravan; like many of us, it revolves around the first four albums, from the self-titled debut through the immaculately-titled If I Could Do It and the truly landmark Grey and Pink (1971) and on to Waterloo Lily (1972).
All, he says, are "undoubtedly special to me because at the time we were a very young band who collectively shared the hopes and desires of becoming rock stars." A time when "we had a singular vision of which direction the flow of music would take us."
Clearly, he continues, "this was not the case because one after the other, both the Sinclair cousins left the band to further their careers elsewhere" — David in 1971 (and, following a slight return, again in 1975), Richard in 1972. By the time of the purposefully spoonerized Cunning Stunts (1975), Hastings and Coughlan alone represented the original lineup, "and this was the beginning of the progression of the band to what it is today.
"Looking back, however, I have enjoyed every incarnation of the band and the individual input that every single change of personnel has brought. The word Caravan, to me, means a moveable train of thoughts and ideas which can be extended or shortened to fit the music and the current personalities."
That is the journey that Who Do You Think We Are tells so well, and Hastings acknowledges that his greatest goal today is for "people who are discovering Caravan music for the first time to be as happy hearing it as we are at making it."
He agrees, however, that it isn't always that easy. "One day, many years ago, I was surprised to encounter an extremely irate gentleman who barged his way into one of our rehearsals and demanded that we 'Shut that bloody racket up.' Well, there you have it: The sum of 50 years of practicing, managing to pay the bills, dodging the taxman and the bailiffs, changing direction with different personnel and touring the world, and after all that, we are still reduced in some eyes to a 'bloody racket.'
"But I'll take that. As they say in London, 'That's a result.' "