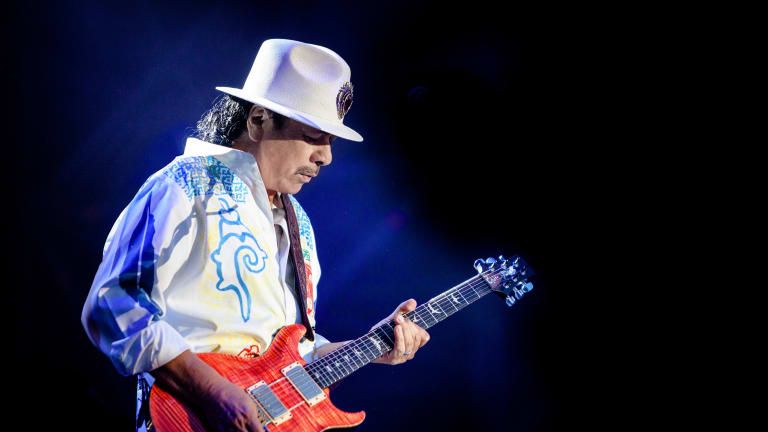 Carlos Santana and Michael Shrieve recollect Santana's 'Caravanserai' album 50 years on
"Honestly, I wouldn't call a lot of the music on 'Caravanserai' songs," says guitarist Carlos Santana. "I see the pieces of music on 'Caravanserai' as slices of life."
Get vinyl, CDs, box sets, collectibles and Goldmine-only exclusives in the Goldmine shop! 
By Andrew Daly
If one thing is certain, guitar titan Carlos Santana has never felt indebted to the legacy of the towering music he's created.
Over 56 years, Santana's multi-genre assault over popular music is, quite frankly, unmatched. Through his signature tone, effortless fluidity, and an appetite for creativity-driven exploration, Santana has shaped the zeitgeist in ways nearly unimaginable.
In the band's formative era, albums such as Santana (1969), Abraxas (1970), and Santana III (1971) left Santana sharing commercial and critical ground with the likes of Led Zeppelin, The Rolling Stones and The Beatles. And while that success had an upside, Carlos Santana and his musical cohort, drummer Michael Shrieve, wanted more.
What's more, as a band, Santana had been unfairly boiled down to a "Latin rock" act, further boxing the burgeoning act into a suffocating corner, a fate the guitarist refused to accept. And so, at the expense of several members of the band and against the wishes of Columbia Records, the duo of Santana and Shrieve sought to amalgamate elements of jazz, funk, soul, and rock into one blissful ball of fusion, culminating in the sonic journey that would become Caravanserai (1972).
In the wake of its release, Caravanserai stalled on the Billboard Charts and quickly fell out of favor with record executives and pop-consuming fans alike. More so, FM radio refused to play the record due to its unconventional song structures, lack of hooks, and elongated compositions. But for those who did get it, Caravanserai was a revelation that would alter Santana's course.
Now 50 years after Caravanserai's release, Carlos Santana and Michael Shrieve beamed in via Zoom to discuss the origins, intentions, aftermath, and legacy of one of the more polarizing turned lionized records in Santana's vaunted discography.
GOLDMINE: What was your collective mindset heading into the Caravanserai era?
CARLOS SANTANA: I love that you used the term "collective mindset" because that was the key element for Michael and me. Thinking back on it, words ran through my mind – our mind – and those words, or those ideas, centered around collective consciousness, commonality, spirituality and awakening. So, to me, that's what Caravanserai is, especially awakening. And around that time, man, a lot of people didn't want to wake up; people in the band were like, "Why change things? We like it here. Why don't we just keep rubber stamping?" But Michael and I didn't want to do that; we didn't want to make another Abraxas, and we didn't want to rubber stamp what we did on our third album [self-titled]. So, we looked at each other and were like, "Why don't we try something different?" We agreed on that as something we not only wanted to do but needed to do, and that's the message we delivered to the rest of the band.
MICHAEL SHRIEVE: I haven't seen Carlos in a long time, so I must say, this is a treat for me. But I agree with that, Carlos. When listening to it recently, I realized what we did was against the grain of what we had done before. It's incredible because I have to say, it really did take some audaciousness to do it. To make that record at the time was a bold move, but at the time, I don't think we saw it that way. I think we were simply doing what we felt was natural at that point.
GM: Did you consider that you were potentially altering the trajectory of Santana forever? If so, did that scare you at all?
CARLOS: Honest, no. It's funny because I didn't know it at all at the time, meaning the impact of what we were trying to do hadn't taken shape yet. At the time, going in that sort of direction just seemed like what was natural and normal to me. And I still remember when I found out that Abraxas was outselling Abbey Road and that we were suddenly right up there with The Beatles, the Stones, Led Zeppelin, and all that. But that didn't hit me like you might think; I wasn't like, "Wow, we made it. Let's keep doing this over and over." Instead, it gave me a feeling that I couldn't shake, which was, "Okay, now what? What are we gonna do now? How are we going to push this forward."
My mindset was moving in a direction where I was thinking, "Alright, we entered this arena, and we did it. We have to do something that speaks to my soul and our collective soul." And then we went to Woodstock, and we entered that arena, and with God's grace, we made our mark there too. So, after that, it was a matter of Michael and I looking at each other and saying, "Now what?" In my mind, we had taken what we were doing as far as I wanted to at that time, so we said, "Why don't we try to get into the arena with Miles Davis, The Weather Report and Herbie Hancock? Let's see if we can swim in that kind of water." I had no idea that we'd change the course of the band, how people would react, or any of that. It just felt normal to me, I wanted to try and fill those shoes, and that didn't scare me.
MICHAEL: It didn't to me either at the time. Honestly, that never occurred to me, and even if it had, that would not have scared me, either. But when I listened to it now, I have to say that it was a revelation. Because it had been a long time since I heard it in full – probably 30 years – and it was a genuinely bold piece of work coming from what people were referring to as a "Latin rock band." So, when I listened back, I realized that it was different for us to do it, and like I said, that was extremely bold of us. It was especially bold within our environment because many people around us were not on board with it. But ultimately, it was just one of the things where Carlos and I were moving in a different direction than the rest of the band, frankly, and despite that, we just loved the direction. I remember that we were very excited and thrilled to try to participate in that area of music and break into that space.
GM: Despite the prospect of freedom, did you feel any pressure to continue to deliver the type of music you had been making previously?
CARLOS: In some ways, yes, and in others, no. No, because I ignored what anybody said; I always followed my heart, and my heart was moving away from the typical rock music of the time. I was enamored with the jazz fusion music being made at the time. And that had started to creep into Santana's music, but Michael and I wanted to explore that deeply in new ways. So, we lived in, we dreamt of, and we made love to that music; it was all-encompassing in our lives then. It was ingrained in our lives then; truthfully, we did everything with that music around us.
So, it was natural we were changing the way we ate, what we read and what we were selecting to watch on TV. This wasn't just music to us, it was a physical, philosophical and literal change to how we lived our lives, and we needed to reflect that in our music. So, while I understood people's want for us to make music like we did before, Caravanserai, for us, was no nonsense. This was a matter of total determination, and regardless of what anyone thought, this was what we were going to do. So, I said to the rest of the people around us, "I get where you're coming from, but if you don't like it, well, there's the door; go make your own music."
GM: What sort of reaction did your directive elicit from your bandmates at the time?
CARLOS: Well, it was mixed. Some understood where we were coming from, and they came along, and others chose to move on to other things. And in some ways, that was hard, but I stuck to what I felt in my heart, which was this music. If anyone argued with the direction, I told them again, "If you don't like where we're heading, that's fine. You can leave and go make your own." It was tough, but that's how it had to be, and once we got past that, there was genuine excitement.
GM: Paint a picture of some of the sounds you and Michael were absorbing before the recording.
CARLOS: Around that time, I could hardly wait to wake up sometimes, so I could call Michael and tell him what I'd been listening to and to hear what he'd been listening to. I'd dig into some new sounds and then call Michael and say, "Hey, I just listened to this new record. The sounds are amazing. What are you chewing into?" We absorbed new sounds and smells and marinated ourselves in the records we showed each other. Michael would call me up early in the morning or the middle of the night, and he would tell me about new records and show me them, and I'd be like, "Wow, that sounds fantastic. Let's try some of that."
At the time, I remember being immediately surprised that we didn't touch on a lot of this stuff sooner because we were listening to a lot of multi-dimensional, intergalactic music, but we never took the plunge musically. We were flirting with it on Abraxas and even on the third record, but we hadn't gotten there yet. But it's cool to look back even on those albums because, in hindsight, I can see where it was going and what was coming down the pike. But I owe a lot to Michael because I was very interested in floating and orbiting on his heart and his mind.
GM: It sounds as if you consciously decided to create music that spoke to your soul rather than to any commercial audience.
CARLOS: Absolutely. I can see that you speak the same language as we do. That's what a lot of people don't understand, the idea of making a conscious decision to create something multi-dimensional through a collective commonality. As I said earlier, some keywords and ideas were in my mind around that time, and you're speaking the language that Caravanserai was written in. As I said, I give a lot of credit to Michael, but even before I met Michael, I was already embarking on a new musical journey. I remember one day, I went to a picnic in San Jose, and there was a park there, and when I got out of my car, I heard the sounds of musica tropical, which is like tropical music from Cuba, Puerto Rico and the other islands, but different from salsa.
And then, from another area, I heard a rock band playing this sort of surf rock, and then I heard the sounds of a mariachi band way out in the distance. I remember so vividly that I could hear all three at the same time, and I was like, "Oh, wow. This is something different." It meshed as one piece in my mind, so I started discovering more of everything. And when I met Michael and Gregg Rolie, things opened up even more because they showed me more. I don't know what it was, but our influences and collective minds came together in a blender, coming out as our music.
MICHAEL: I've never heard that San Jose story before, Carlos. That's great! But I mean, prior to being in Santana, the music that I was really interested in was all over. I saw bands I loved in Redwood City, Woodside, the Fillmore, and Palo Alto. I remember seeing Jefferson Airplane with Carlos; we were there in the audience, which was incredible. I can still picture the people around me and how it smelled, and I remember what Carlos was wearing. I can see it clear as day; Carlos was wearing a blue webbed shirt with pockets in it. It sounds arbitrary, but that experience influenced how I saw things; the way I absorbed music was shaped by the memories and feelings associated with it.
Anyway, back then, I was aspiring to be a jazz drummer, and then the funk thing came into play. And once funk hit, man, that was my thing because when James Brown came out with his records, I tried to learn them as fast as possible, run down to a club, and sit in. And I look back at that; I don't know why they ever let me sit in because I was so young. [Laughs]. But that was my thing, and then the San Francisco scene started happening, which changed everybody. I can't understate this; if you were in that area, and you were a musician who was young enough to be influenced – which we were - that was a special scene. It was amazing what was happening with young people like us in San Francisco.
GM: Michael, with your varied influences, how did you approach the drums once you joined Santana, and how did that evolve during the recording of Caravanserai?
MICHAEL: Well, everybody in Santana always brought all of what they were listening to at any given time to the table. And by the time we recorded Caravanserai, I had absorbed a lot of funk music, but I wanted to incorporate more Elvin Jones, Jack DeJohnette, and Tony Williams. It really is true what Carlos was saying earlier about how we would call each other and show each other the music we were listening to. When I first joined the band, and then when I moved in with them, I was like, "Oh, man; there's so much music that I never knew about." And truthfully, I had never played Latin music, although I had studied it out of a book; in Santana, I didn't play Latin drums anyway. I didn't do that because two guys were doing it already, so I just tried to fit in with it, and I did that by using my jazz swing on the Latin stuff, and it seemed to work.
But as we moved forward, the jazz scene was getting more exciting, and Carlos and I picked up on it. We knew it was a force and felt it was changing music. So, when I approached what I was doing during Caravanserai, I knew we were changing music as Miles Davis did with Bitches Brew and many other records of that time. I remember that we used to go out on the road, and we'd have a little portable record player and a trunk full of records that we couldn't live without. This was before cassettes, so you can imagine how heavy a trunk of records might have been. [Laughs]. But after shows, we would spend hours and hours listening to Miles Davis, Aretha Franklin, and all sorts of funk and jazz stuff. So, it was a fruitful time simply because of all the great music around us, and that shaped my playing.
GM: What are your memories of the initial sessions for Caravanserai?
MICHAEL: It's hard to remember the sessions for any one individual song. I knew what we were listening to, and we were determined to let our influences show on the record. I remember that we wanted Caravanserai to be a record that would reflect the most immediate sounds of music at that time. But as far as writing music, I recall that we would get in a room, play what came to mind, and take it from there. And I do remember that the bass player Doug Rauch was all over the thing, man. He was just all over this thing with his ideas, which were so inspiring. Doug had a curious mind and would hit on many different moods, and Carlos and I were very into that. The result was a record that takes you on a journey, which I loved then and I love to this day. That's my recollection; is that how you remember it too, Carlos?
CARLOS: Yeah, it is. For me — and this is the truth — I walked into a studio once, and I looked around the room and saw Stanley Clarke, Larry Graham, Miroslav Vitouš, and all these other bassists doing their thing. And I just turned the corner, went into the next room, and was like, "Holy shit. This is like king of the bassists here." [Laughs]. I mean, these were our heroes, and you had guys like Larry Graham, Doug Rauch, and Stanley Clarke doing what they do, and I'll be honest, man, I was intimidated. So, when Doug was working with us on Caravanserai, I was like, "Damn, this guy is like the baddest guy on the planet as far as bass."
Having said that, they were there for a reason, and their being around the studio at that time had a huge influence on what we were doing. Because we had already started to do Caravanserai, and they were hanging around everything we created, we brought some of those seeds in, shaping the music. We'd take those seeds from wherever we got them and inject them into the album. And those seeds started to grow into music, but I won't call them songs. Honestly, I wouldn't call a lot of the music on Caravanserai songs; I see the pieces of music on Caravanserai as slices of life. You can look at "Smooth," "Oye Como Va" or "Black Magic Woman" and call those songs, but on Caravanserai, you're looking at big slices of life, a reflection of our lives at the time.
GM: After hearing Caravanserai for the first time, Clive Davis famously told you that you were committing "career suicide." What was your reaction to that?
CARLOS: Yeah, I remember that well. Obviously, I disagreed. I felt that what we were doing was groundbreaking – for us, at least – and that this sonic exploration created a safe environment to house this music we loved so much. We felt energized, so I said to Clive, "Man, you're wrong. Look, when you're crossing the Grand Canyon on a tightrope, just don't look down. Just keep looking ahead." That was my metaphor for what we were doing. And if he disagreed, that didn't matter to me because I was doing what I always did, follow my heart. It was a deeply fruitful feeling for me when we finished Caravanserai; after we laid the last note down and then listened to it, we knew, in one way or the other, that this was outside of time. We knew in our hearts that this record, man, was outside of gravity, and it pushed Santana's boundaries way beyond conventional ideas of music and time. So, when Clive said that, I looked at him funny because I knew he didn't get it.
GM: Can you dig deeper into the emotions you both felt when you first listened back to Caravanserai?
CARLOS: People don't always believe me when I say this, but when people listened to this record, they laughed, they cried, and most importantly, they came together. I remember us doing this album in '72; it was just about community. It was about people having fun, and because of that, there are so many fun memories tied to it. We played the whole album at the Berkeley Keystone that same year, and the reaction from the audience was amazing; you could tell that those people understood it, and I'm thankful that we recorded those shows and can listen back now.
MICHAEL: When I listened back, I could hear our collective mind's all over the music. We jumped into something full throttle, with no regard for what we had done before. It was a new journey, a safe space, and an intensely creative period. Listening back to Caravanserai now, it's still the same for me, even after 50 years. I mentioned that it had been 30 years since I listened to it, and the second I did, all of that came rushing back for me. It only took a split-second for me to understand how much it mattered back then and how much it still matters now.
GM: How do you measure the lasting impact of Caravanserai?
MICHAEL: At the time, it seemed like people were only tolerating me and Carlos's vision, and in truth, they were. [Laughs]. There were members of the band who hated what we were doing — members who didn't want to be on our journey — and the result of that was a band you might have heard of called Journey. That's a true story! [Laughs].
CARLOS: Well, I didn't know it then, but it's meaningful in many ways. But now, I'm not surprised because if you take a step back and look at how many Santana tribute bands there are in the world, it's probably between 50 and 100. Every day, a new one comes up, and many center themselves around the Caravanserai era of our music, even down to how they dress. They've taken on a way of playing and stylizing their music directly from this era and life the way we knew it. I honestly feel that it's quite a compliment.
So, 50 years later, to look back and see the lasting impact that Caravanserai had, yeah, it's meaningful to me because it meant a lot to us then and never left us. And it's also special because Michael and I moved on, and we didn't see one another for some time, but here we are, getting ready to join our rivers to meet the ocean again. But to create something that I loved, and to get a phone call from Herbie Hancock after the fact where he said, "Yeah, man, that's the direction. I love what you did there," to have that affirmation, that was the ultimate validation for me. The way I look at it all is pretty simple: you can keep all the GRAMMYs and all of the accolades from Rolling Stone because when I heard that what we did mattered to Miles Davis himself, and he personally told me that, I knew we made the right choice.