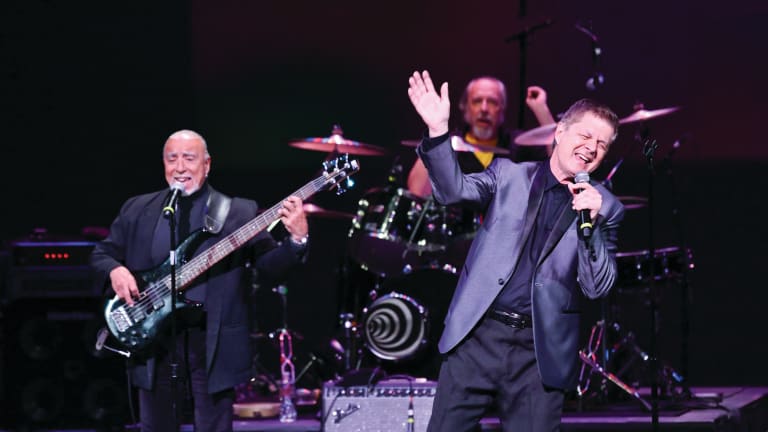 Catching up with Carl Giammarese of The Buckinghams
An interview with Carl Giammarese of The Buckinghams reveals how busy the '60s pop group has been in the past few years.
By Tom Prestopnik
How many can remember the Summer of Love? Be-ins and love-ins, music in the parks, wear some flowers in your hair. Free love and the anti-Vietnam War movement were everywhere. It was just a mere 53 years ago. Still in recent memory for many. Others were not yet born, and just something to read about and wish you were there. Music wafted over the outdoor crowds, mixing eagerly with the sweet smell of marijuana. Tunes of a young generation were supplied by The Beatles, Rolling Stones, Box Tops, The Supremes, The Association, The Monkees and others.
The music of 1967 gave us many acts with Top 20 hits, among them, The Doors, Box Tops, The Rolling Stones, Supremes, The Beatles, The Young Rascals and Bee Gees. The only groups to score five Top 20 hits that year were The Monkees and The Buckinghams. All these years later, Micky Dolenz and Mike Nesmith of The Monkees are still active and getting it done. The other act, The Buckinghams, are still on the road and performing. Lead singer Dennis Tufano is touring as a solo act, and the other two surviving members of The Buckinghams, Carl Giammarese and Nick Fortuna, have been out on the road with The Buckinghams name well presented. Drummer John Poulos died in 1980, and Marty Grebb on keyboards died January of 2020. Billboard is quoted as saying that, "The Buckinghams were the most listened to band in America in 1967." Originally scheduled for an interview aboard the 2020 Flower Power Cruise in the Caribbean, a telephone interview with Carl Giammarese took place after cruises were canceled.
GOLDMINE: The year of 1967 must have had your head spinning. You had a No. 1 record with "Kind of a Drag," you toured extensively, you were on the major television variety shows, you had it all in one short period of time. Do you remember the moment when you realized that you had a gigantic hit on your hands and you were now in the major leagues?
CARL GIAMMARESE: Before "Kind of a Drag," we had a few regional hits like "I Call Your Name" and "I'll Go Crazy.'' We had a lot of support from the Chicago radio stations, particularly WLS and WCFL that played our local hits. We recorded "Kind of a Drag" in December 1966, and by February 1967 it was the No. 1 record in the country, and I was a senior in high school. That was the last record on our contract with USA Records, and we were in a situation where we had the No. 1 record in the country, and were without a record deal. A lot of companies came calling, and we signed with Columbia.
GM: I am always interested in oddities in the music industry. Your album Kind of a Drag on the USA label has two varieties, one with 12 cuts and another with 13 cuts, including "I'm a Man." How did that come about?
CG: Yes, the 13th cut. "I'm a Man," for whatever reason, was recorded at the same time as the other songs and then left off because it was so long. It was a big part of our live show when I would play a solo with the guitar behind my head. We didn't really know the original recording by Muddy Waters, Bo Diddley and Little Walter. We were big fans of The Yardbirds version, and that's what we were trying to emulate. Eventually, USA Records added it in later pressings on a limited basis, and fans who can find one, made it more valuable because it was limited.
GM: James Holvay, from the rock band The Mob, wrote a lot of the hits and album cuts. You're a fine songwriter in your own right. Why did it take so long before you started recording your music, except for a few album cuts?
CG: I never started out to be a lead singer or songwriter. I just wanted to play guitar. Back in the day when bands were forming, we would look around and if you couldn't play an instrument, then you became the lead singer. It wasn't until The Buckinghams broke up, and Dennis and I went out as a duo, as Tufano and Giammarese, that I started writing my own stuff. And I wrote most of the music on The Buckinghams' "Veronica" album (A Matter of Time, 1985).
GM: How come Holvay didn't keep "Kind of a Drag" for his own band, The Mob?
CG: The music he was writing just wasn't right for his band. The Mob had a horn band, a show band, kind of a funky band. The songs were more light and more commercial, and just not right for his type of band.
GM: Are you in touch with Holvay?
CG: Yeah, he's in California, but out of the music business. We were all young at the time and didn't know much better, and got ripped off a lot. We didn't make any money then. The Buckinghams have made more money now, since 1980, than we did when we were on Columbia in the 1960s.
GM: Dennis Tufano is still touring as a solo act. The Buckinghams tour with you and Nick Fortuna. Is there any chance of the three of you getting together for a concert or tour in the future?
CG: Probably not. We're still friends, and Dennis is a great talent in his own right. Back in 1980 we did a show with Nick, Dennis, and me, and it was successful with about 12,000 people on the Navy Pier. We asked if Dennis wanted to continue, but he was mostly in Hollywood trying to get an acting career off the ground, so just Nick and I stayed together and started touring. Originally, we broke up in 1970, and for 10 years there was no interest in The Buckinghams, then after the concert at the Navy Pier there became renewed interest, and we decided to stay together and go on tour. Then we joined the Happy Together Tour with The Turtles in 1985, and we've been working right along since then.
GM: You've written music solo, and with other band members. Is there anybody in the music business that you would like to get together with to write music?
CG: I would love to sit down with Paul McCartney. I'd like to write with Keith Urban. I've talked with Jim Peterik from Ides of March about getting together to write. He gave me a lot of input when I was putting my Living in the Moment CD together.
GM: A lot has been written about the "Topical Cacophonous Psychedelic Interlude" in "Susan" and other album cuts, such as "You Are Gone" and "Remember." Credit is given to James William Guercio for this break in the music. Do you have anything new to add to this interlude?
CG: It was Guercio's idea. The first album was pretty raw, and Guercio put in the horns and strings and made us into something else. That's not who we were. Al Kooper listened to our album and liked what we were doing, and then put together Blood, Sweat & Tears. We went to L.A. and put out an album, Portraits, and a lot of the music on that album would fit into a Chicago album.
GM: Guercio was your manager, worked for Chad & Jeremy, and then introduced a vibrant horn section to The Buckinghams. Your horns were there before The Ides of March and Blood, Sweat & Tears and Chicago — the last two that Guercio helped found. Is he in your musical life? What is he doing now?
CG: I saw him about four or five years ago, and we talk on the phone on occasion, but we're not in each other's lives. He lives in Colorado and is now a land developer. I believe he builds condos and is out of the music business. He owned Caribou studios, and that is now closed down.
GM: When you were on the Smothers Brothers, Ed Sullivan, or Dick Clark shows, did you talk to the hosts before or after the performances? What are your memories of these TV hosts?
CG: That's pretty much what it was, we didn't interact with them usually. We met Ed Sullivan just briefly. I remember doing the Jerry Lewis Show. He was a funny guy and invited us into his dressing room. Those old-time guys used to get all dressed up with shirt and tie, socks and shoes, and garters to hold their socks up. The last thing they put on were the pants. They didn't want to crease their pants, so Jerry was sitting around with us in his boxer shorts. Dick Smothers showed me his Porsche, and I was impressed with the way it sounded. The way it looked. So when I got back to Chicago from California I bought my own Porsche.
GM: I asked Steve Boone of The Lovin' Spoonful how he survived the drug and alcohol culture of the turbulent '60s. He said that they were beer and pot guys. I know that John Poulos succumbed to drugs in 1980, and that had a major effect on you. How did you and the rest of the band survive the drug and alcohol culture that fame can bring to your doorstep?
CG: My personality. I've always felt rather conservative about that kind of stuff and never had the need for it. We did some pot, but it didn't really do much for me. My biggest abuse now is cabernet wine. I loved John, he was probably my best friend in The Buckinghams and after. He was one of those guys who was very personable, you liked him right away, easy to connect with. When we were young, he was the guy who always drank too much beer, or was the first one to pop pills. Eventually the alcohol and cocaine got the best of him. He had an abusive personality and that's what caused the end of his life. He was going to be 33 years old.
GM: Tell me more about John Poulos. What was the Lou Adler connection?
CG: John introduced us to Lou Adler, who had just come off of producing Carole King's great album Tapestry, the bestselling album of all time. I had a demo that Dennis and I had recorded in Chicago with the group Poco, and Lou heard that demo, so we flew out to L.A. and got a contract with Lou for an album.
GM: After The Buckinghams, you wrote and sang commercial jingles for radio and TV. What are some of them that readers would recognize? I know that Barry Manilow sings his commercials in his stage show. Do you sing any of your commercials on stage?
CG: I didn't write any of the jingles. I was just a solo singer or with a group. I remember doing a session with Sunkist (soft drink) and they wanted us to sound like The Beach Boys. I used to do the tag on United Airlines "Fly the Friendly Skies of United." I sang the McDonald's commercials, "You deserve a break today, at McDonald's." I must have sung on about 300 commercials between 1976 and 1982. None are on the air now as far as I know. We've talked about doing some of my commercial jingles on our stage show.
GM: You and Dennis teamed up and had three albums under the name of Tufano & Giammarese. How did that come about?
CG: John Poulos knew Lou Adler and got us hooked up with his Ode record label. This was after The Buckinghams, and Dennis and I were out in L.A. at Lou's Christmas party. We were in awe because every face you saw was recognizable, like Sonny and Cher, etc. One guy was following me around and finally came up to me and said "Who are you?" I told him who I was and that was my record that was playing in the background. He just looked at me and said "Oh" and walked away. It was Warren Beatty. Another interesting thing that happened. John Lennon was staying with Lou Adler out in L.A., and with our Kind of a Drag album... we did one cover song by The Beatles ("I'm a Loser"). We did it in a very different way. It was Dennis Tufano's idea to do a different arrangement. Lennon commented that he very much liked our arrangement of the song. I don't want to make a change in The Beatles' music, but our version was slower and more in keeping with the thought of the lyrics. The Beatles' version was more up tempo.
GM: Music and lyrics have to work together.
CG: Kind of along those same lines, Jim Holvay wrote "Kind of a Drag" when he was breaking up with his girlfriend, and it was very slow and melodic and sad. When we got it, we jammed it up, changed the tempo and had a big hit. The tempo was right for the times even though the tempo didn't really go along with the lyrics.
GM: I know that you are still busy and not resting on your laurels or retired. You are working on a biography Reinventing the Buckinghams — My Journey. What's the status of your book?
CG: We're working on it, but a lot of things get in the way and we're not done with it yet.
GM: Your latest solo CD, Living in the Moment, is four years old. Are you in the studio recording, or writing new material?
CG: I've got a handful of songs that I'm thinking of putting together for another album. I love to write and record, but is there a market for it? I sell some to our fans, but now it's a throwaway society. Someone will download a song, or stream it and listen a few times and then throw it away. And trying to figure out the royalties on streaming is crazy.
GM: Living in the Moment is very personal and reflective. Your emotions are felt, both when you're on a high and remembering the fun times with The Buckinghams in "What A Time We Had," and then at a low point after the death of Poulos, and you sang "I'll Remember You." Perhaps the most poignant, and different song on the CD, is the gospel song, "Oh Lord (Make Me More Like You)," written after your father passed. Has that been recorded by any gospel artists? That song made me think of David Gates' song "Everything I Own."
CG: Several gospel artists have recorded "Oh Lord," and I appreciate that.
GM: With the coronavirus, these are trying times for concerts and live performances. Are you scheduled into the fall or winter?
CG: We have concerts scheduled, but it seems like every other day it's changing. We had a Happy Together concert rescheduled from July to next year. We have concerts scheduled for the end of the year that haven't been canceled, as of yet. This pandemic has made me realize just how much I enjoy performing. A while back I asked my wife, "What would it be like to be retired," and now I know after sitting home for too long. I miss the touring, performances and the fans. I want my music back. I want my audience back. I want to be able to get out there and perform.