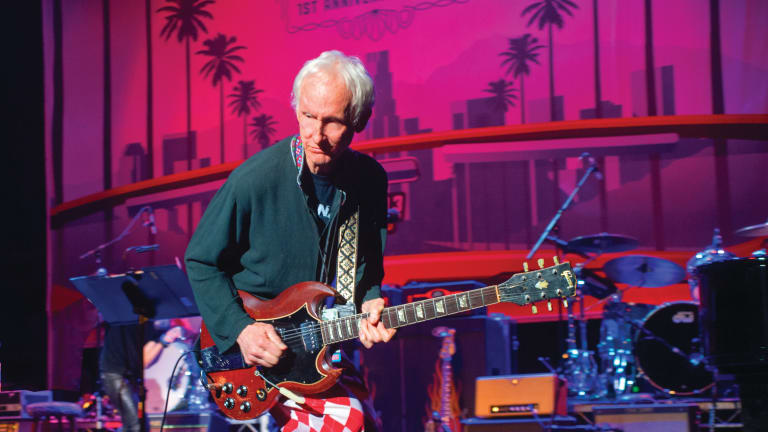 Checking back in to the "Morrison Hotel"
A deluxe anniversary edition of The Doors' "Morrison Hotel" will have fans wanting to revisit the history behind an iconic classic rock album. Guitarist Robby Krieger gives us a personal tour around the music.
By Gillian G. Gaar
When The Doors entered Elektra Sound Recorders on November 4, 1969, they weren't just starting work on their fifth album. They were also trying to resuscitate their career. And Morrison Hotel, released in February 1970, did just that. The group sounded newly revitalized and invigorated, from the rousing opening of "Roadhouse Blues" to the bluesy sign-off of "Maggie M'Gill." Even the album's cover art was destined to become iconic.
"It was a great album to record," keyboardist Ray Manzarek remembered in his memoir, Light My Fire: My Life With The Doors. For the 50th anniversary of the album's release, a new reissue, released in October, features revamped sound, a second CD of previously unreleased outtakes and the album on 180 gram vinyl. It's The Doors getting back to basics, after the orchestral work of their previous album, The Soft Parade.
1969 had been a rough year for the group. After what was hailed as a "triumphant" return to New York in January, the band played the first date of what was supposed to be a U.S. tour on March 1 in Miami. The show ended in chaos, with lead singer Jim Morrison thrown off the rickety stage at the end, then leading the audience in a human chain around the venue. As the result of complaints, the police issued an arrest warrant on March 5, charging Morrison with drunkenness, open profanity, lewd and lascivious behavior, and indecent exposure.
The backlash was immediate. The tour was canceled. Morrison was also charged with "interstate flight," even though the Miami warrant hadn't been issued until after he'd already left Florida. To deal with that charge, Morrison turned himself in to the FBI's L.A. office on April 4, where he was arrested and released on $5,000 bail; by the end of the month, the charge would be dropped. After further negotiations, Morrison agreed to turn himself in to the Miami authorities on November 9, where he was arrested and released on bail. A trial was set for the following year.
After a few months of laying low, the band began playing shows again in June, and their fourth album, The Soft Parade, was released in July 1969. Though it charted lower than their previous albums, peaking at No. 6, it still went gold (and eventually platinum), and produced another classic single in "Touch Me." The group then planned to release a live album and played three live shows at the Aquarius Theater in Hollywood on July 21 and 22. The group hoped to have more shows to work with for the live album, but the ongoing controversy over the Miami debacle made promoters hesitant to book them.
"The problem was, we couldn't play live much," says Robby Krieger, the band's guitarist. "We'd had a bunch of shows set up, and they all got canceled. Therefore, it wasn't too easy to do a live album.
"Now, when we did Absolutely Live (1970), that was a combination of maybe 12 different shows — that's how you cheat," he jokes. "It wouldn't have been a bad idea just to do a live album of one show. That's probably what we should've done."
So it was decided to make a new studio album. Morrison had spoken about the kind of music he wanted to make in an interview with his future biographer, Jerry Hopkins, of Rolling Stone, telling him, "I like singing blues, these free, long blues trips where there's no specific beginning or end. It just gets into a groove and I can just keep making up things. … You know, just starting on blues and just seeing where it takes us."
"Blues trips" would definitely play a major role in Morrison Hotel, with the band also wanting to adopt a simpler approach to making a record. "The Soft Parade, it just took forever," says Krieger, "and we were saddled with having to arrange everything, the horns and strings. It was just more work than we thought it would be. So Morrison Hotel was kind of, 'Oh boy, let's just have fun,' and not have to worry about adding all these strings and horns and stuff. I think probably the most fun album we did was without (producer) Paul (Rothchild); the L.A. Woman album, which we did by ourselves with (engineer) Bruce Botnick. And Morrison Hotel was kind of like that, in that everything was a lot quicker. And Paul, I think, was more relaxed as well."
Drummer John Densmore in particular had tired of Rothchild's demands for take after take on Soft Parade. "Well, Paul was always like that, especially during that album, for some reason," Krieger agrees. "Especially drum-wise. He would always take forever to get the drum sound. Poor John would be sitting there hitting the snare drum for an hour; 'We've gotta get this sound better!' But you can't complain about Paul's results."
Some accounts of the sessions suggest that they were fraught, with Morrison drunk much of the time, not capable of coming up with lyrics, and leaving his bandmates to pick up the slack. But in Krieger's view, such behavior was more common to the Waiting for the Sun sessions. "That's when Jim started drinking a lot," he says. "Morrison Hotel to me was more of a relief from the previous album, and to me, it was more fun."
"Roadhouse Blues," the album's opening track, gets the ball rolling. The song's loose feeling is due to the fact that it came together out of a jam. "Out of a jam," Krieger confirms. "Jim was all about the blues at that time. He really, for some reason, was adamant that we do some blues on this album. And 'Roadhouse' was just the epitome of that. I just started playing this riff — dum da dum da dum da diddly diddly — and he just came up with those words. I don't know where from. But he didn't seem to be groping for words, that's for sure. I think the words are great.
"I think he was talking about this place that was actually down the street from our studio where we rehearsed," he continues. "I forget the name of it, but it was down towards the Troubadour. And Jim spent quite a bit of time there with some of his drinking buddies."
But Botnick, in his liner notes for the 2006 reissue of the album, says that Rothchild again pushed the band for numerous takes, which he felt took some of the edge off the song. "It took two days to realize Paul's vision of recorded perfection. … It is simultaneously wonderful and disheartening to see the progression from raw to controlled perfection from take one to the end of take 15. There are absolutely rocking takes that aren't perfect but blow the roof off the place."
But some of that time was put to good use. Manzarek played a Wurlitzer electric piano during the first day recording the track, but on the second day he switched to tack piano (the same one used on "Good Vibrations"), which added to the honky-tonk vibe.
There were also some special guest appearances. Morrison had wanted to have a crack at playing the harmonica part himself, but Rothchild suggested they have John Sebastian, of the Lovin' Spoonful, do it. "That was just a great night, that just kind of happened by happenstance," Krieger recalls. "John just happened to be in town, and he was a friend of Paul's. People don't realize what a great harmonica player he is. And he just brought a really great sound to that whole session." Sebastian was credited as "G. Puglese" on the album; in Densmore's memoir, Riders on the Storm: My Life with Jim Morrison and The Doors, he contends that Sebastian used a pseudonym because he was "embarrassed" by The Doors and "didn't want to be associated publicly with the group," due to the lackluster reception The Soft Parade had received, as well as the notoriety of Morrison's bust.
Lonnie Mack, better known as a guitarist (his first two hits were the instrumentals "Memphis" and "Wham"), nonetheless ended up playing bass on the track. "Lonnie had kind of gotten disillusioned with music, and he quit playing," Krieger explains. "He was selling bibles out of the back of his car. And our friend Fritz Richmond, who worked in the studio — he used to be in Jim Kweskin's Jug Band, which was one of my favorite groups back in the early '60s — he just happened to see Lonnie driving down the street.
"And he says, 'Lonnie, what are you doing?' 'Oh man, I quit music. I'm selling bibles. You wanna buy one?' And so Fritz felt really bad for him, and he got him a job at Elektra. Lonnie was there that night. He was quite a guitar player, but we needed a bass player; our regular bass player, Ray Neapolitan, couldn't make it that day. So I asked Lonnie if he wanted to play bass.
"And he said, 'Well, I never played bass, but I'll give it a try.' And he played the most great bass part — I don't know if you ever really listened to it, but it really rocks. It's so solid."
The band drew on a number of older songs to fill out the album. "Waiting for the Sun" was meant to be the title track for the album of that name, but it had been dropped. "You Make Me Real" dated back even further, to 1966. "I don't know why we didn't use that earlier," Krieger says, "because that was one of our songs that we played every night at the Whiskey a Go Go, and it was a fun song."
But the intriguing "Peace Frog" was new. "That's one of my favorites," says Krieger. "I had written the music for it and had no words, and Jim couldn't think of any words either. So he said, 'Well, let me go look in my poetry book.' And he found this poem called 'Abortion Stories.' I don't know why he picked that one, but the way it was phrased worked with what I was playing on the guitar. That happened a few times, but this was particularly a good match."
But the band realized they couldn't use the name "Abortion Stories." "We thought, 'That's kind of crass,' " Krieger explains. "So Jim came up with 'Peace Frog.' Don't ask me why. I wish I knew. I should've asked him — but he wouldn't have told me!" One lyric in particular referenced an incident Morrison claimed happened in his childhood, when the family drove by a car accident and he saw a number of Native Americans who had been injured in the crash lying in the road: "Indians scattered on dawn's highway, bleeding/Ghosts crowd the young child's fragile eggshell mind."
The gentle "Blue Sunday" provides a nice bridge between "Peace Frog" and the livelier "Ship of Fools," which brought side one of the vinyl album to a close. "There was a guitar line that I came up with, which I kind of stole from an old blues song that I heard when I was in high school," Krieger says about writing the song. "And Jim, I can't remember whether he just came up with the words right then or if it was a poem he had already done in high school" — as The Doors' number "Horse Latitudes" had been drawn from one of Morrison's school poems. " 'Ship of Fools' had that same quality to me, like (sings) 'Grandpa was a sailor…' And I think his grandfather really was a sailor. I know his dad was."
"Land Ho!," which opens side two, was in a similar sea shanty vein. "That's another kind of ocean-going song, which makes me think Jim might've written it back when he was more influenced by his dad," says Krieger of Morrison's father, who'd been a rear admiral in the navy. "Because he used to go out with his dad on his battleship; he got to shoot the guns and stuff. There's a couple of pictures of him doing that, and he looked like he was having fun."
"The Spy" is a voyeuristic number with a sinister element, as when Morrison sings, "I know your deepest secret fear." " 'The Spy' is a guitar thing that I came up with that was the start of that song," explains Krieger. He jokingly adds, "It's sort of like the 'Land Ho' thing, where I stole that one, too. I think it was from a Geoff Muldaur album that I'd heard, and I used that kind of guitar line. And Jim just came up with words right on the spot for that one." In Densmore's memoir, he says of "The Spy," "I got a chance to show off my jazz brush technique."
"Queen of the Highway" was Morrison's portrait of his girlfriend, Pamela Courson, casting himself as her "monster, black dressed in leather." It had previously been recorded for The Soft Parade. "I don't know why it wasn't on that album," Krieger says, "but it got pushed back, and as you've heard, there's quite a few versions of that (on the new reissue)." Morrison's line "No one could save" would prove to be sadly prescient; Courson died of a heroin overdose in 1974.
"Indian Summer" was recorded on August 19, 1966, for the band's debut album, The Doors. "In fact, 'Indian Summer' was the first song we ever recorded, at Sunset Sound," says Krieger. "And it was kind of weird; we were kind of nervous. We'd never recorded in a real studio — at least not very much, and not as The Doors. I think the reason we didn't use it is because it was the very first thing we did, and we kind of looked at it as a practice, just getting used to the studio kind of thing. You know what I mean?"
The band didn't re-record the song; they simply used the same track recorded in 1966, adding some reverb. "It's quite interesting to hear Jim four years earlier; pure of voice, our crooner," Botnick says in the new release's liner notes.
The album closes with "Maggie M'Gill," with Morrison reaffirming his affinity with the blues: "I'm an old blues man, and I think that you understand/I've been singing the blues ever since the world began." The song, in its early state, had first been performed as an improvisational piece that emerged during a chaotic Doors performance at the University of Michigan on October 20, 1967.
"That was just blues," says Krieger. "Jim wanted to do blues, just like 'Roadhouse.' And the cool thing about that one was that Ray didn't play keyboard; he played guitar. So you hear two guitars on there, and that's Ray playing one of the guitar parts. And to me, that's a really fun song. My son Waylon, he sings with us sometimes (when we play live), and he loves to sing that one." Mack also provided bass for the track.
Krieger also helped sift through the numerous outtakes for the reissue. "This album happened to have a lot of outtakes," he says, "and I did listen to them all. But Bruce really picked which ones to use. It reminded me of how long we worked on 'Queen of the Highway'! But I love the song, and it does tell you how a song can change from one style to another until the final product is arrived at."
The band then met with photographer Henry Diltz to plan to cover art. The album had no name, nor did they have any ideas. Then Manzarek mentioned he'd seen a flophouse called Morrison Hotel when he was driving around L.A. with his wife. Diltz scouted out the location in advance, but on the day of the shoot, the front desk clerk wouldn't allow them to take photographs without the landlord's permission. So everyone simply waited outside until the clerk left the front desk. The band then rushed in and struck a casual pose in the lobby window while Diltz shot a roll of film from the outside. Afterward, everyone went for a drink at a nearby dive bar called the Hard Rock Cafe, where Diltz shot more pictures, including the shot that ended up as the album's back cover.
In 2019, the annual "Day of the Doors" fan event was held in the garage of the Morrison Hotel, "which is being rebuilt as we speak," says Krieger. "The whole lobby is going to have a big Doors exhibit in it. We had the window where we took the picture set up, so people could take a picture of themselves."
Both location names resurfaced on the album; "Hard Rock Cafe" was listed as the title of side one, while "Morrison Hotel" was the title of side two, as well as the title of the album itself. After the album's release, two young men in London, Peter Morton and Isaac Tigrett, were struck by the name of the bar, and they called Diltz asking if they could use the name for a restaurant they were planning to open. Diltz said sure, and thus did the name of a long-closed dive bar come to be more associated with a high-end hamburger chain whose walls feature pricey rock and roll memorabilia. "Now every time I go into a Hard Rock Café, whatever city I'm in, I always feel like I should get a free hamburger," Diltz later joked.
By the time Morrison Hotel was released, The Doors had begun playing more shows. But they weren't completely out of the woods yet. On November 11, 1969, Morrison had been arrested for public drunkenness and interference with a flight crew on a flight to Phoenix to see The Rolling Stones. Now he was facing two trials in 1970, and the outcomes of each loomed over the band like a sword of Damocles. There was the hope that after all the strife of the previous year, The Doors might be able to bounce back. But two lines in "Roadhouse Blues" also signaled a cautionary note: "The future's uncertain/and the end is always near.