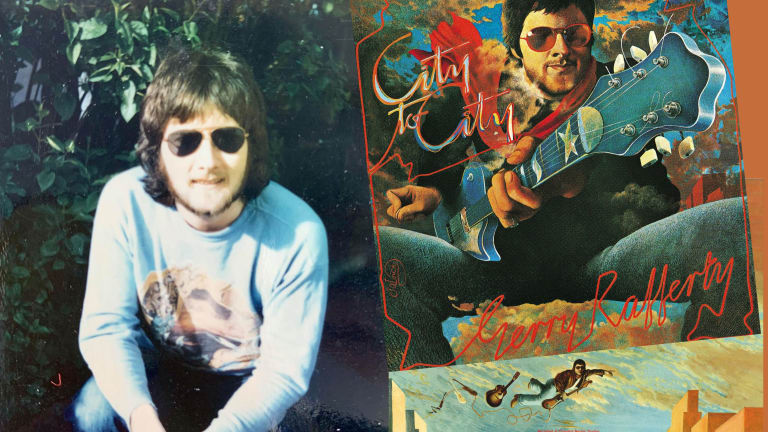 Cherishing the Gerry Rafferty album "City to City"
A record collector/musician explains why the album "City to City" by singer-songwriter Gerry Rafferty is such a timeless classic.
By Joe Matera
It's early 1978 and the new single by Scottish singer-songwriter Gerry Rafferty, "Baker Street," is blasting out on the airwaves on my small transistor radio. The hypnotic sax hook, lyrical content, musical arrangement and the voice, it all engulfs me, striking a chord deep within my soul. This is music coming truly from the heart. It sweeps me away from my teenage existence into another world, a world so far away. And I'm hooked, big time. I hit the local record store and purchase the 7-inch single and, later, the 12-inch vinyl album the song is home to, City to City. It becomes one of my favorite albums and over the ensuing years provides the soundtrack to my life. Later on, it inspires my own songwriting and approach to making music.
Looking back now more than 40-plus years later, I view it as one of the quintessential albums of all time, on an equal footing as The Beatles' Sgt. Pepper's Lonely Hearts Club Band, The Beach Boys' Pet Sounds and Pink Floyd's The Dark Side of the Moon.
While Rafferty went on to write and record further exemplary music, which by no means proved less superior, the immense commercial success of City to City, and "Baker Street," overshadowed everything else he did. It is the one album that will forever be attached to Rafferty's legacy as his signature work, and also the one that firmly secured his place in music history.
I've worn out numerous copies over the years: vinyl, cassettes, CDs, and each time, purchasing a replacement. So much so, that I've even over time collected numerous pressings of the same album on vinyl from various countries around the world, spending much of my free hours while on tour seeking out second-hand record stores and thrift stores in a quest to find another pressing. Call it a passion or an obsession.
What is it about this album, and Rafferty in particular, that casts such an enormous pull over my life? Let's start with the man himself. A gifted songwriter whose lyrics were infused with an emotional depth that sprang from the depths of his soul. Much of Rafferty's writing was inspired by his enormous love for his family, evident on some of the songs on City to City, in particular "Mattie's Rag," which was written for his daughter Martha, and "Right Down the Line," written for his wife at the time. A sense of family, connectedness and a longing for home were at the core of Rafferty's songwriting spirit. His frequent travels to and experiences in London also provided much songwriting inspiration as was highlighted on "Baker Street," while his Scottish roots were echoed in "The Ark." These are all universal themes that everyone relates to, themes which form the basis of many other timeless classics.
Then there is the music, which from a musician's point of view was superbly well-crafted. Every element came together at the precise moment, brick by brick, building its sonic framework to perfection, so that it could convey its aural message to the listener. The melodies soar, and are memorable. The songs get inside you, and never leave. It is popular music at its finest. Not the sort that is subject to the latest trend of the day, that later becomes a throwaway, relegated to the past. It is music that transcends its contemporary time frame and continues to sound fresh 43 years on, its message still resonating after all these years. This is the mark of a true musical genius.
And the album's most famous song, the resplendent "Baker Street," with its iconic signature sax motif, is a masterful textbook lesson in songwriting itself. The song's emotionally charged lyrics underscore the alienation of city life while at the same, reflecting a desire and longing for home.
And the subtle use of "slash" chords — for the musically uninitiated, these are chords that imply a second related chord by the use of a bass note, for example A/D. In this case, A is the primary chord, while the D note in the bass gives the illusion of another chord D being heard whilst providing a moving bass line, especially when used by piano and guitar. And in "Baker Street" it perfectly suits the traveling aspect to the song's lyrical matter: "Winding your way down on Baker Street." It brings to the song and music a sophisticated edge and shows the depth and knowledge of Rafferty's musicianship and songwriting genius. Add to that the searing guitar solo played by Hugh Burns; it's held in high regard by many guitarists due to its strong melodic content and instantly recognizable.
Prior to making City to City, Rafferty spent several years amidst much legal wrangling and personal turmoil with his former record label in the aftermath of the demise of his band Stealers Wheel whih had topped the charts with "Stuck in the Middle with You" in 1973. Yet, it was during this tumultuous three-year period that Rafferty would begin assembling the material that gave birth to City to City.
"City to City came on the back of an admirable body of work by Gerry," explains Rafferty's elder brother Jim Rafferty, "following that with Joe Egan in Stealers Wheel, and reinforced in the opinion of those who had followed his work over the previous years that here was no flash in the pan, but a singer and writer of singular gifts operating at the peak of his powers, and with still more to give."
Former manager Jon Brewer, who previously worked with artists such as David Bowie and Gene Clark of The Byrds, took a gamble on Rafferty after hearing the demos of City to City, which Rafferty had recorded on his four-track Teac machine at his home. "On those tapes there were two tracks that stood out, one called 'City to City' and the other 'Baker Street,'" Brewer recalls. "Eventually I was asked if I would manage or fund a new album based on some demos that had been recorded. I agreed to do so and put together not a management agreement but a production agreement to produce three records."
Rafferty signed to United Artists Records and with producer Hugh Murphy by his side entered Chipping Norton studios in England in the summer of 1977 with a handful of demos that included a version of "Baker Street," which featured Rafferty playing the melody of the now iconic sax intro on guitar contrary to the claims made later by Raphael Ravenscroft who played the sax on the track, of having written it himself.
"Raf did not come up with it," affirms Gary Taylor, who played bass guitar on the album. "He did a brilliant job of it, but Gerry had that riff right from start go. It was already on the demo Gerry played me prior to assembling the band that went into the studio to record the album."
When City to City was reissued on CD in 2011 it included that very demo of "Baker Street," proving once and for all that it had already existed way before Ravenscroft was hired to play the part and forever putting the dispute to bed.
Rafferty assembled the material for the album, with his demoed songs forming the basis for the album. He also brought in an unfinished track — 'The Ark" — which dated back to 1970, around the time Rafferty was working on his first solo album, Can I Have My Money Back? The Celtic-infused track opens the album proper though tracking actually commenced with the title track.
Rafferty's daughter Martha recalls how much of the material had been hibernating for many years in one form or another. "He would work on songs over years, sometimes decades," Martha reveals. "He'd have many melodies, or a line or two in his back pocket, and he'd wait until it seemed the right time to use them. I remember all the songs on City to City being written and developing organically over a number of years. He had a home studio and would spend every day playing. The lyrics always came later and were the hardest part for him. Inspiration would come when he was alone, normally late at night. I remember hearing the tracks when we'd be driving around Glasgow in the car and always had a sense that there was a touch of magic in those songs. At his best there has always been a connection to the mystical or a window to the great unknown, a transcendence of the ordinary. That's what all great art is about and that's what he wanted his work to convey, that life is ultimately meaningful and beautiful."
"He had a lot of ideas of how he wanted the songs to go but basically we got free reign to do what we wanted to do," recalls Taylor about the City to City recording sessions. "And if he didn't like something or he wanted to change something, he'd make suggestions. But from a musical point of view, I thought he was great to work with. And every time he played you a new song, the hairs on the back of your neck went up, because he was brilliant as a writer. He was the most amazing artist I have ever worked with."
While the bulk of the album was recorded at Chipping Norton, several additional sessions were also undertaken at Marquee Studios and Berwick Street Studios. The album was finally completed in late 1977 at a cost of £18,000. Featuring artwork by fellow Scot artist and playwright John Patrick Byrne (who had previously done art for The Beatles, Donovan and Stealers Wheel), City to City was finally released on January 20, 1978. Eventually six of its tracks were released as singles, though in the USA, United Artists only issued three singles, all reaching the Top 40.
First cab off the rank was "Baker Street," though United Artists initially had no plans to release the track as a single, as in the U.K. "City to City" was released as the first single. It failed to set the chart alight there, though it found success in the Netherlands. "Baker Street" would change his fortunes in the U.K. though. After much passionate persuasion by Rafferty, the label went ahead and released "Baker Street" on February 3, 1978. It would peak at No. 2, spending six weeks in that position on Billboard's Hot 100 in the later part of June 1978, held off from the top spot by Andy Gibb's "Shadow Dancing."
To cause further frustration, Billboard's rival Cashbox magazine had its own weekly Top 100 singles chart which had the top two positions reversed: "Baker Street" was at No. 1 for two weeks in July 1978, while "Shadow Dancing" was at No. 2. "Right Down the Line" was issued as the follow-up single and peaked at No. 12 in October before a third and final single, "Home and Dry" peaked at No. 28 in February 1979.
City to City would go on to sell five and a half million copies and top the Billboard charts, finally removing the Saturday Night Fever soundtrack from the No. 1 position in July 1978. The label expected Rafferty to tour in support of the album and build upon the momentum, but Rafferty refused to tour America.
"There were very few dates which Gerry did and that was one of the reasons why we did not see eye to eye," remembers Brewer. "He wanted to do The David Frost Show in the U.S. and he just had success with 'Baker Street' in the U.S. I told him that he should not do it as I was concerned that his career would be over, especially when I found out what he was going to say. He was going to tell everyone that he was not going to tour and knowing American audiences that would probably kill his career. He did do the show, and I think his career went downhill from then because of it."
Jim Rafferty categorically disputes Brewer's account. "Brewer's assertion that Gerry's career went downhill as a result of his disinclination to tour America is a glaring misinterpretation," he affirms. "A number of factors were in play, which brought a gradual decline in his musical profile, which would include changes of fashion in musical styles and demographics, the rise of digital downloads, plus his disaffection with new methods of creating and distributing music."
Much has been written over the years regarding Rafferty's supposedly aversion to fame and fortune, and largely based on hearsay and innuendo. Jim Rafferty sets the record straight. "Gerry did not dislike the success he enjoyed from the popularity of his work," he explains. "Like most people he relished the improvement in lifestyle and the advantages it brought his way as a result — plus the ability to turn down any offer which he felt inappropriate or in any way conflicting with the manner in which he wanted to live his life. That this included a distaste for the promotional requirements of record companies or the wishes of management is well known to anyone who has read the numerous interviews he has given on the subject. In short, he took the view that he had more than paid his debt to the record companies whom he was signed to at varying points in his musical trajectory, by virtue of sales of his music."
"Brewer's claims are all nonsense," concurs Martha Rafferty. "(Gerry) would come to the U.S. to do some press and was catapulted into the celebrity scene with parties, limos, drugs and all of that. He decided then it was too far removed from who and what he stood for, so he walked away. He did enjoy live performance and always had a great deal of respect for his fans. It was the machinations around the music business that he had a healthy distrust of."
In an interview with BBC Radio 2 in September 2000, Gerry Rafferty himself explained the reasoning behind his decision not to tour. "It was something I was fiercely protective of in myself. Because I knew in the long term, 20 or 30 years on, I wanted to still be making music and not have become a name of a famous musician or of a celebrity which would have overtaken the music, and which has happened to many, many people and continues to do so today."
At the 1978 Grammy Awards, Rafferty earned two nominations for "Baker Street" in the form of Record of the Year and Best Pop Vocal Performance. The song also won him two Ivor Novello awards. And it's been rumored that "Baker Street" earned Rafferty a cool £80,000 per year since its release in 1978.
When Rafferty passed away on January 4, 2011, at age 63, the world lost a true musical legend. Over the years Rafferty's enormous influence has been acknowledged by many, and the various cover versions of "Baker Street" attest to the man's brilliance and ongoing influence.
COLLECTING CITY TO CITY
Pressings for the album were issued in every territory by United Artists counterpart label offices. And over the years a stack of reissues has been released, and since the 1980s, reissues on CDs have flooded the market place, including many via the mid-price budget reissue label Fame. With over 120 plus versions of the album having been issued since its 1978 release, diverse and quite interesting pressings have surfaced over time. I've managed to collect (so far) around 40 pressings of these, each providing a wealth of information and, depending on the label, may differ accordingly upon where the record was marketed and manufactured.
For example, I've managed to source two early pressings from West Germany; one pressing has the back cover track listing incorrectly printed to the track listing that's actually printed on the vinyl label. The other pressing is a "Club Edition," which was only distributed through mail order by a record club, and not sold in shops.
Another interesting find were the Australian pressings. The first pressings of the album had the same exact catalog number, yet each had totally different labels: one with an early United Artists tan colored label and the other with a later United Artists sun and clouds label. United Artists had switched from their former label design in late 1977 to the newer design. Because the manufacturing plant in Australia had some leftover tan labels, the decision was made to use them up before switching over to the new orange sun and clouds label. The result meant that the first batch of pressings that came off the printing presses was issued with the pre-changeover label instead of the newer designed label.
Elsewhere, several colored vinyl editions were issued. These included a red-colored vinyl in the Netherlands, a clear-colored vinyl in France and a blue-colored vinyl in Sweden. Worthy of note for those with turntables is the fact that there are discrepancies of varying degrees with the vinyl record speeds. The U.K. pressing is one in particular with some copies playing at the correct speed while others found to be playing at a faster pace.
Several of the CD remasters, too, have been found to have noticeable sonic issues. Taylor agrees: "I heard a couple of the remasters, and one of the things I didn't like about them when they first came out was that it sounded sonically dull. There was a bit more top end of it."
And in 2010, City to City was reissued and remastered in the USA for the first time as a limited-edition, 180-gram audiophile vinyl via the Friday Music label.