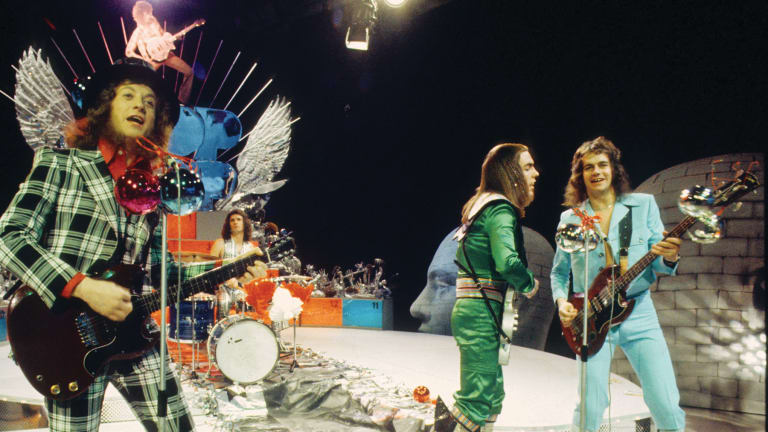 Cum on re-feel the noize with Slade
Re-feel the noize with Slade's latest greatest hits package, "Cum On Feel the Hitz!" in your collection. Frontman Noddy Holder is straight-forward with Goldmine on the band's legacy, and their greatest songs.
By Dave Thompson
Slade, for four years at the start of the '70s, were the biggest band in the world. Not in the United States, obviously, where they were more likely to be found playing second fiddle to a variety of incongruous domestic stars. But elsewhere — the U.K. and Europe, Australia and Japan — Slade were massive.
The statistics tell part of the story. Between their first hit in 1971 and their 16th in 1975, Slade topped the U.K. chart six times, with a wall full of silver, gold and platinum to show for it. All but five of those hits made the Top 3; one more reached No. 4. A couple of records went straight in at the top, the first band since The Beatles to achieve that feat, and when you look at the charts elsewhere around their empire, the story was much the same.
It's a story that is told very thoroughly by the released Cum On Feel the Hitz! collection: 43 songs across two CDs, a couple of dozen across two LPs and, says Noddy Holder, "there's a special single disc collection for the U.S. as well."
Holder — he's the one in the mirrored top hat, if you're looking at the pictures — was the band's vocalist throughout the span of the collection. Jim Lea (bass), Don Powell (drums) and Dave Hill (guitar) completed the group, with Lea teaming with Holder for the songwriting as well.
And what songs they were. "Coz I Luv You" was their first No. 1. "Cum On Feel the Noize" was a monster for Quiet Riot and Oasis as well. "Skweeze Me, Pleeze Me," "Mama Weer All Crazee Now" — back in the day, sundry pinchy-faced educators complained that Slade were encouraging an entire generation of pop fans to pick up bad spelling and grammar. Ha, az if wee needid a pop grup to taught uz that.
It's funny, though, because it was when Slade did start spelling song titles correctly that the hits began to dry up. True, that also coincided with the shouty, stompy, raucous tunes of old being supplanted by more reflective, even balladic beasts, but hey, let's not split hairs. Spelling good, record sales bad. There's a lesson to be learned there.
Of course, it wasn't the end of the band. It wasn't even the beginning of one, five years later, 10 years later — all these years later, Slade's 1973 classic "Merry Xmas Everybody" is guaranteed to be there or thereabouts whenever the U.K.'s favorite festive rockers are discussed, and if you want to know just how much the British love it, read on.
Slade are long gone now. There was, or is, a zombie version munching its way round the circuit — after Holder left and Lea as well, Hill and Powell kept things going quite gallantly. But earlier this year, even they fell out. Powell was sacked, and a one-man Slade will apparently continue on once life returns to normal.
More than likely, it'll still play the hits as well.
Cum On Feel the Hitz is, by a conservative estimate, Slade's 10th such compilation in 40 years, at least so far as the U.K. and U.S. are concerned. "What I didn't realize was," admits Holder, "was that we hadn't had one up for over 15 years."
Not that the compilers have been idle in the meantime. A box set, sensibly titled When Slade Rocked the World 1971-1975, appeared in 2015, and last year brought a box of 7-inch replicas. But you have to go back to the 4-CD Slade Box anthology in 2006 for the last gathering of Slade's smashes, followed a year later by the hits collection's evil twin, B-Sides. Comprising, of course, all the band's B-sides, and an album that Holder holds in special regard.
"The B-sides collection was great," he says. "We tried for years to get one out, and none of the labels we were with previously were into it. Our label Salvo, though, were open to any ideas we had, and a lot of our B-sides were never on the albums, so we said, 'Can we have one?' and they said, 'Yeah, that'd be great.' "
The result, although it certainly has its ups and downs, acts as a savage reminder of just how broad Slade's musical playground was, as they cruised from the heaviest rockers to the sweetest of love songs, and even threw in some Django Reinhardt, a reminder of Holder's first guitar lessons.
Released as the B-side of "Skweeze Me, Pleeze Me" in 1973, "Kill 'Em at the Hot Club Tonite" was "a song that I wrote, and it was based on… I was a huge, huge fan of Django Reinhardt and Stéphane Grappelli (his youngest child is named Django), and 'Hot Club' was influenced by him, that sort of style of playing, because that's how I first started.
"When I was a kid, I got this cheap guitar from a second-hand shop. My dad bought it; it cost four pounds, which was quite a lot of money in those days, and my mother knew this guy who played this kind of music. She said she'd ask him if he'd teach me some chords, so I used to go over to his house every Monday night and he turned me onto Reinhardt and Grappelli. He'd play these records to me, and I just developed a love for the music."
"Skweeze Me" was the last of Slade's true shouters. A No. 1 in summer 1973, it was followed up the chart by the slightly less excitable "My Friend Stan." Then came the Christmas song, and after that…
GOLDMINE: From the teenaged side of things, the shift to slower songs felt quite deliberate. Was it a calculated thing, to maybe try and win respect from the critics or something?
NODDY HOLDER: Not at all. In fact, we weren't aware that we'd changed. Yes, we knew the early hits were rockers, bang bang bang, and then there came "My Friend Stan," "Everyday," "Far Far Away," "How Does It Feel," but it was us developing as writers. There was no great master plan.
GM: Because that also coincided with Slade spending more time in the U.S., and let's face it, the rockers hadn't done so well over there, had they?
NH: It never did take off. We came over for the first time in 1972 (opening for Humble Pie), and it was a very laid-back scene, very different to Europe. And, of course, all the audiences were stoned, so we came out with our rowdy music and our bright clothes and they didn't know what to make of it, because nobody at that time was dressing like us or sounding like us.
The AM radio stations in particular didn't know what to do, because it was all Carly Simon, James Taylor, Cat Stevens, and that was where the main airplay happened. We got more play on FM stations on the album tracks, and consequently we did very well on the live circuit, but we couldn't get any singles away in a big way or translate into selling albums.
The live shows were completely rocking. We could actually top the Philadelphia Spectrum, and places like that in Cleveland, Chicago, Detroit and the Midwest, but we couldn't get into the East and West Coast scenes at all, and we couldn't consolidate it all across the country.
Plus, we came over in more or less short bursts. Because of our success elsewhere around the world, we couldn't justify coming to the states like Black Sabbath or Fleetwood Mac did; come over there and tour for five years flat out. We couldn't afford to do that, neglect the European market, because that was our bread and butter, and Australia and Japan. So we only came in dribs and drabs.
GM: And then you actually relocated to the states in 1975.
NH: We did the movie, Slade in Flame, and that was when we decided, "Well, we've done everything we can in Europe now," so we moved lock, stock and barrel to the states from 1975-1977, and we toured relentlessly. But still, the records didn't catch on, and the radio play didn't catch on, so we were banging our heads against a brick wall basically.
Even though we loved it, and had a great time playing over there, it just didn't work — until suddenly, five or six years after we went home again, Quiet Riot had a hit with "Cum On Feel the Noize," 10 years after we had released it, and sold 10 million albums on the strength of it. Which was very good for us financially; my bank manager thought it was wonderful.
And suddenly American record companies started looking, and just as that happened, we had a hit in Europe, "My Oh My" (December 1983), so CBS signed us, put out "Run Runaway" (spring 1984) and MTV loved the video. They put it on heavy rotation, and it was a hit record.
People loved the video, the castle and the bagpipes and everything, and it was such a perfect video for us.
GM: Tim Pope, who most people knew from directing The Cure's videos, did a fantastic job on that.
NH: Tim was perfect, a very colorful character who worked well with us. We picked him because of The Cure videos that he'd done; we were tired of having the same straight-down-the-line performance videos, and we thought, "Who's as wacky as we are?" Obviously we'd seen some of The Cure videos, and Tim was great. He knew exactly what we were about.
"We got more play on FM stations on the album tracks, and consequently we did very well on the live circuit, but we couldn't get any singles away in a big way or translate into selling albums." —Noddy Holder
GM: Slade really did seem to be enjoying a second wind at that time. You almost got another British No. 1 with "My Oh My."
NH: It should have been a No. 1. We were there all over Europe, and we were really pissed off, because if it had got to the top, we'd have had the Xmas No. 1 at 10 years apart. But ultimately we were held off by the bloody Flying Pickets, who'd been on Top of the Pops the week before us. So we missed out.
GM: That was your first Top 5 hit since "Far Far Away" at the end of 1974, since when you'd really been struggling for air. In fact, didn't the band break up in 1980?
NH: What happened was, we came back from the states in 1977 and we'd lost ground, especially in the U.K.. In Europe, we were still OK. But in the U.K., we had trouble getting radio play, the records weren't selling, and we'd gone back to playing small venues and, by 1980, we had pretty much broken up.
Dave had left the band already, Jim was doing his solo stuff, and there was only really me left. And that was it.
GM: So what happened?
NH: We'd been trying to get onto the bill for the (annual) Reading Festival for three or four years, and they always turned us down. Suddenly, with three days' notice, Ozzy Osbourne pulled out of the 1980 festival, and they called our manager Chas Chandler and asked if we would be able to stand in.
Chas called me and asked, and I said I'd call the others. I called Jim and Don, and they were agreeable. But when I called Dave, he said, "No way, I'm not doing it. I've left the band and I've made my mind up." I called Chas back and said we're all in agreement except for Dave, and Chas said, "Leave it to me." He could always persuade Dave. He told him, "If you've got to go out, go out with a festival," and Dave agreed.
We drove down to Reading with our cases in the (trunks) of the car. Because it was so last minute, we didn't have parking sorted out, so we had to park in the bottom car park; we carried our gear up to the backstage area through the audience, and we hadn't got backstage passes, either. But we knew all the security guys from past shows, so they waved us through, "Come on in, lads," and we went to the caravan backstage to change.
GM: It must have felt strange. Reading that year was a very metal affair, the whole New Wave of British Heavy Metal was at its peak, and there you were, up there with Def Leppard, Magnum, Girl and Tygers of Pan Tang.
NH: Tommy Vance was the DJ for the festival; we knew him really well, he'd even been in Slade in Flame. He came in and said, "The festival's not set light yet, you're going to steal it." We were "I don't know about that," because the audience wasn't there for us, it wasn't an audience we normally played for. But Tommy said, "No, mark my words, you've had more hit records than the rest of the weekend all put together, and I just have a feeling that you're going to go down really well."
Anyway, we walked onstage, played the first song and the place erupted. It just erupted. When we went on, the space in front was empty, and after the first song, all the radio people, all the press, everyone, they were down there, all the media people, and the crowd was going wild.
GM: And you played "Merry Xmas Everybody" — in the middle of August.
NH: We'd been told we had to stick to 45 minutes, no encore, and we finished on the dot because we were used to big festivals in Europe, we knew how to time it. We came off the side of the stage, and the promoter said, "You've got to go back on, the place is going wild, you have to do another one."
So we went back on and I said to the crowd, "What do you want to hear?" And they were all shouting "Merry Xmas"! I said, "I'm not going to play that at this time of year." I said, "If you want to hear it, then you have to sing it," and they did! The whole place was singing. We joined in in the end, it was great.
GM: Actually, it was more than "great," it was magical, real hairs-on-the-back-of-your-neck standing up time. 80,000 people singing a Christmas song at the height of summer, and you lot up there grinning like idiots. It's probably my favorite moment in any Slade show I ever saw. Did you realize just how brilliantly you had done?
NH: We were at the point in the show where we could just do whatever we wanted, and normally, we'd have done "Mama Weer All Crazee Now." But they were shouting for "Merry Xmas," which we didn't expect from that crowd. It was a brand new audience for us, but they knew all the songs. I thought they just remembered us as some Top of the Pops type band they'd seen when they were kids, but, "Wow, they can really play!"
Afterwards, we knew we'd gone down well, but we didn't know how well until the music press came out at the end of the next week and it was in all of the papers, "Slade Slay Reading," and then we started getting hits again. It was just the right time, the right place, and it's always been like that in our career; we always had our down times and we plowed through every time. Our career was very bouncy-bouncy.
GM: Of course, the Reading audience had grown up with your hits, whether they liked Slade or not — you couldn't move in the U.K. in the early '70s without hearing Slade. Whereas when you started having hits in the U.S. a couple of years later — now that was a completely new audience.
NH: Not really, because when we came back, all the young new metal bands, the glam metal bands, they were all telling us how they'd seen us when they were younger, and knew our music, and how we spurred them on to start their own bands. Kiss, Van Halen, Twisted Sister, even Kurt Cobain in later years said he'd seen us in Seattle.
So, even though the success wasn't there in the '70s, we still had an impact that we just didn't realize. The audience participation thing that we used to do — American audiences in the '70s didn't get it, but acts in the '80s, they all did it, and we could see when we returned that we'd influenced that as well.
"All the young new metal bands, the glam metal bands, they were all telling us how they'd seen us when they were younger, and knew our music, and how we spurred them on to start their own bands." —Noddy Holder 
Slade's second run of hits did not last long; of the monster run of chart near-toppers that is their legacy today, just two dated from the 1980s. But in truth, that doesn't really matter.
Throughout their lifetime, from the raucous skinhead youths of their Play It Loud debut (1970) through to the thunderous racket of their swansong You Boyz Make Big Noize (1987); from their first British chart hit, "Get Down and Get With It" (No. 16 in 1971), to their last, "Radio Wall of Sound" (No. 21 in 1991), Slade maintained one of the most solid and certainly most enjoyable sequences of singles in rock history.
For those of us who grew up with them in the 1970s, Slade were our first taste of what our elder siblings recalled as Beatlemania, a band that induced such hysteria from their audience that Holder still remembers the night they tried to film and record a show, at Earls Court Arena in 1973.
The film crew set up their cameras and mics in the most optimum spots around the stage, "and when we came on, there was a massive rush to the front. All the cameras went haywire, all the sound mics went haywire and the only thing that survived was this camera that was at the back of the venue for the long shots. It was an absolute disaster."
The band, he says, were "so pissed off about that." But the chuckle in his voice belies their disappointment. Slade had — and, 30 years after he left the band, still have — an audience quite unlike any other: loyal to the end, with every lyric memorized and, more than likely, their own old Slade costumes still in a box somewhere, to keep the memories alive.
Cum On Feel the Hitz is only going to stir those memories more, and it doesn't matter where or when you first heard the band: on record, on MTV or out on the road supporting Humble Pie across the U.S. in 1972. The album is a monument to the days when, much to Mama's despair, we were indeed all crazee.
Play it loud and let's be crazee again.
The Noize: The Slade Discography is an essential book for any Slade fan