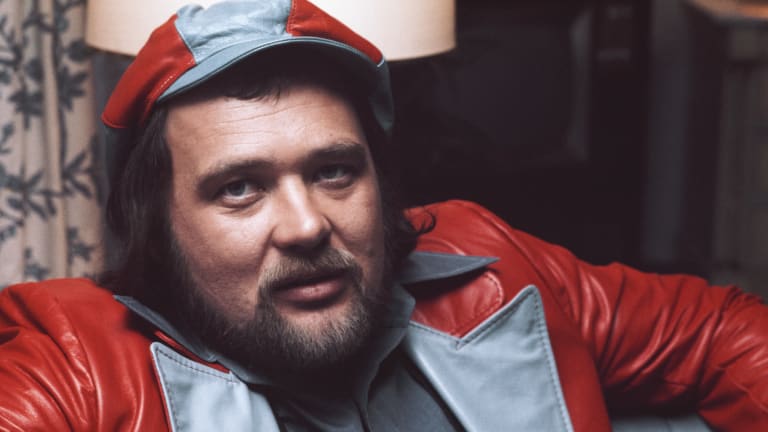 David Clayton-Thomas recalls the dynamic vibe of Blood, Sweat & Tears
The wheel still spins for singer David Clayton-Thomas as the self-titled 1968 Blood, Sweat & Tears album got an audiophile reissue and a documentary is set for later this year.
By Rush Evans
It was the debut album that really wasn't. A band of New York musicians had come up with a new sound, a bold and brassy kind of rock that they committed to vinyl in fall 1968, released in December with just the name of the band, Blood, Sweat & Tears, on the front cover above a stark image of the nine band members. That was a lot of people for a rock and roll band, but that was the right amount for a record like this one. Seeing them all there together seemed to be a nonverbal indication that something big was going on here.
And, indeed, there was. Just eight months after the release, they would be performing in front of half a million people at Woodstock, and in 1970, the record would claim the Grammy Album of the Year — beating The Beatles' Abbey Road. "I didn't really know that at the time; I found that out later," remembers lead singer David Clayton-Thomas, still singing and making records. "But as an absolute Beatles fanatic myself, it's quite a statement."
It was the most auspicious of debuts — but it wasn't the debut album by Blood, Sweat & Tears. Al Kooper's Hammond organ riffs had already changed the direction of rock and roll when he played on Bob Dylan's "Like a Rolling Stone." He'd then become a member of The Blues Project, a sophisticated rock band that included guitarist Steve Katz. After that group's short life, Kooper and Katz conceived a new group, and they wanted horns. An eight-member lineup came together, and Blood, Sweat & Tears was born. Their debut album, Child Is Father to the Man, had come out in early 1968, an innovative, jazz-infused rock exploration. It was a great record by a great new band, whose founder left after just six months. After Kooper and two other members departed, the remaining members still had a record contract and a desire to fulfill the musical promise of what had already begun.
They needed new members, and they really wanted a strong singer, someone who could come off as powerfully as the horns. British-born Canadian David Clayton-Thomas was singing in New York clubs at the time, and legend has it that Judy Collins heard him and connected him with her friends from Blood, Sweat & Tears, but there's a little more to it than that.
"Well, Judy Collins, because she's a recognizable name, seems to have crept into my story over the years," remembers Clayton-Thomas. "What happened was, I was playing a little club in uptown called Steve Paul's The Scene on 46th Street. Bobby Colomby and Jim Fielder (both of Blood, Sweat & Tears) came in one night. Jim Fielder's girlfriend was Laura Nyro, and Bobby Colomby was with Judy Collins. They already knew me. We'd played in clubs around the village; we all knew each other. It wasn't like they came in and discovered my kind of thing. During that evening, we sat at the table together, and Bobby told me that his Blood, Sweat & Tears band — which I was very familiar with 'cause I knew all of the guys in it — had come apart on him, and he was looking to put it back together again. They still had a record deal, and would I be interested. And at that point, my visa was running out, so I had to go back to Toronto. I said, 'We'll stay in touch; we'll see how it goes down.' Two days later, Bobby called me and said, 'Clive (Davis) wants to keep our record deal. We've got four guys left out of the original band. All we've got to do is find a couple more guys. (Trumpet player) Lew Soloff is interested.' I knew Lew really well. I said, 'Great,' and I was on a plane the next day. The story's changed over the years. It's become now that Judy Collins discovered me!"
Things started happening quickly from there as work began on the new record with the new lineup. "We were playing a little club in Greenwich Village," remembers Clayton-Thomas, "playing the shows at night and going up and recording the stuff in the daytime, stuff we'd played the night before, so it gave a really live feel to the record."
Like Sgt. Pepper of the previous year, Blood, Sweat & Tears felt like a concept album of sorts, though not lyrically so, like The Who's Tommy. This was a musical journey that opened with a gentle flute-driven interpretation of French composer Erik Satie's three piano pieces, "Trois Gymnopedies," from the late 1800s. After the tone was set, the rock and roll burst through with Clayton-Thomas out front on "Smiling Phases." Then came a string of melodic pop songs, including a country-tinged version of Laura Nyro's "And When I Die," a full-on gospel take on Billie Holiday's "God Bless the Child" and a majestic cover of an obscure Motown gem by Brenda Holloway called "You've Made Me So Very Happy." A 12-minute jazz-and-blues improvisational odyssey called "Blues Part II" wraps up the album just ahead of a short reprise of the "Variations on a Theme by Erik Satie."
There was another song that Clayton-Thomas brought to the table, a quirky composition that had found its home in the band with the grand sound. That song was called "Spinning Wheel."
"I had actually already cut a demo of the song a couple of years before," says Clayton-Thomas. "I couldn't get anybody interested in it. Nobody wanted it here in Canada. So basically, when I went to New York after I joined Blood, Sweat & Tears, I took a cassette with me, and I played it for them, and they went, 'Wow! Great, let's do it!' and the rest, as they say, is history."
The Blood, Sweat & Tears second debut album was complete. "It came out late '68 Christmastime," says Clayton-Thomas. "Three months later, it was the No. 1 album in the world. It exploded."
They had found themselves at the front of an accidental movement of bringing brass instruments more prominently into the music of the day. "You have to remember the musical environment of the day was the three-piece Marshall (amplifier) bands. It was Hendrix and Cream and The Who, you know, with big power Marshall stacks — and here's a band with Juilliard graduates playing flutes and horns! It was so totally different, but it's kind of gone down in history as bringing horns into rock. That's not true at all. Little Richard was using horns in the '50s. Fats Domino. Ray Charles had a big band. So it wasn't anything new, but in that particular era, it stood out, because like I said, it was Marshall bands, and we were quite different from that. In the wake of that, Chicago Transit Authority (came) along. We had the same producer, Jimmy Guercio. When he saw how well Blood, Sweat & Tears was doing, he brought Chicago along, they were Chicago Transit Authority, then they became Chicago. We had the same basic team working on both groups: the same producer, the same record company guys. We were pretty much connected with Chicago right off the bat. Tower of Power were great friends of ours and still are, and one of my favorite bands in the world. By the time we won our Grammys, there was plenty of wind bands out there."
Not too many months after three hit singles, all nine members of Blood, Sweat & Tears found themselves onstage at Woodstock — at 1:45 in the morning. "The whole show was running five, six hours late," says Clayton-Thomas. "Nobody went on when they were supposed to go on. I think Jimi (Hendrix) got on at like 10 o'clock in the morning on Monday. That was supposed to be the headliner, and everybody was gone! It was a real cluster f**k. Nobody expected it. You had three state troopers and a couple of local cops to handle 600,000 people. The governor of New York had declared the area a national disaster area and brought in the National Guard because they had no idea how to handle it. They'd never seen anything like it."
Just ahead of Blood, Sweat & Tears at the festival were The Band and Johnny Winter. Crosby, Stills, Nash and Young would follow BS&T at 3 a.m. "I knew Steve Stills from Toronto. We had a chance to chat backstage. And The Band were my buddies from Toronto! That was the Ronnie Hawkins band from Toronto. We played bars together. I'd known them for years. The artists are probably the last people to ask about Woodstock experiences, because we got the least of it. We were basically flown in by National Guard helicopter, walked backstage, did our gig, got on the helicopter and were out of there, so it wasn't like we were hanging out there experiencing the Woodstock experience! It was good seeing The Band. Those were the guys we hung out with. We had breakfast at three o'clock in the morning on Yonge Street after the gigs. Here we were playing bars on Yonge Street in Toronto, and here it is a year later, we had two of the biggest bands in the world, and we're playing in the biggest concert ever. Culture shock. We had a good laugh about it."
This year the Blood, Sweat & Tears record was reissued as an original master recording UltraDisc. All 6,000 copies numbered and pressed on 180-gram vinyl as two records that play at 45 rpm.
"That's the first I ever heard of it!" says Clayton-Thomas when asked about the reissue. "I don't need one of those little thingies to play the 45, do I?" No, as 12-inch records, both discs look like regular LPs, but they play at 45 instead of 33 rpm.
Clayton-Thomas is more excited about another great new development in the Blood, Sweat & Tears story: A forthcoming film documentary. "The big news is that the entire Soviet Union tour has been picked up and is coming out as a TV special, probably this fall sometime. I'm pretty excited about that."
Filmmaker John Scheinfeld, who has made documentaries on Harry Nilsson and John Lennon, is telling the story of the controversial Blood, Sweat & Tears tour that followed the album and the Woodstock appearance.
"He just felt that we got a bad deal from the press at the time, and I agree with him," says Clayton-Thomas. "He wanted the true story told. They got something like 90 hours of film."
It was Clayton-Thomas himself who was at the center of the reason for a state-sponsored tour of Eastern Europe, so he remembers the story well. "I'm a Canadian citizen, and there we were with three songs in the Top 10 at the same time. We were very popular, and I was not an American citizen, so I had to renew my visa from time to time, and when we went to renew my visa, they refused to, which of course just shattered Blood, Sweat & Tears right in its teeth, before we even got off the ground. They offered us a deal that I would get permanent status in the United States if we went and did a State Department tour of Eastern Europe. The guys talked it over. We didn't think it was a big deal at the time, because jazz artists had been doing that for decades. Louis Armstrong would go to Moscow; the Bolshoi Ballet would come to Lincoln Center. It was no big deal. But it ran right into the middle of a political controversy because of the Vietnam War and everything that was peaking at that time, 1970. And Rolling Stone magazine basically fixed on us as being a target, like we were sellouts, like we had betrayed our generation.
FROM THE ARCHIVES: Blood, Sweat & Tears' Jim Fielder keeps the faith
"So a film was made over there. The tour turned into a total ... well, it was a disaster and it was wonderful at the same time. Some countries were great. Other countries, like (Communist leader Nicolae) Ceausescu's Romania, shut us down and threw us out of the country. They thought we were a jazz band, and they found out we weren't. We were a rock band. They were not gonna have any Woodstock in Romania, so we were ordered out of the country. The whole thing was very controversial from beginning to end, including in Bucharest, where the kids started yelling, 'Peace! USA!' and giving peace signs. They were attacked by the military and dogs. It was a horrible situation. We survived it and went on to Poland, which was wonderful, and came home to find we were at the center of all this controversy.
"The entire tour was filmed by National General Films. Whether it was State Department pressure or not, that film disappeared. Nobody could find it for decades. It disappeared somewhere into the bowels of the State Department or whatever. (Drummer) Bobby Colomby had come across a copy of it. It wasn't very good, it was all chopped up, all redacted. They wanted to make it look as good as possible for the State Department. Anyway, here we are 50 years later, and this very esteemed filmmaker decided that the real story had never been told. He went and got all the footage from the tour. And he's edited it all together and cut it as a documentary. That's all I know about it. I spoke to him on the phone, and several of the guys in the band and I feel we all trust him, and we think he's gonna tell the true story. Not the Rolling Stone version."
The survival of the film footage is a story in itself. "It almost didn't exist, because the Romanian government wanted the film seized. The British film crew were very clever: They took the live film, they put it in film stock cans, and the actual footage was full of blank stock. So we got to the airport, and of course they seized the film and they ran it through X-ray machines, which would have destroyed it, and it turned out they were X-raying blank film. The real film had been taken out with all the equipment and loaded onto the plane that morning. It was already on its way to London. It was like Spy vs. Spy (from Mad magazine)!"
The whole experience derailed Blood, Sweat & Tears to some degree, but they went on to make two more albums (called 3 and 4) with that classic lineup, and a revolving door of new members would follow, producing a string of other very cool jazz-rock albums, some with Clayton-Thomas as the lead singer, some without. A touring version of Blood, Sweat & Tears exists today with no members from those first four albums, apart from Colomby, a nontouring proprietor and overseer of the project.
That album called 3 was my original entry point for obsession with the band, a record that included a thoughtful version of Traffic's "40,000 Headmen" and an epic jazz-fusion approach to The Rolling Stones' "Sympathy for the Devil." But it was Clayton-Thomas's falsetto voice covering The Band's "Lonesome Suzie" that I found (and find) to be one of the finest vocal tracks in rock history. When I asked him about it, it was revealed that the whole thing (like so much great rock and roll) was a glorious accident.
The song's composer, the late Richard Manuel, appreciated his friend David's take on it. "He liked it a whole lot. I wanted to do one of their songs, and I just loved that Richard did that. I took a little different approach to it. I sang nearly the whole song in falsetto, which Richard didn't do. That kind of happened by accident. I was living in L.A. and flying into New York to record, and Dick Halligan (keyboards) was doing the charts, and I guess we had a little miscommunication going on, because he wrote the chart in the same key that Richard sang it in. But our voices are quite different. So when I heard the track, I went, 'Oh my God, do we record the track again?' We didn't have the digital advantage of being able to drop it a third like we do today. It would all have to be recorded again. I said, 'Never mind, I'll try it in that key.' I came in and basically sang the whole song in falsetto. It turned out to be a great choice, one I probably wouldn't have made."
Clayton-Thomas has never stopped making music. He lived in New York for 40 years, but when he finally ceased touring as a member of Blood, Sweat & Tears, he returned home to Toronto. All along, he has recorded solo albums, releasing Say Somethin' in 2020, a collection of original topical songs.
"It's quite a statement," he says of the album. "I just got to a stage where I was looking at what's going on in the world, but you know I've always had a bit of a protest edge going back to when I first heard Dylan in the '60s. This is the first time I've ever taken a whole album and just spewed it out, how screwed up things are in this world today."
Blood, Sweat & Tears will likely keep its unique brand of jazz-rock fusion alive for many years to come, an honorable musical cause that should always be associated with those three words in its name. And in 1968, they had captured lightning in a bottle that burst out in an eponymous album that has stood the test of time.
Clayton-Thomas makes the point a little more succinctly: "I think we did pretty good for a bunch of out-of-work New York musicians."