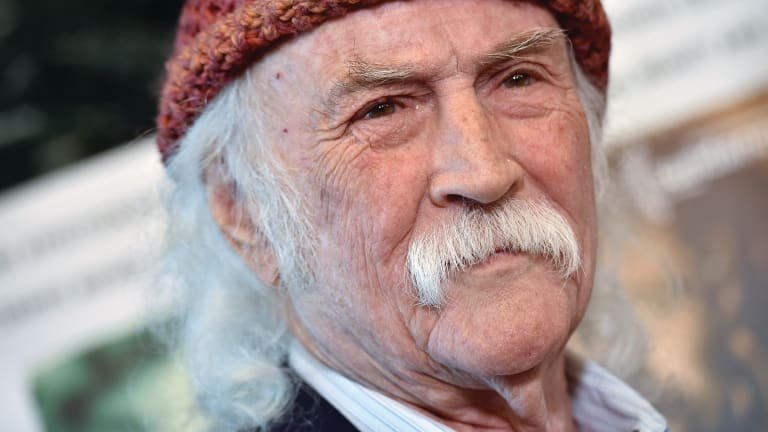 David Crosby feels "Free"
According to David Crosby, he doesn't need "stupid stage stuff" to make entertaining music. His latest solo album, "For Free," is proof of that statement.
By Mike Greenblatt
The artistic rejuvenation of David Crosby started in 2014 with the brilliant Croz album. It was on that album that he put it all together to stunning effect. What makes his late-career renaissance even more spectacular is that he did it again in 2016 with Lighthouse and in 2017 with Sky Trails, neither of which brought him any great added fame and fortune. After all, he's already the kind of legendary rock star — complete with stories galore — who could be chiseled out of stone to be on some Classic Rock Mount Rushmore. He just kept putting out wonderful albums, and by the time he did it yet again in 2018, he called it Here If You Listen.
Make it five in a row with the aptly named For Free. He's doing it at this point for the sake of the song. And make no mistake about it, David Crosby is — and always was — about the song. The recent documentary David Crosby: Remember My Name had him on the balls of his ass — no money, no prospects, in danger of losing his house and selling his beloved Martin. We just had to find out if he was all right. And just to set the record straight, there will be never be a CSN or CSNY reunion. The estrangement is irrevocable. Deal with it.
GOLDMINE: Hey! How you doin', pal?
DAVID CROSBY: I'm elderly and confused but OK.
GM: I'm hard pressed to name another artist with such an unbelievable late-career renaissance as yourself. Five spectacular, ethereal, beautiful complex records within the course of the last seven years!
DC: I'm kinda amazed. I don't know anyone else who's doing it. Particularly not anybody as ancient and decrepit as me. I am proud of them and think this one tops them all.
GM: You picked one of my favorite Joni Mitchell songs to name the album after. You've said in the past that Joni is the greatest living composer. I assume you still stand by that.
DC: Yeah, I do. As far as singer-songwriters go, I don't think anybody can touch her. I think Bob (Dylan) is certainly as good a poet as she is, but I think anybody would agree that he's nowhere near the singer or the player that she is.

GM: John Prine and Leonard Cohen both passed, and I've always said they were the greatest living songwriters.
DC: They're wonderful, yes.

GM: Kristofferson's still alive. Willie.
DC: Randy Newman and the two Pauls, too, Simon and McCartney. And there's others. Folks who are just stunningly good. One of my favorite songwriters is Marc Cohn.

GM: "Walking In Memphis"!
DC: Yeah, that was the (1991) hit that started his career. But he's got a wealth under his belt, man. Join the Parade (2007) still boggles my mind! It's so f**king good. And then there's Shawn Colvin. She's fantastic, man! Her producer, John Leventhal, just produced a record for Sarah Jarosz …

GM: … who you do the "For Free" duet with. What a voice on her!
DC: She's got a record out, man, called World on the Ground that you will not believe. It's that good. It's ridiculous. So there are people doing really good singer-songwriter stuff, just not that many. And I'm proud to say I think I'm one of them. I'm making a contribution, at least. That really makes me happy.

GM: Your voice is still pristine. It's right there!
DC: It's the only thing that is. My hands are gone. Tendinitis. Another couple of years, I won't be able to play anymore. It's a bitch.

GM: What strikes me in these last few minutes talking to you is that you're still a fan.
DC: Oh, I love it, man! I just love songs. Just love 'em. They do such a good thing for the world, you know? Songs lift people up. Songs take people on little voyages.
GM: Like the trip you took listeners on in 2016 with Lighthouse. That's a positively haunting record. So beautiful, almost in a Brian Wilson way.
DC: It's what happened when I met Michael League. We wrote that whole record together in a few days sitting right here in my office where I'm sitting right now. He's such a wonderful musician. He and I have a wonderful chemistry. He brought over two girls, Becca Stevens and Michelle Willis. I loved them so much, I also used them on Here If You Listen as well. The only difference was that I wanted all four of us to write it this time. And I wanted all four of us to sing it. I remember when I told them that, they said, "Are you sure?" I told them I was absolutely sure. There was a real chemistry there. And I wanted to push it.

GM: Yeah, the gorgeous female voices, almost like Gregorian chants, inform that record like how Leonard Cohen used female voices.
DC: Leonard needed some other voices. (laughs)

GM: And Sky Trails in 2017, such an esoteric record, so surprising in that there's a song on there — "She's Gotta Be Somewhere" — that could've been a Steely Dan track! You even wrote with Donald Fagen for the new one! That's an odd coupling, no?
DC: I've always been a fan of Steely Dan. That's the truth. They're my favorite band since The Beatles, who were my first favorite band. I think Aja is one of the best records anybody ever made.
GM: Oh, it's meticulous, sure.
DC: Just fantastic. So was Gaucho. Those are two of my favorite records that anybody ever cut. I've loved Steely Dan so much that I've always wanted to meet Donald. A friend of mine arranged for me and my wife to go see Steely Dan in San Francisco. It was a surprise for her. Donald sent somebody to invite us to go back and say hi. So we went in before the show, met him, and he was very nice to us. Very friendly, genuine and polite. So I kept going to Steely Dan shows and did my level best each time to befriend Donald. It worked! So the last time he came to Santa Barbara, the top three guys in his crew all used to work for me. And they told him, "Listen, Crosby does your song 'Home at Last' in his (jazz-rock) band CPR." Then Donald asked me to sing it with him at that Steely Dan show in Santa Barbara and I said no. I was chicken. To sing in front of that band? In front of my hometown audience? I didn't think I could do it justice. So Donald says, "Fine, let's do 'Wooden Ships.'" I said, "You know 'Wooden Ships'?" And he says, "I could learn it in 30 seconds. It only has four chords." So I said, "Yeah, sure." I knew he was f**king with me because we're friends, right? We were both just having fun.
Much later on, I get a text at like 1:30 in the morning, so Donald must have been up at 4:30 in the morning New York time and he goes, "Y'know what? 'Wooden Ships' is a really good song! I've been listening to it. I'm going to tell the girls in the band to learn it." That's when my whole world froze in place. Donald Fagen is telling me Steely Dan is going to cover "Wooden Ships"? My heart's pumping. I'm stuck in this moment, and I can't really believe it's happening. I send him a text back saying, "Are you kidding?" He answers right away with "I'm not kidding! Come to New York City when we play the Beacon and sing it with us!" And I said, "What time does the bus leave?"

I get to the Beacon and during soundcheck listen to Steely Dan rehearse my song. And they could play it really well. He even arranged new horn parts! (Lead guitarist) Jon (Herington) had learned everything he could possibly do to take that song to another level. Because Jon Herrington is even better than (Stephen) Stills. And it was fan-f**king-tastic. And before I get in trouble again, let me add Stills was always the best singer and player and writer in CSN.

So then, I could tell, Donald was a friend. This is how he exhibits his friendship. The next thing he did was, he — after I hustled him by saying, "C'mon man, let's write something together" — sent me this set of words ("Rodriguez for a Night"). I gave the lyrics to (bandmate/son) James (Raymond) and there you are. That's what happened.

GM: I agree with picking leadoff track "River Rise" for the single as it rocks more than anything on the last three albums. Plus, I was smitten with your line "And the wind has its own language spoken by the trees." I kept thinking that only a true artist who has a personal relationship with the elements as you do, because you're a sailor, could've written that.
DC: Good line, isn't it? Michael McDonald, who sings with me on that song, wrote those words.
GM: No!
DC: Yes. That's the second verse and he wrote it.
GM: Wow, I have a newfound respect for Michael McDonald then. I always thought he was just the guy who ruined The Doobie Brothers.
DC: No, no, you got it wrong. He's the guy who saved the Doobie Brothers, and gave them their hits.
GM: I respect that but in so doing, he made them into a whole 'nother kinda band.
DC: It used to be that Michael McDonald and Stevie Wonder were the two best singers in the world. Stevie's kinda fading out now with age, so frankly I feel Michael McDonald is the best living American singer. But he's also a really good writer. We had that song almost finished and he was there to do the choruses and we said, "God, we just don't have the second verse right" and he said, "Lemme take a swing at it." And he did.
GM: Boy, did he ever! And he did it almost in your voice.
DC: He knows me really well. We've been friends a long, long time. I love him dearly.

GM: Your lyric to "I Think I," where you sing, "I think I/I think I found my way," made me think,"What took him so long?" Or, you might've written it from the perspective of a much younger man.
DC: You could go either way with that one. It's sort of comfortable in the idea that I might've found a clue to being happy. And that's a wonderful thing.
GM: Musically, it has that light, buoyant rhythmic thrust.
DC: Yeah! I like that. I mean, I usually write these sad ballads and that tune really made me happy.

GM: I like how you actually have the sounds of the sea on "The Other Side of Midnight."
DC: I'm so glad you like the songs. That makes my day, man. You know which one is my favorite?
GM: Gotta be the Joni Mitchell title track.
DC: Nope.
GM: Then I'd say "Shot at Me" because, out of all the songs on the album, this one is the most prescient, telling the tale of a guy back from the Middle East, he's haunted by it all, and advises "tell your story before you're dead."
DC: "Shot at Me" is another song I wrote with Dean Parks, and I really love that one because the poor guy in the song comes back from the war and he's really destroyed over it. But that's not it. Actually, my favorite song of the 10 is the closing track, "I Won't Stay for Long." It's so beautiful.
GM: That's the one with the Miles Davis-styled muted trumpet. Absolutely gorgeous.
DC: James (Raymond) has really grown consistently musical the whole time I've known him. Now he's a songwriter that's at least as good as I am but probably better.
GM: Sweet of you to say so, but I doubt it. That's your love of your son speaking now. But how much is James Raymond responsible for this late-career renaissance of yours?
DC: A lot. Here's how it works for writers. Towards the end of your life, you start to fade. You still do a song every once in a while, but your ability to do so fades. I have probably extended my useful writing life by a decade at least by writing with others. Now what happens is if you're a painter and you have a palette with seven colors, but then you start working with another painter who has a palette with seven different colors — now you have 14 colors and all of a sudden, it's a better painting. And that's how it works writing. The other person always thinks of something you didn't, so that's why you write with them. I've been writing with my son James since the first CPR album and he's just fantastic. He writes unbelievably with me, and he writes unbelievably by himself.
Then I met Michael League. We write really well together. Then he introduced me to Becca and Michelle, and I can write with both of them really well. So, there are a handful of people, Michael McDonald included, that I can write really well with and who inspire me. They have to be really f**king good! But, if they are that good, they can inspire me to write with them and, man, you know how other people want all the credit or all the money and they don't come through? Not these folks, man. I love doing it with them. I love our chemistry. For Free, for instance, is proof. James and I right now are writing some incredible sh*t nobody's heard yet.
GM: So For Free comes out just prior to you turning 80. How you feel about the big 8-0?
DC: It pisses me off.
GM: If someone would ask me what two artists wouldn't make 40, my answer would be Keith Richards and David Crosby.
DC: Kicking heroin and cocaine was my big survival move. Gettin' off hard drugs is a good lesson for all you kids out there. (laughs) That was 20 or 30 years ago now and it was the big turning point. And since then I've been going uphill and getting better. Sure, I had a rough go there for a while with my liver transplant, but can you blame me? Here I am! I've lost 60 pounds. I'm feeling really good. I can't help it that I'm 80 years old. I certainly look it. I'm an old, white-haired, white dude. But I'm having so much fun singing, man. I'm singing really well. And I'm having a blast doing it.

GM: You've got to be chomping at the bit to go back out on the road, though.
DC: I don't think I'm ever going to go back out on the road again. 
I don't want to be negative, but at 80? I cannot sleep on a bus anymore. Those last few runs I was just sitting up in front of the bus getting more and more tired. Out of the last five tours I did, I got sick on two of them and had to come home. I don't have the stamina. I really don't. The tendinitis in both hands has resulted in me able to do around 80 percent now of what I used to be able to do and I would bet you within a year, I'm not going to be able to play at all. So, I don't think I'm going back out. I probably have a couple more records in me because I'm singing and writing so well. Michael, Becca and Michelle tell me we have material enough for another record even now. James and I are already writing. I'm looking past For Free at this point. So I'll be a studio artist only. But, then again, never say never, right? So maybe it would be possible for me to accept a residency somewhere.
GM: That's the spirit! A week at the Beacon in New York!
DC: Well, I can't really fill the Beacon. I'm not big enough. Maybe Town Hall. But I'm starting to accept that I'm just not going to be able to do it anymore.
GM: Have you made peace with that?
DC: No.
GM: Right. How could you? You're still David f**king Crosby.
DC: (laughs ruefully) And I love doing it. But I'm tired and I'm old. Crosby, Stills & Nash could certainly fill any hall. Crosby, Stills, Nash & Young could fill any baseball stadium. But me by myself?
GM: Well, artistically, from what I hear over the course of your last five albums in the last seven years, you are so right there still.
DC: I know For Free is a great record and I'm really, really proud of it.
GM: As well you should be.
DC: My point is that CSN and CSNY don't exist anymore. And they're not ever going to exist anymore.
GM: And you could say that with a certain degree of finality?
DC: I can. Absolutely.

GM: (Graham) Nash said on TV that he doesn't even talk to you anymore, and neither does Stills or Young. You've always been a lone voice in the night saying whatever you want no matter the consequences. Do you regret some of the things you've said that might've led to the permanent split?
DC: Yes. But it's like what I said about that girl smashing her guitar on Saturday Night Live. I took so much heat for what I thought was an innocuous comment.
GM: Phoebe Bridgers. I thought it was great, hearkening back to Jimi or The Who. John Hiatt wrote a song once called "Perfectly Good Guitar." Apparently, he doesn't like it either.
DC: It has nothing to do with the artist in question. I don't even know who she is. I've never heard a bit of her music. She might be terrific or she might be nothing. It doesn't even have to do with the guitar either. She broke a fake guitar, I'm sure. What it has to do with is stupid theatrics onstage. It's the same with that guy who used to pretend to bite the head off a chicken or something. Ozzy Osbourne? Yeah. It's gross, stupid theatrics onstage in place of — and instead of — the thing that you're actually supposed to do, which is sing really great songs. It really doesn't f**king do any goddamn good at all. It didn't do any goddamned good when Hendrix burned his guitar. It didn't do any goddamned good when The Who broke all their equipment. It's all stupid stage stuff. It has nothing to do with music. It has nothing — nothing! — to do with picking the right song. Stupid stage stuff, yeah. I like that. It's being theatrical and I don't dig it and I never have dug it. It has nothing at all to do with her on Saturday Night Live. Who the f**k is she anyway? I feel the same way about smoke bombs, laser beams or fancy light shows. But when it gets down to biting the head off a f**king chicken?
GM: I think it was a bat. Point well taken. You're a man of SONG. Period. And I love the subtle use of horns on "Secret Dancer."
DC: We have this one really brilliant horn player who's a friend of ours, Steve Tavaglione. He's one of the best session players in Los Angeles. He builds his sound upward spiraling unbelievably. Just fantastic. And James is really good at writing horn parts.

GM: "Ships in the Night" seems like a perfect title for someone who has sailed around the world.
DC: It's probably the only even vaguely "normal" song on the record. It's just a regular little rock and roll song.

GM: You really wrench out every last drop of emotion on Joni's title song. You and Sarah Jarosz really bring the point of the song home. It's the quintessential tune for an artist who plays solely for the sake of the music itself. But why that one? Did you consider others by Joni? After all, you produced her first album.
DC: Because I love what it says. I've recorded Joni's songs before. I did "Amelia." I love her stuff more than anybody's and I don't mess with it so much. But "For Free" has always been my favorite. I've recorded it three times.
GM: And it's the perfect title for the whole album. You know you're not going to make a million dollars here.
DC: I'll be lucky if I make anything. Maybe it'll make me enough to buy a cup of coffee.

GM: Talk to me about "Boxes."
DC: James wrote that. It's such a wonderful song.
GM: It's irresistibly catchy. He's so good. I saw him perform with CSN in 2012 and he blew me away. He lived his whole life not knowing who his biological father was, became a funk/electronica musician, and when his parents told him who his birth father was, he found you, and things couldn't have worked out any better for the both of you.
DC: He's a wonderful musician, a wonderful writer and a wonderful cat. I'm so lucky. I have an insane amount of luck. Always have.

GM: David Crosby: Remember My Name was a great documentary. Real. Profound. Sad. I left feeling, "Oh no, he's going to have to sell his beloved Martin guitar just to pay his bills."
DC: I thought it was very well done. Usually these docs are about as deep as a birdbath.

GM: So are you OK financially?
DC: Yes, I kept my Martin and sold my publishing instead and paid off my house. It was the only solution I had. I owned all my own publishing all these years, so I sold it. Like Dylan. Like Stevie Nicks. It's what one does nowadays. So now I'm set. No financial worries whatsoever. But you might hear my songs in commercials.