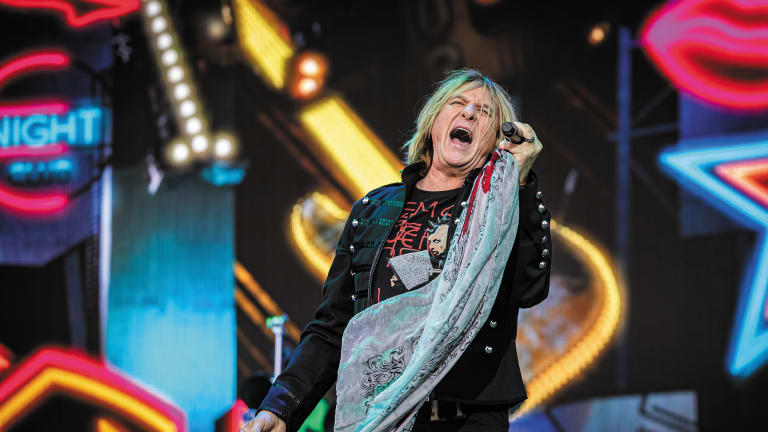 Def Leppard's Joe Elliott on musical inspiration, longevity and how his record collection doubled in size
The Def Leppard singer tells Goldmine the forces behind the band's latest album, what gives them the inspiration to carry on like the Stones, and more!
Get the Def Leppard Collector's Edition bundle (below) of Goldmine's Aug/Sept 2022 issue with an alternate cover in a numbered slipcase and a professional 8x10" photo print, exclusively from photographer Frank White. Only 200 copies made! Click HERE
By Patrick Prince
Gaining ground amidst the New Wave of British Heavy Metal (NWOBHM) movement in the late '70s/early '80s, Def Leppard were as hard rocking as any other band at the time. Their first two albums, 1980's On Through the Night and 1981's High 'n' Dry, provided the proof. However, midstream they focused on a more commercially accessible sound. The change lost some of the band's early heavy metal followers but gained mainstream rock fans tenfold. Much of this paradigm shift can be credited to the guidance of producer Mutt Lange, but the real shine came from Def Leppard's songwriting.
It's easy to rattle off Def Leppard's accomplishments during the high point of their career. The 1983 album Pyromania was certified diamond in the U.S., and 1987's Hysteria became one of the bestselling albums of all time (over 25 million copies worldwide). There were four Top 10 U.S. singles on the Billboard Hot 100 — "Love Bites," "Pour Some Sugar on Me," "Hysteria" and "Armageddon It" — to top it off.
Tragedy struck Def Leppard with the sudden death of guitarist Steve Clark in 1991, but the band rebounded from grief with their next studio album, Adrenalize, reaching No. 1 in the U.S. in 1992. Even though their highest peak was between 1983-93, the band continued to make quality music and remain one of the world's bestselling music artists, having sold more than 100 million records worldwide.
As their star power continues to shine, Def Leppard have given the world assorted flavor with their latest tonic thanks to the longtime lineup of frontman Joe Elliott, guitarist Phil Collen, bassist Rick Savage, drummer Rick Allen and the last recruit, guitar-slinger Vivian Campbell, releasing the new album Diamond Star Halos, with the Leppard-branded, high-powered single "Kick" leading the charge. The release ends one of the band's longest gaps between studio albums (its predecessor, the eponymous Def Leppard, came out in 2015). Was there a seven-year itch? The first thing lead singer Elliot addressed was how excited the band are about this new studio record.
JOE ELLIOTT: Very. A big surprise, really. When we look back to how we all started out. We didn't set out to make an album, but pandemic offered us an opportunity to do one because there was literally nothing else we could do, except waste time, which is not really in our DNA. We were due on the road in 2020, in middle of June. So, rehearsals were gonna be in May. Everybody was coming to my studio in Ireland, 22nd of March. They were due in until all the flights were canceled and lockdown was announced. We had no idea how long lockdown was gonna last. Is it gonna be a week, two weeks or a month, two month, three months?
Once we realized that we couldn't actually get together, I got on the phone with Phil (Collen), who was in California. Within about 40 minutes of this phone call, we had tipped everything that we had onto the metaphorical table and said, OK, great, we've got seven songs that we could be working on until the pandemic clears. But it never cleared, so we kept working and we worked these seven songs, and me and Phil over the spring and summer of 2020 wrote five more. It was amongst this crazy time period that we were living through, where people are dying, people are getting sick, relatives can't go visit their relatives who are sick. It was awful. But we're not doctors or surgeons or scientists, so there's really not a great deal we can kind of commit to except to stay out the way. Stay safe and don't waste the time that you've got, you know?
So that was how it developed. But that initial first phone call that me and Phil had, I was like, "What you got?" He's like, "I've got that one song I played you in Vegas on a ukulele. (laughs) I probably laughed in Vegas, but I didn't laugh in March of 2020 because when he said ukulele, we're heading into like Zeppelin III territory or whatever, you know? But he said, "I've got this song called "Fire It Up" written with (songwriter) Sam Hollander, which he hadn't really written for us. He just wrote it as an exercise. Soon as I heard this song, I went, "Well, we're doing that." And I also begged him to dig out this guitar one he wrote in 2003 but it had never fit anything. I've been dying to sing that song since he wrote it. And then he said, "What have you got?" I said, "Well, I've written three, but I've written two of them on a piano. I kind of think that he might have gone along the lines of like, "Oh, that's really nice. What else you got?" But because we were giddy about this, like, "Oh, OK, I can get this, I can stay home now" kind of vibe, he went, "OK, cool." So I sent MP3s off to him, and he texted me back: "These are great songs, which is no reason why we can't do 'em." So instantly his four and my three were seven.
When we brought the rest of the band into this idea, Sav (Rick Savage) said, "I've kind of got two things cooking." So then, all right, that's nine. So it was more than a starting point. We had the basis of an entire album. Day one. All we had to do now is figure out how to do it. Now, we've done remote recording in the past. We've dabbled in it, but we've never done an entire album that way. But whether you dabble or you do an entire thing, it's the same process.
GM: The same process?
JE: You basically record your parts against a tape that somebody sent through as an email, as opposed to doing your parts against a tape that's on a machine in the room that you're in. It's actually the same thing. Our studio these days is a computer. So, Ronan (McHugh), our producer, said this is easy. It's no different than you guys all being in the same room. He says the advantages are that once he set up this amazing application called Bounce Boss (a secure audio collaboration platform), where all the songs go into a file and you just click on the song title and it opens up the session, everybody can do their bit. And then it all goes back to Ronan to glue it together; essentially, we can all be working on four or five different songs at the same time instead of everybody being at my studio. We could work on this album at our leisure. So you're talking 10 to 12 hours a week, we were working on this record, because once we got to the end of April/early May, we knew the tour was postponed. Now we're open-ended. We've got no record deal. We've got no delivery date. We're just gonna be artists. And see what we come up with.
And over the phone, over email — we didn't even Zoom — I never saw anybody for two and a quarter years, but we talked incessantly every day about what we were doing. Honestly, as bizarre as it sounds, it was brilliant. It was liberating to be able to use all this time. We were almost given this prison sentence. Yet, it was an open prison. We were allowed out. We were allowed to express ourselves and make the best of this really insane, very negative time period. We turned the half-empty glass into a half-full glass, took full advantage of all this time we had to expand our horizons, because working this way also opened up our minds to the possibility of ukuleles, pianos, Mike Garson and Alison Krauss. We wouldn't necessarily have gone that route had it worked out the way it should have gone. In that respect as much as it's tragic, that all the stuff that happened in lockdown happened, for us as a band, it was actually a very positive time period.
GM: You can't tell that the album was done remotely. It has a live energy.
JE: Totally. Yeah. It's as I said, we don't record the way that you'd see a Netflix movie about a band where everybody sets up in a room, play live and then the singer goes and does the vocal. We did that on On Through the Night. We did it on High 'n' Dry. We've never done it since. We go in and we do the basic drums and bass, then the guys go in and do guitars so they can have a nice sound. And we got used to working that way and got better records out of it. Working remotely is exactly the same, except instead of being four guys sitting around in the waiting room, playing pinball or watching the news while one guy does his bits, everybody got to do their bits whenever they wanted on whichever song they fancied that day. It was a 14-track album for about eight or nine weeks, I think, and we were done with it.
You know, we were hoping for it to come out in '21. It didn't. So we sat on it for a year, but while we were doing that sitting, Phil went back to working with different songwriters, just for fun. And then he called me one day and said, "I've just written a song with Dave Bassett," who he's worked with in the past. By then we had the album deal and they needed the delivery because in this day and age it's an eight-month wait for vinyl and all this kind stuff. But he says, "I've written this song with Dave; do you want to hear it?" I said, "Sure, send it over." And it was "Kick." And the first thing I said is like, "You gotta be kidding me. You can't give this to somebody else. You know, this is us." So I said, "Send it to the band, see what they all think." And it was Sav that went, "Holy sh*t, 'Sugar' anybody?" And that was a reference to the situation, not comparing two songs. "Sugar" was the last thing written for Hysteria and arguably the most important song of that album, if not our entire career. You know, it came right at the very end when nobody wanted a 12th song. But because we had this time, or we thought we did, we said, we gotta do this song, you know, so we did it. And then we started doing another song and that's when we had the deal in place by then — it's like, you've gotta deliver the record. OK, we'll save the 16th song for the next album. And this is how it was; it was like just making decisions on the fly and like just being excited by it. You know, it was amazing.
GM: Did you have time during the pandemic to dip into your own record collection? And I ask this because the title of the album, Diamond Star Halos, is a hat tip to T. Rex that's pulled from the lyric "Bang a Gong (Get It On)." Did you have time to absorb some of your influences?
JE: Well, actually, no. I did the exact opposite. A friend of mine in Canada, because he was furloughed and at home, he had about 2,000 vinyl albums that he spent the entire lockdown converting to MP3s. And at the end of the week, he'd say, "OK, who wants this?" I go, "I'll take it. I'll take it." So my record collection doubled in size, and I spent the last 18 months listening to stuff that I'd never heard first time around but was willing to listen to now. And about once every five albums, I would play Hunky Dory, Ziggy or The Hoople or Sheer Heart Attack or whatever, but the rest of the time I'm digging into stuff I've never heard — things that I'd just discover myself like the Von Hertzen Brothers or the new Ghost album. You know, just expanding my listening, my record collection, listen to just new things. I don't normally do that when we're working because you don't accidentally steal a melody from something that you're going, "Wow, that's really cool," and then you go and rewrite it yourself and end up in court like Ed Sheeran did, you know. (laughs) That's why I kind of tend not to do that, but different circumstances, I just had more time on my hands to do that kind of thing.
As for the album title — we were messing with various, different things, maybe pulling a line out of a song as an album title. And the line "hubcap diamond star halo" is our kind of go-to phrase for the time period of like '71-'74, when a lot of artists that really turned us onto music as kids, and I'm not talking the grown-up adult stuff like Zeppelin, The Beatles and the Stones, I'm talking Bowie, T. Rex, Mott, Queen, Sweet, Slade: the stuff that infiltrated the Top 40 charts but was still big, bombastic guitars, huge drums, massive football-terrace choruses and stuff like that, you know. These were enthralling things as a young teenager to listen to. And if anybody said, "Well, it's not exactly Bob Dylan, is it?" "You know, it's just come on feel the noise," we would always say. "Yeah, it's a bit more 'hubcap diamond star halo,' but that doesn't mean it's crap." And then when we were just on a phone call, and Phil said, "Oh f**k, why don't we just call it Diamond Star Halo." And there was total silence for about five or six seconds. And then everybody went, "Yes!" (laughs) And then I think maybe me or Sav suggested we pluralize it to halos. Yeah, and the album title was done, you know. It's a reference. I mean, the album is very steeped in '70s influences. It's probably the first album that we've made consciously, not kind of referencing ourselves so much as referencing everything that made us be who we are. The closest we've done to that before is the Yeah! album (2006), where we literally did cover other people's songs, so that they could maybe hear the influences like John Kongos' song "He's Gonna Step on You Again." It's got this like African kind of drumming intro. It's like, if anybody went, "Oh, that's where they got 'Rocket' from," we were going, "Well done. Well done." (laughs while clapping) Yes, it is where we got the idea of "Rocket" from, or that kind of thing. This time we just wrote those songs instead of covering them.
GM: If anything, some of the new album does come close to referencing other Def Leppard music, maybe I hear a lot of it in the riffs, riffs like those from the first two Def Leppard albums. Those really nice, strong riffs.
JE: Yeah, I think the Sav songs. Sav bookends this album. He had the last track, "From Here to Eternity" — (that) is entirely Sav, and "Take What You Want" was Sav musically, and I did all the lyrics and melodies and stuff. Those two definitely go a little old-school Leppard if you like or just old-school period. And I think the song "All We Need," which is smack bang in the middle of the album, is about the only thing that sounds like it could have sat on the Hysteria album. It's kind of like a hybrid of "Animal" and "Hysteria" itself, but the rest of the stuff, there's a quantum leap, that I've been doing the comparison with Rumours and Hotel California. They were quantum leaps for Fleetwood Mac and the Eagles, retrospectively. There was nothing wrong with what came before. I mean, I think the album before Hotel California was Their Greatest Hits, one of the biggest selling albums of all time. And then they came out with Hotel California, and it's like, "Wow!" And there was nothing wrong with the Jeremy Spencer/Peter Green (era of) Fleetwood Mac. But then you've got the booking of Mick's thing and one album and then all of a sudden Rumours — Boom! It's quantum leap!
I think what we've done here much later in our career, admittedly, 45 years into it, we've come up with an album that it's still us, but it's not the more of the same. There's enough classic Leppard with "Gimme a Kiss" that rocks. "All We Need," "SOS Emergency," "Fire It Up," "Kick" — (with those), people can go, "Oh yeah, I'm comfortable with this." But then we can go a little left field with "Lifeless," "This Guitar," "Angels," "Goodbye for Good," even "From Here to Eternity," which is essentially a murder ballad. They're just a bit different to anything that we've really done in the past. We may have done one song like that per album. We've done six or seven on this one. We didn't realize it at the time, but, you know, you have to look retrospectively over the last 18 months of this project. It just became apparent that it was the right thing to do. And considering that Pyromania and Hysteria are 39 and 35 years old, so is our audience and so are we. So we all think that they're ready to take this journey with us because we've all been on this journey, and we don't wanna necessarily repeat ourselves 100 percent. It suits some bands. I don't think I'd want to hear AC/DC doing an acoustic song with a piano in it. But with us, we've always been a bit more towards Queen when it comes to the diversity of our songwriting. We're just a bit more behind the eight ball when it comes to the time we did it in. It took Queen four albums, it took us 12. But I'd rather be the tortoise than the hare in this scenario because 45 years into our career, to do what is what we consider pretty much a career-defining record, is quite a statement to make and quite an achievement if I'm right, you know.
Everything about it was organic. Not forced, not, you know, "You guys should do this." We didn't have a deal. We made this record for ourselves, to see how it turned out. And we truly believe it turned out better than anybody's expectations could possibly have been on day one. Day one was giddy excitement at doing this, but it just kept getting better and better as the months rolled on.
GM: Well, one thing that speaks to your longevity is the fact that there's a timelessness to your music. You commented on your demographic, but younger generations are listening, like they would to Led Zeppelin or The Rolling Stones. And that's unique because not all bands have that. And you'll notice that high school kids will be listening to Def Leppard. They get turned on to it, not necessarily by their parents but by Spotify, you know what I mean? Spotify has recommendations, right? And they're like, "Wow!" And they listen to your music, they get turned on to it. So you see these kids wearing Def Leppard shirts. You must see it in your audience.
JE: Oh yeah. I've always been aware of the fact that this can happen if you try hard enough. I went to see the Stones in '89 on the Steel Wheels tour. It was great, you know, but as I kind of like to do, people watch, I'm wandering around going, "Look at this lot." Half the audience weren't born when Sticky Fingers came out, never mind the first album, you know. And then I see dad, son, grandson, and they're all singing "Miss You." You know, 8, 28, 58, and I'm thinking, I really hope this happens to us down the road. Different circumstances; there was no Spotify back then. So that was father to son to grandson sort of thing, you know? But I think Spotify, Apple… it doesn't matter which streaming service it is, (they) have all helped establish us as a cool legacy band, if you like.
You gotta remember: We were one of the longest holdouts. We didn't announce our digital deal until me and Neal Schon were doing the promo for the Journey stadium tour in 2018, in January. And then because in the past I would have to ring our management and say how many copies has blah, blah, blah sold? "Oh, I'll get back to you in two weeks" and then have to call somebody, and they'd have to go flicking through a filing cabinet, looking for a sheet of paper. Now you get, "Do you wanna know how many times you were streamed this morning in Venezuela?" We've got this instant information. And I was told the other day that we're almost 6 billion streams since January '18. I'm like, "Wow, this is insane!" You know, that's not Taylor Swift or Adele territory, but for us, that's pretty incredible, you know? And these things, again, they inspire you to just walk a little bit taller. And, also, you now realize that you're streaming so massively in South America, that you pretty much got the tour booked around where you stream. This was the information that was always guesswork in the past. Now it's the information highway.
And between streaming and social media, which you can pretty much tie together, hand in hand, we have this unique situation of having this perpetual vehicle. You don't wait now until Thursday lunchtime for the music mags to come out, which is what we used to do in the U.K. We had Record Mirror, Disc, NME, Sounds, and they'd all come out Thursday. And they'd all pretty much have the same information, but you'd have to flick through it to see who's on tour, what songs are being reviewed, and then put your order in to buy a copy of it. It's totally different, but it's just as exciting. I don't think it's as organic, but everything else, whether it's gaming or music or news, any kind of information, the fact that it's instant, it might get blasé. But at least you've only got two or three minutes to catch what you need to catch. You don't have to wait till 10 o'clock for the news at 10 to come on, find out what's going on in the world. You can sit on the loo, grab this, it's Sky News and see what's going on. (laughs). And so from a musical point of view, it's really helping all artists, I think, but I'm glad we held out because it made it give our back catalog a big bang when we finally announced it.
GM: One thing that Def Leppard has mastered is the combination of hard rock and melody. And one song that I can reference on the album is "SOS Emergency" because it defines that perfectly. I don't know if you agree or not.
JE: Well, yeah, I would because it's a hardcore guitar song in a pop sensibility for a …
GM: Dirty riff, a raw riff.
JE: Yeah. Great riff. I would say the same as well about "Gimme a Kiss" — that rocks because it's a humorous title. I wanted it to be like (Mick) Jagger. I wanted the song lyric to sound like Jagger looks in the "Start Me Up" video. He looks like he's having fun. You remember the video, with all them crammed tightly, and he's just doing what Jagger does, looking at the camera and just acting like, you know, like a kid. And I wanted the lyrics to have a Jagger-esque kind of vibe about it.
I think with "SOS Emergency," it's not really as fun a song, but it's got the bounce, it's got the beat, you know, and it's got the melody because as much as the guitar parts got a real heavy intro, when it comes down to the verse, Phil goes back into his kind of Andy Summers sort of jangle mood. And that gives me scope for melody. A lot of the songs that we do are based around four chords, not three, which actually opens the melody up to more than an extra 25 percent, really. But it gives you loads of scope and it was easy to work.
GM: Now one last question. You've mentioned the Stones several times. The Stones are on their 60th anniversary. Now you're coming upon your 50th anniversary.
JE: Forty-five this year. Give us a break, man. That's years away. (laughs)
GM: Soon. Five years go by fast.
JE: Yeah. It will go pretty quick.
GM: Can you see yourself with the Stones, being at this for 60 years?
JE: Right now — and you're not the first person to mention this — yes, I can. Because I stopped saying, "No, don't be so silly," about 1993. You got to remember that when we formed, The Beatles had only been split seven years. Zeppelin was still together. The Who was still the original four piece. Sweet was still going, you know. I mean, Slade was still going. Bolan had only been dead a year. Bowie was just coming out of his Berlin period. It was a totally different world. And all these artists that we were growing up with were just starting to disintegrate or split except for the Stones and The Who, but Bolan was dead. Bowie was no longer Ziggy. Sweet were about to implode. Punk had taken over. It was a different world.
We weren't thinking about it, we never sat down and discussed it, but when you get together as a band, the mentality, psychologically back then, was five to 10 years, because there was no 40-year-old band, right? There was no band in 1977 that formed in 1937. That's ridiculous. You know, that's before the war broke out. There was the old crooner. But Frank Sinatra can't split up. You know what I mean? Dean Martin or Sammy Davis Jr. The three of them can split, but individually they can go on for as long as they're alive. But with bands, it's a different kettle of fish, you know? So it was 1993 when we played Don Valley Stadium in Sheffield, our hometown, and we were almost 15 years to the day since we formed, we did this gig in front of 45,000 people in our hometown, all our parents and friends in the stands, beautiful summer's day, people we went to school with in the audience and walking out there and that life-flashing-before-your-eyes-before-you-die moment, it was a career flashing before my eyes, before I went, wow, I think we can do this for as long as we want to do this.
Irrelevant to the fact that grunge was just around the corner and age is just something everybody deals with. Bits keep falling off, but you keep sticking 'em back on and you march onto the next project, you know, retaining a sense of humor. (laughs) But I think in '93, I started thinking we could do this for as long as we want. And now you ask me that question, I would say, God willing with good health and enthusiasm — if we've still got the enthusiasm that we've got now and wouldn't dissipate so much over the next five or 10 years — we can do this for as long as we're capable. If we want to, oh yeah, we could do it. The Stones aren't made out of gold; they're human beings that we've put on a pedestal, and rightfully so. But at the end of the day, they sh*t, shave and shampoo just like everybody else. Yeah. And it could be us, it could be Duran Duran, it could be Depeche Mode, Iron Maiden, U2, you know, and there's the in-betweens, Aerosmith and AC/DC that are maybe nine, 10 years older than us. Whereas the Stones and (Paul) McCartney are 20 years older than us. It's an exciting journey because it's like nobody wants to know their death date, and you couldn't live your life normally knowing the day you were gonna die — it has to be open-ended. And so I think the same thing about our career. I say, if we are still enjoying it and can do what we've just done now in five, 10, 15 years time, why not? Ian Hunter is 82! And he's recording new material, recording new material right now.
GM: Thanks so much and all the best with the new album, Joe.
JE: By the way, just as a quick one: It's a COVID-free album you'll have noticed, too. We didn't want people to put this on, hopefully, in '25,' 26, '27 and go, "It's dated." It isn't all these references to needles and vaccines and lockdowns and isolation. No, this is the antidote to that. This is the cure, not the virus.
Get more Def Leppard vinyl and collectibles in the Goldmine shop!