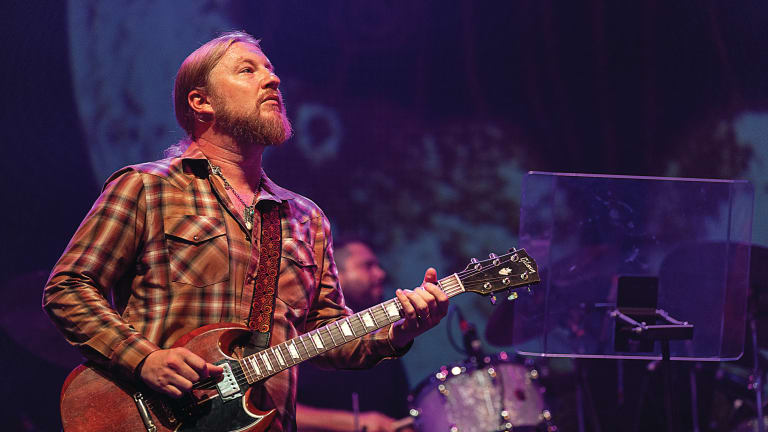 Derek Trucks of Tedeschi Trucks Band on finding the right way to release music, being a big 'Deadwood' fan, more
Tedeschi Trucks Band (TTB) found a way to create and deliver their 2022 epic 'I Am the Moon' in a way that best suited them. Guitarist Derek Truck elaborates.
Visit the Goldmine store — it is a music collector's one-stop shopping of vinyl, CDs, box sets, collectibles, collecting supplies, audio equipment, music history books and Goldmine-only exclusives. Click HERE!
By Ray Chelstowski
The break that the pandemic forced upon the world of music required artists of every genre to rethink their approach to recording and touring. This chaotic period also brought forward an overwhelming amount of creativity and a renewed sense of collaboration. There's perhaps no better expression of this than the four-part musical monument of rock, jazz, blues and folk that the Tedeschi Trucks Band (TTB) call I Am the Moon.
From a total of 24 tracks, the band began releasing singular multi-song "episodes." The first arrived in May, and the last dropped in August 2022. Together they create a remarkable narrative that was inspired by the 12th century Persian poet Nizami Ganjavi's "Layla and Majnun."
This poem also sits at the center of Eric Clapton and Jim Gordon's song "Layla." After a rousing performance of "Layla" at the Lockn' Festival with guitarist Trey Anastasio, TTB band member Mike Mattison approached the band with the idea of further exploring the song's meaning and perhaps even looking at the entire Romeo and Juliet-type story line from Layla's perspective.
The idea fell to the side until the pandemic put a stop to everyone's touring and band members returned to their respective homes. Mattison then approached Susan Tedeschi, Derek Trucks, new keyboardist Gabe Dixon and bassist Brandon Boone with a summary of the 80-page poem and asked everyone to reconsider his original idea. What began as a "book club" of sorts armed the band members with material that would fuel a creative process and result in what most are calling their most stunning work to date.
The "episodes" were each released with a companion video, shot by HBO Western drama Deadwood writer and filmmaker Alix Lambert. There the band and the Layla narrative are seamlessly presented. They provide the viewer with a perspective that casts a rare light on this extraordinary musical kinship and the age-old story they've illuminated in such a fabulously unique manner.
The process they undertook in making this record may forever shape not only their approach to the studio but how they take to the road. It was clearly a cathartic experience and seems to better ensure that this caliber of material is only the beginning of what's next for TTB and what's next has no foreseeable end.
Goldmine caught up with Derek Trucks and talked about how this process came together, how the band have evolved and continue to operate with such incredible unity, his memories of guitar great and mentor Johnny Winter, and what music he is listening to now for inspiration and balance.
GOLDMINE: You did the Lockn' Festival and played "Layla" with Trey. Is that really what triggered Mike to look more deeply into Nizami Ganjavi's poem "Layla & Majnun"?
DEREK TRUCKS: We were on the next tour, and Mike kind of off the cuff brought up the idea of looking at that record from Layla's perspective. We kept banging down the road and didn't really revisit that until we were about a month into COVID. He brought it up again as maybe something we all might want to think about while we were stuck at home. Whenever we start a new project, Mike tends to go at it pretty hard from a literary perspective, which isn't surprising. He was a Harvard English major and is a great writer. He tends to go in and out of that world, which allows him to think about things a little differently; which is lucky for us.
GM: This really was like a book club. How do you take the input of so many people and assemble it into one cohesive musical thought?
DT: Well, when we were first able to get together, we didn't even talk about Layla. We asked if anyone had any songs ideas and just started playing. We were also auditioning drummers, so we were in a number of different head spaces. Once about four or five songs were recorded we began to realize that this was that thing, and that everyone had taken this to heart. Then we kind of checked ourselves back into it. The thing we agreed on at the outset was that we weren't making a rock opera. We can keep going back to the well for the theme and for inspiration, but let's not try to storyboard this thing. Early on we talked about not even mentioning the concept when we put the music out. We thought about it in a lot of different ways in terms of how obvious or subtle we wanted to make it. Then as things went on, it became clear that everything was feeling both here and there — that the songs felt fully present and that this was a story that you know personally.
GM: How did you sequence track each chapter?
DT: That happened somewhat in the middle of the project. We were 16 tunes in and listening to the tracks with the band in the studio, and we realized that this was way too much material for one sitting. At some point you can lose focus on the impact of the songs. So at the end of each day, we started listing to smaller playlists that I had put together, and there was a certain sweet spot that we kept hitting. Late at night we would talk about how to release this. There was some thought about dumping it all at once, and we also talked about breaking it into two longer albums released six months apart. But that just didn't feel right, so we started thinking about the episodes, and doing that visually. I'd been listening to Love Supreme, and the record is broken up into movements. There is something about that that really struck home. It got me thinking about the classic story arc of the beginning, then the rising action, the falling action, and then the resolution. When we started thinking about it that way, I decided to ask a good friend who was in and out of a lot of the recordings (and is an educator like Mike) to take all of the material home and work out a sequence. He actually did go full board with note cards for each song with time signatures, and the emotional time set of the song, who the characters were in each song, the key signature, and did all of this with the four album titles in mind. He spent a good three weeks really digging into it, and when he brought the sequences back, we were in the studio working. We put episode one on and no one had anything to say other than "I love it!" His sequences were very thoughtful, and he did this whole writeup on why he sequenced it the way he did, which made us even more comfortable with his recommendation.
GM: Did current music streaming habits also impact your decision to release material with the four chapter approach?
DT: Certainly. I've been a bit disillusioned about the way records have been released for the last decade or so. It's almost like we're stuck between worlds. We're releasing records like they're still coming out on CD and that people are buying them that way. They're not. When you look at how people listen to albums on streaming platforms, they usually listen to the first two songs and move on. When I used to buy CDs in the store, for some reason it seemed like tracks six and seven were always my favorite tunes. You would build up to that section of the record, and today no one is even getting that far. So the way we released this was very much tied to how we could lead people to listen to these things as a piece of music. That led us to decide to not release any singles before the record comes out and air it for free with visuals. Then at least the hardcore fans will tune in and watch it on the premiere and hear the record as an entire thing, like you would at a show. That's the thing that I was after.
GM: How did you decide to make video part of the project and select filmmaker Alix Lambert to head things up? Are you Deadwood fans?
DT: It's funny; we are big Deadwood fans. (laughs) We actually know Alix through Mike. They met each other when he was living in Hungary right out of school. They were part of this punk artist community, so they had a really fun history. He thought we should check her stuff out because she works in a number of different disciplines. She's done documentaries, worked on screenplays, worked in different visual art mediums, and he thought she'd be good for this. After a few hangs with her and having watched a few of the things she had done, we realized that this was what we were looking for. We wanted it to be inside but outside. We didn't want it to guide the narrative too much but have the video put you in that in-between place. One of the things that really hit me and Sue when we watched one through four together was that we walked away like we knew the band; I felt everyone's personality. It felt like hanging on the bus on a good night off.
GM: Is this collaborative writing approach something you expect to take forward with future work?
DT: Midway through the summer tour, we had a band meeting to have everyone just check in. It's been a long hard two years, so what do we want to do for the next two? We talked about a one-year plan, a 10-year plan, and we agreed that we can't tour like we used to, doing 200 dates a year. We have families and we want a certain quality of life. Being home for the amount of time that we were did make us realize some things. I enjoyed being home and unpacking my suitcase and realizing there are some things that I still want to do. That led us to a discussion of maybe doing an on-year of 100-plus shows and then an off-year. Then Mike said, "It's not an off-year if you don't get to unpack your suitcase between tours." So we started to kick around this idea of working two years really hard and then taking a year off, or maybe just doing 15 shows in that off-year. That gives us the time to be creative and if we don't want to be, we won't. We really started thinking about that because of this record. It felt good, healthy and creative, and maybe this is something we need to impose on ourselves.
GM: You have a dozen people in the band, and you typically tour pretty heavily. How do you keep the band dynamic so healthy? Is it tied to how you recruit band members?
DT: That's certainly a big part of it. The other are lessons learned from bands that we were part of. The Allman Brothers have a crazy history, and I grew up with that. But we all have been around other bands and have an understanding of what can cause mayhem. Some of it back then was tied to the large amounts of money, drugs and ego. We have never had to contend with an instant and massive amount of fame, so that's on our side. But we have learned that you really do have to communicate and air things out. You have to hold band meetings where people can speak their minds. It's the same with a good marriage. You have to reinvent yourself and learn.
GM: You have had personnel changes, maybe the most significant being Gabe Dixon replacing Kofi Burbridge. It feels like he has brought a great new dimension to the band.
DT: I think in many ways that Gabe saved the day when he arrived. Kofi was the best in the world at what he did. He was just an animal. I've played with a lot of musicians in my lifetime, and he was one of the very few that you feel confident throwing around the term "genius." There was just this innate thing that he had where he was our "musical mind" where Mike is the "literary mind" of the band. When we lost him, we were wounded and unsure what to do. Gabe came in with such a different energy and was respectful of the chair. Being a singer-songwriter was a new addition and having another voice for Sue to sing with has been incredible. Lastly, the songs he wrote for this project are amazing; we named the project after one of them. So he has quickly become a cornerstone of the band.
GM: You are a big fan of jazz, especially of John Coltrane. I have heard you say that your slide playing feels a lot like singing. Do you think that's what draws you to jazz sax?
DT: There certainly an element of that, especially with the way he plays. There a clean quality to it. The way that he and people like John Gilmore and Wayne Shorter play effectively says: "Here is something I can't put into words but that I know you've all felt." Sometimes with Coltrane's playing, you can hear all of the angst of 1965. There's a thing that comes out of his horn that is really timeless. It's a summation of his heritage and culture. It also kicks the door down and is unapologetic. It changes the way you hear things moving forward. All of the best musicians can do that through their playing.
GM: Johnny Winter is someone who has had a big influence on you. How did it feel to participate in the Brother Johnny tribute, and what did he mean to you?
DT: I was really excited to be asked to participate in this one. For me as a slide player, I started with Duane and then got turned on to Johnny. He was really one of the very first guys that I modeled myself after. Then I got to meet and play with him when I was 11 or 12 years old. It was one of the first times I met one of my heroes. He was just over the top sweet and was always a bit of a champion for me, so I felt just grateful to be a part of that project.
GM: You have turned many fans onto Indian classical music. What are you listening to now?
DT: I don't know that there is anything now making that direct of an impact. I still go in and out of listening to straight-ahead records, a lot of the organ-driven stuff from the Impulse/Blue Note era. I've also been playing a lot from this great guitar player, Mel Brown. But lately I've been dipping back into western classical music. There's this great Leonard Bernstein 12-minute talk he does while playing the piano on how a great symphony is written. It really kind of cracked my head open to what's so great about certain composers and how elemental and simple some of the themes are. But also how incredibly intricate what they do with it is. The talk he gives is about a Beethoven piece and when you go back and listen to it you have a totally different take. Classical music can be pretty intimidating to come at because there are hundreds of years of it. When I first saw the video a few years ago, it got me thinking about how you play and write. There are real simple truths in there.
So when I'm home I've been listening to classical, and then Son House for balance! (laughs)
Get the special limited edition Allman Brothers Band collector's bundle (shown below), which includes Goldmine's Dec-Jan 2023 issue with alternate cover image, slipcase and custom autographed/numbered 'Lady Mushroom" art print by artist Ioannis. All imagery in the bundle is made up of historical Allman Brothers imagery by Ioannis. Find out more by clicking image below.