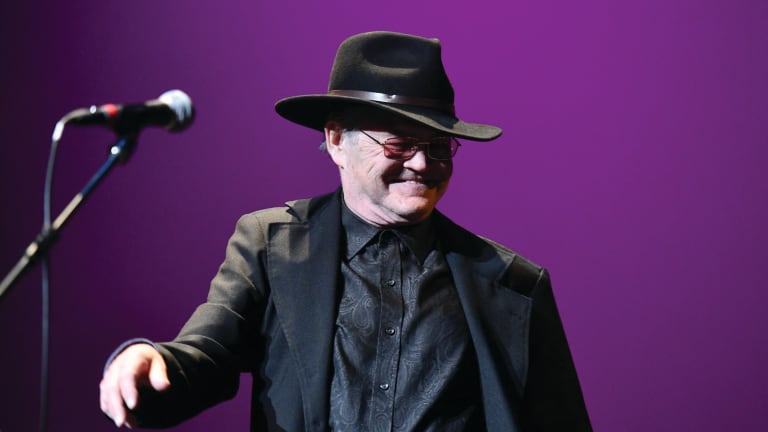 Dolenz sings Nesmith, and talks Monkees legacy
Micky Dolenz celebrates fellow Monkee Mike Nesmith with a tribute album and a tour filled with Monkees magic.
By Rush Evans
Just a few days before my telephone interview with Micky Dolenz of The Monkees, I happened to watch a 1966 episode of The Monkees television show called "Too Many Girls," in which bandmate Mike Nesmith can be seen rushing through a hillbilly song for a TV show appearance, doing so under the name Billy Roy Hodstetter, playing it poorly on purpose for laughs. I immediately recognized the song as "Different Drum," a Nesmith classic he would later record in his solo career and which became a hit for someone else entirely.
I told Dolenz that I had just seen this early version of Nesmith's famous song. "This was the first tune that Nesmith brought to the record producers when The Monkees started," said Dolenz. "He'd already written it. One of the first tunes he'd ever written. And he brought it in and played it, and we would've played it in that kind of hillbilly way for them on an acoustic guitar. They said, 'Well that's nice, thank you, but it's not a Monkees tune.' And he said wait a minute: 'I am one of The Monkees.' And they said, 'Yeah, fine, but it's not a Monkees tune.' So he said, 'OK.' There was this girl kickin' around town named Linda Ronstadt. He played it for her, and she said, 'Yeah, I'll do that with my band The Stone Poneys.' And, of course, the rest is history."
It's a history that's still unfolding as now, 55 years after Billy Roy Hodstetter stumbled awkwardly through a 30-second version of a then-unknown original song for comic effect, Nesmith's fellow Monkee Dolenz has recorded the song in a glorious new arrangement produced by Nesmith's son Christian for the new Dolenz Sings Nesmith album (below).
"Different Drum" completes a circle drawn from 1966 to 2021 for the last two Monkees standing, both of whom are keeping Monkees magic alive in tribute to the work that started with their two late bandmates, Davy Jones and Peter Tork. That initial rejection of "Different Drum" to become a part of The Monkees' canon is, according to Dolenz, "one of the reasons I wanted to do it." In his solo shows, his sister Coco Dolenz takes the lead vocal powerfully, but now his own version serves as the new album's centerpiece.
"It was one of those 'God, I hope we can get away with this' (moments), you know?" he said. "Christian did a great job, I mean it wasn't a total re-envision like making rap or something, but it had evolved."
Dolenz Sings Nesmith finds Micky Dolenz still at the top of his game, singing at age 76 just as beautifully as he did in his 20s, when he first started singing the songs we all know and love, like "Last Train to Clarksville," "Pleasant Valley Sunday," "I'm a Believer," "(I'm Not Your) Stepping Stone" and others. That's Dolenz's voice on those lines that introduced us to the band in the opening sequence of the zany rock group television show: "Here we come, walkin' down the street. We get the funniest looks from everyone we met. Hey hey, we're The Monkees, people say we monkey around, but we're too busy singin' to put anybody down."
Those lines gave us the spirit of The Monkees, the American answer to The Beatles, a fabricated group initially formed for a television show with accompanying albums, which, thanks to the inspired casting of the four young men, turned out to be a real live rock and roll band with great material, talent and endearing personality all its own.
The Monkees' creation had been a perfect example of unnatural selection (if you'll forgive the evolutionary analogy when talking about a group named for a species with whom humans share common ancestry). But a group they would become, an organic unit that worked, and they genuinely came to appreciate the talents of one another, as best exemplified by Dolenz's appreciation of Nesmith's songwriting and singing abilities.
Their tastes were similar, too, as Nesmith had come from the musical melting pot of Texas, just like Dolenz's mother, an Austin native. "That has a lot to do with it," said Dolenz of the Texas connection. "When Nez and I met on The Monkees show, and we would start practicing and singing songs, backstage and whenever, rehearsing, getting ready for our first tour, invariably, we'd be singing mostly Nesmith tunes, because he was the only one writing anything. So the earliest songs that I remember singing as a group were Nesmith tunes. Because of his Texas heritage and mine, we naturally fell into a kind of, well, I call it the Everly/Monkees, which is that classic two-part harmony, first and the third, singing those songs. So we had a beautiful blend right from the get-go."
Dolenz had never forgotten that special musical kinship he shared with Nesmith, and the influence of another brilliant friend who inspired the Dolenz Sings Nesmith album, whose title and cover art are an acknowledgement of that very friend, a departed genius named Harry Nilsson. In the cover painting, Dolenz is in the driver's seat of an old car with Nesmith in the backseat, much like the cover of Nilsson Sings Newman, in which Nilsson was at the wheel with songwriter Randy Newman in the back.
"Harry was probably my best friend in the late '60s, early '70s," said Dolenz. "We hung out a lot. He said, 'I'm gonna do this album Nilsson Sings Newman.' I was a huge fan of Randy, and I was around. I went to some of the sessions and hung out, and I always just kept it in my back pocket. When Nesmith, Peter and I got together after Davy passed to rehearse a (Monkees) reunion tour, I said to Nez, 'Hey, I'd like to do a Dolenz Sings Nesmith album, and he said, 'Well I like that idea, Micky!' 7A Records asked me a few years later, 'Do you have any ideas?' I said, 'Yeah, I'd like to do an album of Dolenz Sings Nesmith. I engaged a guy named Andrew Sandoval, and then we talked about producers, and then we gave Christian Nesmith the call and see how he felt about it, and there you are. I'm very proud of the album. So is Nez, by the way."
He should be. The entire record is a Sgt. Pepper-esque collection of power-pop gems with swirling original arrangements and new interpretations of songs both obscure and iconic (like the aforementioned "Different Drum"). Among the standout tracks are a most heartfelt rendition of the sweet piano-centric "Nine Times Blue," which gives way to the powerful and downright psychedelic "Little Red Rider."
Dolenz confirmed that Christian Nesmith was enormously important to the proceedings, "as any producer is," he said. "We talked about a couple of things. First of all, how difficult it could be to approach these songs. I've known them for decades, and Christian must've known them since he was in the crib, some of them. The initial concept was not to do cover versions of the songs, not to do karaoke cover versions. I didn't want to do that; nobody wanted to do that. So in a way it made it a little simpler, because the challenge was to find different grooves. I didn't listen to any of the original songs after we decided to do the project, and Christian didn't either. He said, 'I didn't even go back and listen.' We all knew them so well. And he just started movement. We came up with a long list and then a short list and everybody pitched in ideas and songs and Christian would come back with little sketches and noodles and doodles. And eventually we settled on a short list, mainly that Christian felt that he could pull it off, he could come up with interesting, not forced, but interesting ways of what I call reenvisioning these tunes. And it's tough, especially if the tune is extremely iconic and was a big hit or something."
I had to tell Dolenz that he was talking to one of his late best friend's greatest fans, as Nilsson is my favorite vocalist. Accordingly, I wanted to circle back from the three men most responsible for making this record to the one who inspired it in the first place. I had to tell him that I believed that no one could inject more raw emotion into a song than Nilsson, who did so with both technical skill and warmth. He was a unique talent, and I was now hearing that quality from Dolenz on this new album, which represents some of his best work in his long career.
"He had an enormous influence on me," said Dolenz of Nilsson. "There's an album I did a number of years ago, it's pretty obscure, called Remember, a collection of tunes that I did with a great producer named David Harris. Again, we reenvisioned a lot of tunes. In this case, it was tunes that were my evolution, that came from my childhood, that came from The Monkees and pre-Monkees and post-Monkees. I'm very proud of it. If you think there was Nilsson influence on this record, wait 'til you hear that! Harry had an enormous influence on me as a singer. I've carried it with me ever since."
He will carry Nilsson and Tork and Jones back onstage in the fall, as he and Nesmith take the show on the road one last time to celebrate the music that has defined their lives. This is the seventh configuration of the band's lineup, and Dolenz is the only one of the four to be part of each incarnation. This show is billed under the Monkee umbrella but not claiming to be the same thing that used to happen when Tork and Jones were still alive.
"It's the same show that we were doing, most of the dates were back East two years ago now, fall of 2019," he said of the tour that had already taken to the road before a certain global pandemic got in the way. "It's called The Monkees Present The Mike and Micky Show. When the agents and the fans said we want you to go on tour, we agreed we cannot go out as The Monkees, not like the two of us were The Monkees. That would've been really gross. To call it the Twokees or something. When we were doing The Monkees (television) show, Nez and I, we got along great in the comedy and in the singing, we would often joke about one day, 'Hey, the Mike and Micky Show.' This was back in the '60s. Somebody, I don't even remember who, came up with the idea of The Monkees Present The Mike and Micky Show. We were supposed to do the second leg, and of course, the sh*t hit the fan, and it was postponed three times, and now it's set to launch in the fall of this year. It's the same show essentially, The Mike and Micky Show. As usual, it's most of all the hits, with a lot of stuff weighted towards Nesmith, of course. It's very well received. There's a live album of the show, too."
The special relationship between Micky Dolenz and Mike Nesmith is captured beautifully on both the Dolenz Sings Nesmith album and on that Mike and Micky Show Live record from 2019. As meaningful as it is to talk about the musical connection between the last two Monkees left standing, I was still in awe of the fact that I was talking on the phone with, you know, a Monkee! I had to ask a very Monkees specific question, one about the time in which they found themselves with more creative control over their own product, the time in which they had grown into something deeper and more powerful than they had been allowed to be in the beginning. I had to ask about their masterful third album, Headquarters.
"It was a very different way of doing an album for us," he said, "because it was the first time they, I guess, gave us permission to go in the studio, just the four of us and just create this homegrown album. It was a wonderful experience; it was wonderful to do. It is one of my favorite albums, but having said that, I love all the early Monkees stuff, the stuff produced by Tommy Boyce and Bobby Hart and written by Carole King and Neil Diamond. But those songs are produced in a very different way. We didn't know each other that well, the four of us, of course, and they needed an awful lot of material for the TV show. But Headquarters, it stands out. We'd gotten off the road, we'd been to England, we'd met The Beatles, we were sh*t-hot as a band, we'd been playing hundreds of concerts. It does stand out to me, it does!"
Headquarters, like all Monkees music, was one of the defining soundtracks for the wild and glorious decade from which it first sprang and has resonated ever since. I had to ask him if he had any special specific memories of making Headquarters, to which Monkee Micky Dolenz answered, "I'm told I had a great time."