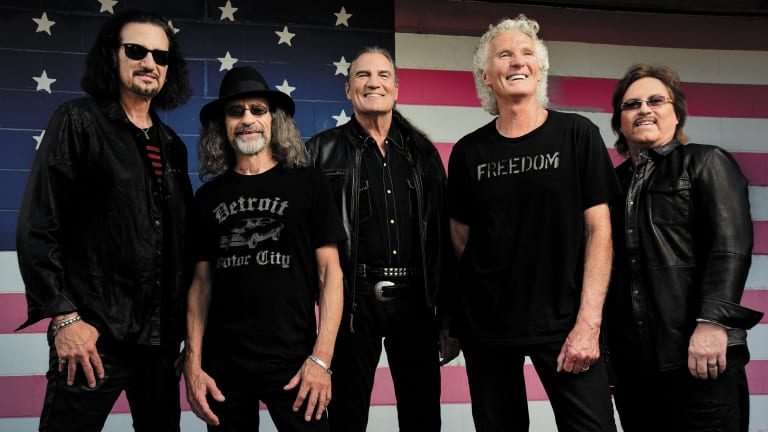 Don Brewer on Grand Funk Railroad's live sound, carrying the torch of classic rock, more
The respected rock drummer is proud of the GFR longevity and the wonderful thrill of still performing live
Get classic rock vinyl, collectibles and more in the Goldmine shop
By Ray Chelstowski
Grand Funk Railroad have been delivering their own brand of Michigan-made rock since 1969. It's a kind of music that has always delivered both muscle and melody. Their biggest hits not only continue to attract fans to their music but remain go-to songs that give weight and meaning to so many important/pivotal television, gaming, advertising and movie moments.
Who can imagine the film High Fidelity without the track "Get It Together"? Or the HBO series The Sopranos episode "Proshai, Livushka," which begins with "I'm Your Captain" playing when a firebomb is detonated in a garbage truck? Or "We're an American Band" in a General Motors TV commercial, or even the video game series Grand Theft Auto, which includes "Some Kind of Wonderful"?
Now that it's been more than 50 years since Grand Funk's show at New York's Shea Stadium sold out faster than The Beatles, the band get back in 2022 with the "Some Kind of Wonderful Tour," named in honor of their 1975 Billboard pop smash. The band's lineup for the tour should be familiar. They've been together now for almost 20 years and operate as a five-piece rock outfit. There's original founding members Don Brewer (vocals and drums) and Mel Schacher (bass). Then there's singer Max Carl, who hails from 38 Special, for whom he co-wrote and sang the band's biggest hit, "Second Chance." Lead guitarist Bruce Kulick is best known for his 12 years with KISS and has credits with Michael Bolton, Meat Loaf and Billy Squier. Keyboardist Tim Cashion, who has done stints with Bob Seger and Robert Palmer, rounds things out. Together they combine to create a sound as strong as the original trio, and the fans seem to agree.
Just prior to the pandemic, classic rock bands were out on the road performing as part of multiple bills and drawing large crowds. But even in that busy field, Grand Funk Railroad stood apart. GFR drew 25,000 people to their Molson Canal Series Concert outside Buffalo, New York, 20,000 in Albany, New York, and 20,000 fans to downtown Orlando, Florida. This kind of audience attention will only grow during the "Some Kind of Wonderful Tour," during which the band has been asked to join Kid Rock on his "Bad Reputation" tour as special guests across a handful of dates.
Goldmine had the opportunity to catch up with founding member Brewer about touring, the ongoing legacy of the band and their material, and who he sees as the artist(s) carrying that Flint, Michigan, rock flame further. The Goldmine staff were treated to Brewer knocking out a few bars of "Some Kind of Wonderful" over the phone — a rock icon, in great shape and voice, always excited to once again hit the road, engage his fans and commit to keeping the magic of the music he heard on the radio as a teen alive and electric.
GOLDMINE: Grand Funk Railroad and Kid Rock (aka DJ Bobby Shazam) musically share a common attitude and funk-driven sound. Do you think the connection has anything to do with the fact that you're both from southern Michigan?
DON BREWER: You know, it probably is. And you know Bob is from an area that's near to us. He's not very far from Flint. We were kind of "outsiders" when we came up with the rest of the whole Detroit music scene. And you know, I think Bob is a little bit of an outsider as well (chuckles).
GM: Your tour was locked in before the addition of the Kid Rock dates, correct?
DB: Yeah, I got a call from Rick Franks at Live Nation saying that Bob had reached out to see if we might be interested in some of the dates on his tour. We said "Sure!" We did a date with him up in Mount Pleasant, which isn't all that far from here; it's actually where my mother was born. That was back in August (2021), and it went really well. So I think that's what led to all of this.
GM: What can people look forward to most with this tour?
DB: Well, doing dates with Kid Rock is one! About 40 to 45 shows this year, which is a good year for us. We don't like to overdo it. Some bands are out there doing 80 or 90 shows. That's just too much for us. We all like to go home every week rather than just getting on a bus and going out there for an entire stretch. 
GM: Your tour schedule is pretty tight with some three-day groupings. How do you prepare for a tour like this, both physically and vocally?
DB: At 73 years old, I do everything I can (laughs). You know, I walk three to four miles every day and go to the gym every night. I stretch before I go onstage. I do everything I can to keep the machine going. The nice thing is that we've been playing together for 23 years, pretty much with this same band. We have a regular routine and that's good. Vocally? When it comes to playing drums and singing at the same time, I'm fortunate that I learned how to do both at the same time. If I had learned how to play drums and did that for 10 years and then had someone ask me to sing as well, I don't think that I would have been able to do it. I've always been a singing drummer. I remember singing Rolling Stones and Beatles songs when I was just a kid. As I was playing along I'd actually stand up behind the drums with a microphone between my legs. I'd literally be singing and playing standing up. That's fun.
GM: Guitarist Bruce Kulick has had a remarkable career supporting everyone from Michael Bolton to KISS. What was it about him that told you that he was right for Grand Funk?
DB: He even had a disco band before this! Well, I went through the whole Michael Bolton thing with Bruce. That's where I first met him. For many years, I played as the tour drummer with Bob Seger and the Silver Bullet Band. On one of the tours back in the 1980s, Michael Bolton was the opening act. Michael had first broken into the rock scene and had a sort of bubbling-under hit at that time, and Bruce was his guitar player. That's when I realized that he's not just a one-dimensional guitar player. A lot of guys are. Bruce is well-rounded. He can play anything and play it well. Number one, he was the guy I went after because I knew him. I also knew he was great. When he became available, that was it.
GM: Speaking of drumming with big acts like Bob Seger, is there a freedom to not always having to be the boss?
DB: I had a great relationship with Bob Seger. I was like a second member of that band, coming and going, off and on. I've known all of those guys for so many years that they were like my second family.
It's a whole different thing playing for someone else. You're putting yourself into a whole different situation where you're working for someone else, putting aside the fact that you're a band leader, which I've always been. You understand that you are "second fiddle," and that's OK. I can play that role as well. It's kind of nice because I know how I want guys to work with me, so I can take that understanding and recognize moments where Bob would probably prefer that I keep my mouth shut and just do what he thinks is best. It was a great relationship. It really was.
GM: Lead singer Max Carl has one of the best voices in rock. Carl's song "Second Chance" is a platform that really shows off his great tone and control. How does his voice match up with your material?
DB: Actually, we do a version of "Second Chance" in the show. It's a way of introducing Max. At the end of the song, I tell the audience, "This is Max Carl, who wrote and sang that great hit." Max is probably one of the last blue-eyed soul singers on the planet. He's just an incredible talent. He has this love of rock and R&B, and that's really what Grand Funk is. We grew up in Flint and just loved R&B music, and this is where "Some Kind of Wonderful" came from. We first heard the Soul Brothers Six version on the local radio station WAMM. Later on we did a cover of the song because that was always our love. But you hook it, pump it up on steroids, and that's Grand Funk.
GM: How do you pick covers? What needs to be there for it to be "Grand Funk appropriate"?
DB: It's kind of a happenstance thing. We came up with doing "Locomotion" because we were in the studio and needed another song. We were throwing ideas around and someone put this on the table. We all started singing it, and were like "Yeah!" It's such a silly idea: Grand Funk Railroad doing "The Locomotion," but we thought it just might work. We had Todd Rundgren in the studio with us, and he worked his magic on the production, and it became the version everyone knows. As I said with "Some Kind of Wonderful," we grew up listening to the original. Then when we were out on the road with Grand Funk, we would do that song in the back of a car, singing a cappella, going from the hotel to the venue. It was kind of our warm-up, our crank-up. One day our manager heard us sing it, everybody clapping and singing the chorus, and told us that we should record it. Well, yeah we did. When it came to covers, we would always pick songs we loved. We did a cover of "Feelin' Alright," "Gimme Shelter" by The Rolling Stones. It isn't like we go looking for songs. It's more like an idea pops up in your head or you heard an idea and know that is just great.
GM: As you look at the history leading up to GFR, do you ever think that it's ironic that former member (of Flint, Michigan's Terry Knight and the Pack) Curt Johnson would get drafted and be replaced by Mark Farner, someone who ended up writing many of GFR's best-known songs?
DB: Oh, absolutely. And would we have ever made it without Terry Knight? No! It's just the way life goes sometimes. But sometimes things happen for a reason. As with Terry Knight taking all of our money and suing us. In the end it all worked out. It drove us get to the next hurdle, which was overcoming underground FM radio going away and pop radio coming in to take its place. We had to come up with hit records, and we did. It was the only way we could have made that transition.
GM: Are there any artists coming up that have caught your ear?
DB: I'm very disappointed in new bands and artists. Nothing seems to tip the meter, like when The Beatles or Elvis came along. When rap came in, everything went into a freeze, and there hasn't really been a lot of creativity over the last 20 years. Instead it sounds like a lot of rehash. I've heard some writers say that "Well, the best music has already been created, so you can't make great music anymore." I don't buy that. But I don't know what it's going to take to turn things around. I really miss coming across a new song, band or artist that makes you go "Whoa!" where the music hits you in both the head and the heart. I haven't heard that in a long time.
GM: It certainly seems like radio has let rock down. It's almost impossible to discover any new music anywhere on the dial.
DB: My wife was in radio for over 20 years, and she was able to enjoy the best of it. But it started to change as corporate guys and consultants came in and started to tell them what to play. They started to give DJs liners where you can't say anything other than what was given to you. It got to the point where they didn't even want you to come into the studio. They'd prefer you just stay to record the liners. You didn't even need to be on the air. We'll just have a guy at the station load it in. That just made everything totally homogenized and I'm not sure why but the audience didn't revolt. So there you go.
GM: There's an infamous series of promotional photos from the 1970s of Grand Funk Railroad sitting in a hay loft, naked. What was it about that time where so many bands thought that pictures like these were a good idea?
DB: Yeah, it was a publicist or photographer's idea. We did a session with the great photographer Norman Seeff, and he shot us like that. It was daring then. It's not daring at all anymore (laughs). That's how we came up with our name, Grand Funk Railroad. Back then everyone thought you were saying something other than "Funk." It would be like "What? What's the name of your band?" That doesn't make anyone upset any more. It's gotten so much worse now. Think about how far people have to go today to get that meter to tip.
GM: Is there any new material that you have been sitting on that the band would love to get to market and in your fans' hands?
DB: We still mess around with new stuff. And over the course of the past 20 years, we have had a lot of songs that have come and gone in the show. We work them in and try things out. We still have some things that have never been recorded in the studio, and they go over well. There's one song called "Sky High" and another one called "Lightning and Thunder" that we still enjoy bringing to people live. To go into the studio and record, you have to ask yourself, "Who is going to listen to it?" The answer too often is "We will."
GM: The band has had a remarkable run, left an enormous impact on pop culture, and you sound in great voice. How long do you intend to keep "the funk on the rails"?
DB: I'm gonna go as long as I can. I've always said that when my daughter and wife tell me to get off the stage because I'm making a fool of myself, then I'll quit.