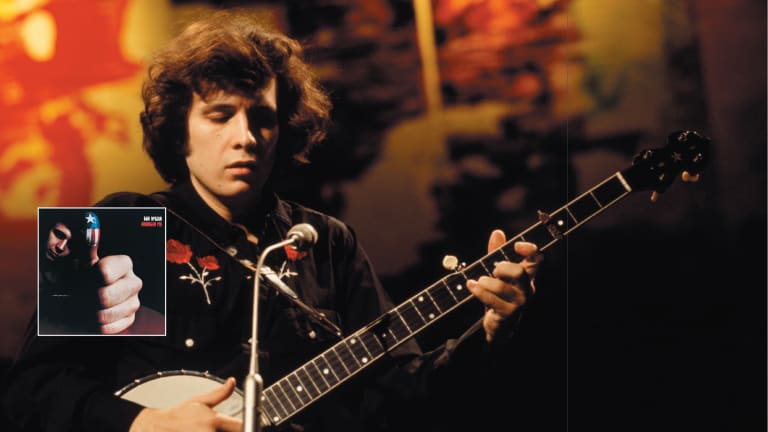 Don McLean on "American Pie" after 50
Singer-songwriter Don McLean's magnum opus, "American Pie," has been covered by many major recording artists, the subject of numerous college theses and provided fodder for music writers for 50 years. Unlike some artists who tire of talking about their most popular song, McLean still beams with pride when he is asked about how he came to write a masterpiece.
By Thom Jennings 
All Don McLean ever wanted to do was write songs, travel, sing and make records. Before he realized his dream, he was a young newspaper boy in Westchester County, New York. Little did McLean realize his part-time job slinging papers would provide the inspiration for a song that would define his career and solidify a dead musician's legacy.
McLean's magnum opus, "American Pie," has been covered by major recording artists, the subject of numerous college theses and provided fodder for music writers for 50 years. Unlike some artists who tire of talking about their most popular song, McLean still beams with pride when he is asked about how he came to write a masterpiece.
While this interview may not disclose anything revelatory, it is a fascinating tale filled with colorful characters, the most colorful being McLean himself. The interview lasted an hour, but it still seems like it barely scratched the surface.
The story begins a long, long time ago, on that newspaper route.
"In those days in 1959," McLean began. "Buddy was 22 years old and Ritchie Valens was 17; I don't know how old The Big Bopper was — in his late 20s, I think.
"Each town in Westchester had its own newspaper. There was The Standard-Star, which I delivered. Every little thing was in The Standard-Star. When the event occurred on February 3, 1959, it was picked up from the wire services and was a pretty dry column.
"I might be wrong, but I don't recall any pictures. It just said, 'Three Stars Killed in Plane Crash.' I don't think they even mentioned the names. I couldn't believe it. In a way, Ritchie Valens was bigger than Buddy Holly at the time because I remember in junior high school everyone was singing 'Donna' and 'La Bamba.' Buddy had faded a bit; his hits were in 1957. He was the best musician on earth, but you know how kids are with hit records, so I remember hearing 'Donna' all the time."
McLean's recollections are accurate. Many newspapers throughout the country mentioned Valens first, because he had two songs in the Top 40 at the time of the plane crash.
"America is so different now; back in those days we didn't dwell on death. If someone died, we buried them, and everyone moved on."
Not everyone moved on. Holly's death had a profound impact on McLean, one that he never forgot. McLean tried to learn everything he could about Buddy Holly, and when he had an opportunity to speak to someone who knew Holly, he seized the moment.
"Nobody had ever written a book about Buddy Holly," McLean noted. "When I was working on my first album, Tapestry, with Pete Seeger, who was really nice to you if he liked you, and he was very good to me, Seeger took me and a bunch of guys to the Newport Folk Festival.
"It was the weekend that man landed on the moon, and there were so many people making their debut. There was James Taylor, Van Morrison and Kris Kristofferson and Joni Mitchell. There are probably 20 more that I forgot, but The Everly Brothers were the stars.
"Everybody had an Everly Brothers record when I was growing up. Where I grew up, they were more popular than Elvis, because Elvis was a little dangerous and a little greasy, and the Everly Brothers were more clean-cut.
"I walked up and they looked so cool. I looked at Don and then decided to talk to Phil because he looked friendlier. I knew Phil was friends with Buddy Holly, so I asked him what happened? Phil was really nice to me. Phil said, 'He went ahead to do his laundry.' All of a sudden all of those pieces of information came rushing back.
"I was thinking about Buddy and how human he was. I never realized that by taking that plane, he only gained about six hours, so he could do his laundry. It wasn't like he was going to get an extra day off."
Holly didn't live long enough to do his laundry or to perform again. Most people don't realize that even though the tour lost three of their biggest stars, the tour didn't cancel a single date, bringing in Bobby Vee as the new headliner.
"The tour didn't miss a beat. It reminded me of a time when I was booked at Ontario Place in 1981 shortly after Harry Chapin died. They couldn't get Chapin so they got Don McLean. It's cold, man."
Not long after McLean's conversation with Everly, the initial lyrics to "American Pie" materialized.
"I had just finished recording the Tapestry album, and I had this little tape recorder and sang the first verse, right up to 'the day the music died.' It was like a genie coming out of a bottle. I turned the tape recorder off and thought, 'What the heck was that?'
"I made it up as I was going along. I didn't know what to do with it at the time, but I knew it was special. I didn't want another ballad on the record because it already had too many ballads. So a couple of months later I came up with the chorus, and three months later I wrote the verses. Took me about two hours. They were all set to the same melody, and the last verse was slowed down like the first verse, and then it was done. That is my talent; that is why I am what I am. It is certainly not predictable or dependable, but from time to time I write these songs."
In 2015, McLean sold the song's original manuscript, which only added to the song's mystique and speculation about a lost verse or some other revelation.
"If you see it, it was all bull," McLean said. "There were some other dumb ideas and there were a lot of changes."
Seeger is an important part of the story behind "American Pie." "Seeger was funny, I remember him so well because he was not only very forthcoming, he was very funny. He didn't hide anything from me.
"Seeger told me he did some research on my family, and one night it was late, and we were hanging out and he said, 'You know, Don, your mother comes from a place where all the prettiest melodies come from, and your father comes from Scotland in a place where all the Scottish poets come from.'
"He's going back and looking at me like his father (Charles Seeger, Pete's father, was a musicologist and Yale professor) would look at me, a sociological amalgam of some kind. I thought it was hilarious and interesting. Take a listen to a song called 'Ain't She a Honey' from the album Botanical Gardens. One of the neatest songs I ever wrote. I have no idea where it came from. It's sexy and it's cute. It was just one of those things, it just happens."
Eventually, the topic changes to interpretation, a topic McLean is used to addressing, especially the burning question about whether Bob Dylan is the inspiration for the jester.
"If I had wanted to say Dylan was the jester, I would have said his name, and if the king was Elvis, I would have said Elvis. Only Jesus had a thorny crown, so I meant these things to be open-ended because it was a dream. That's the idea of the song, it's always morphing.
"I mention James Dean by name, so it's not like I didn't want to mention names."
McLean never mentions Buddy Holly by name, either. Nevertheless, he thinks it is a waste of time to overanalyze the song's iconic lyrics for some hidden or deeper meaning.
"It's a mistake to do that with the song. When you see this movie that is coming out next year about the making of the song, it goes everywhere; it goes to the drugstore where I wrote the chorus, the house where I wrote the rest of the lyrics, the music store that I said was the sacred store in the song on Main Street in New Rochelle. It will shed a lot of light on a lot of things."
What is clear when you talk to McLean, is the song's impact on the career of his musical idol, Buddy Holly.
"I got a letter from John Goldrosen, I found it the other day. He said that when he wrote his book about Buddy Holly, nobody was interested in a book about a dead rock star until after the song came out, and that is what elevated Buddy to the status he deserved. He probably would have anyway because of Paul McCartney or something, but it happened because of 'American Pie.'
"I met both of his brothers; he had one named Larry and another named Travis. They were both involved in the Holley Tile Company (Buddy's stage name was spelled differently) and Buddy would have either been picking cotton or laying tile in Lubbock if he wasn't a musician.
"Larry was a nice guy, but he always liked to hold court. Travis looked like Buddy but was more shy and reticent. I have several letters from him.
"Travis was at a thing we did in 1979 or 1980, and he told me he wanted to shake my hand and told me he was driving in his truck, heard 'American Pie' and he pulled over to the side of the road and jumped for joy.
"You have no idea how wonderful it made me feel," McLean said.
McLean and Holly's legacy will be forever entwined. It is a huge source of pride for McLean and lends insight to what makes "American Pie" so special. At its core, it's a song about the relationship between Holly and McLean, a fan and artist relationship any music lover can appreciate. "I brought Buddy back to life, and he brought me back to life."
The song has been covered by many artists. The first major artist to cover the song was McLean's onetime mentor Seeger.
"Pete Seeger was a wonderful man, and people think of him as saintly, but he was pretty jealous. I went from a kid who wrote him to an international sensation. All these young kids were getting airplay and he had a good deal with Columbia Records, but he couldn't get arrested, so he kind of tried to palm the song, but he couldn't sing it, so he gave up."
Then there was Madonna, who covered the song in 2000.
"She made a movie called The Next Best Thing. When it came out it had my version, a version of a bunch of people singing it, and Madonna recorded two different versions of it and released it a single.
"It's her own thing; she is as great as Elvis or Frank Sinatra. The video is one of her most memorable things, and the song hit No. 1 (in many countries). It was like Christmas and all of a sudden there are thousands of young girls in the audience, and I am signing bras again like it was 1972."
When asked about returning the favor and covering a Madonna song. McLean let out a huge laugh.
"That would be funny, maybe 'Papa Don't Preach' or 'Like a Virgin.' That's not a bad idea."
McLean wraps up his discussion about the song and its milestone anniversary by mentioning its placement in Marvel's Black Widow movie and the children's book inspired by the song coming out this year.
Does he ever tire of performing the song live?
"I don't perform in theaters to disappoint the audience," McLean said. "It's my job to entertain the audience. I'll go out and sing those songs and some new songs. I like to give them what they want."
And with that we said bye-bye to Mr. American Pie.
Your image can be drawn into art within Bill Bricker's AmPie50 collage, celebrating 50 years of "American Pie." For more info, click here