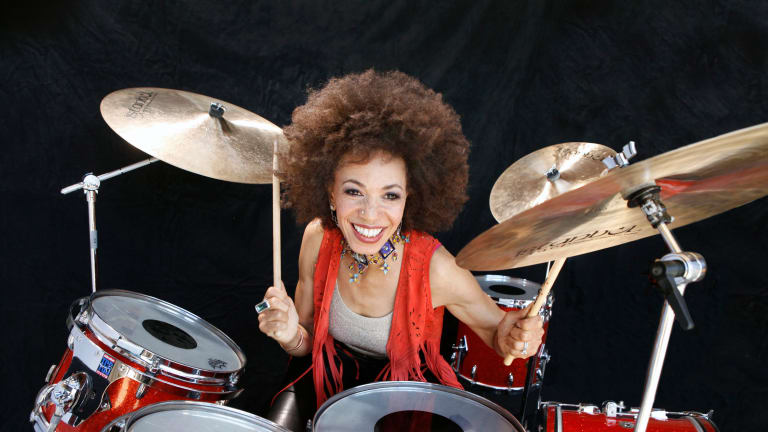 Drummer Cindy Blackman Santana steps up with solo album
Drummer Cindy Blackman Santana steps up to the microphone on her new solo album, featuring her famous husband, Carlos Santana, and other big-name guitarists.
By Chris M. Junior
Her last solo album was titled Another Lifetime, and given all that drummer Cindy Blackman Santana has gone through since its release, it sure seems like a lifetime — not a mere decade — has passed.
Over the past 10 years, she continued to broaden her musical horizons and lived through life's joys (among them her December 2010 marriage to Rock and Roll Hall of Famer Carlos Santana), its disappointments and everyday encounters. And in one way or another, these myriad experiences played a role in the music that appears on her latest solo effort, Give the Drummer Some, which arrived in September.
"I consider myself to be a perpetual student of music and life, so I'm always trying to learn something new and add something different," says Blackman Santana, who turns 61 this month. "Those elements went into (my new album) as well. And all of the elements of what is happening socially are in there — what's happening at the moment those songs are created. … When you're living in the moment and you're experiencing all that's happening on the planet, those influences naturally come in because you're being honest."
'GENTLY GUIDING THE SITUATION'
Cindy Blackman was a seasoned drummer with credits that included leading her own bands and supporting jazz trumpeter Wallace Roney, among other artists, when circa 1993 she landed what would become a longtime gig in Lenny Kravitz's backing group. (That's her wearing sunglasses and pounding away in the official video for "Are You Gonna Go My Way," but she doesn't actually play on that track.) She first played with Santana in spring 2010 and has since become the band's regular touring drummer.
Whether she's the drummer in someone else's band or the drummer who is in charge of a band, Blackman Santana says she always takes ownership of her role.
"I'm going to put every single ounce of my being into every note and every space that I'm playing to make that music come out the best I can possibly make it," she says. "But on the other side of that in terms of being the leader, I'm overseeing everything in a whole other perspective. I want people to explore and to create and feel free to take liberties, and yet at the same time, I want the vision that I have in mind to unfold as well."
She adds, "Sometimes it's just a matter of gently guiding the situation so that it stays in the realm you want it to stay in, but still being able to give the freedom that the music deserves and that the great musicians I've chosen deserve as well."
SINGING HER PRAISES
Among the notable aspects of Blackman Santana's Give the Drummer Some is the amount of singing she does. Her husband deserves some credit for that.
"When Carlos and I got married, he saw my habit, which is any time I play music — especially music that I really love — I sing all the parts," Blackman Santana explains. "My favorite band is the Miles Davis band of the 1960s. So when I play that music, I just naturally sing the parts: sing the melodies, sing the solos, sing the drum stuff, sing the bass lines, sing the piano punches. When he heard me do that, he was like, 'Cindy, you need to sing.' And he kept saying it."
The motivation to do so escalated a few years ago when Blackman Santana brought a song she wrote called "I Remember" to the sessions for what became Power of Peace, the album she and her husband made with The Isley Brothers. She wasn't supposed to sing on the song, but she did, and it caught the ear of producer Narada Michael Walden.
"Narada told me that he wanted to produce me," she says. "And I was like, 'You can't produce me. I'm not a singer.' And he said, 'Oh, trust me: I can produce you, and I want to.' … Coincidentally, Carlos had already said, 'You should hook up with Narada.' "
After completing a track called "Fun Party Splash" with Walden, Blackman Santana hired a vocal coach.
"I wanted to make sure I was singing properly and wasn't going to hurt myself," she says. "I needed to know how to project my voice; I wanted to learn how to make sure I was in pitch. All those things that singers need to know, I didn't know any of that. I wanted somebody to teach me something."
She spent a few months working with her vocal coach, who at one time taught at Boston's Berklee College of Music, which Blackman Santana had attended. No matter where she was in the world — at home in the San Francisco area, on tour or even in her car — Blackman Santana would connect with her coach on Skype and do vocal exercises.
GUITAR GREATS GALORE
Four notable, distinct guitarists appear on Give the Drummer Some, and Blackman Santana says getting her husband to be among them was "very smooth."
She says, "I asked him if he'd be interested in playing on it, and he said, 'Yeah.' So when he said he wanted to play on it initially, we never talked again: We never talked about how many songs or what kind of involvement. I would have been happy if he played on one."
After showing songs to him, "he liked this one and he liked that one," Blackman Santana says, and Carlos ended up on eight tracks.
It was equally as smooth for her to recruit Vernon Reid, John McLaughlin and Kirk Hammett.
"Vernon and I had already talked about him being on my next project, whenever that project happened," says Blackman Santana, who played with Reid, Jack Bruce and John Medeski in the supergroup Spectrum Road. "We already knew that was a yes; we just had to figure out the scheduling."
Bassist Matt Garrison previously played with McLaughlin, and after Blackman Santana and Garrison finished their parts for the instrumental "We Came to Play," something clicked with her.
"I said, 'This sounds like it's for John McLaughlin. Matt, what do you think?' " Blackman Santana recalls. "And he said, 'Heck yeah.' I sent (the track) to him and fortunately he said yes." After that, McLaughlin contacted her several times about playing on another track, and he would do so on "Superbad."
Initially, Blackman Santana thought Hammett might not be interested in recording with her "because it's so different from Metallica."
"But to his credit as a musician and to his credit for having big ears, he was all for it," says Blackman Santana. "I sent him this track 'Evolution Revolution' that Vernon was already on and asked if wanted to join in, and he said yes. It was a beautiful, wonderful surprise."
Asked how much guidance she needed to provide these guitarists, she says, "Barely any."
"You're talking about four of the most supreme guitar players who have ever picked up a guitar," Blackman Santana explains. "What am I going to say to those guys except, 'Here's the track. What are you hearing?' "
INSPIRED BY LENNON AND PRINCE
When asked by Walden if she wanted to include a cover song on Give the Drummer Some, Blackman Santana picked John Lennon's "Imagine." But a faithful, straight-ahead rendition was the furthest thing from her mind: She wanted to do a rock-funk version.
With that, Walden mentioned Lenny Kravitz's take on The Guess Who's "American Woman" and suggested using the Kravitz version as "our base vibe."
"(Walden) put together this arrangement, and I laid the drum track down the way I would play that vibe," Blackman Santana says. "I obviously changed the feel and delivery of some of the vocals, trying to stick with the sweetness with which John Lennon delivered the song, but kind of making it funky. And then Carlos came in and smoked that guitar, so it just added this whole new fresh vibe to it."
The original song "I Need a Drummer" has strong ties to another music legend.
"I was in the studio with Narada, and he has this beautiful picture of Prince in there," says Blackman Santana. "I commented on the photo, then we started telling Prince stories."
One of her tales was about the time when she and the rest of Kravitz's band, while on tour, stopped by Prince's Paisley Park complex in Minnesota to say hello. A jam session ensued, with Prince on organ and in clear sight of Blackman Santana behind the drum kit.
"He started playing, and then he kept looking over at me and saying, 'I need a drummer,' " she remembers. "And I thought everybody heard it."
For a long time, Blackman Santana says she never brought up the story to anybody. Years later, she asked Kravitz bassist Jack Daley if he remembered the jam with Prince and hearing the star sing "I need a drummer."
It turns out Daley didn't recall the latter, and that part of the story didn't seem to matter at all to Walden, who told Blackman Santana she needed to write a song called "I Need a Drummer."
"But that's not a song that I would write. I don't need a drummer, I am a drummer," she remembers thinking at the time and subsequently conveying that feeling to Walden. That didn't matter to him, either: It was something she heard and experienced, so she should write about it, he explained. In the end, she did use the words Prince said as the title but traveled a different road for the remainder of the feel-good lyrics.
Give the Drummer Some has 17 songs, and Blackman Santana is hard pressed at first to single out one that she's proud of above all the rest. Then after a minute, she reconsiders.
"If I had to pick one, I'm really proud of 'Imagine,' " says Blackman Santana. She loves the message and, given the social unrest that's taken place in America this year, her version makes for "a very timely renewal of that song."