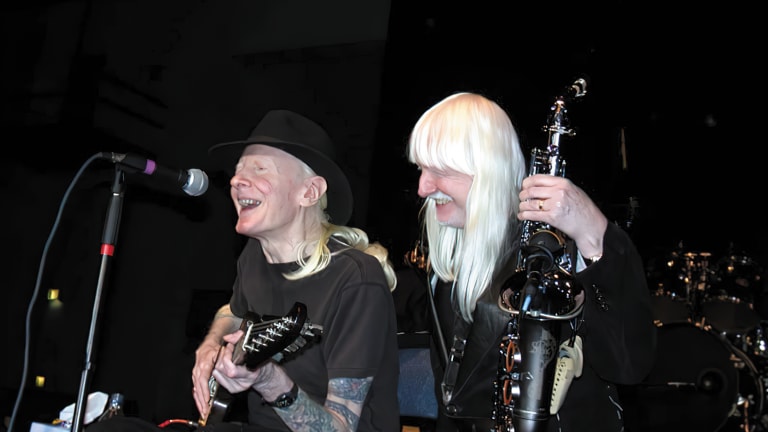 Edgar Winter talks about tribute record to his late brother Johnny, and more
As far back as Edgar Winter can remember, his brother Johnny wanted to be in the limelight. Edgar's tribute record is a salute to his brother's wonderful legacy.
Get Classic Rock vinyl, collectibles and more in the Goldmine shop
By Rush Evans
In the beginning, they were brothers — just two brothers born in the 1940s in the Southeast Texas town of Beaumont. They looked different from the other kids, both with severely pale skin and strikingly blond hair. Visual impairment is also a byproduct of the congenital condition known as albinism, and when vision is diminished, hearing is enhanced and rendered more sensitive to all sound. Differences like these drew Johnny Winter and his little brother, Edgar, closer to each other and closer to music. They were both playing music in clubs and doing so together before either of them could drive. "Johnny and I were inseparable as kids," Edgar told Goldmine. "We grew up playing together. We had a sort of telepathic communication."
In the middle, they were brothers, pursuing different but parallel paths in music, overlapping when they could, sometimes making music together, other times inspiring and informing each other's work in the studio or on the road.
At the end of the line, they're still brothers. Fifty-five years after he started playing music for an audience, Johnny was on the road headed for another gig when he passed in his sleep at age 70 in 2014. But that hasn't kept Edgar Winter from still being Johnny's brother, musically connected forever. Edgar, an accomplished multi-instrumentalist and literal monster hitmaker ("Frankenstein" and "Free Ride"), is still making music that defies simple categorization but clearly lands under the rock and roll umbrella. And he's doing it for his brother.
"Johnny has always been my all-time musical hero," said Edgar. And with the new release Brother Johnny, Edgar Winter keeps his brother alive and well with an all-star tribute record that celebrates the larger-than-life blues/rock body of work of the rock and roll legend.
I only got to see Johnny Winter perform once, and he was simply amazing. He was not in great health at that time in 2006, but there he sat in a chair onstage, wiry, fragile and still untouchable with the most amazing guitar work I'd ever seen, most notably on his fiery version of Bob Dylan's "Highway 61 Revisited." Two years later, I got to see Edgar and his band turn in an equally powerful set at an outside gig in downtown Austin, Texas, still looking like his brother with that long flowing blond hair.
As a huge fan of both Edgar Winter and Johnny Winter, I had a journalistic thrill talking with Edgar, especially to do so in a way that dealt primarily with the lifelong musical kinship that he shared with his late brother.
"To me, albums are sort of like snapshots of a period of time in your life," Edgar told me. "I try to make the most honest records that I can. Sometimes I don't know why I write a song, and sometimes a title, 'End of the Line,' flashes into my head, and I go, 'Oh, that's bluesy.' And as I started to write it, I said, 'Oh, I'm writing about the end of the Winter family line.' Sometimes your mind makes these sorts of subliminal associations. I started thinking about it, and Johnny and I were the last remaining Winters. Neither of us had children. And after his passing, that leaves me. The last Winter at the end of the line. I tried to get across the idea, like the last verse, 'Songs may end or just fade away, but the music never dies.' I've always felt like, even though Johnny may have departed this physical plane, his music and his spirit and his presence live on in my heart and always will, and that's what I tried to express in this record. I hope people will feel that."
"End of the Line" is one of two new original songs that Edgar brought to the project. The other one, "Lone Star Blues," is even more explicitly about his brother, written from Johnny's perspective as he pursued his singled-minded dream of a life in music, a dream that he fulfilled every day.
"He devoted his life to following that dream," said Edgar. "All his hopes and expectations were pinned on that, becoming a star. Then after it happened, I remember talking to him, and he said, 'I never thought it would be like this. I just feel so isolated and alone, and I don't know who I can trust or really feel like I have anybody to talk to.' It was not what he expected at all. He hated it, but he loved it. I think that he resolved that after he went through the whole rock period with Johnny Winter And (Johnny's band in the 1970s). He rededicated himself to the blues, and I think he was happy with everything that he had done over his life and throughout his career. I experienced some of that disillusionment myself, but I never took it as seriously as Johnny did, because I didn't have that expectation. It had not been the dream that I'd pinned all my hopes upon. I tried to write that song in Johnny's voice to express the same feelings that he expressed to me at that time."
Blues artist Keb' Mo' shares vocals with Edgar on that song, and other great musicians came out to join in on the celebration of Johnny's life and work, Billy Gibbons, Joe Bonamassa, David Grissom, Doyle Bramhall II, Michael McDonald, Robben Ford, Bobby Rush, Kenny Wayne Shepherd and Ringo Starr among them.
Edgar tapped Ringo's brother-in-law Joe Walsh to share vocals on the Chuck Berry classic "Johnny B. Goode," a Winter family favorite from the beginning. "That particular song has a great personal significance to me," said Edgar. "You might think, Chuck Berry, rock and roll, it's a Johnny tribute, 'Johnny B. Goode,' it's really obvious. But the reason for that song being there is because when we were kids and we had our first band, Johnny and the Jammers, there was a local talent contest. There was a movie called Go, Johnny, Go! Jimmy Clanton was in it, Chuck Berry was in it, and Alan Freed. This contest was sort of a promotion that went along with that movie. So, Johnny and the Jammers, our hottest song was 'Johnny B. Goode.' We entered, we played it, and we won. First prize was 'day to make your very own record!' There was a recording studio called Gulf Coast Recording in Beaumont, and the guy that ran it, Jack Clement, a pretty well-known country guy that worked with Johnny Cash, he recorded our very first song, a song written by Johnny called 'School Day Blues.'
"So that was the beginning of our careers. Had it not been for 'Johnny B. Goode,' that sort of opened the door, being our first record. And when I think of rock and roll, I think of Chuck Berry and 'Johnny B. Goode.' It just epitomized the rock and roll that was new and being written at that time. He's a great storyteller. And that's not only Johnny's story. It's every kid's story who came from humble beginnings and picked up a guitar with the idea of making it and becoming famous."
About 300 copies of "School Day Blues" by Johnny and the Jammers were pressed, backed with the other song they recorded that day, a swamp-pop ballad called "You Know I Love You." It was a local hit, reaching No. 8 in the Beaumont and Port Arthur, Texas, area.
When asked in the film documentary of his life, Down and Dirty, when it had all begun for Johnny Winter, he said, "I made my first record when I was 15. Started playing clubs when I was 15. Started drinking and smoking when I was 15. Sex when I was 15. Fifteen was a big year for me."
Johnny was still alive when that movie was released in 2014, and he even attended its premiere that year at a Texas film festival, after which he went down the street to play onstage at a downtown Austin saloon, unaware that he only had four more months to do so.
"Johnny's passing was really unexpected," said Edgar. "He was frail, and his health was poor, but he was actually doing better. He had withdrawn from methadone, and I was hopeful that he was going to improve health-wise. We had been scheduled to do a tour together called the Rockin' Blues Fest. I was devastated and had expected that tour to cancel, but much to my surprise, the promoters wanted it to go on as planned with me and my band as headliners. I had thought that was going to be highly emotional and possibly sad and difficult, but the first night of that tour, after playing 'Frankenstein,' I did 'Jumpin' Jack Flash,' 'Johnny B. Goode,' 'Rock and Roll, Hoochie Koo' and 'Still Alive and Well,' and dedicated the set to Johnny. That turned out to be a great source of strength and comfort, playing that music, and it was sort of surprising to me that everybody on that tour was so kind and supportive, got up to jam at the end of the show, and all of us played Johnny's music together like that."
That was when Edgar started thinking about the record that would become Brother Johnny. "I had been approached by several record companies, but I felt like they were just people sensing a business opportunity, and it didn't feel right. I didn't seriously consider making the record until I met Bruce Quarto, who is the president of Quarto Valley Records. Bruce wanted to do it for all the right reasons. He loved Johnny's music and wanted to bring that to the world. I want to acknowledge my wife, Monique. We've been married 43 years. We always make those kinds of decisions together. I trust her intuition more than my own analytical reasoning and judgment on things like that. She said, 'Well, of course you need to make this album for yourself, for Johnny, and for the world. You owe it to him, that acknowledgment to your older brother. If it weren't for him, you wouldn't be where you are today.'
"I guess I kind of spent a lot of years not making that record. I guess I'm really, if not the only person, the best person, knowing Johnny as I do. From that point, the question in my mind was whether it should be a straight-ahead blues album, just a tribute to the legacy that Johnny left the world or more a personal tribute from me to my brother based on my own particular personal favorites. I tried to make it a balance of both. I don't think Johnny would have liked it if I had made a straight-ahead blues record. I think he would have said, 'Why are you suddenly adopting my style, trying to sound exactly like I used to sound? That's not you!' So, I tried to make the record that I think Johnny would have wanted me to make for him. I believe I've succeeded in that. I hope so."
The love and musical respect between the brothers had been evident in the work of both careers, ever since their Beaumont days. I told Edgar that I had found a 1976 vinyl interview record with them both, a recording that he had never heard. In that interview, Johnny had this to say about their humble musical beginnings: "Our folks never would let us play at nightclubs for a long time. The first big deal was they wouldn't let us take money, probably 'cause they figured we weren't good enough. I think we made two bucks for playing at somebody's party, two bucks apiece, and we had to give it back. I was so teed off about that. That's ridiculous, you know? It beats taking out the garbage and cutting grass. So finally, they let us take money. They still wouldn't let us play in clubs, and our drummer's daddy was kind of a hellraiser, and he liked to go out and drink and have a good time. He told daddy he would take care of us. Yeah, he was taking great care of us all right! So, daddy said, 'OK, if he's gonna take care of y'all and watch y'all, that's OK.' So, he'd take us to jobs and leave us, go out and start drinking Lone Star beer and having a good time. He didn't care what we did. It sounded good, so he would take us up there, watch over us a little and bring us home after the gigs."
It was also on that interview record (used for radio promotion of the Together: Edgar Winter and Johnny Winter Live record) that Edgar said, "On the album, I'm sure in some places, people will have a hard time telling who's singing, because when Johnny sings pretty, he sounds pretty much like me, and when I sing gravelly, I sound a lot like him. We're brothers."
I told Edgar of another story he had told in that '76 interview about a club at which the brothers played that had a red phone on the stage. If that phone rang during a song, there was a reason: it meant that the owner wanted that song to cease instantly. "Oh yeah!" remembered Edgar with a big laugh. "Van at Van's Ballroom! Van was the club owner. That was in Houston. The red phone. I forgot all about that. Yeah, if you were playing a song that Van didn't like, there comes the red phone!"
Johnny remembered that those were the days when they first began letting their distinctively blond hair down. "We first started growing our hair long just as a goof 'cause it was funny. The Beatles looked weird and strange to us, so we figured, 'Well OK.' Edgar was the first one, he grew his hair long. He looked funny, which wasn't long at all. It was like a crew cut nowadays, but we'd play the same kind of music.
"I remember this one club in Bossier City we played at. We were the biggest thing in Bossier City. We were outdrawing everybody. We were playing good old soul music: James Brown, Wilson Pickett, Otis Redding, Bobby Blue Bland, everything that everybody wanted to hear. And then we went away for just a couple of months, and during this couple of months, Edgar grew his hair out just a little bit, like it wasn't even over his ears or anything. So, he did that, and we looked real strange. We had black turtlenecks and kind of iridescent bluish gold collarless suits, and that was real strange in those days. We came back two months later to a different club about a block away from the club where we were so huge at. Same place, same town, playing the same songs two months later, and people stayed away in droves."
Edgar was the serious instrumentalist, fascinated as much with jazz and classical music as he was rock and blues. Johnny was a blues purist who knew how to rock, and his mastery with the guitar was nothing short of astounding.
"I didn't have that same desire as Johnny," Edgar told me. "Johnny had that drive and ambition back as far as I could remember. He was gonna be a star. He watched American Bandstand and read all the magazines and had a huge record collection and knew everybody that played on what record. And being with Johnny 'Cool Daddy' Winter with the pompadour and the shades and the guitars and the girls. I just loved music in and of itself. The beauty of chords and harmony and melody and rhythm. I was the quiet kid that played all the instruments. So not only were our musical tastes different, but our approaches to music were different. Johnny reached out to the world with his music. He saw that as a means of gaining popularity. He was the more gregarious and outgoing. I sort of retreated into a world of music. It gave me a sense of identity. It was more like the extrovert and the introvert. We listened to different styles of music, but because we learned how to play together, there was this sort of innate foundation that was always the same. We knew a lot of each other's licks and just shared much more in common."
Johnny made an album in Austin in 1968, but after jamming onstage in New York one night with Mike Bloomfield and Al Kooper, he was discovered by both Columbia Records and Rolling Stone magazine, which quickly put him on the cover. The verdict was in: Johnny Winter was a guitar genius. The story said, "If you can imagine a 130-pound, cross-eyed albino with long, fleecy hair playing some of the gutsiest, fluid blues guitar you ever heard, then enter Johnny Winter."
Johnny was on a fast ride to the top. "After that Rolling Stone article," Edgar told me, "he was proclaimed the new hot flash Texas guitar phenom that the world had been waiting for." Johnny soon found himself on the roster of a big music festival that was to take place outside of Woodstock, New York, in 1969. Johnny's power trio at the time featured Uncle John Turner on drums and Tommy Shannon (later of Stevie Ray Vaughan and Double Trouble) on bass. Johnny knew the event would change his life, and he wanted Edgar along to fill out the group's sound with keyboards.
As it turned out, Woodstock changed Edgar's life in ways that neither brother could have first anticipated. "We flew in by helicopter, and the first thing that struck me was the vibe. It was just this feeling of unity, of people being part of something that was greater than themselves, beyond themselves. The whole thing was set against the social backdrop of civil rights and the peace movement, so there was this whole idea of solidarity, of being able to make a difference. Change the world.
"The performance was so odd for me because there was no schedule, so nobody had any idea when they were going on. It was just whoever they could find that was capable of playing. I was awakened out of a dead sleep. I was sleeping on the couch or the floor of a press trailer, and somebody shook me awake. 'Y'all are about to go on!' I just sort of stumbled onto the stage in this weird sort of alpha state with my morning voice. I got up there. It was just this transfiguring moment, almost like an epiphany. I was looking out over this endless sea of humanity, just people as far as the eye could see. And I just said, 'How did I get here? What am I doing here? This can't be real.' Something clicked within me; I just realized that music could be so much more than just musical artistry, musicianship, which was always the way that I had thought of it. But it actually had the power to reach out and bring people together in that unique way. All of those people at Woodstock, it was not just a musical bond. It went beyond that in a way that I had never considered. After that, I started to really reflect on what it would be like to be an artist, not just a musician. I started to write and just think more in that direction."
After Woodstock, Johnny went on to his remarkable, blues-based rock and roll career, and Edgar began to find his own musical path. Edgar's first album, Entrance, was an improvisational jazz-tinged masterpiece, the first side filled with an innovative suite of songs called "Winter's Dream," for which he asked his brother to assist with lyrics. "At the time that I started doing Entrance, I still thought of myself as an instrumentalist, not a singer, as a musician rather than an artist. I had all of these musical fragments as ideas and asked Johnny to help with lyrics. He wrote lyrics like, 'When the sun changes the blue into gray, and New York acts just the way that L.A. does, people change, saying you're different and strange. Sufficient enough, you remain while your friends just keep putting you down, wondering why they keep hanging around, about you, without you.' And I came in with, 'Now is the time, a new day is just beginning. Now is your prime, a new way, a chance of winning.' I started to revise a lot of the lyrics that Johnny wrote.
"That was the birth of my songwriting. But nobody would think that Johnny Winter would write lyrics like that. Johnny's depth and scope were far beyond what people were aware of or realized. He was more intelligent than people would have thought. I think there was a certain image of a bluesman that Johnny chose to project. Johnny always encouraged me to follow my heart. Just like he felt like when he was playing blues, those were his roots, and he was being true to himself, he liked it when I played jazz and classical. He loved the Entrance album."
Entrance was exemplary of the musical experimentation of the early 1970s, but it was on his second record, Edgar Winter's White Trash, that he found a swampy rock sound reminiscent of the sounds that he had first made with Johnny back in their club days. By the time of the third record, They Only Come Out at Night, he had found a sound that would help define '70s radio.
"Frankenstein" was a musical tour de force, a jammy number that he and Johnny's band had already been playing for a while. Early versions showcase Johnny's guitar prominently, but by the time The Edgar Winter Group recorded it, it had become a barrage of musical mayhem that showcased Edgar's synthesizer. Edgar Winter was, like his brother Johnny, a sudden rock star. But he didn't want to be boxed in behind a keyboard onstage, so he stripped the instrument of its legs and wrapped it around his shoulder with a strap, an innovation for which he became the inventor.
"I always thought of myself as an instrumentalist," he told me. "My first and biggest song, a No. 1, is an instrumental. That was unheard of for an instrumental. I wrote the riff years before it was recorded, and we never had the intention of recording it. It was the song that I did as a vehicle for the synthesizer when I discovered the synthesizer. Of all the things I've done throughout my career, coming up with the idea of putting a strap on the keyboard is really a simple and obvious idea, but I just happened to be the person to do it. I had been really frustrated being behind a big bank of keyboards. Nobody can see what you're doing. That really changed the face of music. It changed the look of a lot of bands, and 'Frankenstein' just sort of became the symbol of my desire to break new ground, to forge a new frontier. I've always enjoyed doing things that are unexpected and new. I think 'Frankenstein' is a great example of that. Because of my love of jazz and soloing, spontaneous playing, it's the perfect opportunity to do that. All the versions I've played over the years, I not only got a chance to stretch out and play synthesizer, I would always have guitar solos, drum solos, sax solos. It's a great excuse to jam. I've always loved playing that song. And I always will."
The album's other single was a song that Edgar Winter Group bandmember Dan Hartman had first brought to the table. Hartman sang lead on his own "Free Ride," and he was just 21 years old at the time in 1972. "Free Ride" remains one of the most infectious and joyous songs of its era, and it has stood the test of time. Hartman also had worked with Johnny Winter, and he went on to co-write "Living in America" for James Brown and scored his own solo hit "I Can Dream About You" in 1984, a decade before his death at age 43 from an AIDS-related brain tumor, a diagnosis he had kept secret.
"Every time I sing it, I think of Dan," Edgar told me of "Free Ride." "It was his song; he had a version of that when I met him. I never claimed any writing credit, even though I came up with the end: 'Yeah yeah yeah yeah,' you know, that part. I kind of added that as a gospel kind of reprise and using the synthesizer with the 'shewwwwwww,' you know, the free ride kind of sound. I always think of Dan and think of the group. When I hear that song, it reminds me of when we were kids, when we were on the road doing the Southern club circuit. We would all of us pack into a car pulling a U-Haul trailer behind it with all our gear in that. 'Free Ride' reminds me of a song you hear in the car, when you're riding in your car and the radio, it's that kind of song."
I told Edgar that British rock singer Tom Robinson had written and recorded a song about their mutual late friend Dan Hartman called "Connecticut," and he said he would track it down to listen to it shortly after our phone conversation. I was also surprised that I was the first to tell him that Blood, Sweat and Tears lead singer David Clayton-Thomas had once recorded a great version of my favorite Edgar Winter song, the beautiful "Dying to Live."
"'Dying to Live' is probably the best song I've written," he told me. "It was one of the first songs that I wrote that made me think I could really be a songwriter. I never had really tried before. This was shortly after Woodstock that I actually started to try to write. That's a very personal song. It was mainly perceived as an anti-war song, which to a degree it was, but it's really just about survival, whether you're fighting to defend your country or just to make it one more day on the street. I thought it was really cool that Eminem used 'Dying to Live' in that Tupac Resurrection movie. I never would've thought of that, and he actually heard that song and sort of recontextualized it in a different way."
I thanked Edgar for those three songs that have always meant so much to me. "Well, you're very welcome," he said. "I'm glad that I have been able to leave some good memories behind along the way throughout my career. I've really enjoyed talking to you, and all the best, and like I always say, keep on rockin'!"
He had an even grander message for all of us who have followed the careers of Johnny Winter and Edgar Winter. "I would like to say to all the fans who have followed my career as well as my brother Johnny throughout all of these years, we could never have done it without you all. We love you. It's meant the world to us to be able to do what we most love. We see you all out there rockin' and having a great time, so if you like Johnny's music and you love the blues and you love guitar and you're familiar with my stuff, you're gonna love the album Brother Johnny. So, get ready to rock and roll!"