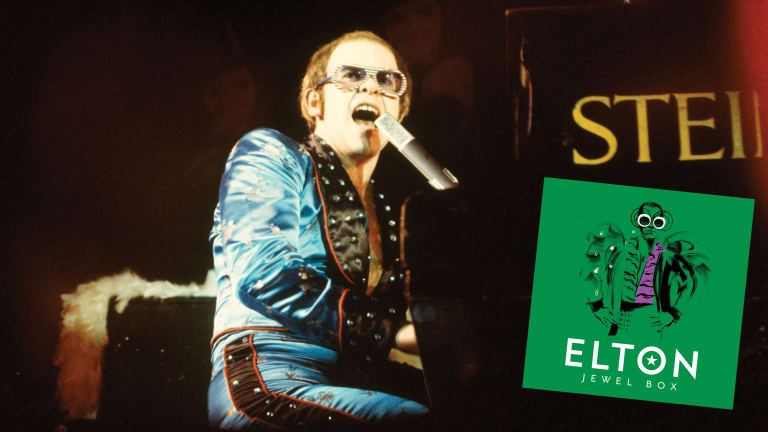 Elton John's collection of Jewels
Goldmine conducts an exclusive interview with Elton John about his "Elton: Jewel Box" — among other things.
By Gillian G. Gaar
In looking back at a career that spans half a century, there's a lot of ground to cover. You could say that Elton John began his career overview in 2017 with the release of Diamonds, a greatest hits box set whose deluxe edition ran to 51 tracks. Then came Rocketman, a musical biopic about his life, released in 2019, which went on to gross $195 million worldwide. That same year saw the publication of Me, John's no-holds-barred autobiography that received great reviews; it's a highly entertaining story recommended for anyone interested in John and his work.
Now comes Elton: Jewel Box, a set that delves deep into his archives, with much previously unreleased material from John's formative years — before he had his first hit, before he was even known as Elton John. The eight CDs are divided into four categories: two CDs of "Deep Cuts," three CDs of "Rarities: 1965-1971," two CDs of "B-Sides 1976-2005," and one CD titled "And This Is Me," featuring songs that were all written about in his autobiography. The set comes with a lavishly illustrated book featuring much information about the songs. There are also vinyl editions: a four-LP set of Deep Cuts, a three-LP set of highlights from the Rarities and B-Sides discs, and a double-LP set of "And This Is Me."
The commentary in the liner notes is revealing. "I never thought of myself as a singles artist," he's quoted as saying, something of a surprise from an artist who had a run of 19 Billboard Top 40 hits in a row from 1972-78. "I wanted to make albums, and I never saw the albums I made as a few hit singles padded out with filler songs." Hence the "Deep Cuts" selections, with John hoping they'll "get the spotlight that my best-known tracks have thus far hogged," making the case that however many hits he's had, there are songs of his he still feels are undiscovered.
He also talks about the numerous artists who have had an influence on him, such as Laura Nyro, whose songs, he says, taught him that you didn't have to adhere to a verse-chorus-verse-bridge standard in writing a song: "You can do all sorts of different things with the structure, you could do whatever you want." It makes it clear that John is not just a musician, but a music fan, and he's put Elton: Jewel Box together with the kind of care a fan would appreciate. He describes "(Gotta Get A) Meal Ticket," from Captain Fantastic and the Brown Dirt Cowboy, as a fond look back at the days when he and his primary songwriting partner, Bernie Taupin, were "scuffling along in the late '60s, before we'd worked out what we wanted to do." And when John says he still finds it hard to listen to this autobiographical album because he becomes "too emotional," you know he fully appreciates how far he's come from his early days.
John talked more about Elton: Jewel Box with Goldmine, also sharing a few things about his record collecting habits:
GOLDMINE: The last few years have seen the release of the greatest hits set Diamonds, the autobiography Me, the movie Rocketman and now Elton: Jewel Box. What started this period of self-reflection for you?
ELTON JOHN: The past few years have undeniably been a time of self-reflection for me, but also very much a time of celebration. I feel so lucky to have had the opportunity to continue doing what I love so much for the last 50 years. But looking at my life now, it is without a doubt one of the very best times of my life and really, it all changed when (my husband) David and I had our boys. With children, you can't help but look retrospectively at how we got here today and the beauty of where my life is now. They have helped me focus on the present and surely makes me appreciate my past. Having a family that I adore and cherish so much, just makes me realize that this is exactly where I want to be for the rest of my life, with them.
Jewel Box in particular allowed me to rediscover all of this music that I created and haven't heard in ages. It brought me back to so many wonderful memories and only solidifies just how blessed and proud I am to have my career, my memories and my family. And now, I get to have all those things together. I just feel so blessed.
GM: How were these tracks archived over the years; how were they stored? How extensive are your recording archives?
EJ: You can imagine that having a 52-year career would result in a massive catalog, and preserving a life's worth of work is not a modest task. I was quite frankly amazed at how much there was! I knew I was busy back then, but when did we sleep? But that said, I have a great archivist and a wonderful team behind me who have an extensive and systematized approach to collating and storing my work. The "Rarities" tracks, which go all the way back to the mid-to-late '60s, were primarily archived at my record company, Universal, in the U.K. They had been digitized piecemeal over the years. It's an art in itself, really!
GM: The set features 148 songs. How did you whittle down the songs in the archive to that number? What determined if a song made the final cut?
EJ: It was difficult, because so many of those songs in my vault have special meanings to me, and I am eager to share them with my fans — I want to give so many of them recognition. But I have made a lot of records over the last 52 years, so selecting 148 songs was no easy feat; truthfully, there easily could have been another 30 or 40 songs on Jewel Box!
So much time has passed since I first recorded so many of those 148 songs, I am hearing them again with different ears and a different perspective. For the "Deep Cuts" CDs, my husband, David, and I listened to my albums, some of which I had not heard since they were released. There were songs that were easy to put on the list, like the ones from The Union album with Leon Russell for example, but others that I had to be reminded of, like "Hoop of Fire." I had a great team help with selecting the "Rarities," especially Daryl Easlea and John Higgins. They suggested a great many songs and we were able to include a lot of them, because many of the songs back then were quite short.
We did have to leave a few rarities behind, and there were a few which were discovered too late in the process to make the final album. We found a jazz version of "Come Down in Time," which I actually recorded before the version which ended up on Tumbleweed Connection, using different musicians — David Glover on bass and Roger Pope on drums. It didn't make Jewel Box, but (it) felt so good we decided to put it out on a limited-edition 10-inch anyway, as it deserved to see the light of day. But I hope that over 60 previously unreleased rarities from the dawn of my career writing with Bernie will make even the most diehard fan happy. I am so proud of this project, and can't wait for the world to hear so many songs that I adore, and hope that they love them just as much as I do.
GM: What surprising discoveries did you make as you listened to the songs; I'm thinking you might've found more songs you'd forgotten about, for example.
EJ: Many of the B-sides from the 1980s and the Dick James tracks from 1967-70 had fallen right out of memory. Many songs were brilliant to rediscover. Overall, I was amazed at how busy Bernie and I were at the time, writing so much and having what felt like unlimited access to the Dick James Studios, thanks in large part to Caleb Quaye, who ran the studio, who snuck us in under cover of darkness for the first month or three. He wasn't supposed to allow people to record after hours but took an interest in us and then promoted us to Dick when we were found out and the sh*t hit the fan. So many of the tracks, especially in the "Rarities" CDs, truly took me on a walk down memory lane. However, rediscovering tracks like "The Angel Tree," "Tartan Coloured Lady" or "The Tide Will Turn For Rebecca" are such special songs and mean a lot to me. I really believe that if Bernie and I had not written those songs together early on, we would never have progressed as songwriters. They remind me of the beautiful musical journey we have both been through.
GM: Can you talk about the track you recorded with Little Richard, "The Power"? What was it like working with him? And given his recent passing, I wonder if you can say a bit more about him.
EJ: I had always been a fan of Little Richard since I was in my teens. He and Jerry Lee Lewis were my idols growing up, and you can certainly see how Little Richard influenced my piano playing — he was a vamper and so am I — and stage persona.
I first heard him when I was living in Pinner (a London suburb) and then went to see him at Harrow's Granada (theater) in 1962. I was so knocked out! My first band, Bluesology, played on the same bill as he at the Saville Theatre in December 1966. I honestly do not recall much about that. I must have been so nervous!
When I had the opportunity to work with him for my Duets album, I wanted to do something with him in a style he was not really known for. I wanted it to be in the gospel style similar to his 1965 single, "I Don't Know What You've Got But It's Got Me." "The Power" is a favorite of mine, and recording this track with him was one of the greatest moments of my life. It's a memory I will cherish forever; I will never forget how humble, shy and funny he was — and me full of nerves! Without a doubt, he was one of the great music inspirations in my life, and of our time, really.
GM: What do you recall about the first song you wrote, "Come Back Baby"?
EJ: "Come Back Baby" is a track I will never forget. I distinctly remember recording it at Philips (studio) in Stanhope Place, Marble Arch (in London).
GM: Can you talk about the first song you wrote with Bernie Taupin, "Scarecrow"?
EJ: "Scarecrow" is such an important song to both Bernie and I; it holds a very special place in our hearts over our biggest hits, because it was our first song together. We referenced it in our song "Curtains" from Captain Fantastic and the Brown Dirt Cowboy. When I hear it, I think of such an early, innocent time. That lyric was one of Bernie's that (producer/music publisher) Ray Williams gave me, so it, and a few others, were written before Bernie and I even met! Incredible.
We wrote by post for a month or two before he came down to London from Lincoln for the first time. By then, we were discovering ourselves and each other as songwriters, and upon his arrival, we immediately became fast friends. He was the brother I never had and still is.
GM: Can you comment on the two Bread and Beer Band songs, "Dick Barton Theme (Devil's Gallop)" and "Breakdown Blues"? They're such fun!
EJ: This was all thanks to Tony King (then working for music publisher Dick James). He had the great idea of having a session supergroup with members of Hookfoot, Bernie Calvert from The Hollies, percussionists Lennox and Rolfo, vocalist Liza Strike, and I. We actually did a full album's worth of covers — I seem to recall "Wooly Bully" and "Zorba the Greek," amongst other show-stoppers — but it was never released. Somehow the single escaped on Decca. The sessions were produced by Chris Thomas, who of course became one of England's premiere rock producers and worked on many of my albums in the '80s and '90s.
GM: "B-Sides" CDs: Obviously the most straight forward in this set; the songs are all B-sides. Are there any you think should've been A-sides?
EJ: Many of the B-sides could have been A-sides. B-sides are treasures to music fans. and many of my B-sides I loved working on just as much as the A-sides. I'll tell you a secret; one of the songs in that collection actually is an A-side. We put both of the songs I did with the fabulous France Gall in there, as opposed to splitting them up. So the box set has "Les Aveux," which was the A-side, and actually did rather well on the French charts. I guess we also have another A-side with the French version of "Nobody Wins," "J'veux D'la Tendresse," on there. That was a single in France and Canada. So many of the songs I chose to be on Jewel Box have yet to be released digitally and are in much demand from my fans. This release is the first time most of my B-sides from the 1980s are available on CD, which is very exciting for me.
GM: "And This Is Me" CD: Can you say something about why the specific songs were chosen for this disc? Since these are all songs mentioned in Me, any number of other songs in the book could've been chosen instead.
EJ: These are a selection of songs that I mention in my autobiography, Me, and frankly complements my entire story. I chose the songs and listed them chronologically beginning from 1969 with "Empty Sky" to my most recent single "(I'm Gonna) Love Me Again." We wanted to try and stay away from the songs that everyone knows already. Granted, "Philadelphia Freedom" is in there, but since we had already covered my hits with Diamonds a few years ago, this was a great opportunity to shine a light, if you will pardon the "Philadelphia Freedom" lyric pun, on the deeper cuts mentioned in the book. Every song mentioned holds a profound meaning to me and where I was in my life. Without mention of those songs in the book, the story would not be complete. 
GM: Goldmine is a record collecting magazine, so our readers would be very interested in hearing about your own record collection. How many records/recordings do you have in your collection? How are they stored?
EJ: I have over 120,000 CDs and 15,000 pieces of vinyl. They are stored in my home shelves so I can access whatever I want, whenever I want.
GM: What was the first record you bought?
EJ: One of the first records I bought was "Secret Love"/"Deadwood Stage" by Doris Day. My mother bought it for me as a reward for going to the dentist to have a tooth pulled. I sold all of my very first vinyl collection in 1989/90 to raise money so I could set up the Elton John AIDS Foundation.
GM: What's the most valuable/unusual record/recording you own?
EJ: An original pressing of the very first Beatles album (Please Please Me) on the black and gold Parlophone label.
GM: What are some of the most unusual items in your collection?
EJ: My most unusual item of vinyl is called "Crepitation Contest" by Lord Windesphere & Mr. Paul Boomer.
GM: Do you have a preferred format? (45, LP, CD, tape, etc.)
EJ: I definitely prefer LPs.
GM: What's on your wish list?
EJ: Any vinyl by Lewis Taylor. There is nothing available from him on vinyl at the moment.