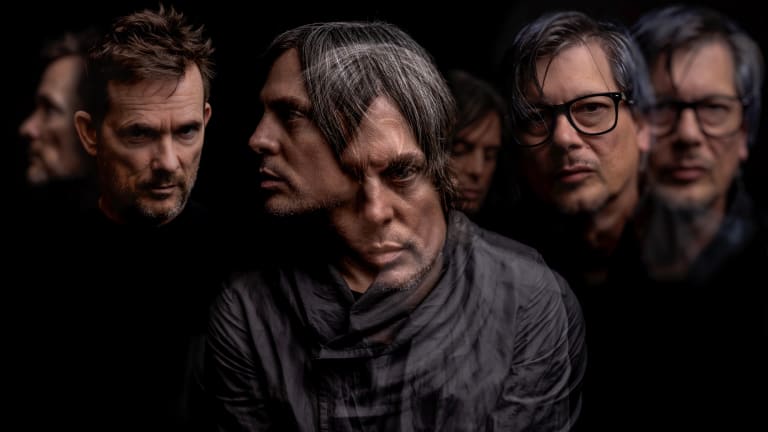 Failure is a good thing — when referring to the rock band
Failure is actually a good thing when referring to the rock band. In December, Failure released their sixth full-length studio album, "Wild Type Droid," since their formation in 1990. The album contains 10 songs of mind-blowing sound and adventure, and drummer Kellii Scott explains it all for Goldmine.
By Alan Brostoff
Failure is a good thing. 
Actually, Failure is a really good thing when you are referring to the rock band from Los Angeles. in December, Failure released their sixth full-length studio album, Wild Type Droid, since their formation in 1990. Wild Type Droid contains 10 songs of mind-blowing sound and adventure. Described by critics as everything from alternative rock to space rock, Failure's music is better left for the listener to decide.
Kellii Scott, drummer from Failure, shared his love of music and the new album, when he sat down recently with Goldmine.
GOLDMINE: I have fallen in love with Wild Type Droid. It's unlike anything else out there. 
KELLII SCOTT: Thanks for taking the time to listen to it. I guess that could be said about every single record that Failure has put out over the past 30 years.
GM: Were did the band name come from? 
KS: While I was not part of selecting the name, I do know where it came from. When you are in a band and it comes time to decide what are we going to call ourselves, everyone seems to be so serious about it. As long as it's not a terrible band name, any name will suffice. I mean, what makes a great band name popular? We can all think of really huge, amazing historical and modern-day bands. They all have one thing in common, tens of thousands of fans. In the end those are the people who decide whether you have a good name or not. I think the name was an attempt by Ken (Andrews), Greg (Edwards) and Rob (Gauss) at the time to just give the weight and the seriousness of choosing a bad name what it really deserves. Let's pick something that looks cool and sounds cool and just move on from it. Let's let the music content determine if a band is good.
GM: Where did the name for the new album, Wild Type Droid come from? 
KS: The name came from the mysterious Greg Edwards. We had all the music and artwork done, but what do we call it? We did a lot of this stuff (through) email. In August we started doing our jam sessions and writing and even up to this morning we are still discussing things that impact the record. Greg just kind of slipped it into one of those emails. This subject of the naming of this record, I think probably generated a lot of emails. I know that it has something to do with nature and the viruses and pandemic that we are dealing with. But the actual technical definition, I'm not entirely sure of. The last album was a little bit different because we had to come up with artwork and a title first and then started creating the music. The title had to be very long so that we could break it up into four separate releases. You know, the last record we released was four parts, each with four songs. The name of each release fit together to make one long name and the artwork all fit together. You know, Greg is more than just a phenomenal songwriter, he's multi-talented especially all things literary. He just really kind of nails it every time.
GM: This new release is available in almost every format available, except for reel-to-reel. 
KS: We actually could offer that. I have a reel-to-reel that I inherited from my father. I need something other than all his old-school Motown, singer-songwriter rock and roll. I don't think it's any secret that we consider ourselves a record-making band. That's why most of our records are double records, you know, it's the experience of not only listening to the music but opening the gatefold. We all can remember when we were children, and we had that experience. Being able to see the band and read the words. It's just a little world of make-believe, or at least that is how I felt about it when I was younger and would get to crack open that new record. Listen to it, read it and experience it. The cassette on the other hand offers people a cheap alternative. I know there are hardcore fans out there that are looking for the cheap item to collect. I have been going through my own personal revival with cassettes as my kids are starting to grow up. A few of my friend's children, between the ages of 4-6 years old, have just had birthdays and I came up with a novel idea. When I was their age, the one thing I could not live without was music. I had an 8-track player that my parents got me and my brother gave me all of his 8-tracks. Everyday I would come home from school and play my live Kiss concert where I would imagine being there with thousands of adoring fans. So, I decided to get some cassette players and started buy cassettes off the internet and even our local store, Amoeba. We gave them the player, some headphones, and each week we give them some cool cassettes. So, when we decided to make this record, we decided to offer it also as a cassette.
GM: Do you still have your record collection from when you were a kid? 
KS: I have a lot of it. What I have is what I moved here with me when I was 17 and moved here in my car. I only had space for important belongings, but I did pack up the records. I was able to later go back to my parent's house and pick up the few pieces that I did not move down initially. 
GM: Are there record stores that you still like to visit? 
KS: We have not visited a lot over the past two years. I have gotten to Amoeba to buy those cassettes. A couple of years ago somebody gave me this amazing book as a birthday present. It's called 1001 Albums You Must Hear Before You Die. I took that to mean 1,000 records I need to own before I die. So, I started going through the pages and I stated to collect them. A lot of them are obscure and I started to scour the internet. I was looking at all the different eBay's from a lot of different countries. I just started buying up everything I could get my hands on. I generally will buy from a brick and mortar store, but I have connected with one guy online and he really cares. I bought some Kiss records from him that I no longer had. Sometimes I will buy deals where I get 100 albums for maybe $30. It's like a mixed bag. You never know what you are going to get.
GM: So what is the one record that you are still looking for that maybe one of our readers can find for you? 
KS: That's a good question. Can we put a pin in that and come back to that later? 
GM: Sure, tell me about the video for "Headstand." Someone really loves bugs. 
KS: You are talking about the star of the video, Iggy. She is a praying mantis. She came to me about a month before we started to shoot the video. I love plants and have really gotten into it more during the pandemic. I have maybe 30-40 plants on my porch. I had this praying mantis that was flying around my porch and my dogs were getting all worked up. I was surprised she did not get trampled. So, I picked her up and put her back on the plants. She kept coming back to my porch day after day, so I took the hint and went out and bought her all the fixings for a nice terrarium and brought her inside. She loves to eat crickets. So, she is actually my new friend. She has even laid an egg, so we will see what happens next as she may be getting to the endpoint of her life. Ken loved having her for the week. I dropped her off over there and he and I had messed around with tying to get her to eat and getting it on film a little bit, but then I just left her over there for him to take care of and get some really great shots. Mostly she eats and stands still. So there really is no better superstar. She may be the perfect actor.
GM: What is your favorite song on the new album? 
KS: Man, that one is a little difficult because I honesty love them all. I can't wait to start rehearsing. I guess my favorite is probably "Bad Translation." It's the second to the last song on the album. Yeah, that one that one just for me, personally. It has a certain energy, power and confidence in in all the parts like the melody, the vocal melody, just the source of the energy of the song, The creepiness, like it's so dark and plotting. Um, I think that one is definitely my favorite like if I had to pick one.
GM: Are we going to get a tour to support the new release? 
KS: Yes. We are just finalizing that. We've been trying to work that out for the past couple months. It's been about two or three months now, but yeah, that's going to happen in June 2022. We were initially thinking about doing it in March, but then we got the quotes of when the vinyl was actually going to be done and we didn't think it would be that great of an idea to be going out on tour without having physical vinyl on tour as well. Someone could make a lot of money opening a new plant. I mean if you look at the trend every year vinyl is outselling other forms for the past two years. Vinyl is not dead, especially during the pandemic when people are staying inside all the time. I know my record collection has grown way to big. Going back to your previous question about a record I would like to own, there is a Beatles box set of all original vinyl in Mono. It came out maybe five years ago. It's their whole catalog. I really want to get ahold of that.