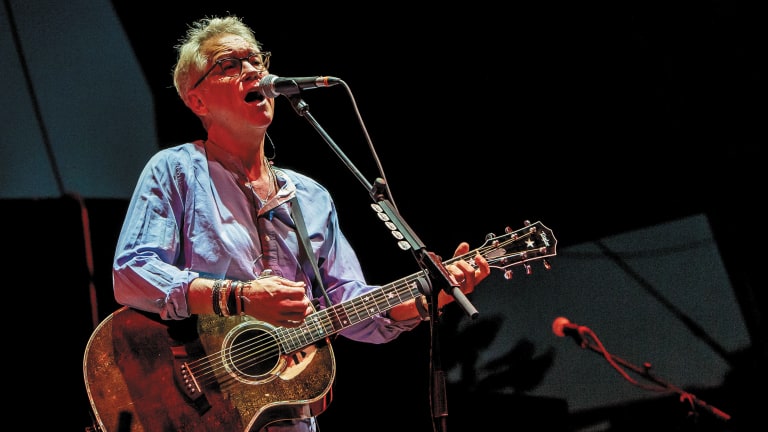 Gerry Beckley of America on David Cassidy friendship, featured in 'Breaking Bad' and more
Singer-songwriter Gerry Beckley shifts gears between the band America and his solo career.
Get Classic Rock vinyl, collectibles and more in the Goldmine shop
By Joe Matera
Aurora is the latest solo outing by Gerry Beckley, singer-songwriter and co-founding member of legendary band America, released in June. Recorded during the pandemic at Beckley's two home studios in his dual bases of Sydney, Australia, and Venice, California, Aurora is an introspective album that takes stock of his life — past, present and future. The album also showcases some of Beckley's original influences, which run the gamut from The Beach Boys to Chicago. 
Goldmine spoke to Beckley to discuss the solo album, song crafting and why America is at home in the mainstream.
GOLDMINE: When we spoke last in early 2021, the pandemic was still very much dominating our lives. And with closed borders and restrictions in force, artists and musicians like yourself, were not able to undertake any kind of touring activity. Now that touring has resumed, what has touring been like in more of a post-COVID-19 world?
GERRY BECKLEY: There are still issues to deal with. All of us who are out on the road, and much as we know and hope that people are vaxxed and it's not quite the death sentence that it seemed at first, we still can't play if somebody gets COVID. We were about to go and do a weekend of shows, and our lead guitar player got COVID. And you can't go out knowing that fact and do a show anywhere. So, we just pulled the shows, which is something that's fairly common now with bands. Even though the promoters may not want to hear it (a band canceling their show), it's happening fairly often.
GM: The title of your new solo album Aurora and your last best-of outing, Keeping the Light On, both allude to lights. Is there a theme running through that is intentional?
GB: Light and time, it is all environmental and something that steers us through this journey. After this point in my career, I suppose it is not unusual to have recurring themes, but also if you do some 50 years of recording, it's inevitable you're going to touch on the same stuff.
GM: Aurora showcases of lot of your original influences such as The Beatles, The Beach Boys and Chicago. Though they've been influences on your music, they're more than that to you, as you've also actually worked with a lot of them, too?
GB: We're all who we are from the artists we like and listen to, so in theory those artists are the people that steer your ship and inspire you. Growing up, it was all The Beach Boys and The Beatles and stuff. Ironically, I did an album with Robert Lamm and Carl Wilson called Like a Brother by Beckley, Lamm & Wilson (2000). We were dear friends, and we all thought it would be a great idea, but it took forever to do because all three groups were very busy with traveling and stuff, and there was never any window in the schedule. But then Robert finally shows up one day and says, "All I can say is, please no horns!" And for me it was, I understand you always have horns in Chicago, but for me it was, "Oh damn, we don't have horns in America." So here I was dying to do horns, but the first thing Robert says to me is, "No horns!"
GM: Having written songs since you were a teenager, how do you think your songwriting craft has developed over the ensuing decades? Do you have a mindset of looking back and thinking, "Oh, I could have done that better?"
GB: There are two sides to that. One is that whatever the naivety and inexperience and all of those things, it can sometimes come together to create something really magical. On the other hand, I like to think that as you work and you mould your craft, you should in theory be getting better at it, though sometimes it doesn't always work out that way. I tend to keep, for better or worse, all my songs, with most of them still in my head. There's a lot of earlier songs, too, that I will go back to. There are two or three songs on Aurora that were sketches that I first made back in the '70s, but I just never finished them. "Superscope" and "Never Know Why" were songs I wrote in the '70s that I just hadn't got around to using, and I think that makes a far more of an album of more contrasts rather than "Here's 10 songs of how I'm feeling now." So, I do go back and mine all of that earlier stuff. I think sometimes earlier and simpler is better.
GM: Having such a vast range of material on hand, how do you choose what will be for a solo album and what will be for an America album?
GB: That's a good question. Dewey (Bunnell) tends to write more when there is a focused thing, like if there's an America record to make, and so he'll put pen to paper. But I just write all the time. What happens more often is, I never differentiate as to whether it's clearly a group song, as what I usually do is if there's an America project, I just throw the whole batch at Dewey and say, "Which ones of these talk to you?" And I don't remove myself from the process if I truly think that "this will be great." I will chime in and say, "I think this one is ideal." But I also value his ears more, and there's always a bunch to pick from.
GM: You contributed vocals and co-wrote several songs on two of David Cassidy's albums in 1976: Home Is Where the Heart Is and Gettin' It in the Street. What was the experience of working with David like?
GB: I was good friends with David. I think when David had kind of, I don't want to say, peaked and gone through his pop-idol thing, he was at the stage where he really wanted to do stuff that had a little more cred and more depth to it. Bruce Johnston ended up producing Home Is Where the Heart Is. Bruce is also another dear friend of mine from the first time we had met The Beach Boys, so I was down there a lot singing back up and co-writing. Then all of sudden the next thing I knew, I was producing Gettin' It in the Street as Bruce was moving onto another project, so that's how it all happened. There is this documentary on David, where he is truly one of those tragic figures and most of it was self-inflicted wounds in his case, and he wrestled with his own demons, but I tried to stay out of that documentary because I didn't want to tell a darker side as I didn't necessarily want to be the guy that contributed to all of that stuff. So, it was not as sweet and fun as you would imagine it would have been.
GM: In recent times, America is being played more and more in the mainstream. How do you feel when you hear your music appear in popular films or a TV series?
GB: In general we've been real fortunate, like there is an episode of The Sopranos that has a death scene with "Sister Golden Hair" on the radio, and American Hustle a few years back had "A Horse With No Name" almost in the opening credits, so it's such an honor. It's a sign that these tunes are part of the zeitgeist. They're not being picked because their obscure as if nobody has heard the songs. If "A Horse With No Name" or "Sister Golden Hair" or "Ventura Highway" are used, it is because they want to kindle those memories, and that's a great thing. Very few things are as cool as that and to have left a mark of that kind of depth.
GM: A standout for me is watching the scene where actor Bryan Cranston as Walter White in the hit TV series Breaking Bad hums and sings "A Horse With No Name" while driving his car around.
GB: Yeah, and at the start and finish, too. First, he's behind the wheel of his Pontiac and then later at the end, it's heard again, where he's showering after whatever horrific thing has happened. Obviously, the producer of that show is a fan, as that episode was titled "Caballo sin Nombre," which translates to "horse without a name." I would just love to meet him and say to him, what an honor because we were huge Breaking Bad fans. If you know that series, you will understand how the musical selection was really vital to it, like when they had the final episode, there was a big question as to what song was going to be used and "Baby Blue" by Badfinger was chosen, which was genius!
GM: When your music appears in such a high-profile TV series, do you see an instant surge in sales?
GB: In a sense, yes, but it isn't quite as simple as the episode airs and immediately sales happen. You can watch on streaming platforms like Spotify an actual increase in streams. But the way it does translate is a little bit more obscure like for example: "A Horse With No Name" was in Grand Theft Auto: San Andreas, and when that deal came up, Dewey was quite concerned because there's quite a lot of violence. There was this whole issue of whether you would be encouraging kids this kind of behavior and because of that, he was on the fence about it. At the time my son Joe, who was only about 10, said, "Are you out of your mind? That's going to be the biggest game of the decade!" So, he talked Dewey into it. Now we have people who come up to us, and they're usually guys, telling us that Grand Theft Auto: San Andreas was their first exposure to our music. It's odd but great at the same time.
GM: Aurora was recorded in both Australia and the USA?
GB: Yes, and a lot of it was done in Sydney. In fact, I ended up cutting 45 things (songs) in the 14 or so months, but not from scratch, as about a dozen or so were old songs that I just never quite finished. They were in the tub but didn't have a bridge or something. I always work that way. Any album is going to be something where the spark (for the song) might have been originally 30 years ago and then for whatever reason, it was put aside. In this case (Aurora) because I had so much time off, it was the first time I really had quite a big batch of brand-new material, and not just stuff I had been working on. I ended up with far more than I needed, and so I picked 11 songs that worked well together, in order to make an album's listening experience. I didn't want a double album, as it's hard enough nowadays with everybody's short attention span, so I went for 40 minutes: the old days of an album, side one and side two.
GM: Is Aurora coming out on vinyl as well?
GB: Yes, it will be issued on vinyl since vinyl is back in vogue. You know what else is back? CDs are coming back. I was also hearing last year that people were buying cassettes again. I thought it was just a novelty, but I think this is because people want something tangible to hold as opposed to streaming. I'm all for streaming because I love it that music can stay part of kids' lives and inspire them. No matter what a kid is listening to when they're 10 to 18, that's going to be the imprint on them. It doesn't matter whether it's Justin Bieber or Taylor Swift, there is no way at any other time that anything is going to make a mark that deep. And when kids discover their parents' records or something, that's something else, too. We have this runner who picks us up from the hotel, and he's a young kid. One day he's driving the van and tells us he's so happy and can't believe we're in his van. He's so excited. And that's always nice to hear and particularly from younger people. Anyway, as he drops us off backstage and as we're getting out of the van, he turns to us and says, "I can't wait to tell my grandfather!" Mind you, not his dad, but his grandfather!