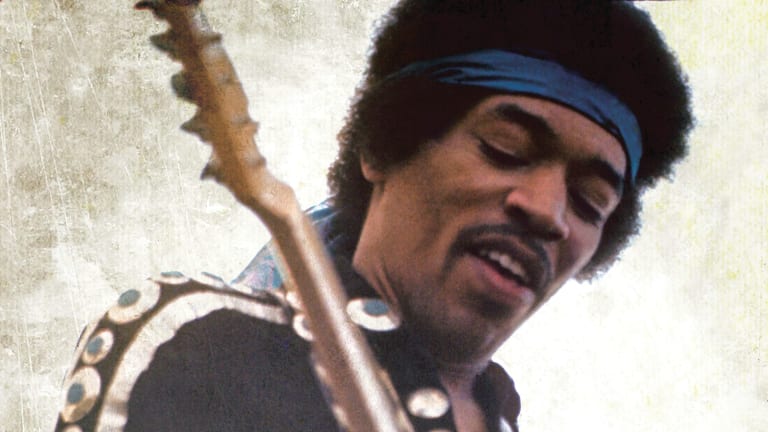 Hendrix in Hawaii, 1970
Over the Rainbow: When Jimi Hendrix took a Hawaiian holiday in 1970.
By Gillian G. Gaar
In 1970, the island of Maui was still something of a sleepy beach community. The tourist action was centered in Honolulu (on the island of Oahu), and Maui was largely undiscovered. If you heard music wafting through the air, it was likely to be acoustic guitar, if not a ukulele.
But on July 30 of that year, that changed. If you were in the upcountry slopes northwest of Haleakala volcano, you might have heard the unexpected sound of a rock band, led by a guitarist whose style was instantly recognizable: Jimi Hendrix. Supported by his longtime army buddy Billy Cox on bass, and Mitch Mitchell, original drummer for the Jimi Hendrix Experience, Hendrix played two sets to an eager audience of locals who'd been seated according to their astrological signs. The performance included signature songs like "Purple Haze" and "Foxey Lady," but also numbers that had yet to be released, like "Freedom," "Ezy Ryder," "In From the Storm" and "Straight Ahead," which would later appear on Hendrix's first posthumous release, The Cry of Love.
The show was filmed for inclusion in the film Rainbow Bridge, released the following year. But the whole period ended up being one of the most confusing chapters in Hendrix's career. Despite being featured prominently on the film's poster, Hendrix only appeared in the film for about 20 minutes. The film also fared poorly on its initial release, and it soon dropped out of circulation (though it is available on DVD). And the Rainbow Bridge album wasn't a soundtrack at all, featuring no songs that appeared in the actual movie but instead drawn from the studio recordings.
Now, the new package Live in Maui (Legacy/Experience Hendrix) seeks to place the event in its proper context. It includes complete audio of the performance, about an hour of the show on video, and it adds more details in the documentary, Music, Money, Madness…Jimi Hendrix in Maui.
"Our goal was to really tell the story, to make sure we got all the right folks telling it, and trying to contextually present to the fans what this whole thing was all about," says John McDermott, the film's director, who's also overseen Hendrix's posthumous releases since the late 1990s. "I think we all felt that it was important to really break down how it all came together, where Jimi was at that time in his life, and how this never really was a Jimi Hendrix film or project.
"The Hendrix portion of Rainbow Bridge is fascinating, it's great," he continues. "And I have always felt that the story of how it all got there — that uneasy marriage of art and commerce — is fascinating, how that could happen to an artist of Hendrix's standing. And then, of course, when he died, he lacked the ability to say, 'Whoa, wait a minute. I don't know how comfortable I am with this.' Had he not passed away, I think this would've been just a soundtrack to a surfing movie, and it would've been one of many, many things that he would've put out and done. And it would be seen, I think, in its proper light, as opposed to it seeming to be some type of creative statement by Hendrix."
The road to Rainbow Bridge began with Michael Jeffery, Hendrix's manager, wanting to get into the film business. He'd arranged for aspiring director Chuck Wein and producer Barry Prendergast to shoot footage of Hendrix's new group, the Band of Gypsys, at a benefit performance on January 28, 1970, in New York City, for a proposed TV special. The show was a disaster, and the Band of Gypsys broke up, but Jeffery maintained his contact with Wein and Prendergast.
Now he persuaded Hendrix's label, Warner Bros. (Hendrix being signed to Reprise, a subsidiary of the company), to invest in a new film directed by Wein and produced by Prendergast and Jeffery, offering the company the rights to the film's soundtrack in exchange, which would feature a score by Hendrix. Warner Bros., unhappy at learning that their existing contract with Hendrix didn't include soundtracks, agreed.
Wein had been a part of Andy Warhol's circle in the mid-to-late '60s, introducing the artist to model/actress Edie Sedgwick; he also served as a director for the Warhol-produced My Hustler. His new film would tap into the burgeoning counterculture audience that had made Easy Rider a hit. He was also inspired by the iconic surfing documentary The Endless Summer, initially naming his own film Wave.
"In Endless Summer, they were always chasing the opportunity to scale these amazing waves and all that," McDermott says. "And I don't think that Wein had that kind of an approach, other than there was something about this counterculture lifestyle that he hoped to meld together. I think he just felt like, 'Yeah, yeah, yeah, we're gonna do this, and then we're gonna do that, and it'll all be great.' It just kind of spiraled out of control pretty quickly."
Hendrix's contribution was initially limited to providing a soundtrack, but Wein and Jeffery hoped to get him more involved. Wein claimed to have a strong connection with spirit world; John Jansen, an engineer at Hendrix's studio, Electric Lady, recalls Wein "talking about his trips to Mars and looking into a gutter and finding an ace of spaces and a queen of diamonds. Only those who were cosmic could know the true meanings."
Hendrix had met Wein and listened patiently to his stories, but his friend Colette Mimram says in Music, Money, Madness that Hendrix could nonetheless "smell the hustle."
"I think Jimi could smell the hustle, but I think he was a guy who didn't like confrontations," says McDermott. "Jimi thought Chuck was of his time. He had that rap and all that stuff. But Jimi ran into so many people in so many ways that all wanted to touch him, grab him, be a part of his life. I think he had a way of being able to keep his distance when he really needed it, but at the same time, he just wasn't the kind of guy who could blow somebody off. I think he relied on others, whether it was (tour manager Gerry) Stickells or (former manager) Chas Chandler and people like that, to be more of the gatekeeper type person in his life."
Wein finally secured Hendrix's participation when he telephoned Mimram one day and learned Hendrix was visiting her; she passed the phone to Hendrix so the two could talk. "Because of Jimi's deep rapport with Colette, that's how they got in," McDermott says, adding that Mimram later felt terrible about having facilitated Hendrix's involvement in a film she considered "awful."
After the Band of Gypsys had imploded, Hendrix assembled a new group featuring Cox and Mitchell. The trio spent the year going on short tours, and when not on the road, Hendrix spent the rest of his time recording in Electric Lady Studios. Following shows in San Diego and Hendrix's hometown of Seattle, Cox and Mitchell arrived in Maui on July 27, with Hendrix arriving the next day, planning to spend a few days on the island prior to their show in Honolulu on August 1.
But instead of being able to relax, the band members found themselves being pressed into playing a concert for Rainbow Bridge. The film's loose plot centered around the journey of a young woman, played by Pat Hartley, another Warhol associate, who comes to Hawaii to explore the counterculture scene of hippies, surfers and spiritual seekers. A performance by Hendrix's band would bring additional color, as well as a good dose of international star power.
"Jimi was just kind of — I don't want to use the word 'ambushed,' " says McDermott, "but I do feel it was like, 'Wait a minute, what is this? OK, sure, we'll set up in the middle of the field and play, but what's going on here?' I think that was a part of it; that they just literally hit the ground, and then it was like, 'You have to be a part of this,' as opposed to it being, 'Oh, yeah, how's that movie thing going?' "
The concert was held in a former pasture near Haleakala volcano, with news of the concert spread through word of mouth (or, as they say in Hawaii, the "coconut wireless"). The wind was so strong, the microphones had to be wrapped with foam cut from the band's instrument cases. "No sane person would try and do a recording in an environment like that," sound operator Mike Neal says in the film. A single 8-track deck was brought over from Honolulu, meaning no backup recording could be made.
But the film crew didn't see themselves as shooting a concert; for them, the show was just a backdrop to the main story. "All these folks that were in the movie, the cameras were gonna show them at a Jimi Hendrix thing, as opposed to it being a Jimi Hendrix show," McDermott explains. "They really were filming the event, as opposed to the concert."
Despite the chaos, the band members simply went ahead with what they did best. "Jimi just went up there and played," says McDermott. "He did more of his familiar material in the first set, and then the second set he was able to experiment. Which is really what makes the film footage so interesting."
Two days later, the band was in Honolulu, giving what everyone agrees was a strong performance. It was also Hendrix's last U.S. show. He then returned to Maui for a number of days, pushed into making a further brief appearance in the film. "I think he would never have allowed that in the finished film," McDermott contends. "It's him just kind of goofing and not being in the best shape, and it's just rambling nonsense. It just seems like, they had the footage, therefore, they used it."
Jimi was back in Electric Lady Studios on August 14. He attended the studio's official opening party on August 26, then flew overseas for a short U.K./European tour, which was canceled after September 6, when Cox became ill and returned to the states. Hendrix went to London, where he died just 12 days later of acute barbiturate intoxication.
Now Rainbow Bridge became another uncompleted Hendrix project, one that Jeffery was desperate to salvage, whatever the cost to Hendrix's reputation. "Had Jeffrey not been so financially involved in the making of this film, I think different decisions would've been made," McDermott says. "I think he would've said, 'Look guys, Jimi isn't here. We're not gonna be able to do it. You don't have it in the can, and I can't allow his image or his music to be featured in this.'
"But Michael was in very deep, and his primary client had passed, and there was nobody else on his roster that was ever going to be able to be that successful. I think there was concern that, hey, without Jimi, is this thing going to be viable? Michael's nascent film career was the thing that was completely at risk with this, and that's why I think he made the decisions that he did."
Mitchell's drums weren't recorded well, so he had to overdub his performance. This caused some difficulties with the new release. "We spent a lot of time in the studio," McDermott explains. "The performance was recorded on 8-track, and Eddie Kramer was able to mix it from that. We had some songs where Mitch didn't overdub drums, and then you had the original 17 minutes that were in the film where Mitch did overdub the drums. So we had to blend the two so that it didn't sound so much that when one would switch to another, you'd be like, 'Wait a minute, what happened?' Eddie did a great job; he's always trying to incorporate every possible technology that will bring more fidelity to stuff like this. He really did rescue this, I felt."
Now, Live In Maui shows just why Hendrix's performance made such an impression on those who were lucky enough to experience it. "Hendrix was so big, and such a force then for young people, that the idea that he would come to Maui was just unbelievable, just hard to imagine," says McDermott. "And still today, if you ask people over there, it's still such a huge deal."