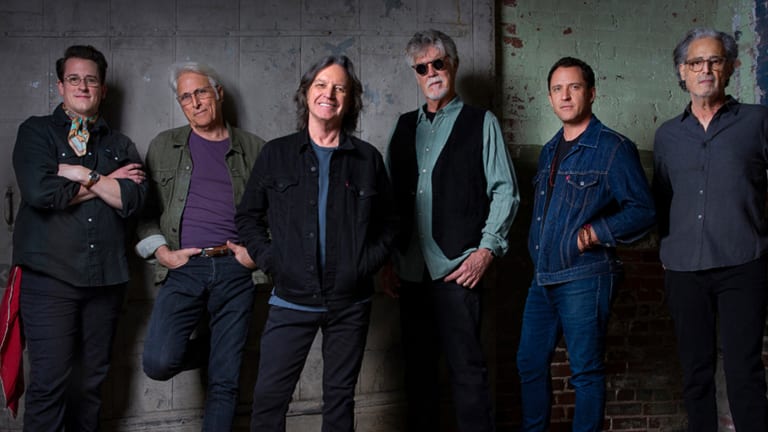 How Nitty Gritty Dirt Band unlocked mystique of Bob Dylan with covers album
With their new tribute album, "Dirt Does Dylan," the Nitty Gritty Dirt Band gets all the right dirt on Bob Dylan's mystique.
By Lee Zimmerman
There are few things more fitting than a new Nitty Gritty Dirt Band focusing wholly on the songs of Bob Dylan. After all, NGDB scored the biggest hits of their career covering songs of other people. "Mr. Bojangles" by Jerry Jeff Walker is among the most obvious. Their classic Will the Circle Be Unbroken album culled from the archival songs of Appalachia and classic country music. Their 1979 hit "American Dream" came courtesy of Rodney Crowell, while another Dirt Band classic, "Fishin' in the Dark," was written by Wendy Waldman and current Dirt Band member Jim Photoglo.
As for Dylan, suffice it to say, he remains one of the most rarified artists in history, with countless covers culled from his 60 year catalog. The Byrds, the Hollies, Fairport Convention and McGuiness Flint were among those who devoted entire albums to his Dylan songbook, beginning in the late '60s and early '70s, while Chrissie Hynde's 2021 effort Standing in the Doorway: Chrissie Hynde Sings Bob Dylan and Lucinda Williams' recent entry, Lu's Jukebox Vol. 3: Bob's Back Pages: A Night of Bob Dylan Songs, rank among the latest examples.
That said, NGDB has a history with Dylan himself. Their version of "You Ain't Going Nowhere," recorded with Byrds Roger McGuinn and Chris Hillman on Will the Circle Be Unbroken Vol. 2, served as a precedent. Not surprisingly then, Dirt Does Dylan seems a logical progression as far as far as that connection is concerned.

Of course, there's always a fine line between putting one's individual imprint on a classic — particular as far as the Bobster is concerned — and not making it so original as to lose the flavor of the song as it was originally written. (As Dylan himself has done when replaying his own songs in concert.) Fortunately, the Nitty Gritty Dirt Band manage to tread that divide without veering to one extreme or the other, and while the new album's selection of songs — "The Times They Are A-Changin'," "Don't Think Twice, It's Alright," "Quinn The Eskimo (The Mighty Quinn)," "Girl From the North Country," and "I Shall Be Released," among them — lean heavily on the familiarity factor — the band put the prerequisite energy and enthusiasm into each number to allow for a relevant revisit.
Goldmine recently had the opportunity to speak to Jeff Hanna, Nitty Gritty Dirt Band's singer, guitarist and longtime stand-bearer about the new album and his thoughts on the band's backstory in general.
GOLDMINE: Congratulations on the new album. You really hit the mark with these songs.
JEFF HANNA: That's why we go out and play the songs and as [keyboardist] Bob Carpenter says, "People give you the claps."
GM: That's hilarious. What? No, it's a wonderful record. It's just the perfect combination. Because of the songs and because of the way you guys cover them. You make them your own. You've done that since the beginning. It's part of the formula.
JH: I'd like to point out that we've written a lot of our own material. It's not just about the covers. We like to strike a healthy balance on a typical Dirt Band record, and swing between stuff that speaks to us, and that we feel like can fit like a glove.

GM: In the case of Dylan, that's a pretty big shoe to try to fill. At the same time, there's a history of that. Look at the Byrds — they established the template early on. There are so many great Dylan songs, but they are perfectly suited to be adapted by others and become a signature song for that individual or band.
JH: Yeah, I totally agree with you. And I appreciate that. I think that this turned out to be a really good marriage of artists and material. A lot of people that haven't even heard the record, have said this makes total sense. I love that they would say that. I'm flattered that they would go, "That sounds like a good idea."
GM: Naturally, there's a history of Americana tradition inherent in the Dirt band, and of course, with Dylan as well. You come from a common core, so to speak.
JH: I think it's fair to say that — the old folk tradition.
GM: The most obvious question is, out of the hundreds of Dylan songs there are to choose from, how did you narrow it down to ten? How did you make the choices that you made?
JH: It was more complicated and also more simple than it sounds. I know it sounds crazy. But now with these ten songs, it all made sense. We started in in the talking phase of this record, at the end of 2019. We probably started with over 700 songs that we discussed. That was out of hundreds we could have looked at. And yet, I don't think there's really a clinker in the pile. After all, it's Bob Dylan. So we talked about a lot of stuff, and then we narrowed that big list down to maybe 35 or 40 that we brought into the studio. I think it was maybe March 4th or 5th of 2020 when we started this record.
GM: It sounds like a formidable task.
JH: It all sounded like a good thing on paper, and it was even when sitting down with our bandmates and playing and singing it all as well. I would say the majority the lead vocals on this record were live in the studio, which is unusual. A lot of times, you go in and do what you call a guide vocal, just so you know where you are. And then when you plan it out and you go in later, you do your quote-unquote real vocals. However our producer, Ray Kennedy, was just a genius, a master engineer and a master record producer. He really encouraged us to just lay it down live, and with most of the solos, it was the same deal. There were a few exceptions throughout the record, but mostly we'd just go in there and listen to the playback, and if it went over well, we'd just say "That one fits great. That one not so much." So that's how we carved it down.
GM: It sounds like it was so spontaneous, and yet at the same time, it sounds so precise.
JH: As a band with six guys, the acid test for us was whether it would be great to go for the big choruses. And Dylan doesn't write a lot of big choruses. Dylan tends to write a quick little refrains, like with "The Times They Are A-Changin'" to like "The Mighty Quinn," which might seem like a head scratcher, although that was a natural for us. We just love it. We've been playing that song in sound checks almost as long as we've played "You Ain't Goin' Nowhere," which we cut with Roger McGuinn and Chris Hillman.

GM: No doubt. You certainly weren't newcomers to the catalog.
JH: We had some context. I hope that kind of answers your question. We also have a lot of singers in the band, and we spread things around. We knew Bob Carpenter was going to sing "I Shall Be Released."


GM: You have Larkin Poe on that track as well. That was a nice touch.
JH: They're so great. We all agreed that they just took it to another level and Megan Lovell's lap steel playing is, to me, kind of reminiscent of David Lindley's stuff with Jackson Browne. She digs deep and kills it. Both of them were a real joy to work with. We tried a lot of things, but when they came in, they really had it totally going on. They came in really well prepared and tried a couple other little things towards the end of the song that they just did and just made it all the more better. For Bob, it was just in his wheelhouse. It was just really cool.
GM: Clearly there's an abundance of talent at work on this record.
JH: Jimmie Fadden does a great job on "It Takes A Lot To Laugh, It Takes A Train To Cry." He makes it sound totally natural. He's one of the great harmonica players in my opinion. And Jaime [Hanna] did a great job on "Girl From the North Country" as well.
Get the new Nitty Gritty Dirt Band album on CD and vinyl in the Goldmine store
GM: It's just a great combination all round. You still retain the signature Dirt Band sound, but you also adapt it to the songs and vice versa.
JH: I have to give a lot of kudos to Ross Holmes on the fiddle and mandolin. He's a brilliant player. He's got quite the pedigree, having played with Mumford and Sons and Bruce Hornsby, two of my favorites. He really brings "Girl From the North Country" to higher level. He's able to follow along with Bob Carpenter's accordion, and together they got this really cinematic thing going, a very Celtic vibe. I just love that. I don't think I've heard a version quite like that one. I just fingerpicked the acoustic guitar on it and, sitting there and hearing that through the phones as it was going down, I was getting a lump in my throat.
GM: I will say that in listening to your vocal, I do hear a little bit of that Dylanesque twang.
JH: It came out naturally, especially on one song in particular, which was "She Belongs To Me."
GM: I heard it here and there, but that's not a criticism.
JH: No, no, I appreciate that. It's hard not to do that. Actually, when I heard the playback, I thought, Well, I kind of went a little Bob on that one. But then I thought, I really sound like Kim Carnes.
GM: Really?
JH: Kim's always struck me as that kind of singer. I love that.

GM: She was a label mate of yours when you were signed to EMI Records and referred to simply as the Dirt Band.
JH: She's one of our best friends. She lives right up the road from us. I love her. She's super cool.

GM: It's clear you also have quite an affection for Dylan. That's obvious.
JH: Let me just say this real quickly. I've been hooked on Bob since I was since his first album record, Bob Dylan. He only wrote one or two songs on that — "Talkin' New York" and "Song To Woody," but all the covers were great too. He had that great old Jesse Fuller song on there, "You're No Good." He sings the heck out of that one. He drew on a lot of stuff and did it with authority.
GM: You do the same thing in your treatments of this material. You also have some unusual choices. "Country Pie," for example.
JH: Bob Carpenter gets full credit for suggesting that one. That was one of those we cut live in the studio. Ray Kennedy said "Let's try it." I think the very first song we recorded was "Tonight I'll Be Staying Here With You." I love that song, and when we cut it, we were just running on adrenaline. We were like, oh, man, we've got it. We figured it out. We struggled a little bit at first, so Ray suggested that we take a break. Then he suggested that we stand in a circle around the mic. We cut "Country Pie" like that, and man, I just love it. It was so much fun. There's no fixes or overdubs on that. It was just all us having a blast singing and playing the tune, and I think sonically and musically it's a really cool throwback to the Dirt Band's roots.
GM: I would agree. The arrangements and the treatments are all in sync.
JH: Thank you. I love Ross' kind of gypsy jazz violin he's got going on there kind of like Stephane Grappelli, or like a Django Reinhardt record almost. And Bob started whistling and he's like, "Should we get kazoos?" I'm like, "Man, that whistle is awfully great." And then Jamie started whistling with Ross and Jimmie. It was so much fun. Jimmie played a tape box with his brushes, with a harmonica in his rack. If you've seen us play our live show, you know it's a sight to behold. And he's so good at it, man. That song just makes everybody smile. I love that.
GM: In coming up with these arrangements, did you feel like you were towing a fine line of being true to the melody and yet putting your own elements into the song? Was that a really specific process, to kind of not go one way or the other? Keep the the melody intact and keep the spirit of the song intact as well, but still make it your own? It does kind of seem like a hard thing to do.
JH: One of the keys to that, especially when you're covering something very familiar, is to listen to it once and kind of forget what you just heard. And don't try to go back and keep referencing any particular version either. Every time Bob recorded a song, he approached it 100% differently. That's part of his job and his genius. For us, the the end game was to try and make it sound like us. There can be many sides to that. And so we really tried to just find something that felt like us as a band. We've been playing together for a couple of years. Me and Jimmy and Bob have been playing together for decades. At first, we were a jug band just kind of playing around little clubs in Southern California. But we were always referencing Bob, because he was a guy of our generation, just a few years older than we were. Most of our folk heroes were a bit older than us, guys like Doc Watson and Earl Scruggs, and Mississippi John Hurt, and Sonny Terry and Brownie McGee, and Ramblin' Jack Elliott. Dylan was this young hip guy, but his music felt like this great folk music that we were so into. He was still a hipster however. He was super cool, and wrote these tunes that felt like they felt like the old tunes.

GM: Have you ever met Dylan?
JH: I have. Yeah. But it was it was kind of a, you know…

GM: You don't even have to finish the sentence. I get where you're coming from.
JH: All the mystery was still there, but it was a very brief encounter. However, he wasn't dismissive. I have a lot of friends that have had their moment with Bob, and their stories are really hilarious. Ray Benson from Asleep at the Wheel has a really good one. They were on the road with him for awhile. Dylan's elusive. And he's also mysterious. And I kind of love that about the guy. Today, with social media, and the way that people promote themselves, you reveal a little more of yourself than ever before. And you lose some of that mystery when people choose to pull the curtain back. That's their choice, but there was this veil of mystery that I always thought was great about certain artists. I didn't want to know everything about the Beatles, but I love their music. And Dylan was one of those guys. He's kind of maintained that kind of Greta Garbo mystique. I just think he's probably a regular guy. He's just choosing to be mysterious. It goes all the way back to the beginning. I read somewhere that he kind of made up his own biography when he first hit town in New York, starting with changing his name.
GM: You never know, he may somehow reach out to you through various channels and give some comment on the album.
JH: That'd be amazing. We've got some folks that know his people. I would love any kind of comment from him on this thing. I mean, his songs have been covered by so many people. And there are so many versions of these ten songs. But I tried not to go for context. There are a few of the songs, and I won't tell you which, that were really informative to me. I was drawn to them because they're all done by people I admired. They kind of put their stamp on it, and they came away from it with a sound that was very distinctive. His music is very malleable. It's like a really beautiful piece of clay.
GM: Lucinda Williams recently did an album of Dylan songs as well. Are you familiar with that one?
JH: Was that a whole album?
GM: Yes, it's one of the jukebox series she's done. She's done like six or eight of them.
JH: Ray Kennedy produced all those. Ray's produced most of Lucinda's records over the last few decades. And Steve Earle's as well. And Billy Joe Shaver. He's an amazing producer. We were really lucky to get to work with him. He's so great. She did a Tom Petty record too. She's tremendous. I think that Chrissie Hynde did a Dylan tribute as well. I don't know if it was an EP or a full album, but I think it came out a year, year and a half ago.
GM: You've got some great people on the album. Your wife, Matraca Berg, Steve Earle, Jason Isbell, The War & Treaty, Rosanne Cash, and Larkin Poe, of course. So how did that come about. Did Ray bring them in, were they people you knew, or was it a combination of all the above.
JH: They were people we knew. I've known Steve Earle since the early '80s, when he first hit town here. We've been pals ever since. And Ray, of course, has been producing his records.

GM: So after you got the preliminaries done, Covid must have really put a damper on your plans.
JH: We stopped recording a week after we started, because Covid hit, and the whole world literally stopped. It hit pause. We had recorded eight of these songs already, and large chunks of them were finished. But everybody scattered. Some of us went back out to the West Coast, Jimmie went to Florida. And the rest of us stayed here. Ray shuttered the studio, just locked it up. Nobody went anywhere for a while. And then in the fall of 2020, I started thinking, these songs are just just sitting here. At that point, we hadn't found a distributor for our record, so we didn't want to hurry up and put the album out. That's the other thing. The pipeline. Music was super clogged up. Some folks chose to wait and see attitude. Some folks went ahead and put them out. And I'm glad they did, because there was a lot of great music to get us through 2020 and 2021.
GM: This was the first time in a very long time you worked with an outside producer. Have you have you worked with Ray before?
JH: No, but I've known Ray since the '80s. He was a country artist when I met him, a solo artist, and a really good one. But he wanted to be on the other side of the glass. And it was lucky for all of us, because he's again, he's really brilliant.
GM: Sometimes when you bring someone else in, there can be a period of adjustment, right?
JH: Yeah, you got to get the lay of the land. But one of the great things was, we've known each other socially for, for 20 or 25 years. We ran in these concentric circles of various family members and kids. That's one of the things I love about this community here in Nashville. It's not all about business.
GM: So how did the sessions kick off?
JH: Ray said to us, "You guys are in a groove." He said we were road hogs, meaning that we were hitting on all cylinders. I love that phrase. And we said, "Well, great, let's get in there and do it." So we were able to get back into the studio in March 2021. And again, we were just lucky that Ray was available. Ray is of the same generation as our band, and so there's a lot of context there. He uses all this cool vintage gears, old mics, and old drum kits and lots of the instruments we played on this record were his. I brought one of my acoustics in and played on a couple of tracks, and in fact, I've got some great old acoustic guitars, but Ray had a ton of them. That was part of the fun, walking in this kind of museum. We had a good time. It took it was a period of adjustment for our band, because we've been playing live all of 2018 2019 and then boom, you know, we played we played our first and last shows in 2020 back to back. We played the 11th and the 12th of March and that was it. I woke up on the morning of the 12th and got a call from management that we had to come home.

GM: So all in all, you seem very pleased with this project.
JH: I will just say again, that I think that we accomplished what we set out to do. It seemed like a great idea on paper, but you can have a great recipe and still burn the pancake.

GM: Did the fact that so many other artist had covered Dylan in the past seem intimidating at any point, that you would have to reach that high bar that's always there when you're covering Bob?
JH: Oh, absolutely. It does becomes a little suspicious and intimidating to actually think, okay, well, we kind of have to measure up to what's been done before and we have to do it justice. We have to be as good and significant as the people that have done it in the past. I think that if we had thought really hard about like, trying to step in the the large shoes of the Byrds, it might have been a bit scary. But now we're getting we're actually rehearsing some of these Dylan songs to bring them to stage. It's one thing when you make a record, it's another thing to learn the songs off your record. It's just a little different set of muscles.
Go to the Nitty Gritty Dirt Band website for more information