How one artist rearranges art and music into songbook collages
Artist-guitarist Hayato Takano rearranged art and music in a unique way in his Music Verses Art exhibition, which debuted in July 2022 at the Mr. Musichead Gallery
By Andrew Daly
Have you ever wondered how your favorite artists create the music that they do? Arrangements can seem so simple, yet so diverse all in the same undulating breath. Now, have you ever thought about what those same songs might look like completely deconstructed, and rearranged through the lens of alternative art?
Surely, artist and guitarist Hayato Takano has with his Music Verses Art exhibition, which debuted in July of 2022, at the Mr. Musichead Gallery. When asked about the genesis of the project, Takano quipped, "The idea just came to me one day while playing the guitar. The notes were kinda like pixels that could make up a larger picture."
To fully understand the project though, one has needs to first wind back the clock, and understand the artists origins and initial love for music, "Music increases my motivation, and is a huge stress reliver. I've always wanted to work in a career that involved music," said Takano.
When asked, Takano contemplated what led him to make the critical shift, call it a faithful decision, to move from simply consuming art, to creating it, effectively merging two worlds, and two loves, the artist went on to say, "I've always loved art, from impressionist era to today's contemporary art, and I used to paint as well. But it wasn't until 2012 that I decided to really pursue my dreams of being an artist. Ever since I was little, my dream was to create art, but as life happens, dreams get pushed to the side and often forgotten. So, I decided I was just going to go for it."
Go for it he has, and the results are nothing short of spectacular. Using only an erasure, glue, and curved stainless-steel tweezers, Takano, an avid guitar player, and visionary artist, has produced truly singular imagery, giving fans of both music and art an opportunity to re-realize the music they love, and thought that they knew oh-so-well.
"My collage art began in 2002 as a gift for my then girlfriend, now wife. As a poor music student living in Los Angeles, I was unable to buy a present for her birthday, so I decided to make her a present. Using pieces of hand-torn sheet music from her favorite bands, I created a collage picture of herm" said Takano was asked about the initial objective and genesis of the ongoing project.
Referred to as "note-for-note portraits," Takano's art is sentimental, yet seminal all the same. As onlookers peer through the artists looking glass – a kaleidoscope of visceral thoughts, feelings, and creativity cast through blood, sweat, and tears – a sense of stillness, and understanding might wash over them, "The process takes a lot of time, and patience. I tear each and every note by hand, and then carefully choose the placement," mentions Takano.
At this point, you might be wondering, "How does the artist choose which subjects to feature?" When it comes to a project as complex and seemingly daunting as this, one might think the answer to that question would come from a deeply emotional or personal place, and in a sense, it does. When asked, Takano pondered, and then mentioned, "I pick artists that inspire me for various reasons. There's a lot of people though, so the hardest part is deciding who to do next. And there's a lot that I want to do."
Music Verses Art begs many questions, but most importantly, it beckons the observer to question themselves. When an artist breaches the inner depths of his mind and brings forth subject matter so meaningful as to reuse it and create something entirely new, there is great value in that. Value that perhaps cannot be quantified. As is the case with any artform, over the course of the respective journey, the vision changes, morphs, and readjusts itself over time. Each proverbial brushstroke, or in this case, each and every tear, has an effect, and that effect alters what we finally see. 
"I learned a lot from my early works. The finished product never resembled my initial vision. I always start off with the eyes, and then I build the piece from there. I adjusted some parts though, because sometimes things just don't translate well. These would be things like shadows or sizes. Each piece (artists) has its own feel. Miles (Davis) has a little bit of an attitude, and you can really feel (Bob) Marley's smile. (Jimi) Hendrix, he is my favorite guitar player. That piece was very challenging. There is more light contrast, and I really pushed myself with that piece. So, each has its own feel." remarked Takano.
Six-string fans and ax-slingers alike will take special notice of this project, as Music Verses Art is loaded with guitar heroes of yesteryear and beyond. An avid guitarist as well, Takano reminisced on the personal value of the project, and the particular focus on the famed Sunset Stripes "Guitar Row," saying, "I'm a guitar player, and I pick musicians I like. I've played at a lot of places on the Sunset Strip like The Key Club, The Cat Club, The Viper Room, The Roxy, and The Whisky. It was a fun place, and ironically, the Mr. Musichead Gallery is right there."
While Takano had a great many choices and could have comfortably positioned his project at many of them to great success, ultimately, he chose the Mr. Musichead Gallery, "I met with many galleries in the beginning, but my art didn't really suit most galleries style. A lot of places wanted smaller pieces, and my art needs to be bigger. My pieces are displayed at Mr. Musichead, and it's the perfect fit. It's a music gallery — mainly photography — and it has some famous photos of musicians too. It's a great place for inspiration," Takano recounted.
As onlookers, critics, or general lovers of art and music, naturally, if you're a deep thinker at least, what's left at the end if the day is to judge? But what are we judging? Are we judging Takano's mission statement? No, that's far too personal. Are we judging his raw ability to visualize, deconstruct, and then subsequently actualize? Perhaps. But even then, isn't that far too subjective?
Hayato Takano artwork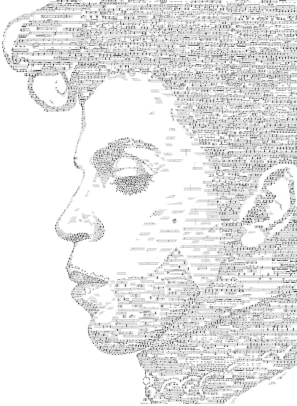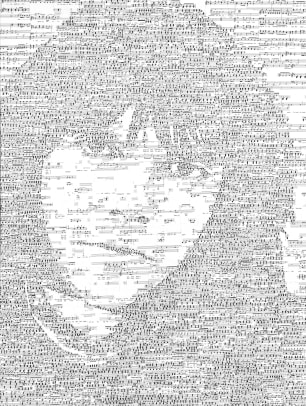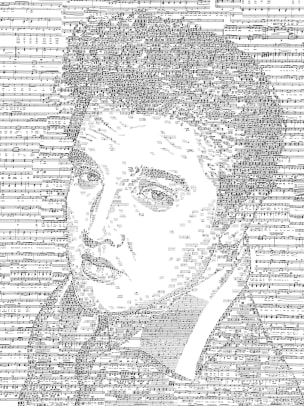 Ultimately, the legacy of Music Verses Art won't be gauged by Takano's ability to translate "Get Up, Stand Up," "Diamond Dogs" and "Higher Ground," via collage. And no, it won't be recollected as the watershed moment which introduced the 2022 zeitgeist to Bob Marley, Jimi Hendrix, David Bowie, Elvis Presley, or Steve Wonder. To me at least, the legacy of this project has yet to be written. Is that a cop-out? No, I don't think so.
As I said before, and as Takano mentioned, the initial vision of this project looks nothing like it does today. Why is that? It's because this one came from the heart, and maybe, just maybe, if nothing else, that's the legacy of Music Verses Art. For one singular moment, beyond the initial recording of these decade-defying tracks, history was rewritten, or in this case, reassembled. One artist's vision has been very literally torn to shreds, and then completely remade into something new, and sometimes unrecognizable.
It's not often that the public "allows" such a thing to happen – deviating from what they know and altering what they love. But in this instance, a visionary artist, and lover of all things guitar has reinvented the wheel to great success, taken what we thought we loved, and redefined it for us. Hayato Takano has accomplished the unthinkable, and in doing so, he's signed his name across the dotted line of history and finds himself nestled alongside his heroes through the love of song, art, and the greater unknown.
While the form and shape of the project are perhaps ever-shifting, Takano has an idea of where it's going still, "NFTs and subjects other than musician's portraits. There are a lot of things that I want to do. It's just figuring out how, you know? For a potential legacy, this is a hard industry, so the thought of just being remembered would be amazing."
For more on Hayato Takano, go to www.haytak45.com
To view more of Takano's artwork on display at the Mr. Musichead Gallery, click here 
For more information on Mr. Musichead gallery, go to mrmusichead.com