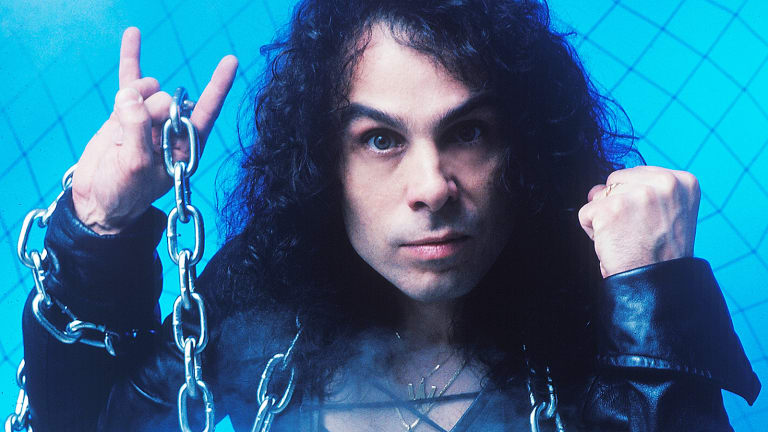 Inside Dio's 'Holy Diver': Scrapped Black Sabbath songs, controversial cover and more
Wendy Dio and Vinny Appice look back on singer's 1983 solo LP, plus detail the new forty-song 'Holy Diver: Super Deluxe Edition.'
Shop for Dio vinyl, CDs and more — including the new editions of Holy Diver — at Goldmine's store.
By Andrew Daly
The news of Dio's classic album, Holy Diver, garnering an expansive, forty-song reissue rattled the proverbial cages of metal heads worldwide. Reissuing, let alone remastering an album of this magnitude is a delicate thing. You could easily upset the fans, and perhaps take it too far, but in this case – not shockingly – the project is in able hands with Ronnie James Dio's longtime wife and manager helming the package. 
"I think Ronnie would be very proud of what we did," she says. "We found a bunch of outtakes in the vault, and they're on there. We felt that to be important, as now the fans can hear how the record came together. We also found an unreleased live show from Fresno that was done in 1983. So, that's on there, as well as a bunch of different little jewels that we found that we threw in there. I think it's an exciting project, and we are really happy about it."
One of the lynchpins of the entire Holy Diver: Super Deluxe Edition reissue package is the updated mix of an already punchy album.
"Well, you know, first, we needed to find a producer who Ronnie would have approved of, and who we felt could handle this material," Wendy Dio continues. "Neither of these tasks were easy things, but we picked Joe Barresi, as we knew he was up for it. A whole bunch of names came up, but in the end, I looked at it, and I thought, 'Well, Joe's a big fan of Ronnie, and he understands the music. This is who I want.' At first, Joe was very hesitant about changing anything, but you know, technology has changed now, and I thought he would be the perfect one to bring the technology up to date, and what he did is amazing. If you can believe it, I think it's really in your face – even more than it was originally - and I just think he just did an amazing job. We had a lot of stuff to pick from, and so we picked what we thought that the fans would like most. I'm happy with it. I think Ronnie is up there, and he is very proud of it too."
Regardless of if you're a longtime fan, or someone who is taking the plunge for the first time, the Holy Diver: Super Deluxe Edition will have something for you. The package includes two versions of the original album. The first is a new mix by Joe Baresi, which was crafted using the original analog takes, which included all of Holy Diver's nine tracks. The second is a newly remastered version of the original mix, which perhaps will cater to Dio purists most. The best part, for me anyway, is the fantastic unreleased live performance from the Holy Diver tour, which was recorded in 1983, while trekking across the US. For Dio superfans, the addition of outtakes, and rarities will bring you full circle, and serve as true icing on the cake to an already essential offering from the Dio camp.
Artwork was always a key part of any Ronnie James Dio's release, and it's with that in mind that fans will be treated to newly commissioned imagery by longtime Dio artist, Marc Sasso. So, if music isn't enough to draw you in, then perhaps aesthetic-conscious fans will want to feast their eyes on these new, and soon-to-be iconic images rendered by Sasso. 
When asked about Holy Diver's original artwork, Wendy Dio drove home the importance of album imagery to Ronnie James Dio by saying: "The album cover was controversial even though it really isn't what people think it is. I mean, the record label did not want that album cover out at all, but Ronnie was very adamant, and would not budge. I still remember it, he was saying to them, 'You know, just because he's got priest's clothing on, you know, that doesn't mean he's a good guy. Maybe the priest is the bad guy, and the monster is the good guy.' People couldn't look past the cover, and too many people made assumptions. If they opened up the album and played it, they would know that Ronnie was writing about the things he always did. He wrote about never giving up, to always follow your dreams, and following your heart. That's what Ronnie's whole life was about, you know? Ronnie never had time to worry about what people thought, or who was wearing what, or saying this, or that. He just was always looking forward and trying to be positive. He was that way until the very end."
To fully understand the genesis of the entire project, we first need to go back to the beginning of both Dio's and Holy Diver's origins. When Ronnie James Dio formed Dio in 1983, he was already a known entity. In the wake of leaving iconic metal originators, Black Sabbath, Dio had already starred with the likes of Elf, Rainbow, and more. Ultimately, at forty years of age, if Dio had walked away from music altogether, his legacy would have been etched in stone, and nothing short of ironclad. But for Ronnie James Dio, hanging up his horns was never an option, and instead, the effervescent frontman pivoted. Tired of being a member of bands forged by others, instead, Dio decided to finally launch his own project, which would bear his namesake. And so, it was with fellow Black Sabbath alumni, Vinny Appice in tow that Dio was born.
In conversation with Appice, the veteran drummer recounted the initial beginnings of the band. "It was basically we went out to have some food and drinks, and Ronnie said he's leaving Sabbath and was going to form a new band," Appice recalls. "He asked me if I wanted to join up with him, and I said, 'Yeah, I'm in, Ronnie.' I thought it was an exciting way to start a new band with Ronnie already being considered one of the greatest singers ever. At first, it was just me and him, and all we had was the riff that would become 'Holy Diver.' From the very beginning, it was all very organic, and there was no outline, and no rules for the project, you know? We don't work like that. It was us saying to each other, 'Okay, there's two of us, now we need a guitar player and a bass player, and see what happens.'
After the success of both Heaven and Hell, and Mob Rules, to say that leaving Black Sabbath was a risk might be considered an understatement. Still, Dio was ever in control, and ever confident. "Ronnie was always positive, and was always in control of himself," says Dio's manager and wife, Wendy. "You know, he was excited that he could now do exactly what he wanted to do without the confines of anyone telling him what he should, or shouldn't do. He was finally in control of his own destiny, and he was excited about it, but also, he was obviously nervous about not knowing if the fans would accept what he was doing. But that comes along with the territory, and I think that all musicians, when they're creating, they are always a bit nervous about how it's going to be, and how the fans might accept it."
With Appice on board, and the bedrock of the track which would come to change metal onward, Dio sought to round out the rest of the band, and only a certain caliber of musicianship would do, as Dio – ever the perfectionist – could never settle on anything that was not in keeping with his vision. I asked Appice about putting together the lineup, and the drummer commented, "Well, we tried some people, and we auditioned some guitar players in L.A. We kept doing that, but no one really stood out for us. So, Ronnie decided he wanted to have an international flavor for the band, meaning, a couple of players from Europe. So, we flew over to London, and Ronnie made a call to Jimmy Bain, we hooked up with Jimmy in London, and Jimmy knew this guitar player, this young kid named Vivian Cambell. Jimmy knew Ronnie from their Rainbow days, and he trusted him, so he took the recommendation. And so we arranged for Vivian to fly in from Ireland, and then we got together at a rehearsal place in London, we jammed, and it was really cool. It was so cool, that I guess, as Ronnie would say, 'It was magical.' Everybody fit well, we felt good about it, and that was it. That was the band. After that, we arranged for them to fly into Los Angeles, and then we started getting together, rehearsing, and writing Holy Diver."
At the onset, aside from "Holy Diver," Dio had scraps of songs that he had written with Sabbath, which were still kicking around, which Wendy Dio recollected back on in quipping, "I remember when Ronnie left Sabbath, he had been writing songs before that point, and those were intended to be part of the next Sabbath record, but then things broke down. Tracks like 'Holy Diver,' and 'Don't Talk to Strangers,' those were just some of the songs that were supposed to be Sabbath songs, so he had those going in, and he and Vinny had been working them out." Vinny Appice further recounted the early writing sessions by recalling, "Ronnie and I, we had "Holy Diver" going in, but from then on every song on the Holy Diver album was a group effort. All the songs were a group effort, and everybody worked really hard on them, all bringing their own special touches to them."
As the sessions for Holy Diver were underway, and as the recording progressed, it became clear that the foursome surely had something special, but still, it was hard to understand just how special it was. Quality, comradery, and musicianship aside, there simply was no way for those four men to grasp what they had laid to tape, "At the end of the recording, we all felt that we had a great record, but we never thought it was going to become as big as it did," says Appice. We thought we got a great record, and we were proud of it, and the record company loved it too. Even Geezer Butler liked it, which was cool. I remember it clear as day, Geezer said, 'Wow, I knew you guys would make a great album, but I didn't know it would be that good.' [Laughs]. So, when it came out, it started going up the charts, and we were like, 'Whoa, this thing is serious.'"
In the wake of Holy Diver's success, regardless of if the members of Dio knew it or not, they had changed history. To this day, Holy Diver is still relevant, still vital, and still essential as, if nothing more, an entry point for any and all musicians who dare to take the stage in the name of all things heavy metal. Even after recently achieving double-platinum status, and even after the soon-to-be iconic reissue of this watershed album, we still cannot quantify its meaning, and perhaps we never will.
On June 10th, 2022, what would have been Ronnie James Dio's 80th birthday came, and with it, hard rock, and heavy metal musicians celebrated globally. The most notable celebration took place at L.A.'s iconic Sunset Strip staple, The Rainbow. Nearly forty years after the release of Holy Diver, and just over twelve years after his passing, the vocalist's closest friends, and family, such as Eddie Trunk, Vinny Appice, Wendy Dio, Simon Wright, and dozens more, all gathered for the Rainbow in the Dark Celebration to celebrate Holy Diver, and it's creators birthday, but also, to celebrate Ronnie James Dio the man.
When asked to speak on Dio's legacy, Wendy Dio could not help but wax poetic on his importance to her, as both his manager, and wife, saying, "Well, I knew Ronnie so well, and with so many things, and I miss him so much. I still talk to him all the time, and I remember what we might be doing. I know we would be sitting around, playing with the animals, and just doing all of the things we loved to do. Those are things that I miss so much about Ronnie, and I simply cannot believe that he would have been eighty. I simply can't picture him at eighty, he will always be young to me. I think if he were here today, he would still be writing, and still hopefully be performing. I think he might have begun to produce some young bands, as their success meant a lot to him. I think he would still be doing what he loved most, just maybe a little less of it."
When asked the same question, Dio's longtime friend and drummer, Vinny Appice, remembered his friend by saying, "Well, you know, Ronnie loved what he did. He loved singing, he loved playing the stuff we played with Sabbath, he loved our Dio stuff, and most of all, he loves his fans. When you met Ronnie somewhere, he would remember your name a year or two later. He would remember everything. Ronnie had a sharp memory, and he loved his fans. He would go out and sign autographs all the time. I still remember the first Holy Diver tour in England, it was January, and very cold outside. Well, after the show, the road crews said, 'Hey man, there are like fifty kids outside waiting for autographs.' So instead of going out there and signing autographs, Ronnie said, 'Bring them inside into the venue. It's too cold out there. Bring them inside and then we'll come down and sign autographs,' and that's what we did. Ronnie was always doing that. He loved the fans, loved his friends and bandmates, and he loved what he did. I've never seen anything like it. So, between that, what an amazing voice he had, and the great songs that we wrote together, he'll never go away."
When it comes to it, in my opinion, the importance of Holy Diver simply isn't something we will ever be able to quantify, or fully understand, because for Holy Diver, there is no end. Rock and metal music will always evolve, but its heart and soul will never change. Ronnie James Dio had a metal heart, and even with his passing, his heart still lives on, and his iconic stylings will forever be the bedrock that future musicians will base their own music on. Heavy metal music will change, and rock will evolve, but when it comes to Ronnie James Dio, both he and his music are forever.
At the end of our conversation, given the album's immense impact and ongoing meaning, I asked Wendy why reissue and remaster it now? To which she said, "Well when Holy Diver was released, Ronnie felt nothing short of elation. He was so happy about it, and so, I feel like we need to do our part to keep this alive. It deserves to be treated as he would have wanted it to be. I just think it is an iconic album. I mean, from the songs to the cover, to the photos inside, there will never be anything like it again. And so, I feel it's my duty – our duty – to do everything we can to keep it relevant and keep it meaningful, but also update it for this generation. We knew we had to cater to fans of both CDs and vinyl, and we've done that. Ronnie always loved vinyl because he could see the artwork, you know? He understood the convenience of cassettes and CDS, but he was always a lover of being able to see the artwork. So we covered all of those things, and I am so very excited about it, and I hope that the fans will love it, and be happy as well. I know Ronnie would have approved. Ronnie loved his fans, and he would have wanted them to be happy. I know he would have been happy."
To that end, Appice commented, "Look, with Holy Diver, that album was recorded thirty-nine years ago, and it still holds up today. This new package is incredible, and fans will love it, but even the original mixes, album mastering, and stuff, that all holds up too. If you want to understand how important that album is, and how important Ronnie was, all you have to do is look at the fact that here we are, thirty-nine years later, and we're still talking about Holy Diver. Sure, other albums get talked about forever, but in the grand scheme, it's not a lot of them. If you want proof in the pudding, then there it is."