Interview with original Aerosmith guitarist, Ray Tabano
Goldmine interviews the original Aerosmith guitarist Ray Tabano about the group's formative years.
By Ken Sharp
Ray Tabano was a first-hand witness to music history. Sharing guitar duties with Joe Perry in the original lineup of Boston's Bad Boys, Aerosmith, he played a crucial role in the group's first formative year of 1970-1971 — endless rehearsals honing their sound and taking it out to the people, whether performing in ratty clubs or on stages of local high schools. After splitting from the band, Ray remained a close friend of the group and part of Aerosmith's team through the '70s handling their fan club and merchandising. Currently, Ray leads a band called The British Invasion who perform regularly in the Northeast corridor.
Aerosmith released an archival recording from 1971 for Record Store Day, called The Road Starts Here. What do you know about that, and does it include you?
I just talked to Joe Perry about this two days ago, and I asked him, "Joe is that me on that recording?' He said he thinks it's Brad. He wasn't even sure who's putting it out. The reason I know that it's not, is because I never played the song "Major Barbara." I think that's a reel-to-reel that Joe had. It's not the one that we recorded when I was in the band, and we played at the Boston Army base. Mark Lehman, the fellow who owned the van recorded it on a reel-to-reel. Somebody has that, but I don't know who.
Out of curiosity, what was the live set like back in the day when you were with the band? What were the type of covers you would do? And were their original songs, too?
There were a few original songs, but Joe Perry brought a lot of the stuff that he had been doing with The Jam Band. Stuff from Peter Green, like "Rattlesnake Shake," Fleetwood Mac's "Oh Well," and that kind of stuff. But then, there really wasn't a lot of original songs that we had. We had "Mama Kin" and "Movin' Out." We were doing "Walkin' the Dog." We even did a Jerry Lee Lewis song, "Great Balls of Fire." Some of stuff that we had with the band before Aerosmith, with me and Steven, we tried to bring it in to this band, but Joe didn't want to do it. The material wasn't really working because he was more into that Peter Green kind of rock and roll.
Do you remember hearing Steven working on or playing what became "Dream On?"
Yes, I do. I remember when Steven was first writing "Dream On." I also remember one day we were up in the apartment at 1325 and Joe brought this song to Steven, and it was "Same Old Song and Dance." And when I heard Joe playing that song to him, I said to myself, "You know what, this f**king guy might actually have what it takes." I couldn't believe it. I remember the day, like it was like yesterday, when he brought that song in, and they started writing that song to.
What did you think of "Dream On" when you first heard it, did you hear its potential?
Steven was looking for that big time ballad. When you start looking at the words, I was looking at him differently, too, because a lot of the stuff that he was talking about was stuff that I was into, Eastern philosophy. I used to read a lot about Eastern philosophy, and I was in karmic stuff and astrology and all that. I heard it in the writing, and I was flattered that he'd picked up on it. I started looking at him differently, more like the way I looked at Joe, that Steven really might actually have something here.
When we finally had a rough tape of it, we were having breakfast with a friend on Mass. Avenue, at a little cafe, and Maxanne Sartori walked in. She was one of the hot DJs back then on WBCN, and he knew her. So, he introduced me to her. And I said, "You know what? I'm in a new band and we have a tape of this song, can I bring it down to your studio and let you listen to it?" And she said, "OK, when do you want to come down?"
I got a copy from Steven, and I bought it down to WBCN and played it for her. She said to me, "How old are you guys?" I said, "Why?" She goes, "The lines on my face getting clearer..." And she made a crack about it, and she didn't really dig it that much. Three years later she was sleeping with Steven...
There's a couple of different stories about the formation of the band. In one, Joe approached Steven after he moved to Boston during a visit to Sunapee. And Steven didn't want to drum. But Joe had already met Joey, so that was a problem. But then there's another story where Steven insisted on bringing his bassist, which I presume is you. But Joe insisted Tom remain his bassist. So, what happened with this?
Steven had seen Joe play at The Barn. When he saw them do "Rattlesnake Shake," and jump up in the air and play the guitar, that's what sold Steven on Joe. He told me, "You got to see this f**king guy. He jumps up and down. He f**king plays rock and roll. He's crazy, he's great." That one song, just like that one song did it for me, "It's all over now," and I wanted to play rock and roll.
Joe wanted to do a trio with him, Tom Hamilton, and Steven as drummer. Steven said, "No, Ray's coming." I was playing rhythm guitar at the time. Joe told Steven, "Well, if Ray's coming, then Tom's coming." David "Pudge" Scott was the Jam Band's drummer, but his parents told him the same thing that our friends in Yonkers's parents told them, "Hey, you ain't f**king going to Boston to start a band, you're getting a f**king job, pal!" So, he couldn't leave. Tom just up and left. Tom is the quietest guy, we used to call him "Mr. Mayonnaise." He just told his parents, "I'm leaving. I'll see you later." He and Joe came down and then Steven came down to Boston, they got the apartment, Joey walked in, and then the next thing we've got a band called Aerosmith.
What were those early rehearsals like, what would have been like to be a fly on the wall at the rehearsals?
Hearing Steven scream, "You're playing too f**king loud, man! You're missing your f**king beat! You're playing backwards! Your guitar sounds like shit!"
Where would you rehearse?
Joe Perry's mother was an educator. Mary, she was a wonderful woman, she knew someone at Boston University. She asked him if he could help her son out. So, he let us as a storage room down in the basement of the building. What we had to do was play one time for the student body. So, our first date actually wasn't at Nipmuc High School, it was in a courtyard at Boston University at night. But that's where we had a free rehearsal room.
RELATED CONTENT: Read an exclusive book excerpt from Aerosmith: On Tour, 1973-85
Take us back to what it was like walking through the door of the band's apartment, 1325 Commonwealth in Boston.
It was f**king great! Everyone sitting around drinking Boone's Farm Apple Wine, smoking pot, watching The Three Stooges, playing the guitar. That's what happened in all day long. It was fun.
And stealing food to eat?
Of course, we had no money.
Where would you steal from?
The local markets and stuff. Anything you could get your hands on. I didn't have to do a lot of that because I had money coming in from my store and my little side business. After we got a little money with the shop, I had a little apartment over in Central Square in Cambridge, Mass.
When you were in the band, and this is before Brad, Steven was the core writer. But do you recall bringing in musical ideas and contributing to the original material, or was it more of their bag?
It was more their ideas, but I helped with the arrangement of "Walking the Dog." That's all my rhythm stuff and those are my bass lines that I did when I played bass with other bands. I helped out on arrangements a little bit. I wrote some of the words to "Woman of the World." I wrote a couple of the verses to that with Steven when I lived up in Stockbridge. Never got any credit for it. And a couple of arrangements on "Mama Kin," parts here and there and stuff like that. But basically, Steven and Joe were doing most of the writing.
What was the music deep in your DNA that you loved the most that you played? And was there a song you always look forward to as a favorite in the sets to play back in those early days?
In my British Invasion Music show and when I get to the Rolling Stones portion of it, I always tell this story. I was working at a bowling store and was making trophies and shirts — That's how I got into the merchandise business, by the way, because I was making all these shirts for these guys at 14 to 15 years old. I was sitting there one afternoon and WABC radio's Cousin Brucie came on said, "Hey, we got this new song from this great band called The Rolling Stones. You've got to check this out!" They start playing "It's All Over Now." I heard that f**king song and I said, "You know what? I want to play music, man!" That's a song that did it for me. Every time we do the British Invasion show, there are two songs that really touch my heart. One is John Lennon's, "In My Life," and The Stones' "It's All Over Now." I try to do that Lennon song solo acoustically because it means so much to me. It reminds me of all the stuff I went through and all the people I knew back in the '60s. So many of them are gone. It's crazy how so many people are gone.
Tell me about the Aerosmith van and how that was recently found.
It was the "hotel on wheels." That's what we called it. Everything happened in the van. It was a 1964 International Harvester bread truck. Ten years ago, I got a postcard in the mail at my house in Yonkers, and there's a picture of the f**king van. I looked on the back and it said, "Hi, my name is Phil, I bought the property that Mark Lehman lived on, and I found this van." I drove up the next day, I went inside the van, and I knew right away it was the van. He said, "I called the band up five years ago and they didn't want to know about it." I said, "They know about this?" I called Joe Perry and told him it was for real. The town where the van was at is Northampton, which has a high school, and they have an auto shop there. So, I met with the principal and the mayor and said, "How about if we have your high school repair the van and we make a big deal about it?" Then I met with the head of the auto shop there, and he took one look at the van and goes, "Ray, this is way past our shop's skills. We cannot handle this job, it's just too big. We got high school kids here." I call up Counting Cars and got on the phone with this guy and tell him what I've got, and they tell me they'll get back to me. A couple of days later they call back and say, "We're going to pass." I was shocked they passed on the Aerosmith van.
I called up Joe and told him the whole story. He said, "Let me call Brad. Brad's wife knows the wife of the guy from American Pickers." About a month later Mike Wolff calls me up, I tell him "Absolutely. This is our van. I have a picture of me in that van." When I went in that van and looked at the picture and looked at the van, the rug was still hanging on the ceiling. That was in the picture. About three months later, they call me on a Thursday night at 7:00 p.m. They said, "Meet us tomorrow in Northhampton at 8:00 a.m." I said, "Dude, it's f**king three and a half hours away from where I live!" He said, "Do you want to do it or not?" I said, "I'll meet you there!" I called my buddy up and said, "Hey Anthony, we're going up to Northampton, Mass. Pick me up at 3:30 a.m.!"
You guys drove a ton of miles in that van in the early days, right?
The van was the only way to get around. I had a car, and a motorcycle, but nobody else had any vehicles. Nobody had any money for that. The van was the only thing. What happened was Mark was living out in Ohio and going to college out there, and he decided he was going nowhere. So, he goes to New Hampshire and bumps into Joe Perry. And the next thing you know he's hauling Joe Perry around. When Joe went down to Boston, Mark came down here, too.
Do you think that your departure was inevitable from the band?
You know what? Everything happens the way it's supposed to happen again. If I was supposed to be in the band, I'd be in the band. I guess I'm not supposed to be in the band.
You still were in the band in many ways because you never really left the scene. You were part of the organization.
My first job with the band was I hung out with them. That was my job. I traveled with them on the plane. Whatever it was, I was always with them. The crew was separate with that. At that point, they had the first album out. Joe was so proud of it. And I was like, "This is so f**king cool." We started traveling around the country and then one of the road crew started complaining, "How come Ray doesn't work?" So, they said, "Ray, it's just easiest if you start working." I'm like, "It's OK, I'll start working. I'll do the backstage." When I worked with the company, I came up with the contract rider for the backstage. I was doing the dressing rooms and all that stuff. I worked with all the caterers and stuff. They called me "Ray Gourmet." It was a big joke, so, we had a little fun like that.
Evolution of the Aerosmith logo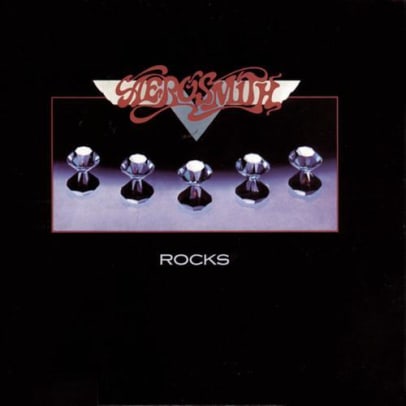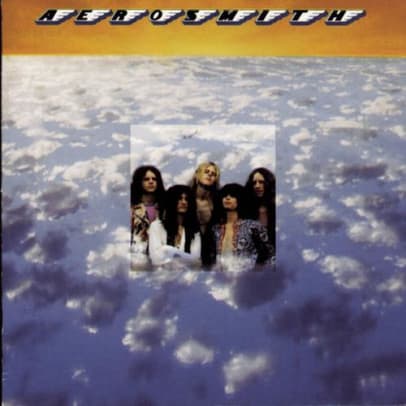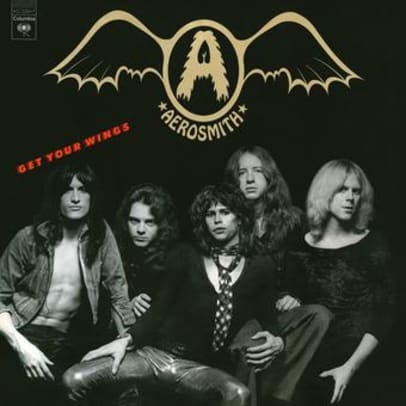 What about the merchandise and the logo?
The T-shirt thing happened when we were playing a gig. I think we're with the New York Dolls at the time, we were doing some gigs with them. We were at the Westboro Speedway about a month before that, I had talked to the band about that. I said, "This logo is ridiculous. The one you have on the second record. Let me do something with this. I'm going to make this the right way. Make it into something really cool." I looked at the Harley wings and thought those wings are a lot nicer. There was this artist out in San Francisco, who did a lot of the Grateful Dead albums. He worked with a lot of three- and four-dimensional drawings which were really cool. The idea was to make the "A" a sphere with Harley Davidson wings and put the "A" uniformly inside a circle. I got an artist, and I had him draw it for me and brought it to the band and they f**king loved it. So, I said, "I'm going to invest," because I had money, I bought a hundred T-shirts with the black wings and the gold "Aerosmith" logo. This is before we put the star in the "A," there's only a triangle in the "A" at the time. And we did the show, I sold out all the T-shirts. And when the band went on stage, a hundred people out there were wearing the f**king T-shirts. They said, "This is f**king cool!" So, I talked to the band and said, "We got to start doing this." And they said, "OK." That's how the merchandise business started.
Then I brought it to Joey Kramer. This is when his father was in the novelty business back then. They would sell pens and little knickknacks and stuff like that for people. So, I said, "Hey, Joey, you your father is in the novelty business. Why don't we get him to make a little plastic 'Aerosmith' pin like they used to give you when you fly on airlines? Why don't we get from the Aerosmith wings, and you can wear it on your shirt? You can have your dad make it." Quote unquote, "Nah, nobody will ever make any money in that business."
Do you have a favorite gig you performed with Aerosmith and perhaps the weirdest gig you played with them back in the early days?
The weirdest gig that I performed with them was the last gig I performed with them. It was at Menlo Park, and we were out in Massachusetts. I had my chopper that night so I couldn't bring my guitar home. So, it was the last song I ever played with it. [Editor's Note: See "Walk this Way" for the story about what happened to Raymond's guitar.] The guitar was with me the first time we ever played together live on stage in the Nipmuc High School, when Joe got us our first real gig, we opened with 'Route 66.' And then the last gig I ever played with them, the last song I ever played with them was 'Train Kept A Rollin'.' When I play with my own band and do my little Aerosmith thing, I always play the first song and the last song I ever played with Aerosmith.
We were doing gigs here and there, and it was a pretty good gig at that point. We had done some stuff up in New Hampshire and Vermont. One time we were at this place called The Bear's Den in Vermont, and the people there let us use their snowmobiles. We wrecked them. We came back to do the gig and I drank a lot of tequila that night. I passed out in the ladies' room and was sick as a dog. It was fun.
Tell me about what you're doing now and how people can see you play.
Here's what's happening right now. The reason Aerosmith is Aerosmith is the British Invasion. Between 1963 and 1967, what, 40 bands came over from England. All the greatest music that ever happened before all the stuff that happened with the American bands came out of England. All those bands, The Beatles, the Stones, The Kinks, The Who, Procol Harum, The Zombies. All those great bands. They had so much influence on us. They were the reason that we wanted to play.
What I did is I put a show together called The British Invasion show, 1963 to 1967 and we play 22 songs by 14 bands. We do The Beatles, the Stones, Herman's Hermits, Dave Clark Five. We do The Who, The Kinks. We have a girl singer. She does an unbelievable job of Lulu's "To Sir with Love" ... unbelievable. When she does that song every cougar in the place has got tears in their eyes. We're working on a Dusty Springfield now, too. Then a lot of the British bands they did those high harmonies with those catchy organ things. We do the Moody Blues, "Go Now," we go into "Whiter Shade of Pale," and we finish it off with The Zombies "She's Not There."
How can people track what you're doing? Where do they go to see where you're playing?
You go to http://crazyraymond.net/ or https://www.facebook.com/CrazyRamond/