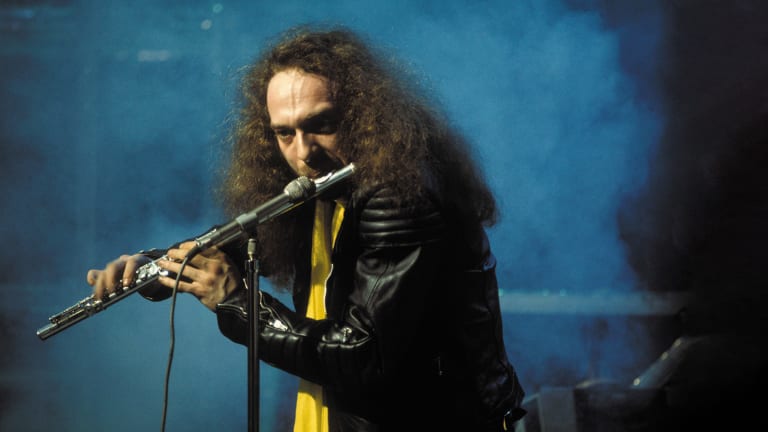 Jethro Tull: 5 fascinating things we learned from our Ian Anderson interview
From why he's not a "control freak" to the biblical framework of 'The Zealot Gene' and more
Shop for Jethro Tull vinyl, including a deluxe 3 LP version of The Zealot Gene, at Goldmine's store.
In late 2021, Goldmine caught up with Ian Anderson to discuss Jethro Tull's The Zealot Gene, their first new studio album in almost 20 years (which arrived in January 2022).
Not surprisingly, Anderson — who has served as Tull's songwriter/vocalist/flautist/acoustic guitarist and guiding light since the band's formation in 1967 — gave a captivating interview that covered a slew of wide-ranging topics.
Below are 5 of the most fascinating things we learned from our interview.
The Bible provided the perfect metaphorical framework for The Zealot Gene's themes.
"The theme was that I sat down on day one of opening my mind to a new project to think, 'What should this be about?' And I just got it in my head, 'Maybe I'll write 12 songs about 12 different, very strong human emotions,'" says Anderson. "So I made a one-word list of different things like love, compassion, loyalty and bad stuff like anger and retribution and jealousy and rage. I looked at my list, each one to be the subject of a song, and I thought, 'Wow, those are words I remember so well from reading different parts of the Bible.' I then went, out of interest, on a biblical search of all of those words, and came across lots of texts. I copied and pasted some of that text into a document, just as a little reference for each of these songs.
"But it wasn't that I was setting out to musically illustrate biblical passages, because they just served maybe as an analogy, or sometimes as a metaphor for something that I was writing about that is common to the world today and the human condition. I didn't want to be bound by a biblical reference, but it was nice to have that as a kind of thread sitting in the background. I think only really one of the songs is deliberately left in a biblical context of some thousands of years ago and the rest of it. Sometimes I think if people listen to it, they wouldn't make any connection with anything in the Bible unless I explained it, which I do in the liner notes of the album, so people can if they want to. They can see what lay behind the song, the writing process, but you shouldn't make too much emphasis on the biblical analogies. It's dumb. It's some part of the process. But at the end of the day, what I'm writing about is mostly things that have to do with the world we live in right now, but avoiding such topics as COVID, which I think we've all had quite enough of. Anyway, it didn't exist back in 2017 when I wrote all the lyrics, so…"
Anderson chose to release The Zealot Gene under the Jethro Tull moniker, in part, as a solid to his bandmates.
"The guys who are on The Zealot Gene, they've been playing with me for about 15 years on average, and that makes it the longest continuous lineup of Jethro Tull," Anderson says. "And yet, in spite of doing hundreds and hundreds of concerts as Jethro Tull live onstage, they had not been collectively on an album released simply as Jethro Tull. So right at the beginning of recording this, I thought I should make this a band album. It'll be a Jethro Tull album and the guys can at least say, 'Oh yeah, I was on this Jethro Tull album.' So that was a decision I took back then. But looking back to 2014 when I recorded Homo Erraticus, I also wrote that as a band album, and we recorded it and rehearsed it, and in the studio everybody played on all the tracks. I guess I should have really called that a Jethro Tull album, too. But for whatever reason, I didn't, and that's why I suppose people are saying, 'Oh, there's the first Jethro Tull album in over 20 years,' as if somehow I've been digging potatoes on the farm for the last 20 years. But of course, I've done lots of things in the last 20 years, including the Thick as a Brick 2 album, Homo Erraticus, the Jethro Tull: The String Quartets album. There's also been two books and a bunch of live performances, hundreds and hundreds of shows all over the world, including three U.S. tours in 2019. So we've been really very busy, and for an old man like me, I don't feel like I've been out of circulation by any means. I've probably been consistently around and getting on people's nerves for 53 years now.
Anderson believes he is "not the control freak that everybody seems to think I am."
When asked if he thinks releasing albums as Jethro Tull gives his records added commercial power, Anderson revealed – quite possibly to some people's surprise – that he's very willing to take his hands off the reins and allow the experts in the room to advise him.
"I did discuss that with the record companies and the record company we chose to go with (Inside-Out)," Anderson says, "[They] just said, 'Well, whatever you want to call it is fine by us. We don't mind if it's Jethro Tull or Ian Anderson. We feel that the identity is there and it's whatever you feel is right and that's OK.' But as far as commercial decisions, marketing and promotion, I'm not the driving force. I want to work with a record company who bring their expertise and commercial analysis to the table and decide how best we should present that to the public. That's their job. But to start talking about promo videos and marketing campaigns and whatever, yeah, I like to know what's going on. But I certainly don't want to be the driving force behind that. It's a bit of the business I don't feel I really want to have to be involved in. I'm very happy to leave it to record companies to do what they're supposed to be able to do best, rather than telling them what to do. I'm not the control freak that everybody seems to think I am."
"When I work with a mastering engineer, he really has freedom to put his fine-tuning to the masters that I've mixed and make these tiny little changes," he continues. "I'm not going to tell him how to do his job, especially when he's got ears which are many years younger than mine, so I give people that decision. The same with remixing albums; Steven Wilson has done many of them, and I don't tell him what to do. I trust him to make some cautious, careful decisions and to do what he is capable of doing. I certainly wouldn't want to try to do that. I wouldn't want to go back and revisit all those albums and remix them. I'm too familiar with it. I'm very happy for him to do that, but I like the idea that when people have a particular talent and skill, then let them do it, that's what they're there for, rather than telling them all the time the way you want it done. However, I do not employ a travel agent because there I would be telling the travel agent all the time, 'This is what you've got to do,' so it's much easier for me in the internet age simply to be my own travel agent and book flights and hotels and do tour itineraries and all that sort of stuff, because by the time I've explained the parameters to somebody else, and they screw it up anyway, then I'm not interested. So there are some things I do take over and say, 'I'm going to do that,' but not all the time by any means."
Anderson doesn't own CD player, a turntable or a 5.1 surround system.
When asked how he feels about Steven Wilson's 5.1 surround mixes of Jethro Tull's classic albums, Anderson dropped an interesting tidbit: his main form of music consumption is digital audio files with headphones on.
"The ones that Steven has done, I have heard because I've been to his studio to hear the 5.1 surround mixes, but because of the pandemic and COVID I didn't go to visit," he says. "Jakko Jakszyk did the 5.1 surround of The Zealot Gene, and although I've received my copies of it, I have no means to play it. I don't have a CD player because they no longer put CD players in Apple computers, and I don't have a record player, and I don't have a 5.1 surround system. So I'm afraid for me it's just a mystery. But I trust that Jakko did a good job. If he didn't, someone will probably tell me and follow by telling him, but I don't know. I don't do 5.1 surround. It's just too many speakers. If I spent maybe a quarter of a million dollars on a control room with great speakers and great state-of-the-art systems, then it would be a joy to listen to, and other people's music, too, I suppose. But I have better things to do with my money than build an elaborate control room system, especially when it's employing technology that will be outmoded within two or three years. Right now, you'd have to go further than that and put in Dolby Atmos with 11 or 12 channels; it's just become mind-bogglingly complicated. I'm not a big music listener anyway, so when would I ever go and listen to anything? That's just not going to happen. If I listen to music, on the rare occasions I do, I'm listening to digital audio files with headphones on."
Steven Wilson's recently completed remixes for The Broadsword and the Beast will be released as part of the "most elaborate box set ever."
"Steven Wilson finished all the audio on The Broadsword and the Beast some many months ago," Anderson reveals. "All the album artwork and the booklets and the extras, a vast amount of material, both audio and in terms of information and text materials, are done — it's the most elaborate box set ever by a long way. It's to be released in July of 2022 and that for now is the project I suppose that's the focus of attention at Warner Music. Tim Chacksfield is the main man behind these catalog rereleases. I guess we'll be talking in the months to come. What should we do next? Whether or not Steven Wilson wants to do any more, I don't know. He's really a fan of the Jethro Tull of the '70s because he was a young guy then. Before he became a musician, I think his era of Jethro Tull music, being a fan, that's really encapsulated within the 1970s. So he was stretching it a bit to do Broadsword and the Beast, and I'm not sure that he'll want to do any more beyond there, but we'll see. He'll certainly be welcome if he decides he wants to."